Khalid Saleh

I first stepped foot in the US August of 1995, and the rest has been history in the making. Before finishing my undergraduate degree from University of Texas at Austin (go HORNS!) in computer science I tried to start my first company, which proved to be a pretty bad idea. I mean, talk about trying to do too way many things at the same time, not to mention sleeping very little.

After finishing my degree, I went to work for several consulting companies as a software engineer. I moved up the corporate ladder until I became a software architect. Throughout my experience as a software engineer, I focused on building ecommerce websites architecting sites for companies such as Motorola, American Express, Levolor, Ctirix, WWT, Life Touch, and many others.  In the span of only 4 years, I had designed and implemented 22 national ecommerce websites.

One client after the next, I noticed that thinking about the user of the site was an after thought. It is only when a company invests 12 million dollars in the website without a single order for months thereafter, do people start asking about what is wrong.

Throughout my years of experience I have seen and learned that consultants and marketers will make all the claims they would like. But conversion optimization represents the next generation of marketing: accountable marketing.

When I sat down with Ayat to talk about Invesp early in 2006, we did not expect the company to grow as fast as it did.

I love running my own business and am fascinated by conversion optimization. I usually travel to meet clients most of the time. Last year I put close to 180,000 miles in air miles. It is great way to collect frequent flyer points, but I miss my two children and beautiful wife a lot.

Contacting Khalid

Email:

Khalid at invesp.com

Direct Phone:

248.246.2155

Cell phone:

832.423.0607

Availability:

I am available for calls between 9-7pm (EST) M-F. I check my email endless number of times during the day so if you need to get in touch me, shoot me a quick email.
Connect with us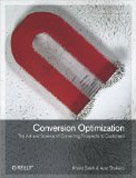 Conversion Optimization
The Art and Science of Converting Prospects to Customers
By Khalid Saleh and Ayat Shukairy