Starting your conversion optimization project the correct way

Marketing projects can be complicated. Conversion optimization projects are even more intense. They require a very diverse set of skills and a lot of time and patience. It isn't enough to just have an "eye" or know a few CRO best practices.

Those days are long gone.

That means you have to pull out all the stops on a CRO project. The investment early on is always quite large and should be done in a very organized way. Ultimately, during the first couple of months, it's about uncovering. What most CROs struggle with is confining all that they uncover and want to optimize in a single place for that full spectrum view.

It's no easy feat, but in this article, I'll try to shed some light on how to uncover website problems, and how to organize them in a way that will help you have an ideal conversion roadmap to success and consistent gains.

Why am I writing about this?

My company and I are on a mission set the record straight about CRO and what it really takes to reach success. CRO, for too long, has been seen as merely an A/B testing program, or best practices.  Whereas CRO is science that encompasses many digital marketing disciplines and techniques.

When CRO is done incorrectly, it can cause more harm than good.

We've said it once in for all: A/B testing is simply not for amateurs. It requires expertise because it is so precise.

Additionally, brute force A/B testing will NOT generate consistent and repeatable increases in conversion rates. At a basic level, you must ensure that usability and conversion issues are fixed. Beyond that you must re-engineer your business processes to convert one time visitors into raving fans.

The Ship Methodology 

The methodology we've followed can be summed up in the acronym SHIP:

Scrutinize
Hypothesize
Implement
Propagate

Each stage holds importance and must be done thoroughly. However, the greatest emphasis in terms of time should be focused on two stages: the scrutinize and propagate stages.

Scrutinize stage includes all the conversion and usability research that you need to do in order to ready yourself for correct conversion optimization. Propagate stage is the intense post-test analysis which feeds back into the scrutinize phase (because after all it is an iterative process).

So let's evaluate what scrutinize entails more carefully.

1. Identifying Visitor Paths and Experiences

Why do visitors come to your website?

Visitors come to your site not only to consume content, sign-up or buy something. Some may come to track an order, to see the status of something, to update an account. When we talk about paths, we talk about trying to identify what would bring different people to your site, and what actions do they take if they come for that purpose.

Not every website visitor is coming to convert. Some visitors landed on your website by mistake. Others are coming in different buying stages from early stage (browsing) to action stage (ready to convert). It has been our experience that most website are designed for people in the action stage. Yet for most websites, only 20% of their visitors are in the action stage.

2. Persona Development

While we don't push for persona development for clients as strongly as we used to, we try to ask clients to at least give us market segments to better understand who their customers are. As we progress in our CRO programs and gain new insights into customer behavior, we continuously update market segment with. If you are starting the project with a pixilated image of your website visitors, the image of these visitors should become clearer in 6 months and even more clear within a year.

This is helpful in that it really allows us to visualize who we are targeting better.

For instance, a client had a segment of 45 – 60 year-old middle class women. The more we optimized the more we learned what behaviors and changes worked for them. We also uncovered that there are more segments they need to address beyond this particular one.

3. Benchmarking

Conversion benchmarking is often overlooked part of the process, yet, quite important since everything you are doing relies heavily on improvement in site performance. It is like walking into a doctor's office and having the staff take a record of your vital signs.

You are doing the same task for the website in this case. You want to see how much progress you have made after few months of optimization. There are 3 different methods that we use to conduct benchmarking on a project:

A/A tests for different website funnels
Conduct usability tests
Creating and tracking different funnels in analytics

We have already identified the different paths visitors take in the first step of the process. What's critical that you conduct both A/A and usability tests for these paths. There is some debate in the industry around conducting A/A tests. But that is not the point here. Yes, there will be instances where a particular variation (or challenger) would win in an A/A test with a very level of statistical confidence. We have done thousands of A/B tests and we have seen our share of data anomalies. Our goal from an A/A test is to get a general conversion rate metric for a particular funnel within the website.

Analytics is another tool that you should use for benchmarking. You must also understand the challenges that come with using an analytics tool within a CRO project and the drawbacks that it might have.

It is also important to keep in mind is seasonality, and trends throughout the year that account for certain ups and downs. Measure how the site is performing, and measure against that after you've optimized.

4. Expert review – "the crying game"

You have already identified visitors' paths around your website and what they try to accomplish. During this step, you will sit with your team and walk through the paths and experiences visitors go through. When doing this, you must keep three things in mind:

You are mimicking visitor behavior around your website. Do not make any assumptions about your website. You must complete this task with a clean slate. Put yourself in your visitors' shoes and forget about why you designed things a particular way.
Conduct this analysis coming from different sources Googlee, email, facebook, etc)
Conduct this analysis using different devices (mobile, desktop, etc)

And then, cry….

As you go through different paths on the website, you will discover a sudden urge to cry.

When conducting an expert review for a website, we run 6 different methods:

PURE method analysis
Expert walk through
Navigational stress test
Cognitive walkthrough

If you are doing this correctly, you will discover that your website while it might have been designed well, it does not look great when you look at it through the lenses of your website visitors.

5. Qualitative Research

How can you not love qualitative research? It is one of the most effective methodologies to uncover real issues, problems on the site. It is a critical phase which requires a lot of detailed research and thinking.

Conversion focused qualitative research is very grounded in focusing on uncovering "problems," but that is not what CRO is all about.

Some CROs get stuck in the qualitative research phase and can't move beyond it. The pitfall of qualitative research is that it focuses you on problems you have on the website and sometimes you forget about new additions or features that you should expand to.

Once you've cleared out most usability issues, you should be innovating for greater engagement and retention on the site.

Some of the activities that can take place during this phase:

Surveying and Polling visitors
Customer representative interviews
Reviews of customer service calls
Reviews of support tickets

Reviewing all this data is meant to uncover issues. What's important during this phase is to go ahead and include that information within a single document or file so you can have a single view of all the issues you are collecting.

How do you avoid being in the rut of just uncovering problems?

conducting two or three different expert reviews that are focused on different areas (like uncovering vs. areas to innovate) can be very useful.
Also, the hypothesis and type of solution that you put forth for each issue you uncover can make a difference in terms of innovation.

6. Quantitative Research

The tools accessible in this phase are great. But we don't recommend installing too many tools to track data. You can get deep insights with better analytics tools, but it's simply not always necessary.

Analytics

Of course, Google Analytics takes the cake. It's powerful, it's free, and although not always accurate, It can provide valuable insights. When using google analytics on a conversion optimization project, you must ensure that it is configured it correctly. You must also remember that you are looking for general data trends as opposed to specific metics and numbers.

With Google analytics, you want to ensure that you have event tracking for key areas that visitors visit and click on. You want to set up funnels and segment to view how different visitors from different sources interact with a page and through a particular funnel.

What we find very powerful as well is pairing some of the insights taken from the qualitative research with the insights derived from Google analytics.

Heatmaps

A great tool that again shows how visitors interact with a web page or a class of pages (product or category pages). But they can either be pretty documents to stare out, or you can derive something meaningful from them.

At a basic level, heatmap analysis is straightforward. You simply look at a Heatmap to see what area of the page is most click and least clicked elements. You then determine if specific goals or elements are not being clicked and investigate why, and if it's necessary to maintain those elements on the page (or should they be rearranged). Finally, how deep they scroll and whether it's because they aren't engaged or everything they need to proceed is above the fold.

All of these types of insights can help you identify and uncover further problems or potential areas of improvement for the site.

Video Recording of User Sessions

Video recording tools capture hundreds or thousands of videos, and for anyone that can be one too many videos to watch. But there are interesting insights that can be uncovered, and possibly even identifying different ways that visitors interact with the site.

For instance, one client of ours, we discovered through video (which was supported by heatmaps and analytics) that visitors use the shopping cart as a wishlist. So, we actually created a wishlist or "save for later" section within the cart so they don't delete items all together and have the chance to come back to them after they've made an initial purchase. This lead to great success for our client and couldn't have been identified as a solution if we hadn't seen this particular issue.

7. Competitive Analysis

Know thy enemy! Competitive analysis for conversion optimization is only as useful as the information you collect. Whatever your marketing or CRO objectives may be, collect the information accordingly. If my goal is to improve my email marketing strategy, then I need to sign up for the email and experience the frequency, type of emails they send out, and the tone of voice in these emails.

If my goal is to improve CRO, it would be worthwhile to conduct a heuristic on your competitors' websites to see what are they doing, and how are they funneling the site visitors differently than your own strategies.

The reason why we align competitive analysis with a goal is because it can open up a can of worms. You can drown in information and different areas of focus, which may lead you astray from what you are actually trying to achieve, and in the end, produce an unfocused document with too much information that causes analysis paralysis. Any activity you do should have a goal and structure behind it so you keep your eye on the ball at all times.

In conclusions

SHIP: Scrutinize, hypothesize, implement, propagate. It's not easy, and it shouldn't be easy. But if you want to get a greater, more optimized site, you need to follow this methodology.
Join 25,000+ Marketing Professionals
If you enjoyed this post, please consider subscribing to the Invesp blog feed to have future articles delivered to your feed reader. or,receive weekly updates by email: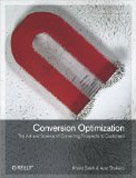 Conversion Optimization
The Art and Science of Converting Prospects to Customers
By Khalid Saleh and Ayat Shukairy