Free Landing Page Templates


The following two landing page templates are available for free to download and use. These templates are available under the Creative Commons- Attribution Share Alike (what does that mean?).

These two landing page templates are available for free to our RSS subscribers. Subscribe for weekly RSS email updates and download these templates immediately.

These two templates served as the baseline for a number of landing pages we tested and optimized. In order to achieve record high conversion rates for your landing page, we highly recommend investing the time and resources to create personas to guide your landing page design process and copy creation. Personas 101: The complete guide to increasing conversion rates through persona creation can help guide your persona creation process.

Free Landing Page Templates

Your landing page is supposed to be the first page that a visitor sees after clicking your URL in the search engine. As it can make or break a visitor's intention to know more about you, your landing page should, at the very least, be impressive.

So what does it take to have a landing page that works? We went over various copywriting blogs all over the internet to compile a list of the top 7 elements of a good landing page. Feel free to comment below if you have any other suggestions on how businesses can improve their landing page!

Using Strong Headlines

A simple headline that grabs the attention of your visitor because of its action-oriented style is an important element of a good landing page. An awesome headline is engaging, which means that it should be able to attract, intrigue, and make your visitor curious about what else you have to say. A good punch – that's what it is.

Build Trust and Credibility

In connection to the previous item, instead of including multiple sidebars and footers, it's best to utilize your space for social network buttons, names of existing clients, and a number of testimonials. These are elements that could boost your visitor's trust and respect for you.

Effective Call to Action (CTA)

The CTA is an important ingredient to any landing page. Unlike what others would say, it's not JUST the icing on the cake. A good CTA tells your visitor what to do next now that he or she is done with your landing page. Try to be as creative with your CTA but be sure to that it still blends with the theme or style of your landing page.

An effective CTA is one that does not re-direct the visitor to another page. Also, make sure that it conveys value and remains relevant to the service or product you are offering. Another effective CTA is one where you simply ask your visitor to fill out a registration form. Keep the form short and sweet so it doesn't take so much time from your visitor.

Get rid of Unnecessary Elements

An unorganized landing page can shoo away your visitors. This happens when your landing page is cluttered or when unnecessary elements populate your page. For instance, do not include too many buttons. It would also be better not to use more than two images.

Reduce Anxiety

No matter what you say and show in your landing page, your visitor will still have apprehensions about your product or service. That's human nature. However, you can reduce their anxiety. According to Scale My Business, you can either address their objectives upfront, provide a way for your visitors to make an immediate feedback, or offer them a money back guarantee.

Be Consistent

If you want to keep your visitors, make sure that you show them a consistent landing page. That is, you need to make sure that your landing page flows smoothly. One way to ensure this is by creating an outline prior to actually creating your landing page.
Your Value Proposition or Unique Selling Point.

Last but definitely not the least – your USP or VP, as online marketers would say, should be included in the body of your landing page, although not necessarily in your headline. Basically, this is what makes your product stand out from the rest. What makes it unique? Why would your visitor buy it instead of the all the others in the market? No matter what you include as your value proposition, make sure to keep it truthful.

Ready to build your landing page? Here are some FREE and EASY to DOWNLOAD landing page templates for you!
Connect with us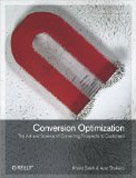 Conversion Optimization
The Art and Science of Converting Prospects to Customers
By Khalid Saleh and Ayat Shukairy