Pii: A/B Testing Made Easy
Invesp has been a leader in the conversion optimization field since the dawn of the industry. In addition to furnishing custom e-commerce solutions for businesses of all sizes, our expert team provides powerful, yet easy-to-use A/B testing software. The intuitive programs enable you to make changes to existing site elements and then evaluate the impacts. The process also allows you to validate positive results before adjusting your site code to reflect the changes.
Although optimization blends art and science, it is thorough testing that takes the guesswork out of the process. Even when changes look and feel right, testing performance is the only way to measure impacts on conversion rate and website revenue. With well-executed testing, you'll see how design changes affect site behavior, bounce and exit rates, purchases, signups and more. A/B testing also enables you to gather quantitative results comparing various design elements against one another. Test results clearly illustrate visitor preferences.
How Does Pii Testing Work?
A/B testing is conducted on multiple variations of a single webpage. Basic tests include an A variation (the original page) and B variation (new page with changes), but tests can be expanded to include additional versions for comparison. Once testing is underway; Pii equally distributes traffic across the original page and other variations being studied. The detailed feedback illustrates progress and clearly identifies which version outperforms the others.
 A/B tests not only provide immediate actionable feedback, but they can also be set-up in four simple steps. The first crucial move is outlining your objectives. In the GoToMeeting below, for example, the goal is to increase signups to the site's free thirty-day trial offer.
Step 1: Enter URL
Go to PiiTesting, enter an URL and select A/B from the Test Type drop-down. Click "Create Test"

Step 2: Edit Call to Action Caption in Visual Editor
Click on the "Start Your Free Trial" button. Then, to conduct this test, select "edit text" from the menu. To create a second variation, we'll change the text to read "Start Free 30-Day Trial Today". With the original design and the revised CTA text version created, you are one step closer to testing.
Step 3: Select Conversion Goal
Enter the desired conversion goal for this test. Pii allows you to track several conversion goals at once, like clicking a link or visiting another URL.
Step 4: Review & Launch
Review your test details. In this stage you'll name the test and download the test code you must add to your website. When you are ready to begin, click the "Launch the Test" button.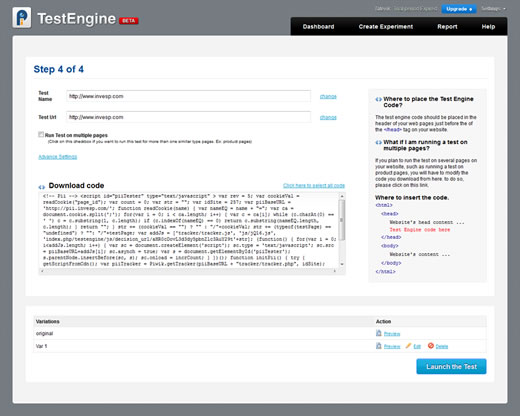 As your test runs, site visitors will be sent to either the original page (A) or the new variation (B). Pii measures the number of visitors to each variation, and also the number that follow-through and reach the "thank you for signing up" page. Data is collected until a satisfactory sample is obtained, after which a winner is declared.
Remove the guess work and start optimizing your website today. Just enter an URL in the the PiiTesting editor now!