Behavioral Targeting with Pii Testing Engine
As a website operator, you build trusted relationships with your visitors by providing relevant and timely offers. Analytics software provides a wealth of information about how visitors interact with your website, but the trick is to convert that data into actionable insights and provide visitors with the right information, based on their needs during a particular visit. Behavioral targeting allows you to target visitors based on what they do as opposed to who they are. Visitor's online behavior reveals their inert and intent in real time, which allows you to provide that visitor with a better experience and ultimately convert them into a long time customer.
Data clearly demonstrate that first-time visitors will interact with websites differently than repeat visitors. The same could be said for visitors coming from different search engines, email or social websites. Pii advanced Behavioral Targeting allows you to target different visitors with different experiences. All you have to do is choose the visitor segment you want to target when you set up your AB test or multivariate test.
Pii uses different visitor profiles for targeting:
Entry criteria - Where is the customer coming from (Traffic source) and what is the medium he used to get your website (Organic vs. paid).
Customer Data - customer specific data such as location, type of browser, operating system, etc.
Behavioral Targeting in less than 30 seconds!
Start by setting up an AB test or a multivariate test on Pii.

For this test, we want to see how New Visitors interact with the Ebay main home page. We created 3 different variations using the Pii visual editor just like we usually do.

When we get to step 4, to review your test, we click on advanced settings.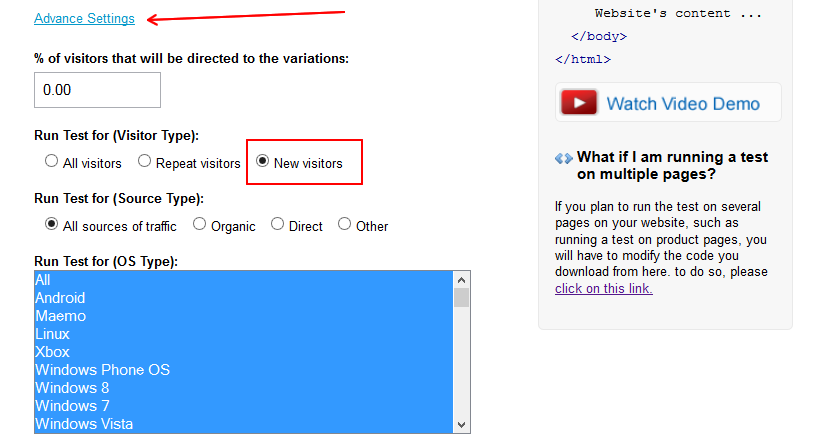 Since our goal is to run the test for first time visitors, we select "segment" from the advanced settings. That's it! You are ready to start your test. Launch the test and watch the data.
When a visitor lands on Ebay's homepage, Pii will first determine the type of visitor: is it a first time visitor or a repeat visitor? If it is a repeat visitor, he will see the existing homepage design. For new visitors, Pii will determine which of the 4 versions of the home page the visitor will view. Pii tracks the data and lets you know how each variation is performing.