Reduce Your Shopping Cart Abandonment Rate
Approximately $4 trillion worth of merchandise will be abandoned in online shopping carts this year. And the average shopping cart abandonment rate continues to increase. In 2011, 69% of carts were abandoned online, but by 2012 the number had grown to 72%. The trend continued into 2013, which saw shopping cart abandonment rates rise to 74% - gaining 5 points in only two years.
At Invesp, we've seen the devastating impacts of shopping cart abandonment on sites generating millions of dollars each month, as well as those responsible for only a couple hundred thousand dollars in monthly revenues. Can you afford not to address shopping cart abandonment on your site? Regardless or the size of your company, or your field, reducing shopping cart abandonment has a direct impact on your bottom line.
Before you can start recovering lost sales on your website, you must first recognize what causes shoppers to abandon the checkout process. To answer all your questions, our experienced team of optimization experts delves deep into your analytics. The review assesses shopping cart performance on your site, using The Conversion Framework to analyze the checkout process. Finally, we'll furnish new page designs to turn your abandonment rate around. Contact us today to start reclaiming abandoned sales.
Work with Invesp to Reduce Shopping Cart Abandonment
Partnering with Invesp puts industry leading experts at work improving your online performance. Our company founders Khalid Saleh and Ayat Shukairy co-authored a bestselling conversion optimization book, together spearheading more than 400 successful international optimization projects. Success speaks for itself - Invesp optimization campaigns typically reduce shopping cart abandonment rates by an average of 33%.
In addition to directly assisting clients, Invesp experts have played an important role shaping the conversion rate optimization industry. Countless marketing teams use our reference book for guidance and benefit from custom training sessions. Invesp authorities also contribute to professional optimization seminars conducted at top industry conferences. As your optimization partner, Invesp draws from decades of experience to reduce your shopping cart abandonment rates.
Understanding the Shopping Cart Recovery Process

Our expert conversion team uses strict protocols to evaluate performance and reduce shopping cart abandonment rates. We will take these steps to improve your bottom line:
Analyze your shopping cart, checkout and product pages to identify data anomalies and trends
Furnish a full assessment of problems found on your cart page, using a 250 point Conversion Framework review
Troubleshoot potential problems with the checkout process
Use historical performance and data gathered from other online sellers to prioritize fixes and improve checkout performance on your site
Present design alternatives to address problems found on your cart and checkout pages
Conduct A/B or multivariate testing to identify the best new cart page design for your website
Contact us today to get started.
Reducing Shopping Cart Abandonment: A Case Study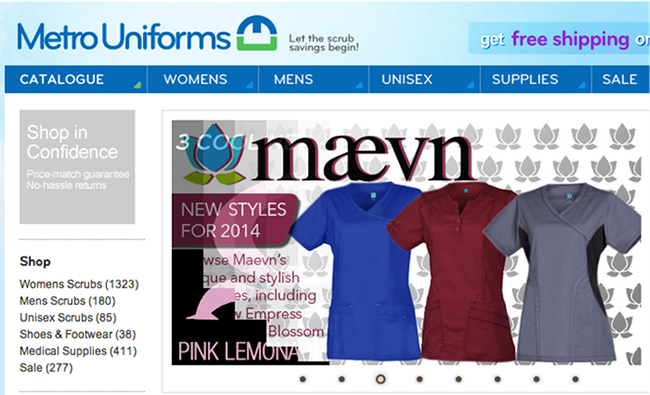 Our client has been selling nursing uniforms online since 2002. The store has slim margins, so our goal is to help convert each visitor into a paying customer. When the client contacted Invesp, the website's shopping cart abandonment rate was 57%.
Our expert analysis identified 32 potential problems with the site's shopping cart. Equally as important, research showed that fixing three of the potential problems resulted in significantly reduced shopping cart abandonment rates for online retailers with similar issues. After implementing Invesp recommendations, A/B testing revealed the new designs reduced shopping cart abandonment to only 32%.
Pinpoint Accuracy
Invesp experts use a combination of resources to get to the bottom of your shopping cart abandonment issues. Data records from hundreds of retailers, A/B and multivariate testing, and complex Conversion Framework analysis are only a few of the tools at our disposal, as well as the largest available data bank of conversion optimization recommendations. By prioritizing design changes to address those with the greatest positive potential, our process helps minimize your investment - without sacrificing results. Contact our expert team to get started today!