Reading Time:
6
minutes
In the simplest terms, your customers choose to buy from you because of what makes you and/or your products different.
If they find no difference between you and your competition, they have no mechanism with which to make a purchase decision.
They have no trigger to buy.
Understanding that simple fact can bring time-saving focus to your AB testing program.
If you follow conventional testing wisdom, you will maintain an ongoing program of testing every element of your landing pages, email messages, product pages, etc., to find what improves conversion rates and what doesn't.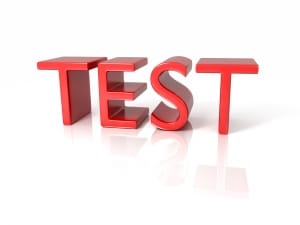 But the consequence of the 'test everything' approach is that, in doing so, you can spend a virtually endless amount of time testing virtually endless numbers of elements. Just think about some of the testing staples, like headlines, call-to-action buttons and trust elements. You could write and rewrite headlines all day, every day. The size, shape, color, copy and position of your CTA buttons each have near infinite options and combinations. And what affects trust? Again, there are near infinite possibilities, from the look and feel of your page to the number of reviews you have, and their wording.
There's nothing wrong with ongoing testing. In fact, it's recommended – at least until you reach 100% conversion rates, (if you do, please call us, we'd like to chat). But with a little more focus your testing will get better results than simply trying something new.
How Triggers Focus Your Testing
The headlines, CTA buttons and trust elements should all be triggers. They and the other elements of your page can trigger an action by giving the customer a 'reason' to do so; a reason that is usually connected to a basic need.
Here's the shocker for your current testing program – and where you begin to get more focus. If you do not have a trigger, you will not convert anyone.
If your headlines, buttons, trust icons, free whitepapers, testimonials, etc., are not perceived (even unconsciously) by your customers as fulfilling a need, then those elements won't help your conversion rates.
To help clarify how that works, here are a few basic triggers, or reasons, that will get your customers to convert:
| | |
| --- | --- |
| – Health | – Brand identification |
| – Safety | – Fun or convenience |
| – Education/Learning | – Faster/easier process |
| – Make or save money | – Reduce fear |
| – Improve appearance | – Prove they are right |
| – Lose weight | – Belonging/acceptance |
| – Get status | – Missing an opportunity |
| – Save time | |
Triggers are More Than Simple Benefits
Yes, benefits are most often good triggers. But triggers go beyond just outlining a straight-line benefit. Triggers can reinforce something the customer already believes. A trigger can simply be a color, a sound or a check mark. You can put triggers in your content to evoke positive feelings, like claiming that your service is 'better than chocolate'.
As a simple example of using triggers to add focus to your testing, let's look at the wording on a CTA button. We all know that the old "Submit" button generally doesn't work nearly as well as one with benefit-driven copy, like "Get Your Free Whitepaper".
But the reason that "Submit" doesn't work is because it does not appeal to a strong customer need. Yes, they have a need to submit the information, but that's not very powerful because they are usually hesitant to give away personal information. If someone clicks on a 'Submit' button, they are doing so because they found a strong trigger elsewhere on the page or in the buying process.
Conversely, "Get Your Free Whitepaper" works because it hits a number of powerful triggers, including saving money, learning and potentially one based on the content of the paper, like weight loss.
So instead of almost blindly trying different versions of elements, start thinking in terms of testing different triggers in each element.
Examples of Triggers
The best way to look at how focusing on triggers can help give your testing more direction is to look at real examples.
Facebook
If you ever stopped using your Facebook account, you may have received an email from them encouraging you to sign in. As pointed out on behaviourmodel.org, that message is full of triggers.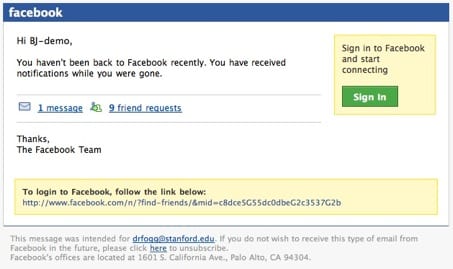 First, Facebook doesn't just ask you to sign in, they give you a number of reasons, including that you have messages and friend requests waiting. Also, immediately above the 'Sign In' button, which is the main call-to-action and conversion goal of the message, Facebook asks you to sign in "and start connecting". If you use social media, you probably have a need to connect.
Klout
Klout.com offers a way to measure your influence on social media. All of that influence is based on having something to say. Say nothing and you will have no influence. A constant supply of quality content is an excellent way to always have something to say. Klout knows that content and social media marketers are desperate for content that helps them say something worthwhile and thereby improve their social media influence.
When you visit Klout.com, a place where you might expect to see lots of statistics, charts and graphs, (like at Klout's competitor, kred.com). Instead, you find a site bent on helping you find and share content.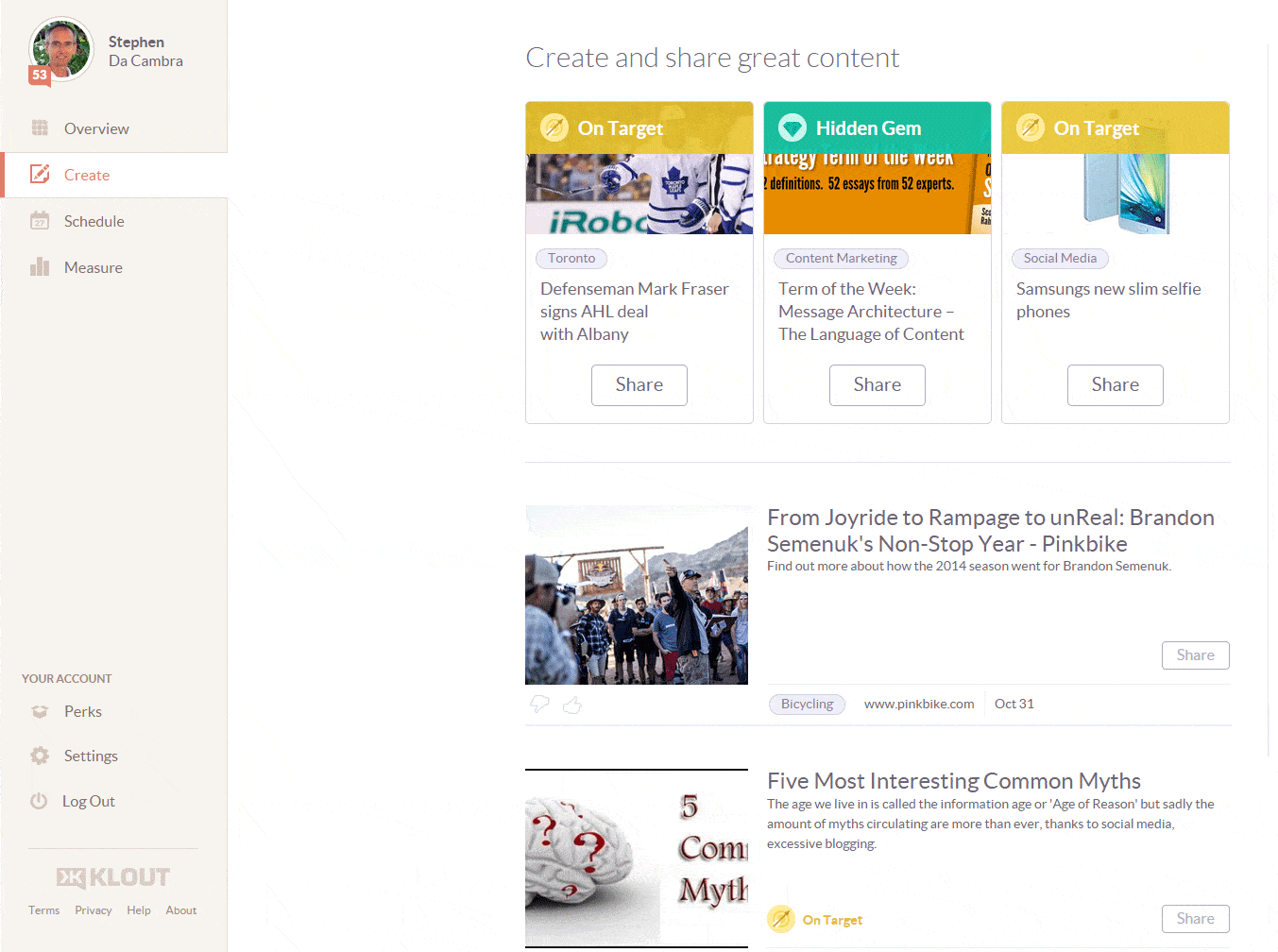 Here are a few of the triggers Klout uses, none of them directly related to reflecting or improving your influence.
Search Window – Instead of labelling their search window "Search", they pose the question "What do you want to share today?"
'Create' Button – On the left-hand navbar. They use the word 'Create' for one of the options (and even have a pen on paper icon to go with it). When you click on 'Create', you are not lead to a place where you can create anything. Instead, it links to the page shown above, from which you can find and share other people's content. Why use a 'Create' button that links to a page that's really for sharing. Every content social media marketer wants to feel they are 'creating' content. And Klout has already pulled the 'share' trigger in the search field.
'Schedule' Button – Again, with a single word, Klout touches on an important trigger for their customers. If you have content scheduled to be published, your content marketing and social media is in better shape than if you have nothing scheduled. But clicking on 'Schedule' doesn't schedule anything. It merely shows the Klout-suggested content that you chose to share when you used the 'Create' button. Klout gets a little tricky here: 'Create', 'Schedule' and 'Measure' are listed together. But they use "Create' and 'Measure' as verbs, and 'Schedule' as a noun.
Email Inbox
If you use email marketing you are aware of the importance of your subject lines and hopefully you test them. And you'll know the effectiveness of benefit-driven headline. But, as mentioned, benefits are usually triggers. But not always. Take a look below at the subject lines from an inbox.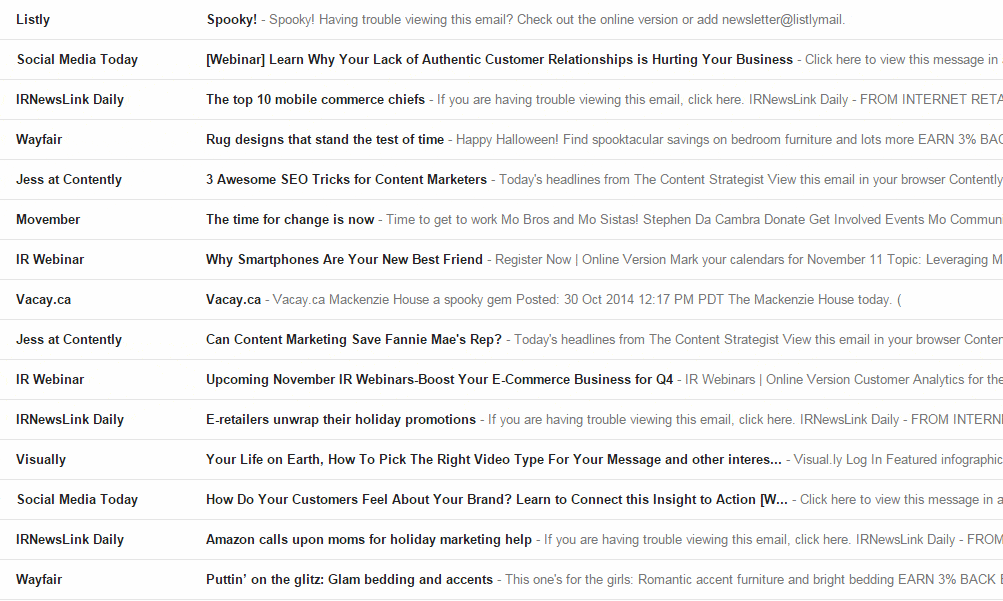 Here's a list of subject line trigger passes and fails from the inbox above. And the reasons why:
PASS: IRNewsLink Daily – "Get Ready for 3.4 million new web shoppers". Invesp helps optimize internet retail sites. This appeals to my need to learn more about what I write.
FAIL: Listly – "Spooky". I'm all for cryptic clues, but not when trying to filter a crammed inbox.
PASS: Jess at Contently – "3 Awesome SEO Tricks for Content Marketers" – Everyone likes to learn about a 'trick' that presumably leads to better results; and these tricks are 'awesome'.
FAIL: Wayfair – "Rug designs that stand the test of time". Again, this might be a bit of a trigger, but not nearly enough to get me to open it. If I'm part of Wayfair's target market, shoppers, I probably want things go out of style so I can do more shopping. And check the snippet from the email that follows the subject line – they missed a great opportunity to tell me about a real trigger: saving money.
PASS: Social Media Today – "How Do Your Customers Feel About Your Brand" – If you click on this one, you will learn more about your level of acceptance.
FAIL: Vacay.ca – 'Vacay.ca'. Don't waste people's time.
At first, it may not be easy to turn your thinking toward using triggers in your testing criteria. Take it one step at a time. Look for the obvious. And, most of all, keep testing.