Conversion Optimization Tactics in Action

Hopefully this isn't "patting ourselves on the back" too much, but in a recent review of Invesp blog posts, I was struck by how much good conversion optimization advice we have for improving online business.

Good advice is always beneficial, but it will also always be just that, good advice. But showing that good advice in action can make it easier to understand and apply it to your situation.

www.simply-bbq.com is a lead generation site for a barbecue catering and event company in Toronto, Canada.

The website uses a number of conversion optimization tactics and the following are some of those we recently mentioned:

Video – In 3 Ways to Boost Ecommerce sales with YouTube we wrote about the remarkable lack of use of video as a promotional tool, despite lots of evidence that it is an effective way to drive traffic and sales.Starting on the homepage banner, Simply BBQ puts videos to work throughout the website. Take note of the fact that the videos are not professionally produced and show only real-life situations. This gives the customer a very clear and true understanding of what to expect from Simply BBQ, which reduces customers' fears, uncertainties and doubts about what's being offered and increases the chance that they will convert.
Calls to Action –  Among others, Simply BBQ follows all the CTA tips outlined in Invesp's post Ask for the Sale: 3 Tips for Better results form Your Calls-to-Action.The site has clear calls-to-action throughout, including a clear navbar, newsletter sign-ups and social media links.Different CTAs are used for the same content, including BBQ catering, menus and event rentals. This appeals to different customer personas and addresses different points in the buying cycle.The Simply BBQ CTAs are distinctive in their design and distinct from each other, going from the text-based navbar menu to large orange buttons and graphic, image-filled selections.
Customer Reviews – In his post 5 More UX & Conversion Tips on Product Pages, Masroor's first tip is "customer reviews give other customers an unbiased perspective on a product".Simply BBQ offers a number of innovative customer review options.Many menu items offer visitors the option to "Like this Menu" accompanied by a tally of Likes. This automatically highlights the most popular menu items.Results from surveys of corporate customers are posted in detail.Visitors can contribute to Grill Talk and open forum for any topic, from suggestions for better products and services, to favorite recipes and grilling techniques

The Simply BBQ site is very new and the analytics are not yet conclusive, but the attention to the customer, her user experience on the site and her needs is sure to pay off in improved lead generation, branding and sales for the company.
Join 25,000+ Marketing Professionals
If you enjoyed this post, please consider subscribing to the Invesp blog feed to have future articles delivered to your feed reader. or,receive weekly updates by email: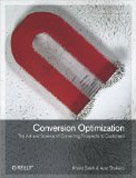 Conversion Optimization
The Art and Science of Converting Prospects to Customers
By Khalid Saleh and Ayat Shukairy