Multivariate Testing or MVT testing is the process of testing multiple variations of multiple elements on a webpage with the goal of determining the best combination of elements to increase conversions.
By using MVT testing software, you can test different variations of any element on your page (headlines, images, buttons, etc) to measure their impact on your conversion rates. The following image displays an example of how MVT testing software works.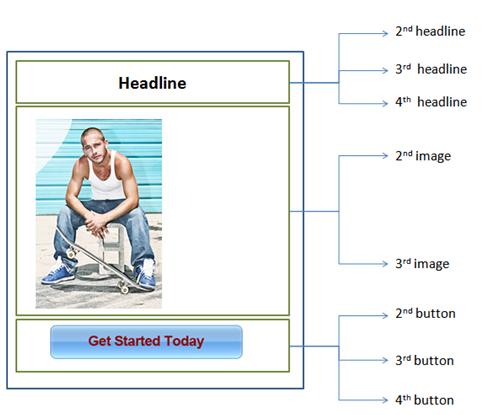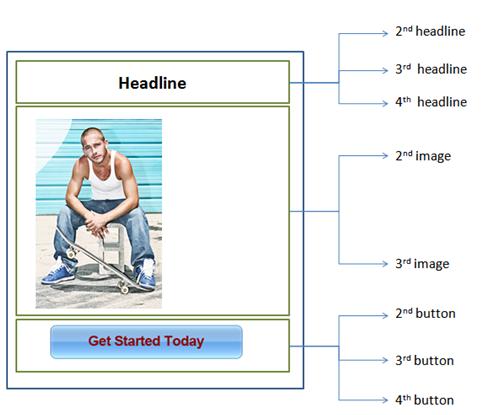 In this example, the software tests different variations of the page headline, image and call to action button:
•  The original headline against three other possible headlines, for a total of four possible headlines;
• The original image against two other possible images, for a total of three possible images;
•  Finally, three different buttons are tested against the original button on the page.
For this test, that one page receives 48 possible variations. The total number of testing variations (also called challengers) depends on the number of elements you will test on a page (headline, image, buttons, etc.) and the number of variations you will be testing for each of these elements.
The total number of challengers is calculated by multiplying the number of different variations of each of the elements. For a webpage in which we will be testing (N) number of elements, we calculate:
Total number of page variations = Number of variations of element (1) x Number of variations of element (2) x  …x Number of variations of element (N)
The number of page variations can grow very fast. Some testing software allows for testing tens of thousands of variations of a single page.
As a visitor arrives at a page, the software will pick one of the four headlines, one of the three images, and one of the four buttons to display.
The following image shows four of the 48 possible designs the software can create. Your team does not have to create all of the 48 designs; the software will swap the different variations and create the designs automatically.