Reading Time:
16
minutes
Conversion rate optimization, or CRO, is the process of increasing the percentage of visitors who complete a website's goal. You can think of CRO as an ongoing process that involves user research, data analysis, competitive analysis, heuristic evaluation, usability testing, and A/B testing.
Conversion rate optimization involves persuading website visitors to take the desired action you want them to take on a website or web application.
What is a Conversion Rate Optimization Process?
A conversion rate optimization process can provide incredible results, but you'll be just as amazed by the process to achieve these results through the fact-based, data-driven scientific approach we will bring to you in this guide.
At a very high level, a conversion rate optimization process involves:
Conducting a heuristic evaluation of the site
Conducting qualitative research and user behavior analysis
Conducting quantitative research
Conducting competitive analysis
Prioritizing problem areas on the site and creating a conversion roadmap for your website (what pages need to be fixed)
Determine problem areas on a website
Analyze the page using the conversion framework
Prioritize problems on a page
Create a testing hypothesis
Create new designs based on the testing hypothesis
Conducting AB testing (or multivariate testing)
Conduct a post A/B test analysis.
At Invesp, we've developed our CRO process known as SHIP – which stands for Scrutinize, Hypothesize, Implement, Propagate. Here is what the process looks like: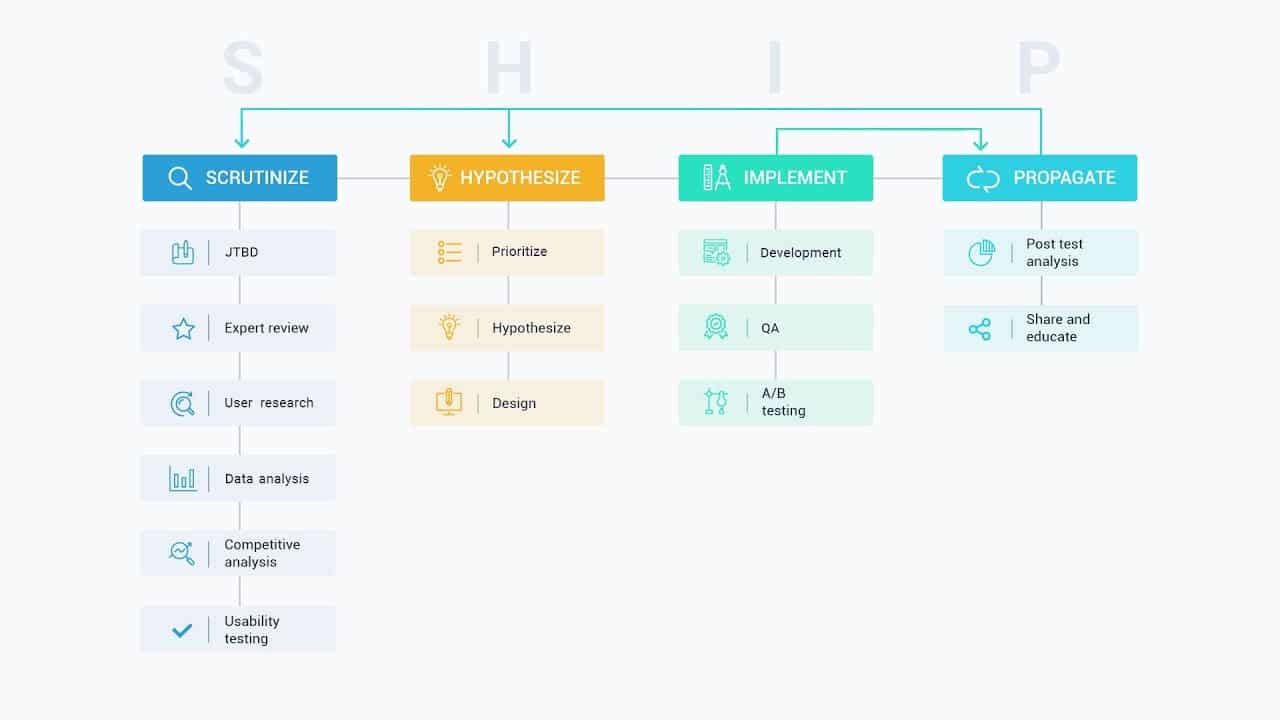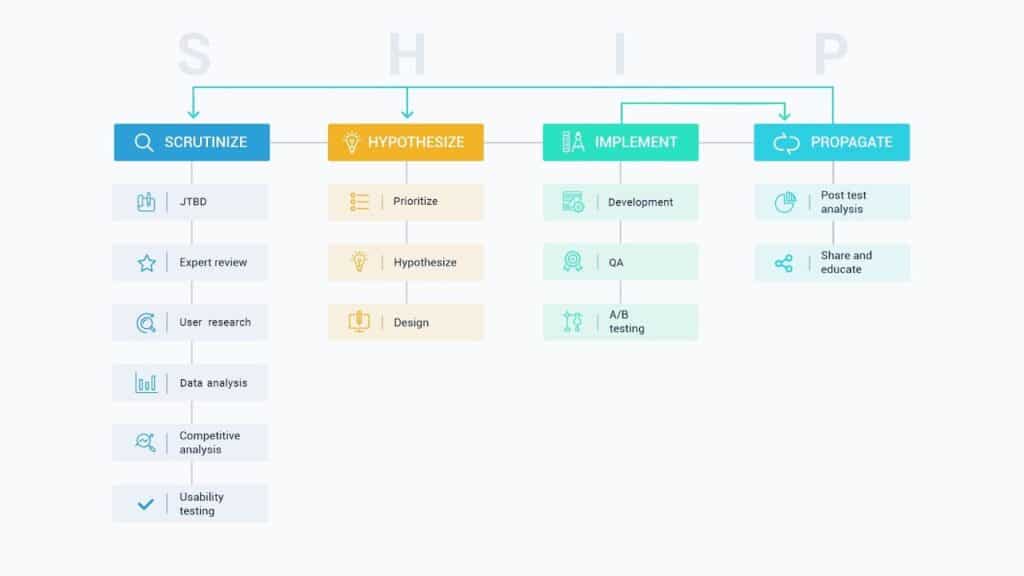 Let's start with basic definitions for online conversion rate and conversion rate optimization.
What is Online Conversion Rate?
Conversion rate is the percentage of visitors who complete a desired action on a website, during a time period. Any valuable engagement your visitors make may count as the desired action, as long as it fulfills your webpage's goal. Remember, every page should have a primary goal.
Video Source – What is Conversion Rate Optimization? | In 7 Minutes!
You can choose to measure the number of visitors who:
purchase a product
sign up for a newsletter
subscribe to a software
hire a service
download a free e-book
fill out a 'contact us form
answer a survey
give a feedback
take any action a page is designed to encourage.
By measuring conversion rates, you find out if your pages are persuading visitors to take the action you want them to take on the page. The higher the conversion rates, the better your design and copy are reaching out to qualified prospects.
Related Articles: The Average Website Conversion Rate By Industry
There are many goals, thus conversions rates, that you can track on your website.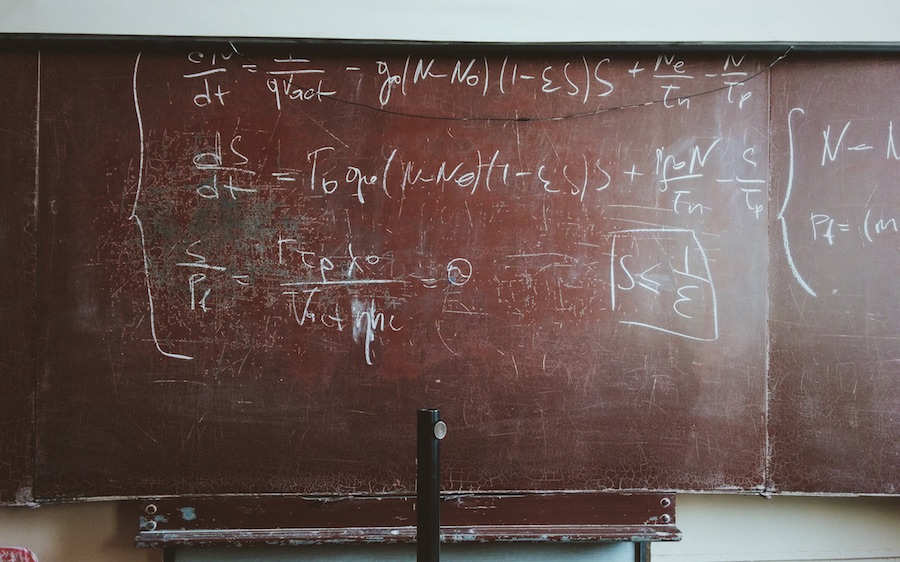 If you are an ecommerce website, your website conversion rate is the number of monthly orders your receive divided by the number of visitors that come to your website.
At the same time, each page on your website has at least two conversion rates (if not more).
Let's take your product pages on an ecommerce website, the goal of these pages it gets visitors to click on "the add to cart" button. And of course, the final goal is to get these visitors to place an order (convert on the website).
Another important thing to note is every website has micro and macro conversion rates.
Micro conversion rate: this refers to smaller engagements that can happen on a site. A newsletter sign-up or a click on the "aad to cart" button is a good example of a micro-conversion rate on an ecommerce website.
Macro conversion rate: this is the primary goal that you want your visitors to take on your website. For example, placing an order is the main goal you'd want visitors to take on an ecommerce site.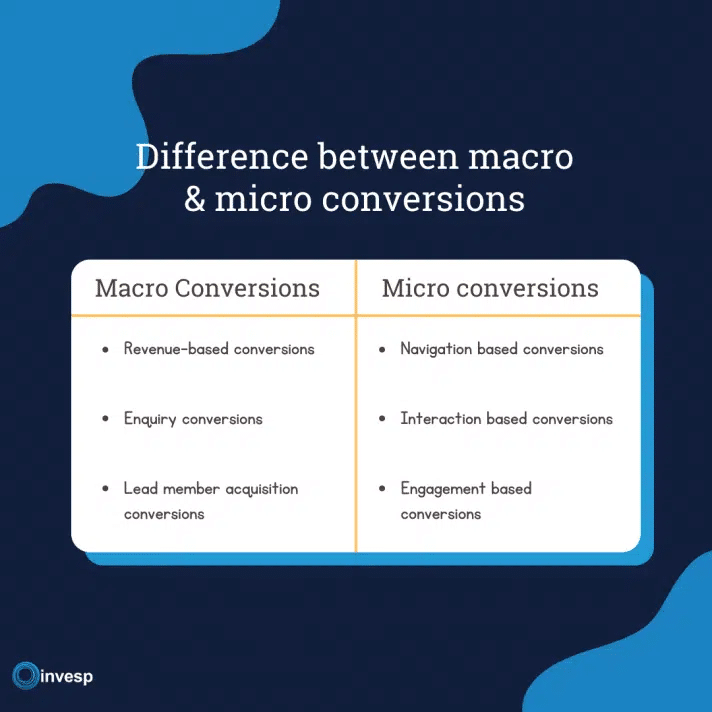 What is Conversion Testing?
Conversion Testing is the process of conducting an AB or multivariate test to boost conversions of the website.
An iterative process by nature, CRO helps you in making assumptions about your website visitors and then testing these assumptions to measure how your market actually responds.
As a long-term process, CRO achieves sustainable, repeatable, and consistent increases in conversion rates through researching, testing, and analyzing visitors' behaviors on your website. A good CRO program increases your site's revenue month to month, reaching significant cumulative annual growth.
The best part? This result optimizes your current website traffic. More conversions, without the need of increasing site traffic.
The annual uplift in profits alone could justify a CRO program implementation.
But conversion optimization goes beyond the metrics and profits.
When performed correctly, CRO becomes a way of discovering more about your visitors, target audience, and customers, as well as your website and your company. A good program can give you precious insights to apply to other areas of your organization.
CRO is a new mindset. If you think you know everything about your customers, then CRO is not for you.
CRO is also not for you if you don't set the right expectations. Don't expect to change the color of a button and instantly receive more orders, forever. It is not going to happen overnight. You won't set up a test or two and immediately achieve a permanent monthly uplift. CRO is a process to enable data-driven choices to increase conversions. No guesswork. No magic.
CRO is a culminating feature of your overall business strategy.
What Kind of Time Commitment Does Conversion Rate Optimization Require?
If 'long-term' has been mentioned too many times already and started haunting your plans of increasing conversions, check the short video below. You'll understand that you may see initial uplifts, but the long-term commitment to CRO will help you continue to gain increases over time, never missing a beat with your visitors.
In this video, we talk about long-term commitment in CRO programs, during one of our webinars, and provide a timeframe to kick start projects.
Video Source – How to Run a Successful Conversion Rate Optimization Program by Invesp
Why Don't Many Online Companies Focus On Increasing Website Conversion Rates?
These are the five main reasons many online companies do not focus on increasing their conversions:
1. Increasing website traffic is easier than increasing website conversion rates:
To increase your offline sales, you train your staff, re-organize the store, run incentives, and conduct customer surveys. In contrast, it is a lot easier to increase your PPC campaign budget or daily spend; thus increasing the traffic to your site. Setting up paid campaigns requires little effort for most companies. Converting the new traffic these campaigns bring is much more challenging and requires a person or team to put together all the pieces.
2. Many companies failed at conversion optimization:
We see it all the time. Companies launch a new conversion rate program hoping to increase their online revenue. They jump into testing right away. They do NOT follow a methodology in optimization. They randomly select pages to test, randomly test elements on these pages, and do not analyze the results of their testing program. A few months later, after a few failed experiments, they shut down the program. If you think about it, there is not a problem with optimization in this scenario. There is a problem with the way these companies approach conversion optimization. Random marketing does not work in any campaign. Good results require consistent and repeatable methodology.
3. Increasing conversion rates is complex:
Increasing your website revenue requires you to anticipate and understand visitors' cognitive progression (what information your visitors are expecting to see) as well as to provide them with that information. It requires you to focus on human behavior on your website, which is not an easy task. Many companies shy away from addressing this problem. However, would you stop doing something you know can help your business just because you think it is complex? Wouldn't it make more sense to put the time and effort to understand it and reap the benefits from it?
4. Increasing conversion rates requires commitment:
Just like any other type of marketing program, conversion optimization is a long-term commitment.
No shortcuts here.
CRO is not a light switch you turn on and off. Many companies fear pursuing a new activity unknown to them, but, ultimately, this is a numbers game. It is about calculating how much money CRO will require you to invest and what return you should expect. And that's why every company should ask themselves: does the return justify the investment?
5. The Ego problem:
CRO gives your visitors a voice in the design process of your website. The more analysis and testing you conduct, the larger the voice of the visitor will be on your website. That is a good thing. Well, most of the time. Someone in your team (might be you, your designer, your CEO) may discover the vast contrast between his ideas of what works best and the visitors' actual interests. That is not always an easy pill to swallow. What's worse is when the visitor's voice points to solutions that go against the current trends. Do you still give them what they want or keep your site trendy and following the latest developments?
Where to implement a CRO strategy
There are different areas and pages on an eCommerce site, and all of them are meant to work together to get site visitors to make a purchase.
You need a conversion optimization strategy to get the best out of your site pages.
Concerning a CRO strategy, not all the pages are priority pages. This is because some pages are directly in the purchase funnel path (product pages, category pages, cart page, checkout page), while others are supporting pages (about us page, FAQ).
Concerning a CRO strategy, Khalid Saleh said this;
"It's quite common to see CRO specialists sometimes jump into experimentation on a project without having a full strategic plan.

A full strategic plan has two elements to it. The first is that it spans 6 to 12 months.

This means you need to have an understanding of what you need to optimize for the longterm. the second side to the strategic plan is that it needs to be coherent. An example of coherence is my goal is to improve the purchase funnel on an ecommerce website."
Talking about the purchase funnel, here are five areas that are priority pages and have the potential to benefit from a CRO strategy.
1. Homepage
The homepage is a prime candidate for a CRO strategy. It's the first touchpoint many times for first-time visitors to your site.
When properly designed and optimized, the homepage can guide your site visitors to other key and important pages on your site.
You can easily set this up by emphasizing links to best-selling product pages, category pages, FAQ pages, testimonial pages, etc.
Setting up your homepage this way, your site visitors don't just sit on your homepage not knowing what to do; they're redirected to other pages that take them deeper into the purchase funnel.
See this example from Bitetoothpastebits;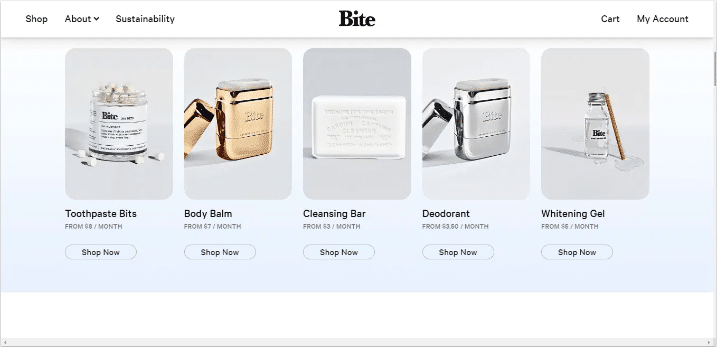 Right on the homepage, they link to some of their best-selling products. This helps site visitors to see what others are purchasing and direct links to each product.
2. Category pages
The category page is the bridge between the homepage and the product page.
Category pages essentially are pages where different product pages that have a similarity are grouped together.
Suppose you sell clothes; a typical category page will be based on gender, males, and females, then there might be gender-neutral pages where the items there could be worn by anybody.
CRO plays a vital role in optimizing category pages, and that's because if you don't do this, many times it'll be difficult for site visitors to see what they're looking for.
One way CRO helps here is by conducting user research to find out how your users categorize the items you sell. It's easy to assume it'll be easier to use male or female or kid items, but other categories might help them better.
See this example of category pages from Kohls;

These are the main category pages; when you click on one, you see relevant subcategories that make it easier to find what you're looking for.
See the Kids subcategory.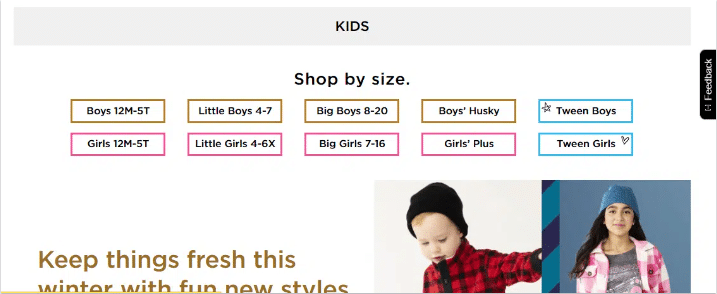 This is further broken down into Boys by age, girls by age, boys by size, and girls by size.
3. Product pages
A product page is the make or break point for any ecommerce site. The reason is that this is where the money is made for many businesses.
An unoptimized product page is a revenue drain for any ecommerce business.
There are many ways CRO can help improve a product's page performance which leads to more revenue;
By testing different types of messages.
By testing different layouts.
By testing different types of offers.
By testing videos vs. image presentation of the product, etc
See this product page from Daily Harvest;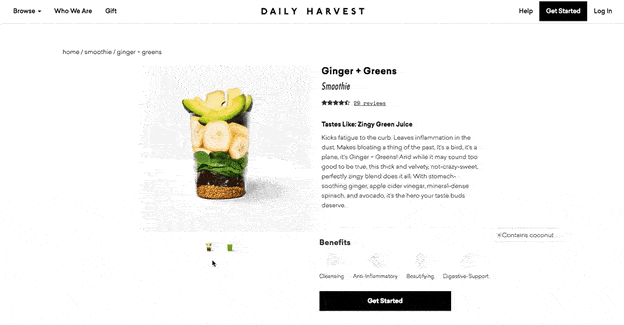 Not only can you see what the smoothie looks like, but hovering over the lefthand preview icon below the main image, shows you the foods used to create this drink. Scroll down, and you'll see each ingredient and a simple description of each ingredient.
4. Cart Page
An ecommerce cart page is the place where all the items site visitors have shown interest in purchasing are piled up.
You can liken it to a physical shopping basket where you drop the items you're interested in.
Sounds easy, yes? Of course, but the experience many shoppers have with cart pages is nothing to write home about.
Here are some common complaints users have having seen several cart pages.
Inability to find items in the cart.
They can't see and calculate the total order upfront.
The site wants you to create an account.
The return policy wasn't satisfactory, etc.
To prevent these issues from coming up on your site and improving your site's conversion rate, this is where CRO comes in.
With conversion optimization, before implementing any best practices, you should first do customer research.
Reach out to previous purchasers and ask them what issues they faced on your cart page. This helps you streamline the issues (the obvious ones and the not-so-obvious ones).
Set up a survey that triggers when users want to exit your cart page without proceeding to checkout, asking them why they're not proceeding further. You'll surely learn a lot.
Now you know what's wrong, look for patterns among the complaints and prioritize those issues.
Create a hypothesis for the top issues, create designs with your hypothesis in mind and test them against the control cart page.
Observe, take your results and implement your winner.
This way, you're learning more about your customers, increasing sales and conversion rate while reducing churn.
Not to sound like a broken record, there are some features to be found in high-performing cart pages like;
Editable cart page i.e., you can easily remove items from your cart.
You might also like features i.e., upselling and cross-selling complementary items.
Shows the total cost of products, plus shipping, not sneaking it into the checkout page
Reduce confusion by using large, high-quality product images for the shopping cart.
Here's an example of a beautifully designed cart page from Lululemon;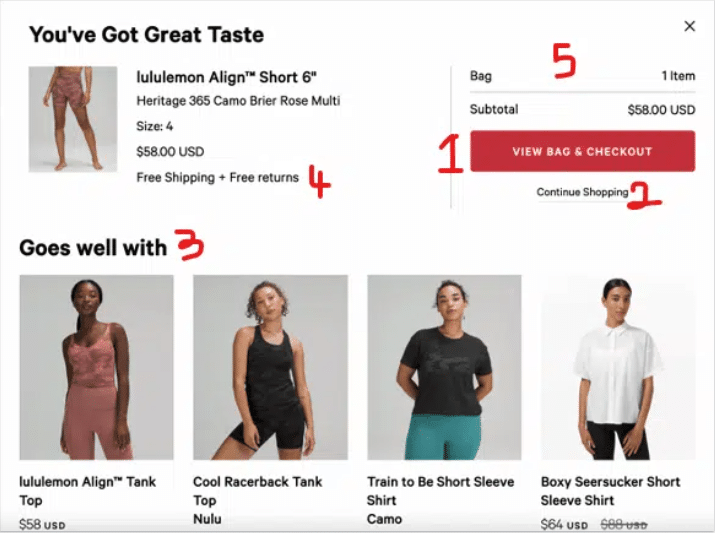 1 – Gives the shopper an option to see what's in their cart before checkout
2 – The shopper has the option to continue shopping.
3 – A section recommending products for the customer to increase their purchase.
4 – Highlights free shipping and returns, no gimmicks.
5 – The shopper can easily see how many items are in their cart.
5. Checkout Page
The checkout page is any page shown to site visitors when they want to pay for their order.
You can think of a checkout page as the online version of the physical checkout counter.
This page is critical to visitors completing their orders or abandoning their carts.
Your product page might have been easy to use, but once users encounter friction and issues paying for their orders, they easily bounce.
Here are some issues site visitors face when using checkout pages;
A disorganized layout.
A multi-step checkout that requires creating an account with the ecommerce site.
Using links as CTA instead of buttons.
Not offering popular payment methods.
Not allowing site visitors to save their payment information for further use.
These are some of the popular issues visitors face.
How CRO helps is this;
Set up exit-intent surveys on checkout pages that trigger when site visitors want to checkout without payment.
Conduct JTBD interviews with customers who successfully ordered to find out why they paid, what difficulties they faced, and how you can improve.
Here's an example of a great checkout page from Allbirds.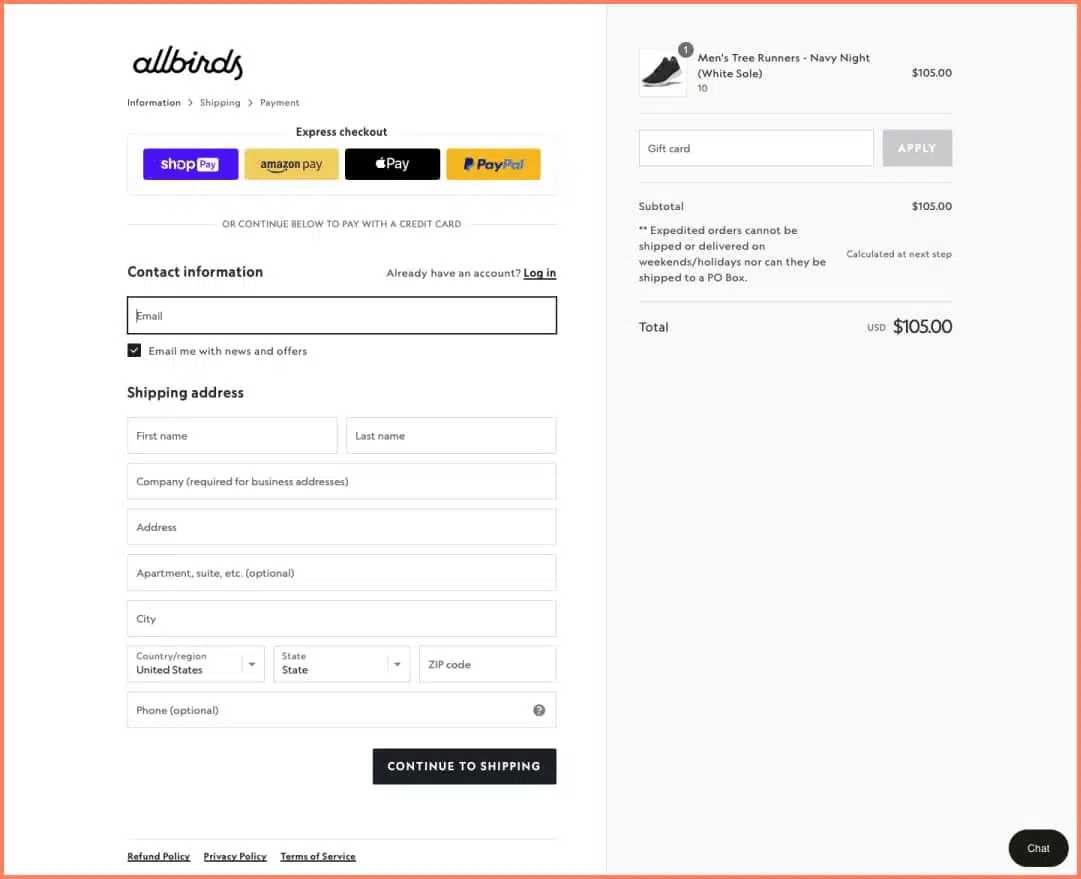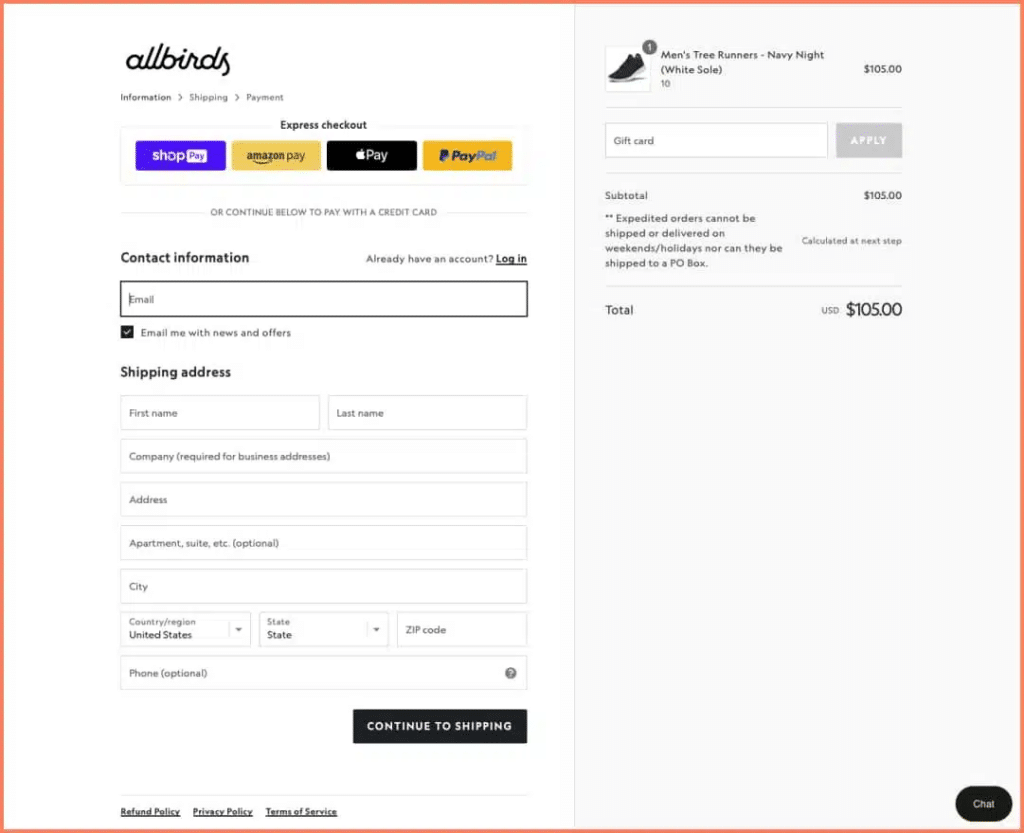 The Allbirds checkout page prioritizes user convenience with features like guest checkout, order preview, progress bars, and clearly visible terms and conditions.
What stands out: Express checkout. One of the best tips for increasing conversions is enabling express checkout and optimizing the flow. Why? Because it quickly allows users to finish the purchase easily without having to think twice.
Important Conversion Rate Formulas
By understanding different conversion rate formulas, businesses can evaluate their online campaigns' effectiveness, identify improvement areas, and make data-driven decisions about their marketing and website design.
Here are different conversion rate formulas:
Conversion Rate Formula: How to Calculate Conversion Rate
To calculate the conversion rate, you must divide your number of conversions (or leads generated) by the number of visitors (or web traffic) and then multiply that number by 100 to get the percentage.
Leads Generated ÷ Website Traffic x 100 = Conversion Rate %
For instance, suppose you own an ecommerce website that sells merch for the Lord of the Rings.
In the month of September, you had 75,000 site visitors, and you made a sale of 3,000 shirts.
Using the above formula – 3000/75,000 X 100
= your conversion rate will be 4%.
Conversion Rate Formula: How to Calculate Number of Net New Customers
To calculate your number of net new customers, you'll want to divide your net revenue goal by your average sales price.
New Revenue Goal ÷ Average Sales Price = Number of New Customers
Here's an example to make it easier for you to understand.
Using the same month of September, let's say your merch website grossed $175,000 in sales, and your average sales price is $35.
To get the number of your new customers, apply the formula above.
175,000/ 35 = 5,000 new customers.
Conversion Rate Optimization Strategies
1. Add trust signals to your checkout page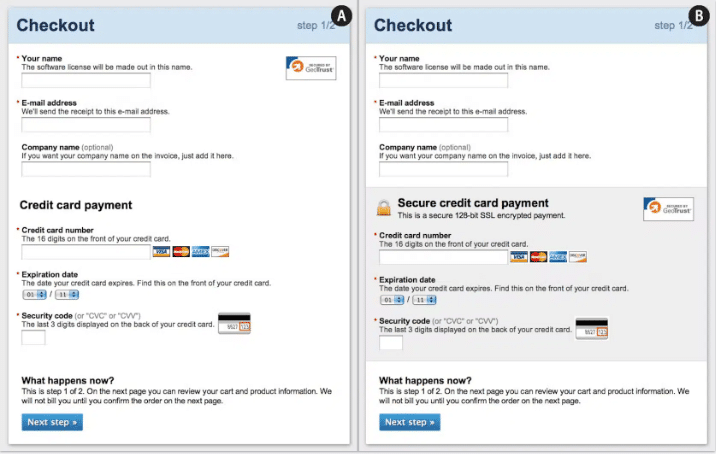 This is a mockup example highlighting the difference between the two payment pages.
The second page has a padlock symbol which is a visual cue of security; it highlights its 128-bit SSL, it has a GeoTrust symbol, etc.
All these serve to make site visitors comfortable enough to complete their checkout.
In a recent checkout usability study by Baymard Institute, 18% of participants said they don't proceed with the checkout process because they don't trust the site.
How you combat this is to add trust signals that make it easier to buy from you.
Visually reinforce the credit card section.
Make use of SSL seals for your checkout pages.
Make use of trust seals like 'Google trusted store' etc.
You can use made-up symbols like padlocks that tell your site visitors that you're safe.
2. Clearly display product reviews.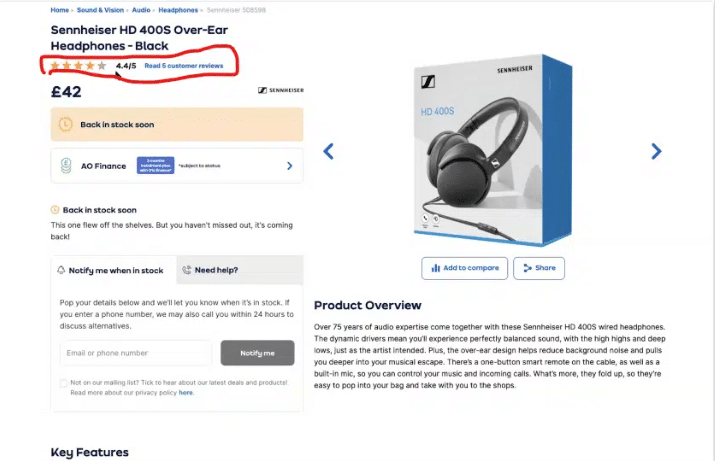 User testimonials aren't just something you create a page for and dump them there; it's important you have relevant user reviews on your product page.
There are typically two pieces of information site visitors are looking for when going through your product page;
Average rating score, and
The number of ratings the average is based on.
Do well to have both on your product page.
3. Provide a great user mobile experience.
Most websites are mobile-optimized but don't produce a great user experience.
Here are some common mobile pitfalls you should avoid when providing a great mobile experience.
Many ecommerce sites don't highlight the current scope in the main navigation.
Many sites don't make product category pages the first level of the main navigation.
Many sites don't offer search autocomplete, which is something users have come to expect.
A lot of sites don't suggest alternate paths and queries to user searches.
These and more are what make for a terrible mobile experience. If you can work on improving these issues, you'll see increased conversions on mobile.
4. Always label both required and optional fields in the checkout form
The truth is, having a lot of forms on a checkout field makes it look tasking and daunting to complete.
According to a testing study done by Baymard institute, failure to implement labeling checkout fields lead to unnecessary validation errors, user confusion, a slower checkout process, and even order abandonments.
5. Be careful how you implement the LiveChat feature
Almost every website has a LiveChat feature. This in itself isn't a bad thing; it's great, actually.
What's wrong is the LiveChat feature autostarting without the site visitor initiating it.
Studies show this autostart feature is annoying and irritating to site users – but useful when users are the ones who initiate the conversation.
Why Should eCommerce Businesses Invest In CRO?
There are different marketing channels and activities ecommerce businesses are committed to.
Examples are running PPC ads, and trying to generate organic traffic through SEO, influencer marketing, etc.
Why should they consider investing in conversion rate optimization? What are the obvious benefits?
Instead of rehashing what you can find on Google's first page, I chatted with two conversion specialists that work with us at Invesp, and their perspectives proved to be interesting.
According to Isabela;
"eCommerce companies should invest in Conversion Rate Optimization beacuse the world is changing every day and eCommerce websites are no exception. We can see how everyday websites are trying to "break out of the box" and have a different website experience that the ones you see on Shopify. Users are getting bored with the same layout everywhere. They are not gonna remember your website because it's similar to the previous one they just visited. But to know exactly what attracts the users you need to test it out first. And you can do that with AB testing because otherwise if the experience is not suitable for users you could lose a lot of revenue. With Conversion Rate Optimization you can see which variation has the best chance to win and how much higher it could be if you implement it on the website."
Anwar echoed similar thoughts;
"The main reason is the continual growth in revenue, customer base and purchase journey/experience,

eCommerce can always have offers or campaigns to get a higher conversion for a limited time but conversion optimization goal is to enhance the overall website/revenue performance without the need for additional triggers like offers that cost the business a lot, impact their AOV and don't last after offer phase."
Which are the best Conversion Rate Optimization Tools
There's no shortage of conversion rate optimization tools in the market.
CRO tools can help you understand the performance of your website by showing you how visitors use it. Simply put, these tools collect data about your visitors and website, therefore, helping you identify problematic areas on your website that are making visitors struggle.
Before I give you a list of the best CRO tools out there, it's important to mention that these tools fall into three categories:
Web analytics CRO tools
Behavior analytics CRO tools
CRO testing tools
1. Web analytics CRO tools: Show you what's happening on your site
You can't improve or optimize your site's conversion rate if you don't really what's happening on it, can you?
This is where Web analytics CRO tools come in.
Web analytics CRO tools help you understand your site in terms of numbers. They offer you quantitative data to answer questions like:
How long are visitors staying on my site?
Which landing pages have the highest bounce rate?
Which stage of the conversion funnel am I losing visitors?
Knowing answers to the above questions is important as it gives your optimization efforts a high chance of being successful.
2. Behavior analytics CRO tools: Shows the behavior of your website visitors
To improve your website's conversion rate, you need to provide an excellent experience that is in line with what your visitors want. So, how do you what visitors want?
Well, one way of doing that is looking at how they behave on your website.
Unlike web analytics tools, user behavior analytics tools can show you exactly what visitors are doing on your website by collecting qualitative data. You can actually rely on behavior analytics tools to answer the following questions:
What's causing visitors to leave the site without purchasing?
Are visitors finding what items they are looking for?
Which websites areas are frustrating visitors?
Without knowing the answers to the above questions, your optimization efforts are going to be fruitless.
3. CRO testing tools: Allow you to compare and measure website changes
Testing is an important piece of the conversions rate optimization puzzle. The process usually involves testing two or more design versions of a web page in order to determine which version has more conversions.
Before you permanently implement changes on your website, you need to measure and see if they make your website better or not. This is why you need to have a reliable A/B testing tool.
RELATED ARTICLES: Top 10 A/B Testing Tools Used By CRO Experts in 2021
CRO testing tools can be used to test different web elements such as the position of a call to action button, web form size/placement, landing pages, website copy, website navigation, checkout process of an eCommerce site, pricing models, etcetera.
Now that you know how these tools work, here's a list of the best conversion rate optimization tools:
Some of the above tools have similar features and only differ in price plans. However, our CRO team relies on the FigPii when it comes to understanding user behavior, and it is the only tool on that list that has a recommendation feature that pinpoints problem areas you should fix, right way, on your site. We also use Google Analytics as our main tool for tracking traffic data.
Resources You'll Love
1. How To Convert Different Types of Visitors On Your Website
2. Post-purchase CRO: How to re-engage customers after they have purchased
3. Using Jobs to be done Framework to Improve e-Commerce Conversions
4. CRO Low-Hanging Fruits That Will Give You An Immediate Win