3 Tips for Tuning Up Your Email List

You have heard this many times, but it has yet to be overstated: email marketing is one of your most powerful marketing vehicles. You will be hard-pressed to find another channel that is as simple, fast, accepted, direct, targeted, personalized, trackable, cost-efficient and effective. And ROI isn't hard to come by either.

The engine that makes email so powerful is the email list. Your email doesn't work without it. And if it's in poor condition, your email marketing will be that much less efficient and effective.

The mistake many marketers make is in thinking that all they need to do to keep their list in good shape is to keep adding addresses. It becomes a game to run another promotion and watch the numbers go up. But there are other maintenance tasks that will help you get more from your list:

Clean out the junk – We get so hung up on seeing a growing email list, we neglect to remove the "non-existent addresses" or addresses that block your messages (shouldn't be too many of these). Sure, when you get rid of all those addresses, your list total takes a dip, but so will your bounce rate.
Replace with good, clean addresses – Yes, it's true, adding new, permission-backed addresses is the best thing for your email list, but not just because your list gets longer. Hubspot's Dan Zarrella found that click-through rates are higher for your most recent subscribers – about 5 times higher than subscriptions that are over 3 months old.  But it's sometimes difficult to keep a steady stream of new addresses flowing into your list, so it pays to develop new sources of addresses. One often overlooked source is the addresses you just cleaned out in point #1 above.If you managed to get street addresses from your subscribers, try using snail mail to get updated addresses from those who have lapsed. People change email addresses far more often than street addresses. Yes, it's a little costly, but you'll be surprised at the return rate (we got over 24%) and how many regular customers are out there wondering why you stopped sending them emails. If you're not convinced, think about this: if you had 1,000 undeliverable addresses, and managed to get 24% of them back, that's 240 addresses of people who have already bought into your message.
Segment Your List – Asking your full list to be everything to everyone is a tall order. When you segment your list; by geography, customer preferences, product types, whatever; you break up the workload and improve email efficiency. Segment your list and watch your opt-out rate drop significantly.

There are countless other ways to get more mileage from your email marketing, but take care of your list and a lot of the other stuff will take care of itself.
Join 25,000+ Marketing Professionals
If you enjoyed this post, please consider subscribing to the Invesp blog feed to have future articles delivered to your feed reader. or,receive weekly updates by email: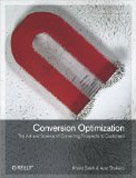 Conversion Optimization
The Art and Science of Converting Prospects to Customers
By Khalid Saleh and Ayat Shukairy