5 Variables to Test on Your Landing Page Headlines

First impressions last. But on your ecommerce or lead-generation landing pages, they can last less than a second.

Your landing page headline does more than any other element to shape a visitor's first impression and, if it doesn't work, it also shapes their last impression.

As such an important part of your landing page, headlines are a great place to start your a/b or multivariate testing to improve your conversion optimization.

As you read through the list of testing options, remember that there are no rules for what works. That's why you need to test!

The Trigger & Benefit – A "trigger" in your headline gives readers a reason to continue reading your landing page. Simple trigger words include "Learn" "Get" "Save" or just about anything else that lets them know they are going to get something. The "benefit" outlines exactly what they will get.For example:
Save on Fashions (trigger) and Look Fabulous Too(benefit)
Power Words – Try powerful, compelling words. Something like this:
Write Killer Headlines
Headlines that Boost Your Sales
A Fast, Powerful Way to Get Brilliant Results
Keywords – Keywords are the internet's great gift to marketers. They let you know the language of your customer. There is no denying the value of keywords in your headline – not just in attracting customers, but they will help your SEO too. Try different words in different combinations with the other options in this list.
Length – Do any research on this and you will find excellent advice supporting short, long and just about every length of headline. It should be as long as it needs to be – and no more.Short headlines tend to be punchier and may help your landing page stand out better on a SERP. Longer headlines can help you to better qualify the visitors to your page. The former can get you more traffic and the latter can get you traffic that is more likely to convert.Sub-headlines – Make sure you try combining headlines with sub-headlines to help get more information across and improve the chances that your visitors will stay.
Questions, Commands & Other Headline Techniques – Here are some samples to illustrate these options:

Want to Have More Effective Headlines?
(When you pose a question that your readers want to see answered, they are compelled to read on.)Start Writing Better Headlines Today
(Your readers sometimes need to be told what to do.)5 Tips for Writing Irresistible Headlines
(Tell your readers exactly what they will get from your landing page.)How to Write Headlines That Hook Your Readers
(Another trigger – benefit formula: "How to _____ (trigger) that will ______ (benefit).)

Just Released: The 5 Most Effective Ways to Write Better Headlines
(This headline makes your landing page sound newsworthy, like it's an event.)

The most important part of testing your landing page headlines? Keep testing them – they can always get better.
Join 25,000+ Marketing Professionals
If you enjoyed this post, please consider subscribing to the Invesp blog feed to have future articles delivered to your feed reader. or,receive weekly updates by email:
Connect with us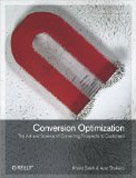 Conversion Optimization
The Art and Science of Converting Prospects to Customers
By Khalid Saleh and Ayat Shukairy