9 Landing Page Elements to Start Testing Now

Testing your ecommerce and lead-generation landing pages is the best way to increase their conversion rates. Check the infographic we recently posted on the Invesp blog to learn more about How to Test Your Landing Pages.

After you do, use the list below to help you determine which landing page elements you can use to begin testing:

Page Headline
This is the single most important element of your landing page. Why? It is the first and very often the only element that visitors use to determine whether your landing page holds the answers they seek.
Sub-Headline
While your headline is important in getting your visitor to stay on your landing page, it is limited in its length and scope. An effective sub-headline will expand on the headline's direction and add detail to confirm to the reader that he or she is in the right place.
Calls to Action
Once you get your visitors to stay on your page, converting them into customers is your next biggest hurdle and your CTAs are an essential part of that process. Every element of your CTA is crucial, including size, shape, color, copy and placement.
Page Layout
The elements you choose, their location on the page and the overall look and feel they create make a big difference in whether your visitor converts – or leaves the page.
Images
If a picture is worth a thousand words, it can have almost as powerful an effect on your page's conversion rate. Make sure images are engaging, relevant and in the right places.
Image Captions
After your headline, your image captions are the next most likely copy to be read by visitors. Bonus Tip: They can also enhance your SEO.
Copy and Font
This is where you deliver the goods promised by your headlines and images. Your copy needs to convey the right information, in consumable chunks and use consistent fonts that complement your design and layout.
Testimonials
The major obstacle your landing page has to overcome is the FUDs (fears, uncertainties and doubts) that your visitors have about choosing your product or service. Testimonials assure them that these concerns were overcome by others.
Credibility Symbols
To further alleviate any concerns visitors have in dealing with your company, credibility symbols, for example a BBB logo or industry association membership icon, are a "seal of approval" from recognized authorities.

While these are a few suggestions to help you begin your testing, the most important lesson is simply that you should start testing as soon as possible so your business can enjoy the rewards of higher conversion rates.
Join 25,000+ Marketing Professionals
If you enjoyed this post, please consider subscribing to the Invesp blog feed to have future articles delivered to your feed reader. or,receive weekly updates by email: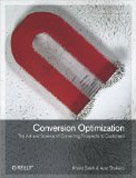 Conversion Optimization
The Art and Science of Converting Prospects to Customers
By Khalid Saleh and Ayat Shukairy