Are You Marketing to the Right Online Customers?

You've read on these pages before about the benefits of a marketing model that focuses on repeat customers to turn them into brand advocates for your ecommerce.

Now an analysis by Adobe Digital Index confirms major, bottom-line advantages to paying more attention to your repeat customers.

The analysis used data from 33 billion visits to 180 ecommerce sites in the U.S. and Europe. The numbers reveal a strikingly disproportionate emphasis on attracting new customers versus keeping existing customers:
(Adobe defines returning purchasers as those who have made one previous purchase, and repeat purchasers as those who have made multiple previous purchases.)

8% – percentage of visitors to US online retailers who are returning/repeat purchasers
41% – percentage of sales from returning/repeat purchasers

Let that sink in for a minute before you take a look at some of the other findings.

$ 2.06 – the average revenue per visit (RPV) for new customers
$ 5.22 – the average RPV for returning customers
$10.24 – the average RPV for repeat customers

That's five times the revenue per visit from repeat customers versus new customers.

Keep your seatbelts fastened, this isn't over; it hits you where it really counts too:

RPV increase during the Christmas 2011 holiday season:

17% new customers
22% returning customers
25% repeat customers

Not only do they spend more, but their spend is increasing at a higher rate.

Other data shows the overall RPV for returning and repeat customers is increasing while it flat-lines for new customers. And conversion rates are five and nine times higher respectively for return and repeat customers.

So why do all these numbers mean you're probably marketing to the wrong customers? The answer lies in the last two numbers:

78% – percentage of digital marketing spend on media aimed at attracting new customers, including search and display advertising
18% – percentage of digital marketing spend on media aimed at attracting returnérepeat customers, including social media and email

Returning and repeat purchasers generate a disproportionate part of your revenue, they spend more when they visit your site and they are easier to convert.

To whom do you market?
Join 25,000+ Marketing Professionals
If you enjoyed this post, please consider subscribing to the Invesp blog feed to have future articles delivered to your feed reader. or,receive weekly updates by email: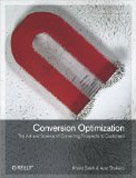 Conversion Optimization
The Art and Science of Converting Prospects to Customers
By Khalid Saleh and Ayat Shukairy