Reading Time:
12
minutes
Customer satisfaction. It's something that we all can agree is important. But how do you increase customer satisfaction? 
Many factors come into play, and you'll want to ensure you cover everything. 
Whether you're a small business owner or simply on the marketing team of your local business, there are some tips here for everyone. 
This guide will help you manage your customer expectations and meet them with a reputation for customer satisfaction.
What Is Customer Satisfaction?
Customer satisfaction is how well a company meets the needs of its customers. It's important because it allows businesses to make money and grow by providing better customer products and services.
In other words, customer satisfaction means giving customers what they want to ensure they keep coming back for more. It also helps increase revenues by encouraging repeat purchases from current clients who might otherwise move on to another brand or service provider if their needs aren't met as well as possible by the business itself.
Tips to improve customer satisfaction score
1​​. Determine Your Customers' Expectations
As per the 2021 Zendesk Customer Experience Trends Report, 75% of consumers will spend more to buy from your brand if it offers a good customer experience.
For example, Amazon sets the standards in e-commerce with competitive pricing and unmatched product inventory and provides references to the digital product experience.
It offers plenty of features, including search and detailed product education, to make it easy for shoppers to assess if a product fits their needs.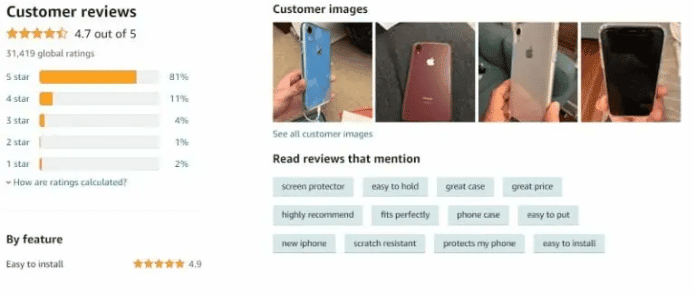 (Source)
Customers can review and rate products after they shop, helping buyers learn more about a particular product. But that's not all. Amazon also provides recommendations to decide which products fit your needs.
But to provide a stellar customer experience like Amazon, you need to determine your customers' expectations. 
So, the first step in customer satisfaction is determining your customers' expectations. 
This can be done through the following:
One-on-one interviews

Focus groups

Surveys 
You can also calculate satisfaction scores based on objective measurements such as customer reviews, sales volume, and social media engagement— anything that provides insight into how happy customers are with their experience with your business.
The next step is to determine how well you are meeting those expectations. If they aren't being met, then you need to determine why that is happening.
Once you have identified why it isn't happening, you can start working on solutions to fix the problem.
Once you have fixed the problem, it is time to implement new processes and procedures so that this doesn't happen again.
When you know how to please your customers, they will return to you repeatedly, bringing along their family and friends. If they are happy with the service they received, they will tell others about it too.
2. Talk to Your Customers
One of the best ways to improve customer satisfaction is to talk to your customers.
This might seem like a strange idea, but it's actually straightforward.
Here's how it works:
You set up a survey using FigPii or SurveyMonkey, or another online survey tool. You then send the link out to customers who have recently contacted your business.
You ask them questions about their experience, what they like and what they don't like about your product or service.
Then you take action based on the results of the survey. Depending on what your customers tell you, you can change your store policies, improve customer service, and so on.
Remember that asking them isn't enough. You need to listen closely and respond quickly if they do have an issue with your company or its products. 
Otherwise, they may not return the next time they need what you sell — or worse yet — they may tell their friends about their negative experience with your business!
For instance, Whole Foods leverages conversational marketing for customer engagement. The brand's Facebook Messenger chatbot can send recipes tailored to users' responses – and users can use phrases, emojis, or ingredients to discover new meals.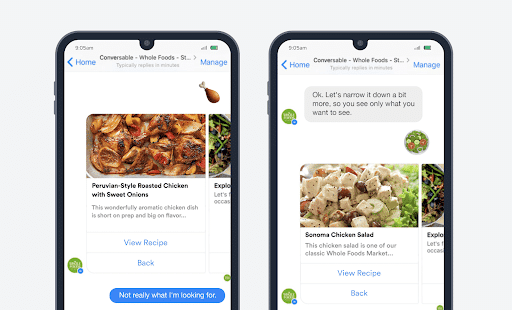 (Source)
This strategy works as they meet and listen to users where they are – without needing to download any other app. 
3. Monitor Your Customers on Different Platforms 
To better understand how your customers use your product or service, it's best to monitor them on different platforms. By doing so, you'll get an insight into their experience with your company and find out where they feel their needs aren't being met.
In fact, as many as 83% of customers say that they remain more loyal to brands if they respond and solve their issues. 
Here are some ways in which you can track your customers to gain more insights into their behavior:
Use social media monitoring tools like 

Hootsuite

 or Twitter Search to track what people say about your brand.
Set up Google Alerts for keywords related to your business. This way, if anyone mentions something pertaining to your brand online, they will receive a notification directly in their inboxes. 
Keep track of what people say about your business on Yelp and other review sites. 
Use Google Analytics to gain insights from website traffic data, such as where visitors are coming from (social media), how long they stay on the site, and what pages they visit before leaving (exit intent).
Engage with them directly on social media by commenting on their posts or answering their questions whenever possible (but ensure it takes only a little time away from other tasks). 
For example, Black Girl Sunscreen, a skin safety brand, reaches out to communities that may be less aware of sun safety. 
In this example, the brand probably searched for keywords related to their offer and found a Tweet from someone who could be interested in their product. So they quoted the Tweet and shared it on their profile.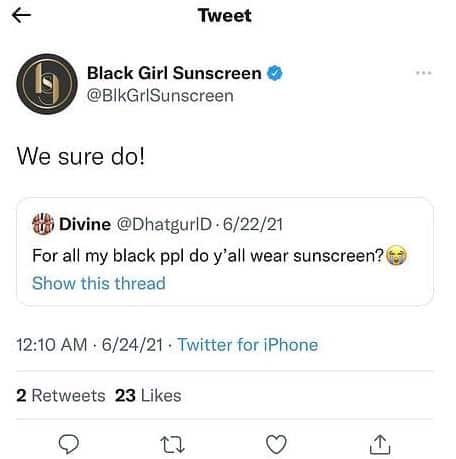 (Source)
Black Girl Sunscreen used social listening to identify potential customers and let them know about the product line's benefits.
​​4. Create Avenues for Feedback
Customer feedback is an important part of business, but it can be hard to get. You might think that customers need more time to provide feedback or are not interested in doing so. But this is false; customers want to help you succeed and improve the products they love.
For instance, Uber gathers real-time feedback to track drivers' performance. After the customers take a trip, they can rate drivers from 1 to 5 stars. If the feedback is excellent, they can also add a suggested compliment such as "great conversation" or "expert navigation." If they rate a driver with four stars or less, customers are asked to leave a reason for their score.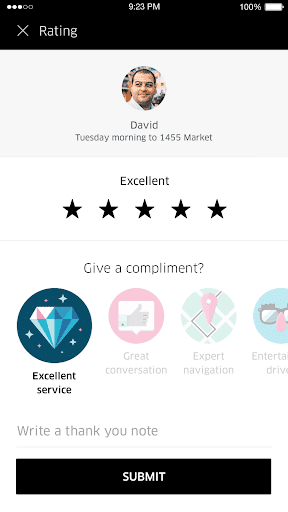 (Source)
Uber uses this feedback to assign each driver a score. If drivers get several low ratings, they can be deactivated.
If you also want to improve customer satisfaction, you need to give customers avenues for feedback. 
Here are some ways to do so:
Create a survey form on your website. 

This lets users fill out a quick survey without leaving your site — which means they'll be more likely to do it if it's not too long or complex. You can also create an email address for customer feedback at your company's domain name, such as "feedback@yourcompanyname.com."
Offer freebies or discounts. 

Offer these incentives to encourage people to fill out surveys or write reviews on sites like Yelp or Google+. These incentives encourage people to share their experiences with others and help them feel rewarded.
Leverage live chat.

 Live chat software like Olark or Drift will allow you to connect with customers directly through chat windows on your website. This will give them a chance to tell you about their experiences with your brand and how they think it could be improved.
Set up social media channels for customer interaction. 

Social media channels like Facebook, Twitter, and Instagram allow you to interact directly with customers and respond to their questions quickly in real time. You can also use these channels to gather feedback from potential customers before they buy anything from you (just make sure there's no expectation of confidentiality).
5. Analyze Customer Feedback Regularly
Merely creating avenues for feedback and collecting it isn't enough. 
The most important thing about collecting customer feedback is that it needs to be done regularly. Plus, you need to analyze the collected feedback so that you can learn from it and improve your business accordingly.
Here are four major ways to analyze customer feedback:
Identify Key Areas of Improvement
One way to analyze your customer feedback is to identify the key areas that need improvement. To do this, look at the data and identify patterns between what customers like and dislike about your product or service. Then focus on improving those areas that get consistently low scores in your analysis.
In order to understand how well your changes are working, you need to track how they affect customer satisfaction over time. This means regularly comparing new data with previous data to see if there's been a change in how happy customers are with your product or service.
Compare Across Different Groups Of Customers
Another way to analyze customer feedback is by comparing across different groups of customers — such as those who have been using your product for a long time versus those who just started using it recently. Or those who use it frequently versus those who use it occasionally or rarely, if at all. 
Use Automated Customer Feedback Analysis Tools 
You can use tools like Qualaroo that come with Sentiment Analysis to automate your customer feedback analysis.
For example, Belron, a company that offers windshield services, found that its bounce rate was high despite visitors being one-time customers who needed fixing their windshields. 
Belron implemented Qualaroo's Sentiment Analysis tool to discover what the site lacked that prevented these visitors from converting into customers.
They conducted exit-intent pop-up surveys on their site and analyzed the responses with the help of AI analysis. As a result, the bounce rate improved, and they could identify new buyer personas.
6. Respond Quickly to Customer Feedback
You've probably heard that the customer is always right. The reality is that your customers are rarely wrong. They're just different from you.
That's why it's important to respond quickly to customer feedback. If you don't, it's easy for them to think their experiences aren't important to you. That's a problem because they're a big part of your business.
There are many reasons why responding quickly to customer feedback is important:
It shows that you care about your customers and their opinions.

It helps resolve issues quickly and efficiently, saving money in the long run.

It reduces the chances of negative reviews on review sites like Yelp and Google My Business (GMB).

You might get more sales by showing how responsive you are (this applies especially if the customer asks for something like pricing information or discounts).
In fact, according to statistics, 90% of customers say that immediate response is essential or very important when they have a customer service query. And 60% of shoppers define immediate as 10 minutes or less.
To respond to your customer's problems as soon as possible, make sure someone is assigned as the point person for responding to feedback. That person should be someone who knows how to write well (or can get help doing so) and who is willing to spend time responding to customer requests or complaints. If you don't assign someone in advance, you may find yourself scrambling at the last minute because no one else knows how to do it right away.
Secondly, set up a system for keeping track of all requests and complaints so that it's easy for whoever is responsible for responding to know what needs immediate attention vs. what can wait until later. 
And finally, make sure customers know who they're talking to and their role within the company (if they are outside customer service). This helps build trust between you and the customer, so they feel comfortable sharing their concerns.
7. Deliver What You Promise
It's important to deliver what you promise to elevate customer satisfaction.
For example, when Marcus Lemonis, the founder of the lemon-aid foundation, teamed up with the acoustic paneling company's owner, he liked the promise made in the product's name. It pointed out that the product was designed to do away with overtones and other disturbing sounds in recording studios and home theaters.
They set up a winning pitch with Hard Rock International to fulfill their brand promise. As a result, they saw a hike in sales. The success was also due to their ability to meet specific customer needs.
The most important thing is to be clear on what you're promising. 
Do you promise a specific product or service? 
A certain level of quality? 
Or something else?
If your business sells a product or service and you promise customers that they will receive it in a certain amount of time, then you need to make sure that happens.
If you run an e-commerce store, for example, and your website says that your product will be shipped within two days of purchase, but the customer has not received their order after two weeks, then this is a major issue.
Your customers are demanding, so it's vital that you set the bar high and deliver on your promises. Here are some tips for making sure that you do: 
Have a plan in place –

 Before you start working with a customer, ensure they know exactly what they're paying for and what they can expect from you. If there are any potential issues with the project, make sure they're dealt with before starting work. 

Write down everything – 

When it comes to delivering on your promises, it pays to write things down! That way, if there are any misunderstandings or problems later down the line, there will be no confusion about what was agreed upon. 

Give regular updates –

 Customers like knowing that their project is progressing well, and keeping them up-to-date is one of the best ways to do this. Ensure that you keep them informed about any changes or delays as soon as possible so they don't feel out of the loop. 
8. Meet (and Exceed) Customer Expectations
Customer expectations are rising, and the competition for their attention is fierce. Their expectations are set by the products and services they use daily, and there's no room for error.
The key to keeping customers happy is to meet or exceed their expectations. If you don't, your business will lose them as customers.
Think of it this way: When someone buys a product or service from you, they're investing in that experience. They're investing their time and money into believing that purchasing from you will give them the outcome they want — whether it's a good product or service, convenience, or something else entirely.
If you don't provide them with that outcome, they've lost their investment — whether that's time or money — and may be less likely to buy from you again (or even refer others).
To meet those customer expectations, then, it's important to understand what they really want out of their experience with your company.
Here is an excellent example of how Jill, a representative of Jack Threads, an online men's clothing store, connected with its customers. Jill got an instant message from a buyer, Tony, who discovered a hole in a shirt. The shirt was yet to be worn as he hoped to fit in it after losing some weight. 
Jill congratulated the buyer on losing weight before asking for more info to help him return the shirt. Tony then explained that he was training for a marathon.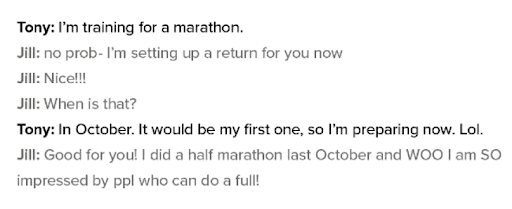 (Source)
​​This conversation went viral as Jill connected with the customer while trying to solve the issue. It not only helped the brand build a reputation and attract business but helped increase customer loyalty as well.
You can also create a survey and ask questions related to your business and your customers' experience with it. You can ask whether they have any suggestions for improvement, what they like most about your company, what they dislike most about their experiences with you and more.
Once you've gathered all this information, use it to improve your business practices and make changes where necessary. This will help ensure that each new customer gets the same great experience that existing customers enjoy every time they do business with you. 
9. Offer Great Customer Service at Every Opportunity 
Always treat each customer as if they were the most important person in the world – after all, they are! 
Make sure that all staff members know how to provide good customer service so that everyone understands how important this aspect of the business is for all companies today.
10. Measure Customer Satisfaction Using Net Promoter Score (NPS)
Net promoter score (NPS) is a customer loyalty metric that Fred Reichheld and Bain & Company developed in 2003. It's a simple way to measure customer satisfaction scores, but it can also be used to predict future growth.
NPS is based on the responses to one question: "How likely is it that you would recommend [brand name] to a friend or colleague?" 
Responses are graded on a scale from 0 to 10, where 0 means "not at all likely" and 10 means "extremely likely." NPS helps determine whether customers are willing to promote your brand by word-of-mouth, which is an important indicator of future revenue growth.
There are three categories: 
Promoters (9-10) – Promoters are customers who give a score of 9 or 10 and strongly recommend your product or service.
Passives (7-8) – Passives are those who give a score of 7 or 8 and neither promote nor discourage others from using it.
Detractors (0-6) – Detractors are those who give scores below six and do not recommend it either way.

                                  (Source)
The score is determined by subtracting the percentage of detractors from the percentage of promoters.
The score is determined by subtracting the percentage of detractors from the percentage of promoters. Once you determine customer satisfaction levels using NPS in conjunction with customer surveys, you can implement changes based on your observations and customer responses to retain dissatisfied customers and improve overall customer satisfaction. 
It's Your Turn to Make the Customers Happy!
From measuring customer satisfaction to customer satisfaction surveys, this guide covers everything you need to know to elevate customer happiness.
After all, happy customers are vital for customer retention and a profitable business. So you need to take steps to build that loyalty and avoid turning them off. 
That means providing the level of service they expect – a level of service where they feel like they matter. When you can do that, then you will grow beyond your wildest expectations and never look back.