Reading Time:
10
minutes
Whether you know it or not, you've probably exchanged messages with a bot at some point. 
In fact, we all have. 
These days, chatbots are almost everywhere and they have become a common feature on every eCommerce, Lead generation, and SaaS website. 
Chatbots have been heralded as the next big thing in tech, since 2016. And as such, they have headlined many international conferences. 
Depending on how you have been using them, chatbots have definitely been a smash hit in the last couple of years. This is probably the reason why 80% of businesses will be using chatbots to service their customers by the end of this year. And they are forecasted to drive $112 billion in retail sales by 2023. 
You are now probably wondering what really makes chatbot a hit? 
Well, apart from servicing customers, businesses now have a fresh take on chatbots: they view them as a potent tool that can be used to convert more website traffic. 
Yea, just like your website copy, pop-ups, value proposition, and blog section –a chatbot can turn more window shoppers into customers. 
So if you don't know how they do that, this article will show you how chatbots can be used to increase the conversion rate of an eCommerce website. 
What is a chatbot, exactly? And How does it work? 
No need to overcook it. The Oxford Dictionary gives a sweet and simple definition of chatbots: 
"A computer program designed to simulate conversation with human users, especially over the internet."
You can think of a chatbot as an assistant that communicates with people using the natural human language –either by voice or text. 
Each and every chatbot that you have seen on any website is created to serve a certain purpose. They are built to do different kinds of things. This is to say that chatbots can also be differentiated in terms of the kind of tasks they do. 
One eCommerce store can be using chatbots to help customers find the exact products they are looking for, whereas the next shop can be using chatbots to answer all the customer queries. 
Different Types Of Chatbots For Customer Support
This is to say that retail bots are distinguished by how they work. So if we are to look at how chatbots work, we have to look at the different types of chatbots and these include: 
Menu-Based Chatbots
Sometimes known as button-based chatbots, this type of chatbot is the most basic type of chatbot you'll ever find. But it is absolutely great for answering the handful of nagging FAQs that users usually ask. 
Menu-based chatbots answer a limited set of questions by offering a set of answers to each question that customers ask. They have predefined replies and they can not give answers to questions that are outside of their menu.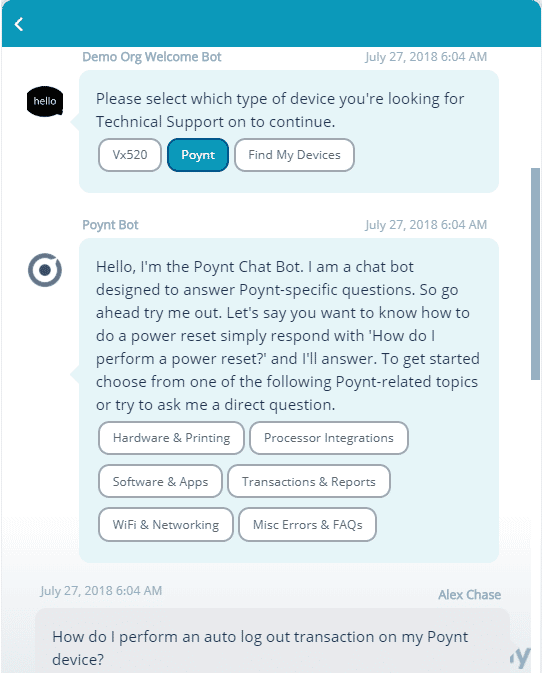 It's also worth noting that menu/button-based chatbots are the slowest in terms of getting the user to their desired value.
Keyword Recognition-Based Chatbots
This type of chatbot is a little more advanced than menu-based chatbots. It functions exactly in the same way as traditional search engines: customers will have to type in a word or a phrase and the bot responds appropriately. 
Keyword Recognition-Based chatbots use customizable keywords and AI to match a preloaded response to a typed word or phrase.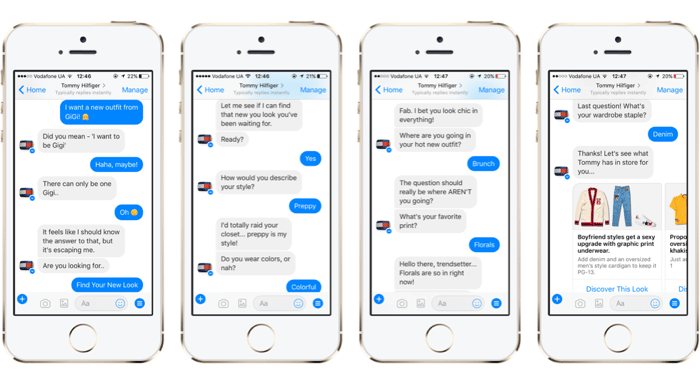 As you can see from the above image, the user just types one word (or more in some cases) and bot picks it up and responds with the relevant information.
Nowadays a hybrid of keyword recognition-based and menu/button-based is fast becoming popular. This combination of two chatbots allows customers or rather users to ask their questions directly or use the chatbot's menu buttons if the keyword recognition functionality is yielding poor results.
Artificial Intelligence Chatbots
This is the most fascinating and smart type of chatbot. AI chatbots do not just stick to the script, but they can understand language outside of a set of pre-programmed commands and continue learning based on the inputs it receives.
When customers ask an AI chatbot anything relevant to the business, the bot can give appropriate responses. What makes AI chatbots smarter than other types of chatbots is because they can remember conversations and learn from them.
AI chatbots can be customized specifically for eCommerce websites and help customers have a positive customer experience. Not only can they assist customers by responding to their queries, but they can make predictions about what a customer is looking for on your website. 
So, which chatbot is right for your eCommerce shop? 
Choosing the best eCommerce chatbot is not as straightforward as it seems. In fact, it is actually one of the most important decisions that you make when setting up your eCommerce website for more conversions.
Selecting an eCommerce chatbot based on its popularity is not the best way to go about it. Tell you what: 
The best eCommerce chatbot is the one that successfully delivers the outcomes and objectives that you have set; not the one that's popular.
So the best you can do to avoid making a wrong choice is to put yourself in the shoes of your targeted customers and think deeply about the value they're trying to get. 
How you deliver your customer experience will influence the success of your eCommerce initiative. One critical factor that determines customer experience is the user experience (UX) of the eCommerce chatbot. It's very important that you consider the UX preferences of your targeted audience. 
It's of great importance because some users might prefer a chatbot that has a visual menu button rather than one that requires users to feed it with keywords. This is one of the reasons why we recommend that you conduct a usability test before you fully commit and integrate the bot to your users. 
After all, has been said and done, it's important to note that the best chatbot will have to be in sync with your business' value proposition. It should be in line with the message you are trying to convey to your users. 
How do chatbots improve conversion rates?
Before we discuss the impact of chatbots on conversions, it's important that you double-check so as to make sure that your bot works properly. It's only a chatbot that is a good setup that can help boost conversions. 
Having said that, let's look at how chatbots can enhance conversions on your eCommerce website: 
Chatbots saves time
In most eCommerce shops, the steps taken to complete a purchase are pretty much long – and this is frustrating to customers, hence its one of the reasons that make them abandon shopping carts.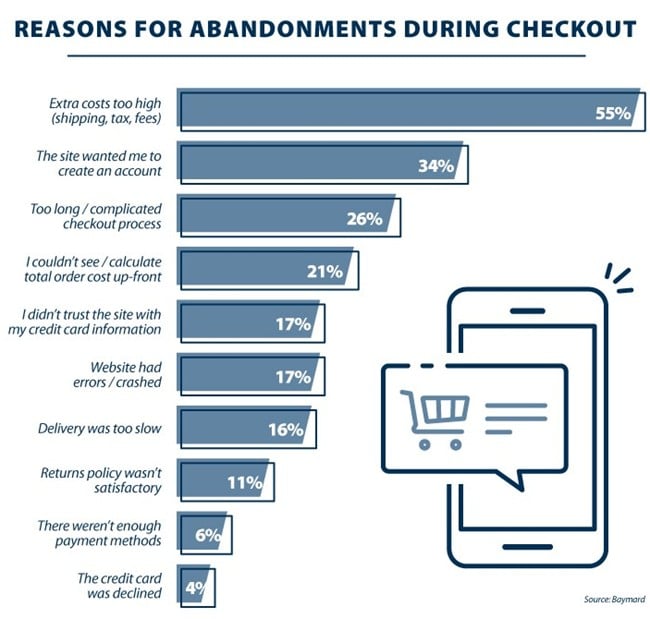 As seen in the image above, 26% of customers abandon shopping carts because the checkout process is long. 
Asking a customer to begin the checkout process by creating an account or trying to remember an old password might seem like a logical place to start, but it is a sure-fire way of killing conversions. 
Customers often rebel against the idea of filling long forms or freely giving out their personal information. It's best that customers check out as a guest, or even better – provide them with a virtual shopping assistant (a chatbot) that will help find things faster thereby shortening the checkout process. 
Drift's CEO, David Cancel, believes that using a chatbot in place of a long-form is actually a good idea: 
"Chatbots can get the same information that any form can — but without the friction and cognitive load that you get when you're staring down a form with 11 required fields, which, if you can believe it, is the industry average."
Freddy, a chatbot from HelloFresh is a good example of an eCommerce bot that helps customers save time. Freddy has increased by 44% and reduced the average customer wait time on social customer care channels by 38%.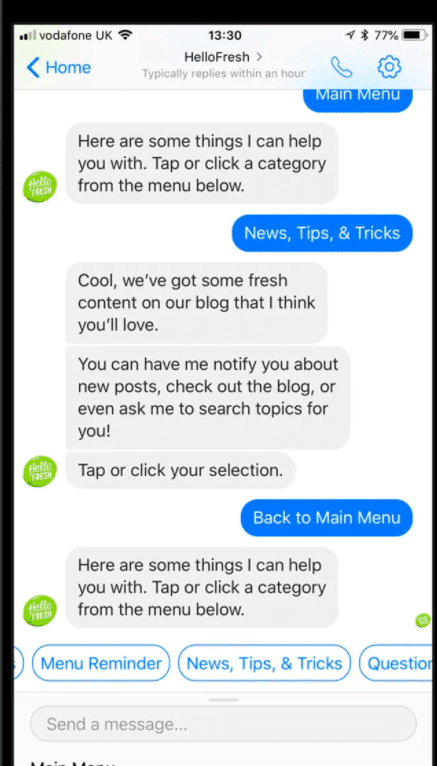 This chatbot can automatically respond to a number of questions and it extends the customer engagement far beyond placing an order by offering a Spotify playlist recommendations you can listen to while cooking.
Chatbots elevate customer service
Okay, I will come out right and say it. Chatbots provide better customer service than humans. In fact, they were created to bridge human limitations.  
Need evidence? 
Well, check out these stats: 
Alternatively, you can read this article: Chatbots In Customer Service – Statistics and Trends [Infographic]
Almost everything that makes customer service excellent is embodied in chatbots: quick response time, knowing your product, actively listening, being proactive, responding instantly, friendly and approachable, offering a 24/7 service, and many more. 
Customers are willing to pay higher prices for faster customer services, reports Harvard Business Review. In one of their studies, they discovered that customers who responded in 5 minutes or less by the customer service team were more than willing to fork out $20 more for the same service.  
We live in a world where customers demand instant gratification that is always available around the clock. Chatbots provide all that in a way that eliminates FUDs (fears, uncertainties, doubts) that customers might have. 
Having said that, I hope you now understand the value of chatbots in a conversion strategy. Using chatbots to welcome customers to your eCommerce website is limiting their capabilities, they can go further than that and help improve your conversions. 
Chatbots offer direct insights from customers
In the world of Conversion Rate Optimization, chatbots are part of the elements that make up the qualitative research process. They are a gold-mine in the conversion research process for both eCommerce and lead generation websites. This is why Fernando Rojas says: 
"Chatbots are useful levers not only to better serve our clients but also to better learn and understand market needs and clients' expectations."
When done right, chatbots analysis can give you deep insights into the actions and reasonings of your visitors. Chatbots also represent an open door to know your customers' underlying reasons, motivations, and opinions.
In every CRO project we work on, our Optimization team gathers all the conversations that users have with chatbots on clients' websites, analyzes the questions customers ask, and group the findings into different themes. 
This whole process may seem so easy; gathering conversations, analyzing the information, and then grouping the findings. But it's not a stroll in the park. 
There is what you should keep in mind: Digging into chatbots for deep conversion insights is not only about analyzing what the questions that customers are asking. It's also about finding what users are not asking –and trust me, this skill is not easy to master. 
So what do you use the insights you have gathered from analyzing chatbots? 
Good question! Insights can be used to optimize your website or product and they can be used to inform your business decisions and marketing strategies as well. 
Maximum opportunities for personalization
It's not even a secret: if you provide visitors with content relevant to their emotional and social needs, they are more likely to take the desired action you want them to.  
Let's say you walk into a brick-and-mortar shop, a shop assistant can be able to personalize your experience by asking you questions, getting to know you better and then offering personalized recommendations based on the chat you two just had. 
Without having that two-way conversation between you and the shop assistant, it will be very hard for the shop assistant to customize your experience. My point here is, a conversation which is a two-way-street always helps shop assistants to get to know the customers –and that paves the way for a personalized experience.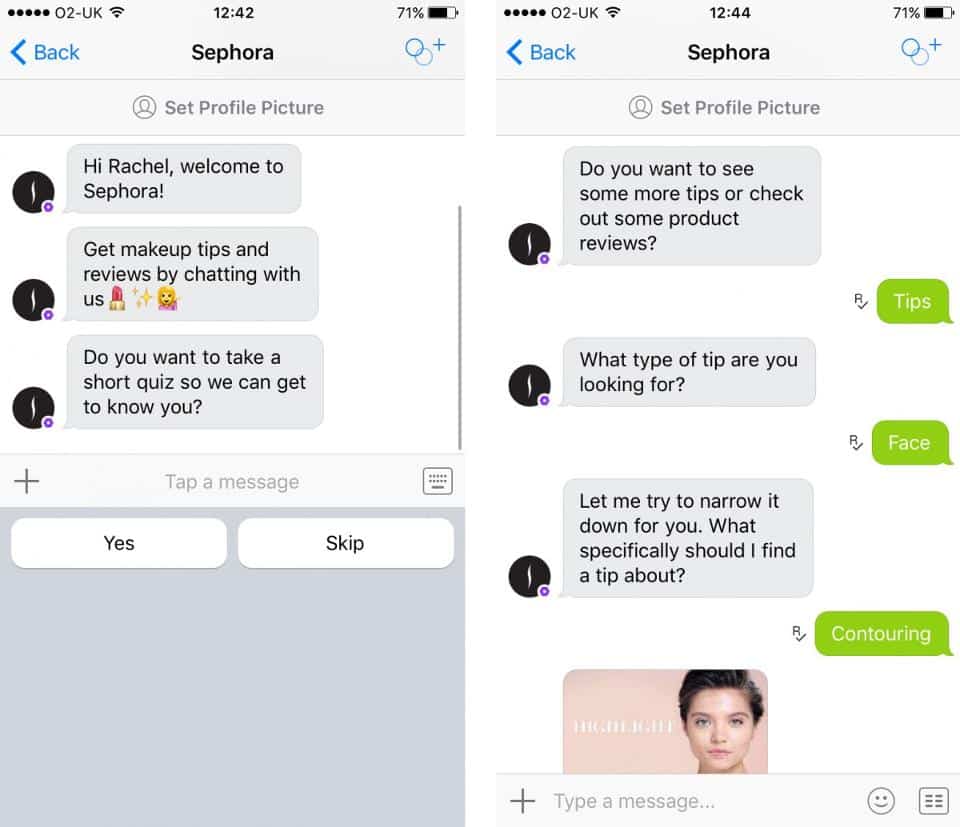 In the virtual world, chatbots are shop assistants who allow eCommerce businesses to have two conversations with users. A conversation between the user and the chatbot offers you the opportunity to collect the information needed to help persuade customers into making purchases.
For instance, if a returning user bought a t-shirt via a chatbot, the bot can suggest other clothing items that could match the t-shirt that a customer bought, like a pair of sneakers or maybe a wristwatch. 
Chatbots have the potential to store the information offered by users, like preferences and past purchases, and turn it into hyper-personalized recommendations. This is very much possible with the help of A/B testing that can be done on certain individuals. 
Engage users on social media
More and more people are turning to social media platforms like Facebook for questions and complaints about the brands. 
Chatbots have been making things really convenient for users to search for products they want via messaging apps such as Facebook Messenger. 
Users no longer need to visit a store's main website to know more about a certain product, they can simply interact with the store's bot and have their questions addressed quickly. 
Chatbots are now seriously regarded as a potent tool to transform the core of social marketing itself by redefining the meaning of engagement. 
In contrast to the traditional concepts of online advertising whereas engagement refers to playing a video or clicking on an ad, engaging with a bot is essentially about having a real two-way conversation with a human-sounding bot.
Customers feel understood when they have a personalized two-way conversation with a bot than viewing an ad or a video. Such ways of interactions help users gain a more understanding regarding the brand, and this often leads them down the conversion funnel. 
Let's be realistic, not every customer who buys from online stores does so by visiting the main website of the store. Some of us have a tendency of making purchases via Social Media.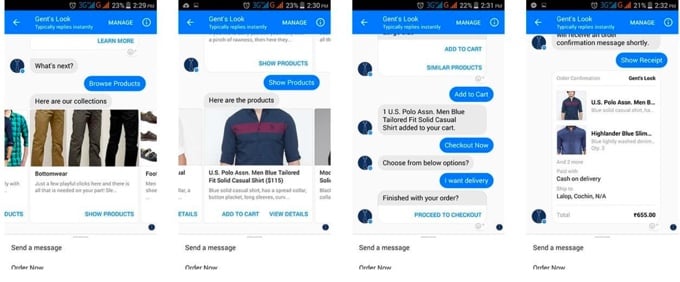 Chatbots can always help you add an even more convenient way for consumers to make a purchase from your eCommerce business. Users can spend more and more on your products just by ordering from their favorite social media platforms. 
Conclusion
More and more eCommerce websites are using chatbots to bridge the gap between online and offline experiences.
Digital marketing is not only data-driven, but it is also experience-driven; this means that creating positive interactions with your customers with chatbots can also have an impact on customer retention and driving sales.
We live in a world where customers are becoming more demanding –they now expect conversations related to their purchases to happen online, anytime, anywhere.
This makes the role of chatbots increasingly apparent in a fierce eCommerce industry where businesses are trying to outdo each other in terms of customer service.