Reading Time:
10
minutes
Convincing customers to buy from you over and over again has never been an easy feat. 
Sometimes it becomes a bit easier when you have a predictable and repeatable strategy that is built to reward recurring engagement. 
Yes, I mean something like a loyalty program. 
Used right, loyalty programs can encourage repeat purchases and turn first-time buyers into brand advocates.  
The concept of giving rewards to frequent buyers has been around to tinker with for more than three decades. But, many businesses are killing off the programs they had created to inspire loyalty in the ranks of customers. 
This then begs the questions: do loyalty programs really work? What's their impact on customer retention? If you have used loyalty programs before or if you intend to use one in the future, this article will help you discover their importance, and how you can use them to impact your customer retention rate. 
What can a loyalty program reasonably do? 
As one of the most important tools, in a marketer's toolkit, loyalty programs can produce a variety of benefits. 

In one of the studies we conducted, we discovered that loyalty programs can generate as much as 20% of a company's profits –of course, that is if they're done well. In fact, 84% of consumers say they're more apt to stick with a brand that offers a loyalty program. And 66% of customers say the ability to earn rewards actually changes their spending behavior.
And according to Jon MacDonald, Founder of The Good, for millennials
…loyalty discounts rank first in importance when they choose companies to support – even over brand authenticity and trustworthiness.
But in order to see the benefits of your program, you'd need to start by clarifying your business goals and what you intend to gain from the effort. Only with clear goals can one be able to create a successful loyalty program that won't betray them along the way.  
That said, let's explore the seven benefits of loyalty programs in great detail:  
1. They encourage repeat purchases
Giving your customers an incentive beyond your great products is a great tactic to get them to come back again. Repeat customers have proven to be more profitable for this one main reason: they spend 67% more than first-time customers.
Besides encouraging repeat customers to spend more, a loyalty program further spurs customers into increasing their purchase frequency and the amount they are spending on every interaction.  
Pacifica Beauty is an excellent example of a brand that benefited from their aptly named loyalty program: Girl Code Points.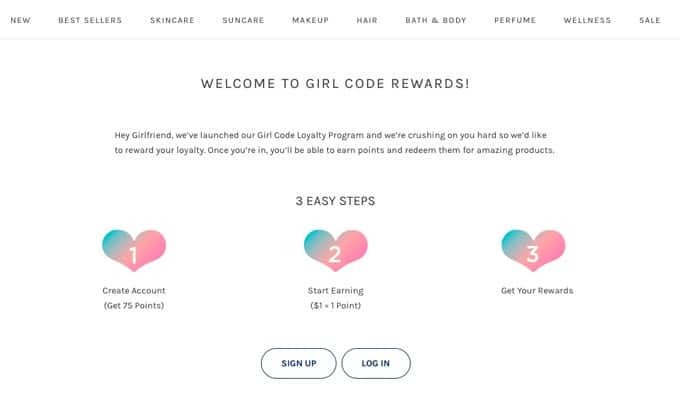 Because of its loyalty program, the brand's repeat purchase increased by 44% and the members of the program spend up to 22% more than non-members.
2. Loyalty programs make customers feel valued
If a customer is rewarded for interacting with a brand, they will definitely believe that they are being valued. 
Depending on how you set them up, loyalty programs can make customers feel special and recognized – and this further fuels their admiration and strengthens their relationship with your brand.

Dunkin Donuts's DD perks is a perfect example of a customer loyalty program that makes customers feel special by offering generous points giveaways (for new and existing loyalty members).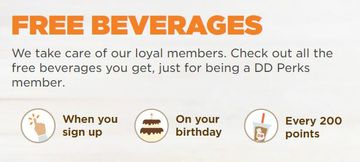 Just by signing up for the program, you receive one free beverage, plus a free beverage every year on your birthday, making the choice to sign up easy. That's probably the reason why it has signed up 7.5 million members in less than three years.  
When customers feel valued they are bound to increase their purchase frequency and this is why Dunkin Donuts reported the highest volume of orders soon after launching their program. 
One of the reasons that make customers feel valued when they are part of a loyalty program is because these programs help them save money. The point here is that customers join loyalty programs in order to gain something out of it. 
This is why 57% of customers engage with a loyalty program because they want to get something extra or a discount when they shop.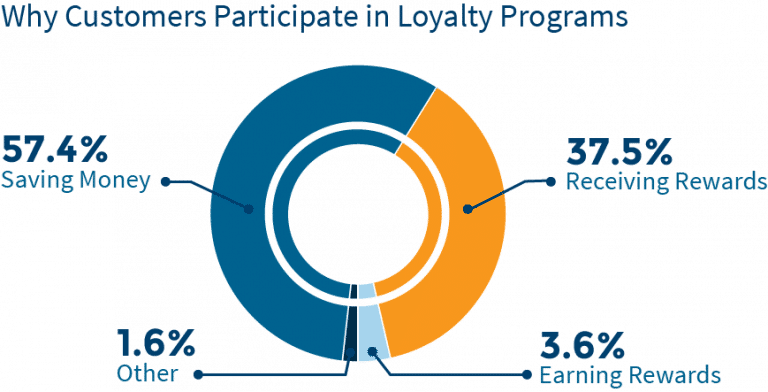 Even if they don't get a discount per se, 37.5% of customers will join a loyalty program so as to get a reward point for their shopping. 
"Be sure to give the consumer a perk for joining a program with their first purchase" says Jon MacDonald from The Good. He also says:
Just like a frequent flier choosing which airline to fly based on the flier's status and accompanying benefits, consumers will choose which brand to shop with based on their loyalty program status. So it is essential the consumer has benefits even if they are on the lowest loyalty program level.
There's no denying it, people like to save money. Therefore it makes sense to provide a value exchange to reward customers for their shopping. This is likely to get them to come back and spend more if they are earning their way towards a special reward such as a freebie or discount. 
3. More Customer Referrals 
If you have been in the eCommerce industry long enough, you'd know that referrals are one of the best ways that will help you increase sales. 
How come? 
Because a positive word of mouth said by a customer to their peers is the best and most trusted form of advertising –and it doesn't cost a dime! 
84% of people trust recommendations from people they know and this is an indication that most of the referred customers are highly qualified.  
If customers enjoy your program benefits, they are more likely going to recommend it to their friends or talk about it on Social Media. 
Ikea's Family loyalty program connects with customers through unique experiences, enhanced benefits, and rewards that create a more personalized and affordable shopping experience. Their customers love it, and that is why they recommend it on their social media platforms: 

What I like the most about customer referrals is that they have that element of a Domino effect within them. 
Referrals breed more referrals. 
When a customer shops from your store based on customer referral, they're more likely going to relay their experience to others.
Just imagine; if each referred customer tells five more friends, and then those friends tell others, then you will see exponential sales growth. 
This is definitely an effect that you want to have on sales for your company. I mean, in this way, you turn each person providing a referral for your company into an unofficial salesperson without that expensive salary.
4. Means of escaping the sea of sameness
Have you ever noticed that there is no meaningful difference between eCommerce websites? I mean, if you remove the company logo from most eCommerce websites, you'd struggle to differentiate their product pages. 
Not only product pages, but most things in retail can be matched – price, product features, and even service. 
But if there's anything that can help distinguish your brand from the competition, it's an excellent loyalty program. 
However, considering that most businesses have already implemented some sort of a loyalty program, you need to shake things up so as to stand out from the rest.  
This simply means that you need to go beyond simply offering rewards and be innovative in a way that will make your customers feel as if they will miss out on the benefits of your program if they decide to purchase from anywhere else.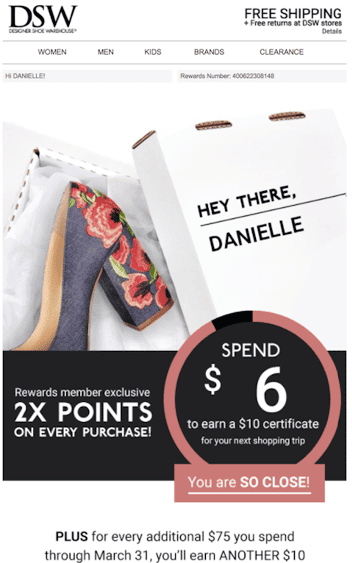 Designer Shoe Warehouse (or DSW) is one of the few eCommerce brands that have an innovative customer loyalty program. What makes their loyalty program innovative and different is that it is hyper-personalized and it is built with the retailer's brand mission in mind: we inspire self-expression.
86% of consumers believe that personalization influences their purchasing patterns – so, it's no coincidence that DSW's customers love the brand's loyalty program: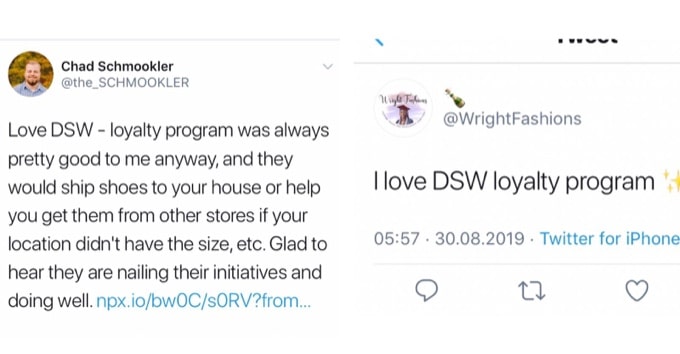 Over the years, loyalty programs have proven they're an effective way to drive customer retention, boost customer lifetime value, and inspire loyalty. But smart marketers are also using them to escape the sea of sameness. 
5. Prompt customers to spend more
Although customers believe that loyalty programs help them save money; businesses actually launch loyalty programs so that customers can spend more.   
You probably thinking, how is that possible? 
Well, one way of compelling customers to spend more through your loyalty program is to keep them engaged. 
Multi-tier loyalty programs are powerful instruments that can stimulate customer engagement. This type of a loyalty program distinguishes between customers by means of hierarchical tiers  – e.g silver, gold, and platinum levels – and assigns customers to different tiers based on their past purchase behavior. 
Customers who are eager to get to the next status levels –feel like they're in danger of dropping to a lower one – will be more than willing to spend more in order to remain or get to the level they like. 
More people are willing to spend more and more when they are just close to attaining points that will help them purchase a valuable item. 
Sweetlegs, a giant Canadian legging eCommerce store, has 7 exclusive VIP tiers that allow any customer to feel elite by spending more.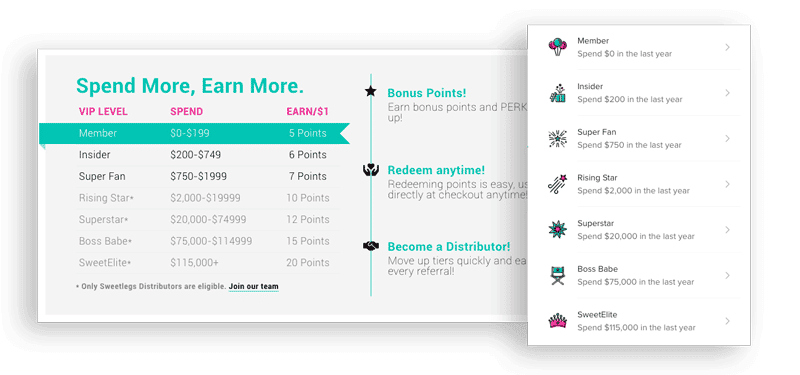 Whether you're only a casual shopper or one of their regional distributors, SweetLegs gives you the opportunity to earn dollars-off rewards that reflect how much you've invested in their brand.
6. They provide actionable customer insights. 
It's no secret that a loyalty program provides a great mechanism for eCommerce businesses to cultivate and grow lasting relationships with customers. 
You are missing the point if you think that loyalty programs create strong bonds between customers and eCommerce brands because of the customer benefits involved. 
Smart eCommerce marketers see loyalty programs as a trade-off between brands and customers. This means that a loyalty program has to provide something of value to the customer and in return customers release their personal information along with the permission to track their behavior along the customer journey. 
In other words, loyalty programs offer an opportunity to capture insightful customer information that can be utilized to increase sales, personalize customer journeys, and enhance customer satisfaction. 
Tell you what, customers do not mind sharing their personal information as long as it helps brands to offer them relevant and timely offers.
7. User-generated content and reviews
91% of people read online reviews, and 84% trust those reviews as much as they do personal recommendations from their friends and family. 4 in 5 American consumers read reviews before making a purchase decision. 
83 percent of shoppers discover new products every month through online customer reviews. Research firm eMarketer adds that 7 percent of consumers need to read at least 20 reviews before they put enough trust in a business.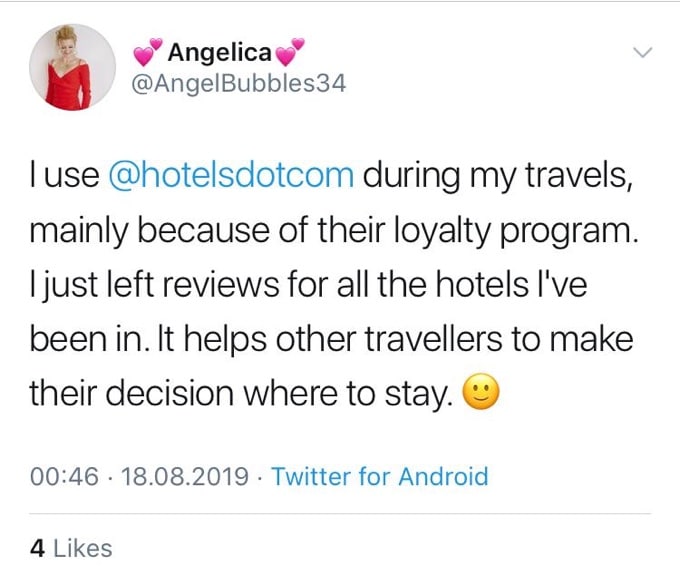 There's no denying that online reviews are beneficial to all businesses. 
Using loyalty programs is a great way to incentivize reviews. Members of your loyalty program are the most likely to be willing to leave reviews on your site and act as advocates. 
How do loyalty programs boost customer retention?
While loyalty programs do take a bit of work and planning, they are certainly worth implementing and they will help ensure future business success by boosting customer retention. 
A comprehensive loyalty program that allows for modern marketing techniques can either help you keep your best customers or win back your lost customers.  
1. Loyalty programs help you keep your best customers
A loyalty program is all about connecting with customers emotionally. As you may (or may not know), without an emotional connection between a business and its customers it's impossible to drive brand loyalty. 
So how do businesses create an emotional connection using loyalty programs? 
For the most part, emotional connections are created through shared positive customer experiences and a sense of belonging and understanding. Showing gratitude to customers by giving them an incentive is an excellent way to elicit emotions, regardless of the incentive's monetary value.
University of Michigan's psychologist, Norbert Schwarz, once conducted a study that explains how even finding a dime is enough to put you in a happy mood. In this study, Schwarz explained that: 
It's not the value of what you find. It's that something positive happened to you.
This implies that the incentive you give your customers shouldn't be of great value. All you have to do is to positively reinforce their actions or rather a customer's behavior by offering something in return.
Customers offer you repeat business, and you show gratitude (by offering them a reward) – this is something that will keep them coming back to your store from time to time. 
2. Loyalty programs bring back lost customers?
There are many reasons why customers churn. Considering how much you would have spent to acquire them, losing customers is always costly. 
But there are no two ways about it: if a customer has strayed, you have to give them a reason to come back. 
Nothing entices customers to spend like a good deal, so consider using loyalty programs to lure inactive customers. You can send a win-back email campaign just like SpiritHood does (as mentioned above). 
Don't cheap out on the deal. If you really want customers to come back, make sure that the deal you are offering them is worth their time. You can do this by leveraging historical data, personalizing your offer, and offering relevant incentives that encourage inactive customers to find their way back to your store again. 
In fact, knowing why customers left is your best tool for knowing how to make them give you a second chance. If you don't have mechanisms in place to record this data, consider implementing exit surveys or following up to request feedback.
Conclusion: Loyalty program do not exist in a vacuum
A loyalty program is a competitive strategy and, as such, it must meet certain criteria. It should always be aligned with a brand and it has to be set in a way that meets the customers' needs and desires. From a customer's perspective, there are five elements that determine a loyalty program's value: cash value, choice of redemption options, aspirational value, relevance, and convenience. Most loyal programs tank because they don't offer all five elements.
Can you help us out?
If you enjoyed this post, please share the twitter thread…
Convincing #customers to buy from you over & over again is not easy.

But it can be easy when you have a predictable & repeatable strategy built to encourage recurring engagement.

Yes, I'm talking about loyalty programs😊

Check out the 7 benefits of having a loyalty program.👇

— Invesp (@invesp) June 25, 2020
And if you'd like to stay up to date with our latest posts, conversion secrets, and webinars, then please join our email list.