Reading Time:
2
minutes
Big companies can outspend you. Competitors can enter the market. Your product can be replicated.
​But if your marketing or business strategy is centered around a brand community, you don't lose sleep – because how you do your thing becomes more important than what you do.
One of the best things you can do for your brand is to build a community. I really like how Greg Isenberg demonstrates the value of a community vs. and audience: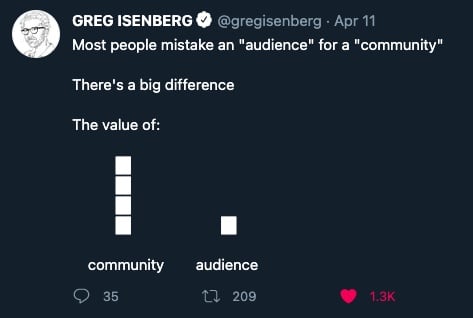 A brand community is a group of customers who are brought together by their collective interest in a brand's products, services, or values that represents a brand.
Most brands already have thousands of people who are interested in their products/services and the values that the brand stands for. All they have to do is bring those people together and create a strong brand community around them.
Knowing how challenging it is to build a brand community, we invited an ace who does this stuff for a living. Joe Glover has mastered the art of fostering communities that people care about. He's built The Marketing Meetup – an engaged community of over 24,000 marketers from across the globe – and in this session, he'll share how.
​​Now. We know there are tons of blog posts, podcasts, and videos out there that discuss building brand communities.
​​But here's what makes this live session different:
​Joe will walk you through every step he takes when building thriving brand communities. You will walk away from this session knowing what community truly is – and how you can start to build one yourself.
​So if:
​You want to remove dependency on ads and promotions for traffic.
​You want to increase customer retention.
​You don't want fluffy "tips," you want to know how to build a community for your brand
​You want to create valuable brand advocates.
​​— then this session is 100% for you:
​PS. Building a brand community will not happen overnight, but those willing to invest will reap the benefits. If you are interested in building a brand community of your own, you shouldn't miss this session.