Reading Time:
2
minutes
Most cold traffic landing pages struggle to convert (and convert well).
​But it's not because of your offer. Or the jaw-dropping design of your landing page.
​It's because your readers don't know yet who you are or why they should believe what you're telling them.
​The real key to getting ice-cold readers to convert?
​It's in creating a deep connection with them in the first few seconds they land on your page. And then holding that connection all the way through until they convert.
​But the way to establish this deep connection isn't just with an eye-catching design… but by using the core messages at the right time.
​And this is exactly what this live session is about! 
Our CEO, Khalid Saleh, is joined by Green Light Copy's expert conversion copywriter Eden Bidani to show you how to write landing pages that catch your readers' attention and forge a deep bond with them in seconds.
This is not another live session filled with fluffy "tips" that sound great but you can't actually apply yourself.​ Nop. We know you will enjoy it just as much as other brave marketers who attended the session did: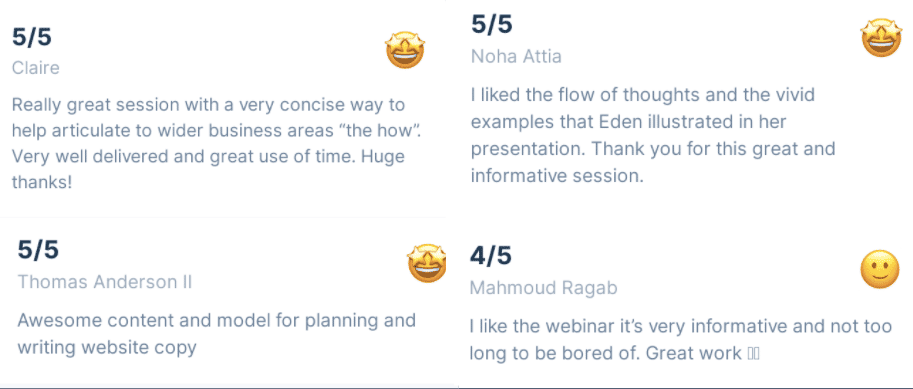 Now. We know there are tons of blog posts, podcasts, and videos out there that talk about writing effective landing pages.
​But here's what makes this live session different:
​For the first time ever, Eden reveals her battle-tested, repeatable master landing page framework and shows you how to use it for landing pages that convert. This framework is specifically designed to help convert ice-cold traffic (so that you get more conversions out of every buck in ad spend).
​​So if:
​You're struggling to capture readers' attention and drive conversions from cold traffic

​You don't want fluffy "tips," you want a repeatable framework you can implement (even by yourself)

​You want actionable, expert advice on how to improve your landing pages
​— then this session is 100% for you.
​If you liked this session and you'd like to attend 3 more live sessions lined up for this quarter, then please join this community of smart marketers and stay updated.