Reading Time:
7
minutes
How many companies do you know that can offer the best deal? Lowest prices? Greatest customer service? We've all heard the talk and can likely know a countless number of companies that claim these values. And these values are truly great, but however, how do you effectively stand out from a crowd? How will your company stand out amongst the competition based on the same values you offer? In this webinar you will learn some trade secrets to creating a unique value proposition that defines your company effectively and draws more customers in.
You can read this article more about the average conversion rate for different types of websites.

In this webinar, we discussed how to how to increase conversions with killer value propositions. Before we go on, let us define what value proposition is.
A value proposition is a promise and value you deliver by defining the problem you solve and clarifying why you're better than the alternatives. A compelling value proposition appeals to the customer's strongest decision drivers. A compelling value proposition should tell your customers what makes you unique, what makes you stand out, how you solve problems of your target audience. Identifying the right value proposition and translating it on your website is one of the most valuable activities that marketers can benefit from when doing conversion rate optimization of their website.
Some of the key questions that we discussed in this webinar included:
How do you distinguish yourself in a very busy market place?
How do you differentiate yourself from the competition?
Why would people choose to buy from you rather than from the competition?
How do you define your value proposition?
Process to craft a compelling value proposition
Competitive landscape analysis – The first step to create a compelling value proposition is to know more about your competitors and to make sure that you are offering something different in value as compared to your competitors. Your value proposition should be unique and so you can stand out from rest of the crowd and get noticed.
Understanding your target audience – Your value proposition cannot be effective if it does not resonate with your target audience. Create personas of your target audience and identify the problems, pain points, trigger words that are impacting that particular segment of your market.
To know more about the importance of Personas and how you can create personas for your website:
The power of personas: an introduction
Personas revealed: Why personas will help you increase online conversion rate
However, this is something that many companies struggle with. Although everyone talks about value proposition, not many are able to develop a compelling value preposition that resonates well with the needs of their customers. Essentially, meeting the needs and desires of your customers is a critical factor in developing a compelling value proposition.
Unless companies understand the unique needs of their customers, even spending millions in marketing might not be enough to produce the results they want.
It is also important to note that your value preposition should not only be exceptional on your mind, but also exceptional in the minds of your visitors and should meet their needs and wants
Develop a trust factor – Trust factor is also one of the most important elements of an effective value proposition. You want your prospective customers to trust you and what you offer. This ought to be translated into your copy and design in the website.
Express your value proposition throughout your Business – This is the phase where most companies struggle with. Most small and mid-sized companies define their value proposition really well, but there is a separation that exists between defining the value proposition and how to translate that value proposition to product and category pages.
Your value proposition should serve as a guide while taking decisions related to business strategy. Apply your value proposition throughout your business.
Case Studies discussed in Webinar:
 Case Study 1
The first case study we looked at was about a very well known educator, publisher, and distributor of technical books who wanted to maintain their community around their books and their content and to make sure that they transitioned well with kind of the changing space.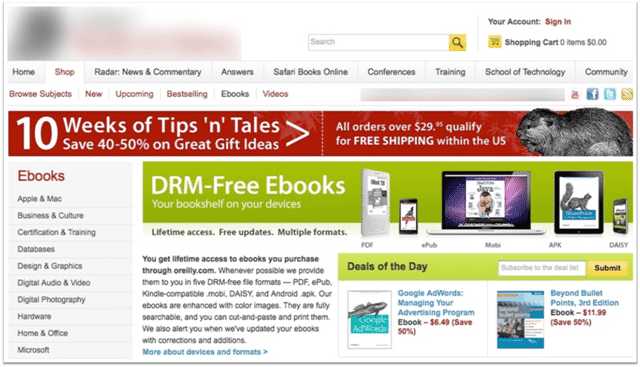 There were three main issues that we noticed on their particular website
1. There was high pre product page abandonment rate
This is a particularly serious problem because if people leave before reaching your product page, there is no way you are going to convert.
2. There was low customer retention rate
Repeat customers form the bulk of any company's revenue. One of the factors that Google considers in ranking websites is customer retention. They look at things like the number of customers that come back to your website and the number of times you receive direct visit, that is, people typing your address directly.  This is a strong signal of domain authority.
3. There was lack of community around the content:
It is important to have a community around your content. One of the things our partner did in order to establish a community was to offer a free book alongside the print version to establish the community.
The issue with this partner is that the text below the banner wasn't necessary. When you have a strong value proposition and a strong headline, there is really no need to add extra text to explain that.
So we came up with the hypothesis:
Enhancing Value Proposition through Copy to Match Your Visitors Expectation Will Lead to Increased Conversions
Hypothesis (a predictive statement that states what will happen if you execute certain changes in your website) is important because it helps you to know whether the changes you are effecting are working or not. Without it, you efforts might be a waste of time.
The first variation we did was that we changed the banner color background as well as the wording from "DRM-Free ebooks" to The E-Book Advantage".  The text below the banner was expunged because we thought that the banner was self-explanatory.  We also changed the image to reflect what is going on.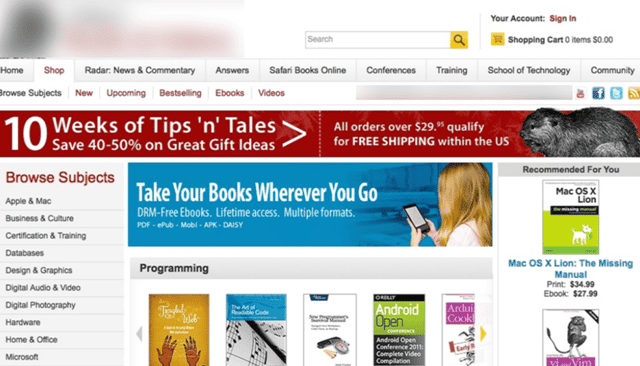 The second variation we did was to maintain the same design but change the wordings in the banner to "Take Your Books Wherever You Go".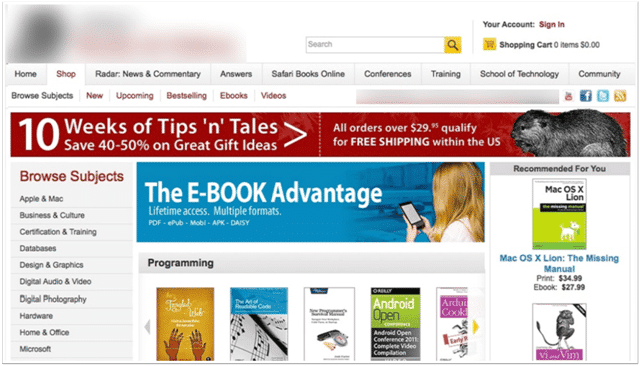 The first variation was the winner and resulted in 26% increase in conversions.
However, when conducted a poll and asked the webinar attendees to choose the better of the two variations, 80% chose the Second Version.
From this we learn that the changes that are needed to increase conversions may not be so obvious and need real data testing.
The reason why the first variation was the winner was because the word "ADVANTAGE" is a power word.
Understanding your competition is critical
In order to firmly establish your value proposition, you need to have a great understanding of your competitors. You need to understand what makes you different, unique and standout.
Understand your target market
What is your target market? Even if you come up with the most compelling design copy, if you don't understand your target market, then you have lost.
The exclusivity of your offer
What is so different with your offer?
Case Study 2
Our second case study is about a partner who created two versions of the CTA button.
Design One

Design Two

The winning design was design 2 which saw an increase in 17.04% conversion rate.
So, having looked at these two case studies so far, how do we define value proposition?
Value proposition is about focusing on the problem you can solve better than your competition.  The more specific you are and the more relevant your solution is to the customer, the better placed you are when it comes to increasing conversions. In other words, value proposition is about the unique differentiation that you present.
Case Study 3
The next case study is about a partner who sells food supplements.
The winner was variation 1 which saw an increase in 55.5% increase in conversion rates.
Variation One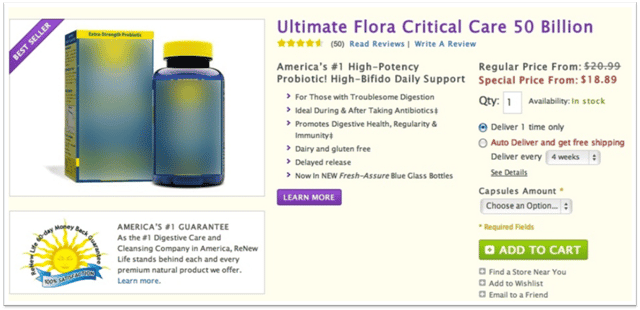 Variation Two

What is the lesson here? How you display your product page can have a major impact on conversions. What this means is that you are going to keep testing your value preposition in order to know your best value preposition.
Case Study 4
Variation One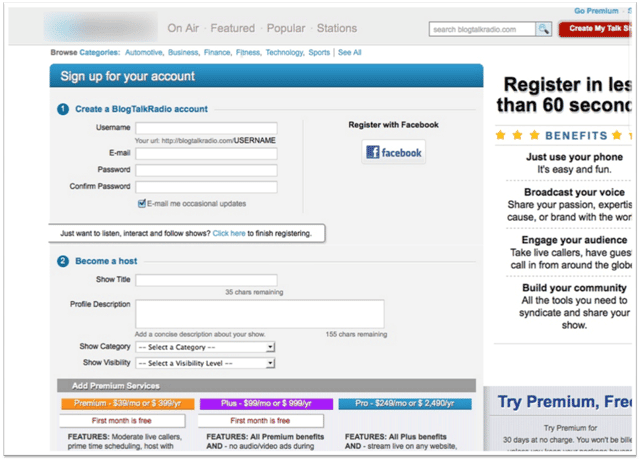 Variation Two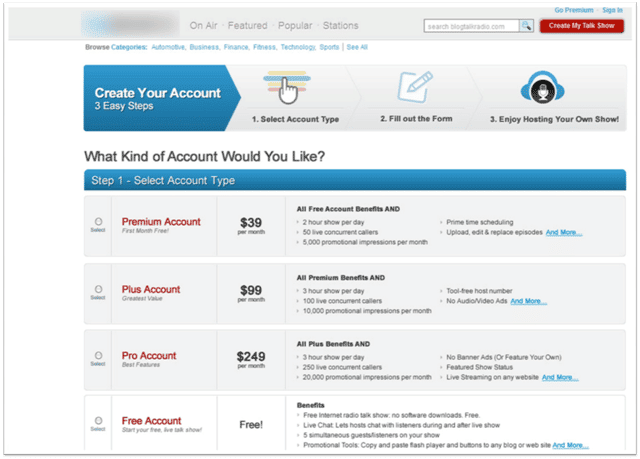 The winner was variation 2 which saw a 90% increase in conversion.
Once you have crafted your value preposition, you want to make sure that it is applied across your web pages. You can include things like:
•    Evidentials—things like benefits, features
•    Graphical Elements—things like pictures
• Brand Stories—things like testimonials, video Example: customers trust what others are saying and this can have a great positive impact on conversions.
Case Study 5
Our last case study was about a partner who had two problems to solve: There was a combination of low product page effectiveness with high average time spent on page and too many competing products were presented to the customers.
This was the partner's checkout page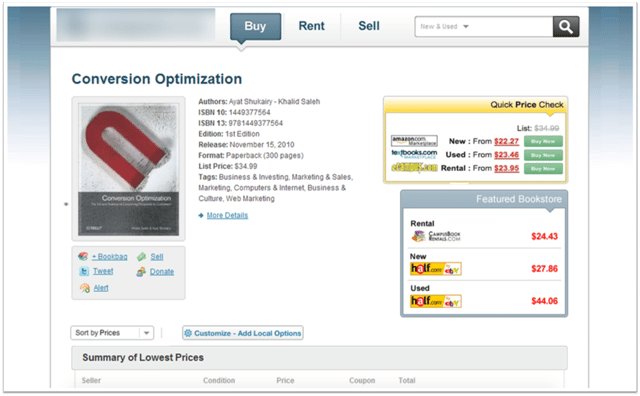 We noticed that the partner's value proposition could be enhanced more in order to increase conversion rates.
Again the hypothesis for this particular test was:
Enhancing value proposition through copy to match visitor expectation will lead to increased conversions.
The first thing we did was include the words "our promise". We also moved the cart close to the product. As a result, we saw an increase in 18.67% increase in conversion rates.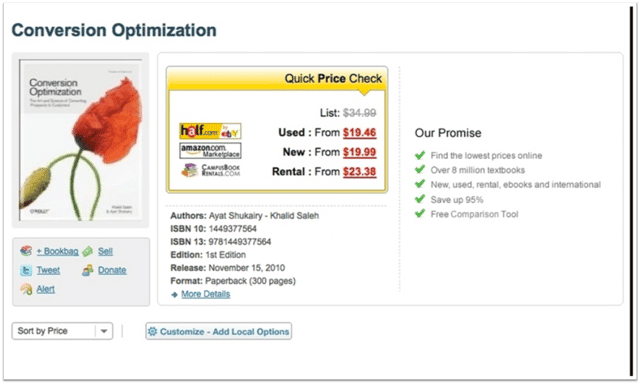 Summary
Identifying your value proposition is the most valuable exercise any marker can engage in because it leads to increase in conversions. As we mentioned, value proposition is the promise and value you promise and deliver by defining the problem you solve and clarifying where you are better than the alternatives. A compelling value proposition acts as the customer's strongest decision maker. The more specific you are in your value proposition, the more conversions you will see in your website.