Reading Time:
11
minutes
Studies conducted by us at Invesp show that acquiring a new customer can cost 5 times more than retaining an existing customer.
I'm not suggesting that getting new potential customers is bad for business.
All I'm saying is that a business isn't sustainable if it doesn't focus on making its existing customers happy. Existing customers are the oxygen that drives the success of a business. 
In one of their studies, Adobe found that an existing customer is nine times more likely to purchase than a new lead. 
So, now, the question here is how do you tap into this recurring purchase syndrome for your existing customers?
Enter customer loyalty programs. 
You're behind the times if you don't have a customer loyalty program set up for your business. Studies show that more than 90% of companies already have a loyalty program.
In this article, we'll look at what's a customer loyalty program, the purpose of a customer loyalty program, how they operate, types of rewards, and examples of loyalty programs.
Ready to learn more to differentiate yourself from your competition?
Let's dive in.
What Are Customer Loyalty Programs?
A customer loyalty program is a strategy employed by eCommerce brands to reward customers who frequently engage with the brand. 
Many brands use this retention strategy to get customers to become repeat purchasers.
Customer loyalty programs come in different forms like stamps, discounts, private sales, and launches, but the idea is to get customers to keep engaging with a brand, not its competitors.
A well-planned loyalty program can help with;
Attracting new customers

Retaining and increasing the purchase frequency of existing customers

Reactivating non-active customers
Purpose Of A Loyalty Program
A customer loyalty program isn't a parade show that exists to excite customers, or the business can say they have a loyalty program.
The first thing to note about customer loyalty programs is that they should be customer-centric. 
A loyalty program that's all about the business and not the customer will see little to no success.
Suppose you're yet to start a loyalty program, but you want to; listed below are some reasons why you should;
1. Improve sales; 
A good customer loyalty program that rewards frequent buyers or those who have purchased at a certain financial threshold will encourage those customers to keep buying.
According to statistics by smallbizgenius, 75% of customers say they favor companies that offer rewards.
Incentives such as discounts, free items, or exclusive launches can make them remain loyal to your business.
2. Strengthen the relationship between the customer and the business;
Deep down, every customer wants to be recognized and appreciated, and loyalty programs are a great way to connect with your customers on an emotional level.
Building a relationship this way improves behavioral loyalty to your business.
3. Create brand advocates;
Every business needs brand advocates. The reason is simple; brand advocates can influence others to use your products and try your services.
Another significant advantage of brand advocates is that they reduce how much you spend running paid ads to attract qualified leads.
An easy way to get brand advocates is to provide a unique loyalty program that rewards customers and watch how your products and brand get recommended by happy customers.
4. Increased traffic to your website and social media pages;
When many businesses run ads to get leads, they mainly work with a rough idea of their customer persona, but loyalty programs change all that.
Customers who sign up for loyalty programs are willing to give up personal details and demographic information that provides richer insight into a business's ideal customer.
Working with this information, you can better target your ideal audience with paid ads and also reduce acquisition costs.
This way, you're saving some money and getting better traffic thanks to data obtained from your loyalty program.
How Customer Loyalty Program works.
Loyalty programs are a two-way street. Over the years, companies have offered points and benefits to customers which they stack up after purchasing multiple times from the business, and after a while, they could use those points to unlock discounts, free products, exclusive access, limited drops, etc
Stacking up points and later redeeming them motivates more purchases and strengthens the relationship between the business and the customer.
Companies have integrated loyalty software into their CRM to know when a customer is eligible to redeem their stacked points to know when a customer is eligible to redeem their stacked points. 
With this tech stack, companies have better insight and can cross-sell and upsell other products and increase sales.
When To Add A Loyalty Program To Your Business
When you start getting site visitors is the best time to set up a loyalty program for your business.
Your customers buy from you because they like you and trust you, and that's what every business is competing for now; customers' trust.
If you want to stay ahead, make more sales, and have a meaningful relationship with your customers, you need to make them offers they can't refuse while providing them with unique experiences.
Exclusive offers they can't refuse are possible with loyalty programs. With this setup, you can make repeat sales consistently.
Creating a loyalty program for your business is easy if you've got a Shopify store. Shopify as a platform has different apps you could integrate with that allow you to start your rewards program.
Many apps help you with everything from design to set up a website widget to capture visitors' attention and encourage them to sign up.
How To Create A Loyalty Program That Stands Out
Every company in your niche competes for the same audience's attention and cash. Still, you can be the business to own most of the market share if you design an unforgettable loyalty program experience.
Not all loyalty programs are created equal; yours can stand out if you follow these steps;
1. Get a nice name:
When you hear 'Amazon Prime,' what comes to your mind? Personally, the picture I get in my head is all of Amazon's best bits available in one package. 
Naming your loyalty program right can evoke the emotions and reactions you want from your audience.
Getting your loyalty program's name wrong would be a huge turn-off. Look at it this way; users decide in 3 seconds if they like a website by the designs they see. Similarly, your users can decide if they want your loyalty program by its title.
Here are some beautiful names for some loyalty programs;
Blume has Blumetopia and uses BB(Blume's Box) as reward.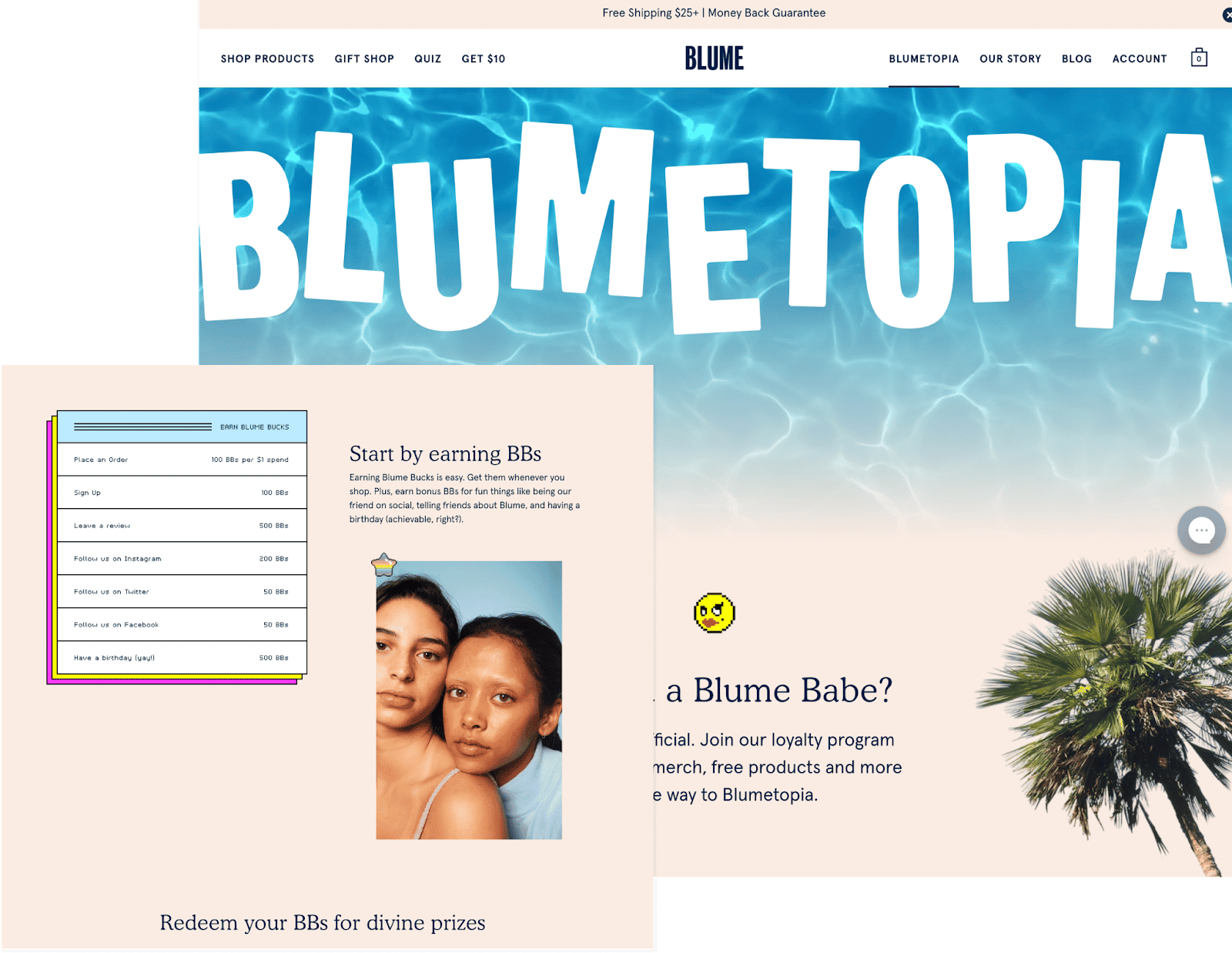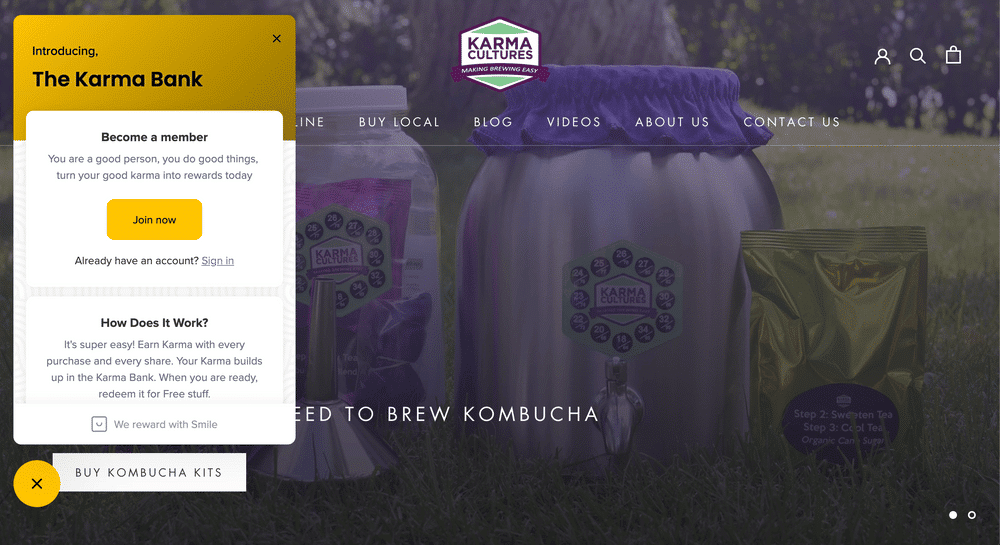 2. Tell a story: 
How your customers react can't always be predicted by data, and that's what many businesses rely on. If we do this, the customer will respond this way. This is not always true.
Loyalty at its core is not transactional, but it's built on how the customer feels.
Do you love a good story? If yes, then your ideal audience does too.
A good story doesn't have to be restricted to the 'about us page on your website or 'how we started' section.
Weaving a story into your loyalty program is an excellent way to differentiate your business from the competition.
Almost every business already rewards their users with points or tiers or helps them calculate how much they're saving, but not many tell a story with their loyalty program.
This is where you can stand out and make a lot of headway.
3. Make it engaging:
Dopamine is most notably known as the reward center of the human brain. Making your loyalty program engaging is beneficial because nobody likes boring, not even you reading this.
Earning and stacking points by consistently buying products is excellent, but it quickly becomes boring, and users don't see why they should continue.
By introducing games and other activities that reward your users with points, discounts, or tiers, you engage the dopamine center, which keeps them coming back for more.
Here are some ideas you can implement;
Tell us about yourself and earn 50 points
Tag us on social media using our product and earn 10 points
Refer a friend and get 10% off, etc.
Mixing these into your loyalty program will make it more fun and engaging for your customers.
4. Focus on values:
Engaging content is good, but people want to know what you stand for and what your business represents.
With climate change and diversity being two of the most important topics, this will be a great way to stand out as a business with your loyalty program.
You could plant a tree for every purchase made or feed a child from every purchase made as The Wander Club does.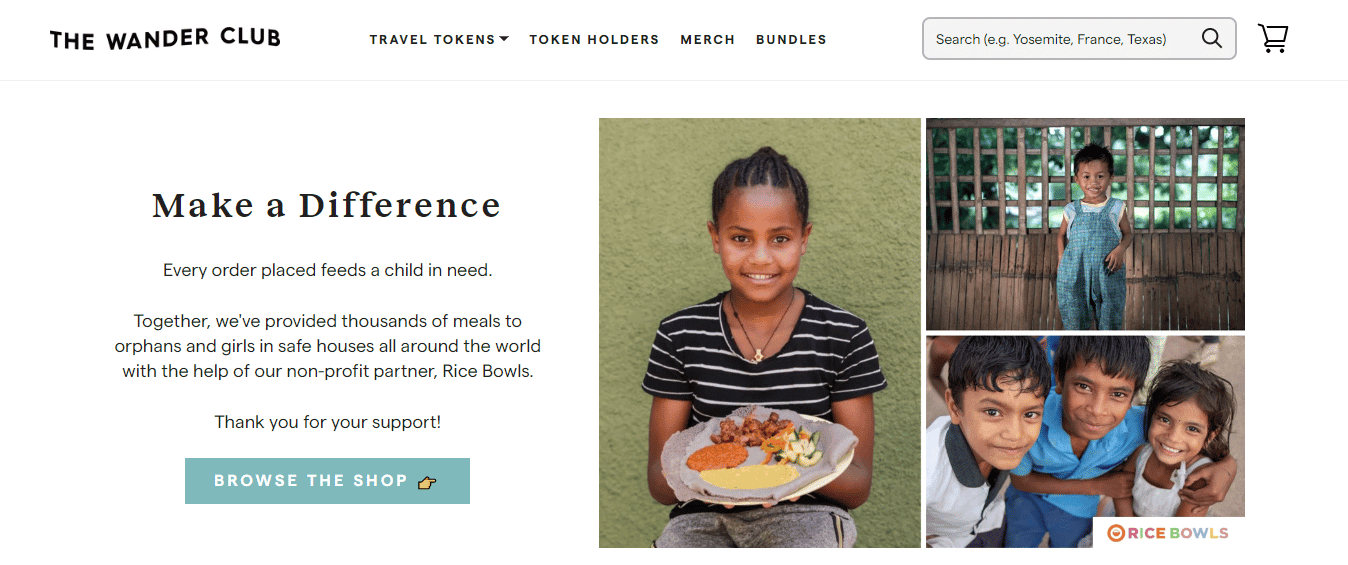 This is a great way to connect with your customers. 
5. Offer different rewards: 
This is a great way to stand out. Offering the typical points and stacking them up to get a discount on your product won't always be exciting; shake it up a bit.
Here are examples of rewards you can offer;
Free gift item
Free ticket to a game or concert
Opportunity to donate to a charity of choice (this makes customers feel like they're contributing to a greater good).
In the following sections, you will see types of reward programs and examples of businesses doing well with their loyalty programs, and you could incorporate an idea or two for your program. 
Types Of Customer Reward Programs.
When it comes to customer reward programs, there are a couple of them. Loyalty programs have evolved from just being points based. Highlighted below are a few. Pick the one that suits your business best.
1. Point programs;
This is the most popular loyalty program you'll find in eCommerce, and it's because they're the simplest ones. 
The operation is simple. Customers get rewarded with a certain number of points depending on how much they spent in purchasing an item or items. 
These points stack up after a while, and they can redeem as discounts, freebies, early access, etc.
Here's an example from Sephora's beauty insider;
As of 2020, Sephora's beauty insider boasts 17 million members, and it's easy to join.
It's a three-tiered loyalty program (insider, VIB, and rouge). A common denominator amongst the tiers is on every dollar a customer spends; they earn one beauty insider point.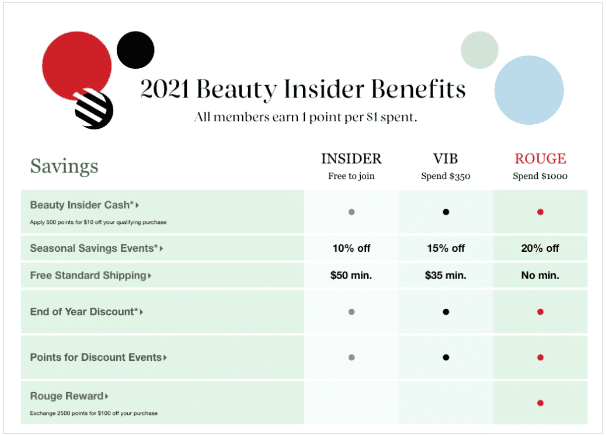 2. Tiered programs;
This is based on levels of loyalty. For every purchase made, customers get points; after a while, they get rewarded, which is the first tier and unlocks the next tier. 
This encourages them to spend more, unlocking the next tier with better rewards for the customer. 
Here's an example from the luxury cosmetic brand Lancome;
Lancome's loyalty program is made up of 3 tiers (Rose Gold, Gold, and Platinum). 
To move from Rose Gold to Gold, you need 2000 points. To move from Gold to Platinum, you need to earn 6500+ points.
Every tier has more benefits and perks.
For every dollar spent, members earn 10 points. Following them on social media, you earn 50 points, and sharing more details about yourself earns you 100 points. All of which can be redeemed.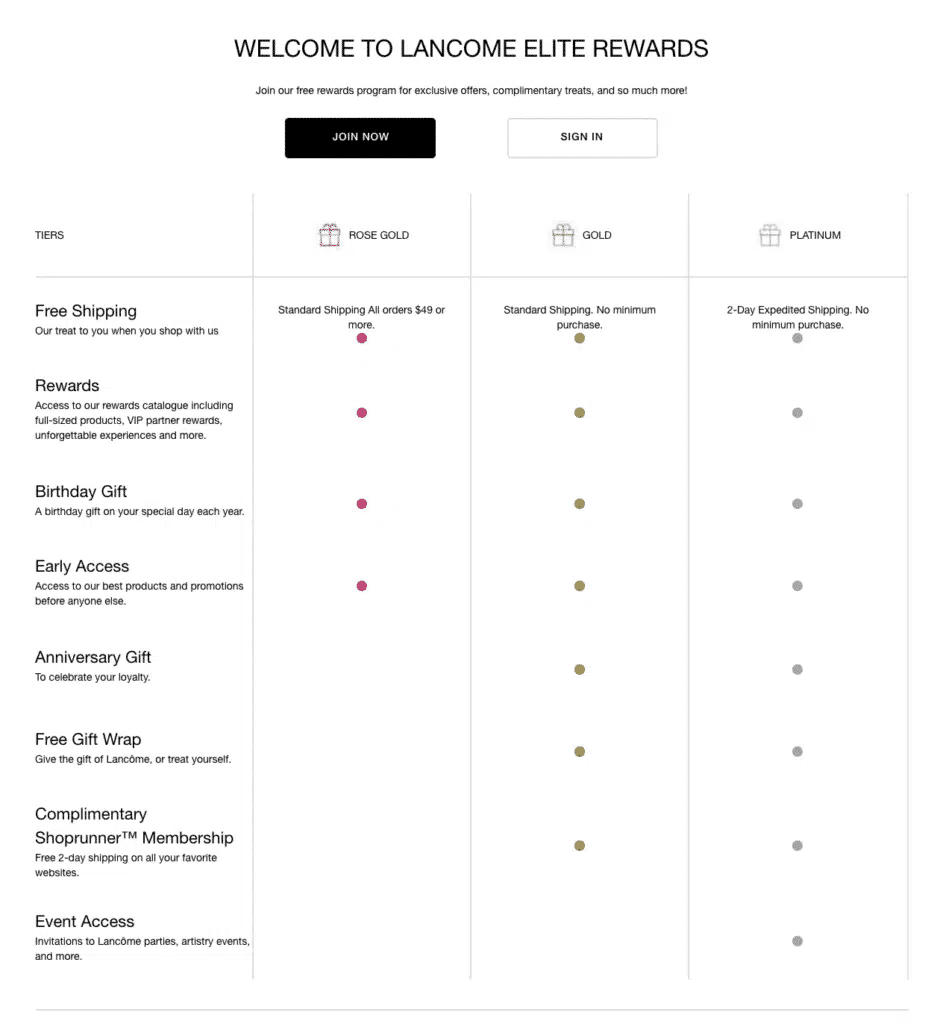 3. Spend-based program;
The idea here is straightforward. The more customer spends with a business, the more points they get.
Boots, a health and beauty retailer pharmacy, offers its customers an advantage card where $1 spent gets them points they can accumulate and redeem.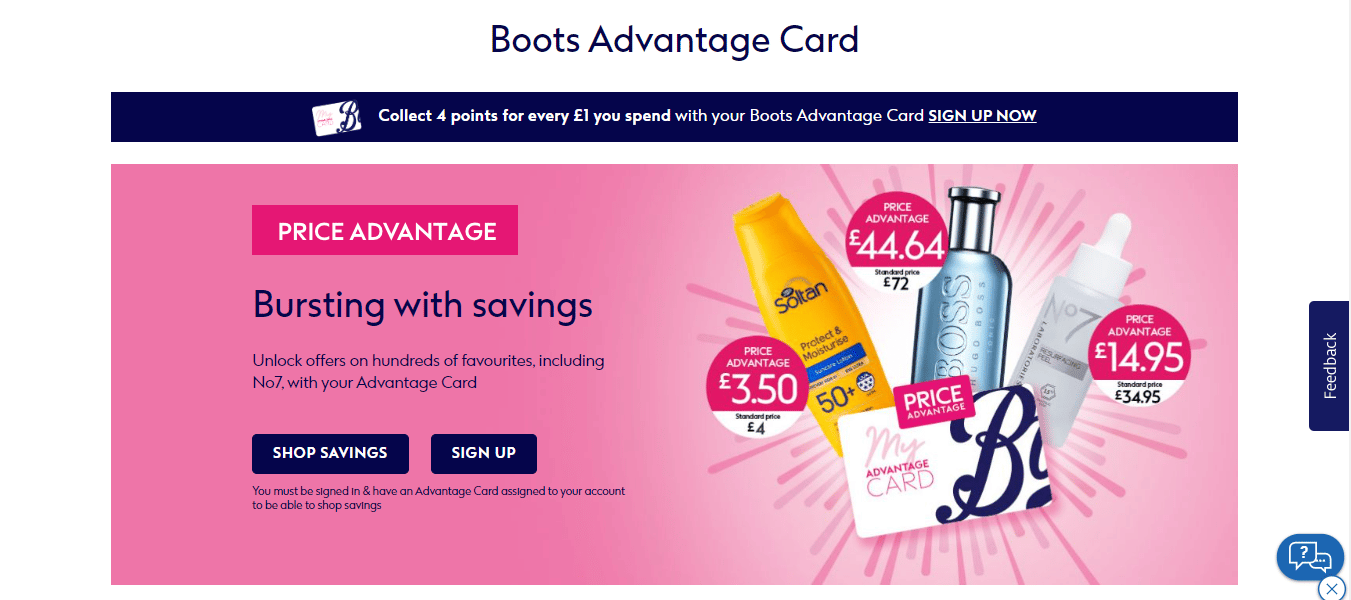 More benefits;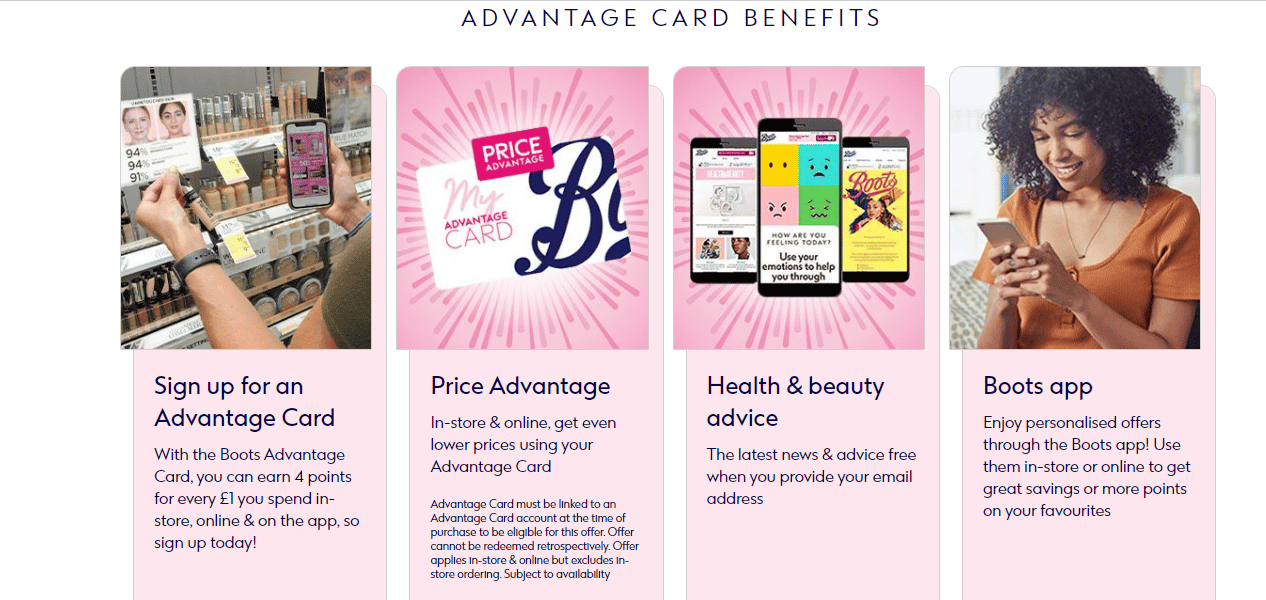 4. Value-based Loyalty programs;
Structuring your loyalty program based on your customer values is a great way to get them to sign up. For this to work, you need to find common values your customers share and will be willing to contribute.
For example, Drumi, a mattress company, agrees that ocean health is essential, and the ocean should be protected at all costs.
They achieve this by donating a part of every purchase to the Coral Restoration Foundation Curacao to encourage reef regrowth (healthy reefs contribute to healthy oceans).

This loyalty program is excellent for building customer relationships because it highlights businesses' human side. 
5. Paid Programs;
In this loyalty program, customers pay to get access to unique perks and benefits.
This could be monthly or annually. A brand that crushes this loyalty program is Amazon prime.

Examples Of  Loyalty Programs
Many businesses have set up loyalty programs, but only a few do it exceptionally well; listed below are some of the eCommerce businesses that rock when it comes to customer loyalty programs. 
This brand has been around since 1895, and they're a leader in crystal cutting and innovation. 
Their loyalty program is broken down into three stages; In the bronze stage, all you need do is create your account and get some benefits.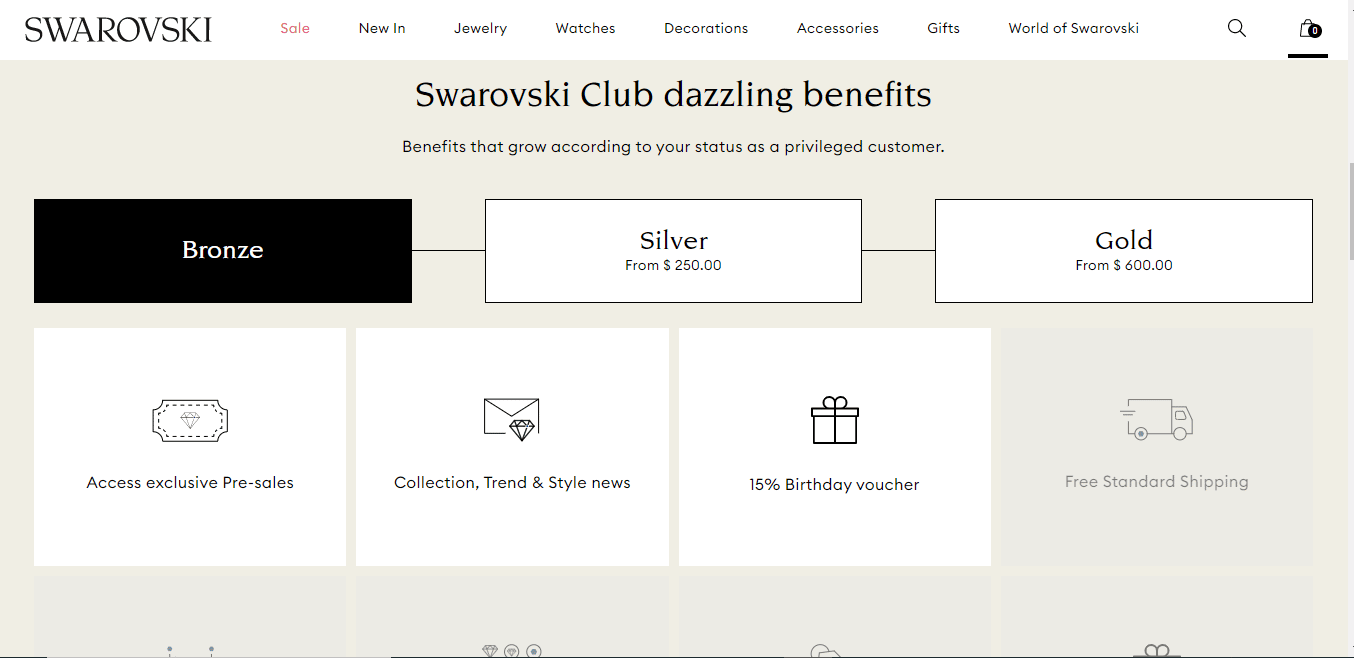 The next stage is the silver stage which unlocks more benefits; to get there; you need to spend $250.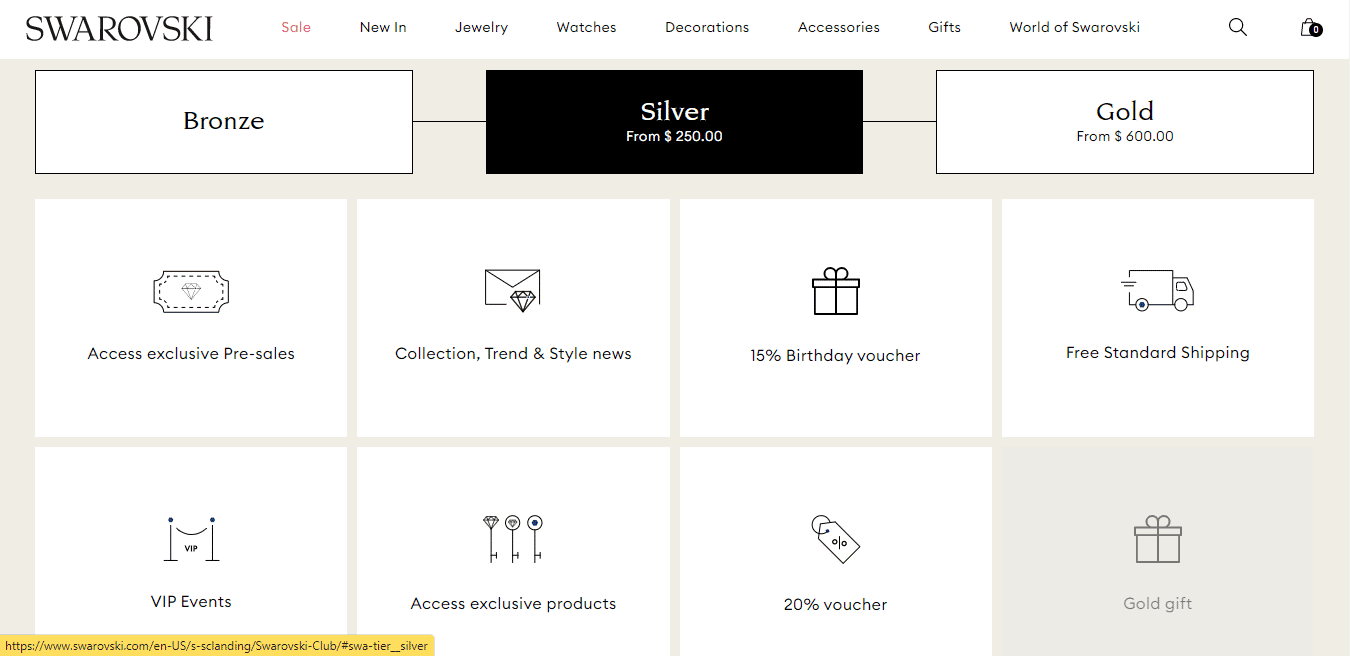 You get free standard shipping, access to VIP events, exclusive products, and a 20% voucher at this stage.
I love this concept because when customer registers and see what's available in the next level not accessible at the bronze stage, they're motivated to spend $250.00.
The Gold tier, the highest tier in Swavroski's program, includes all the benefits from bronze and silver plus getting a gold gift.
A customer unlocks this level by spending $600.00
You can incorporate this into your business if you've got an expensive product. All your customers need to get it for free is to climb the different tiers in your loyalty program by spending different amounts to unlock it—such a brilliant idea.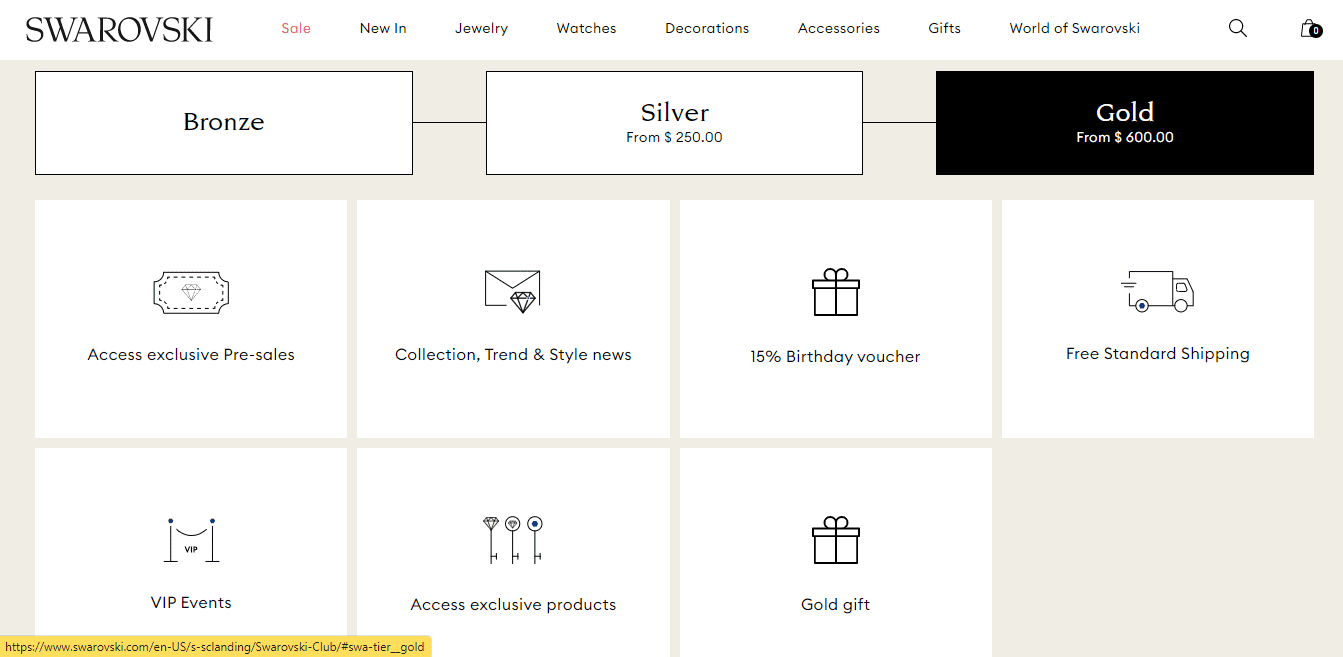 Pura Vida is a Costa Rican-based bracelet company that empowers local artisans to make hand bracelets and ship them worldwide.
Their loyalty program is named the Shore club and has a beautiful reward system.
The first step is registering, which earns you 25 shore dollars.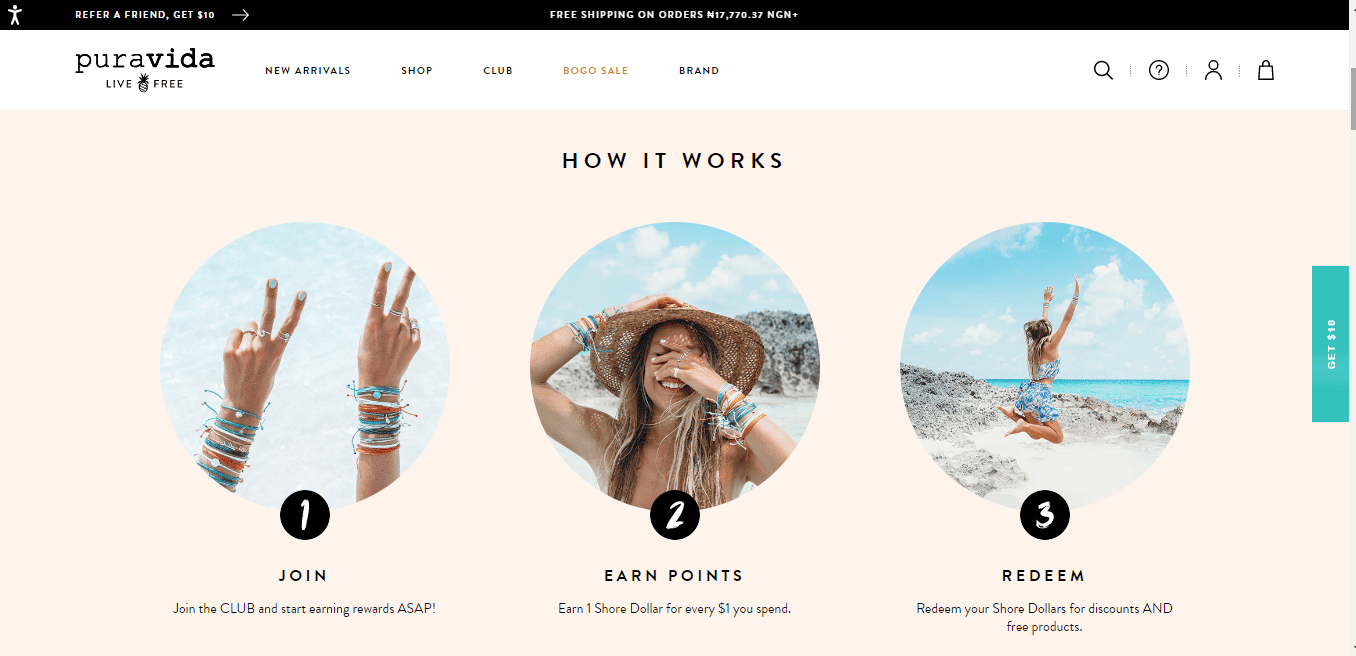 For every $1 spent, you get one shore dollar which you can accumulate and redeem at specific price points.
The beautiful thing here is you don't have to spend to earn every Shore dollar, there are other tasks you can undertake, and you'll still earn, like following them on Instagram, signing up for email, becoming an ambassador, etc.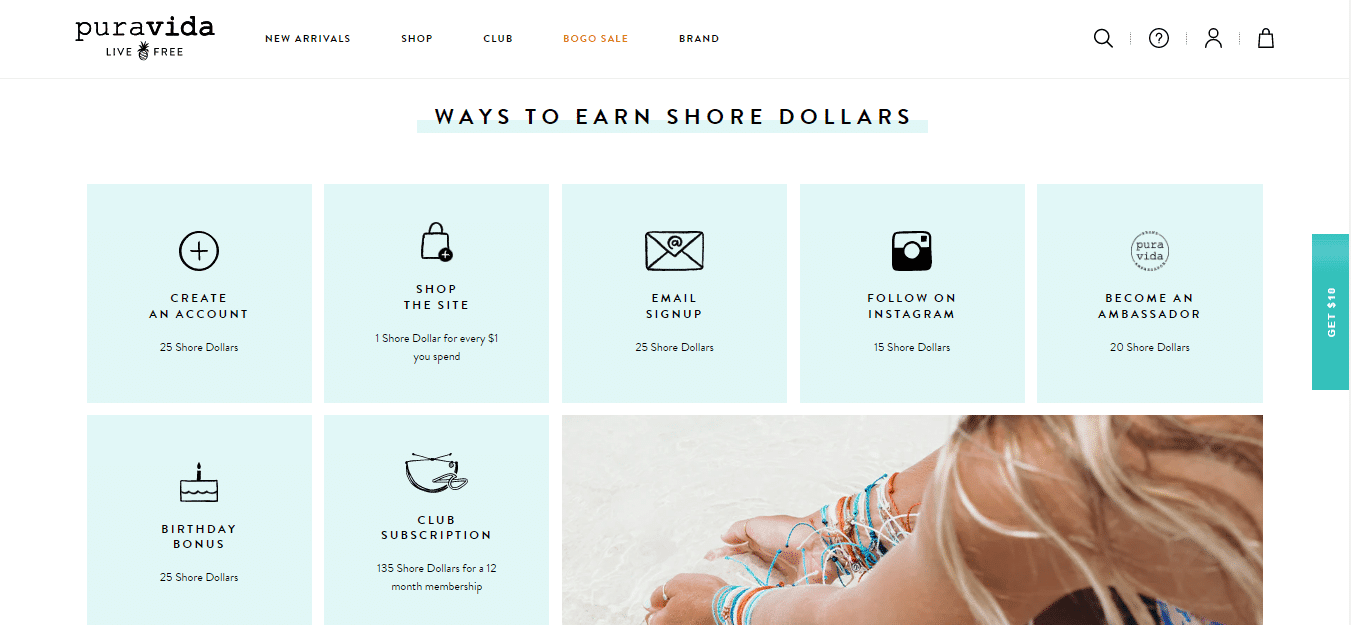 Just like Swarovski, they've got tiers within their loyalty program. How theirs is different is when you climb the VIP tier, you earn more shore dollars for $1 spent.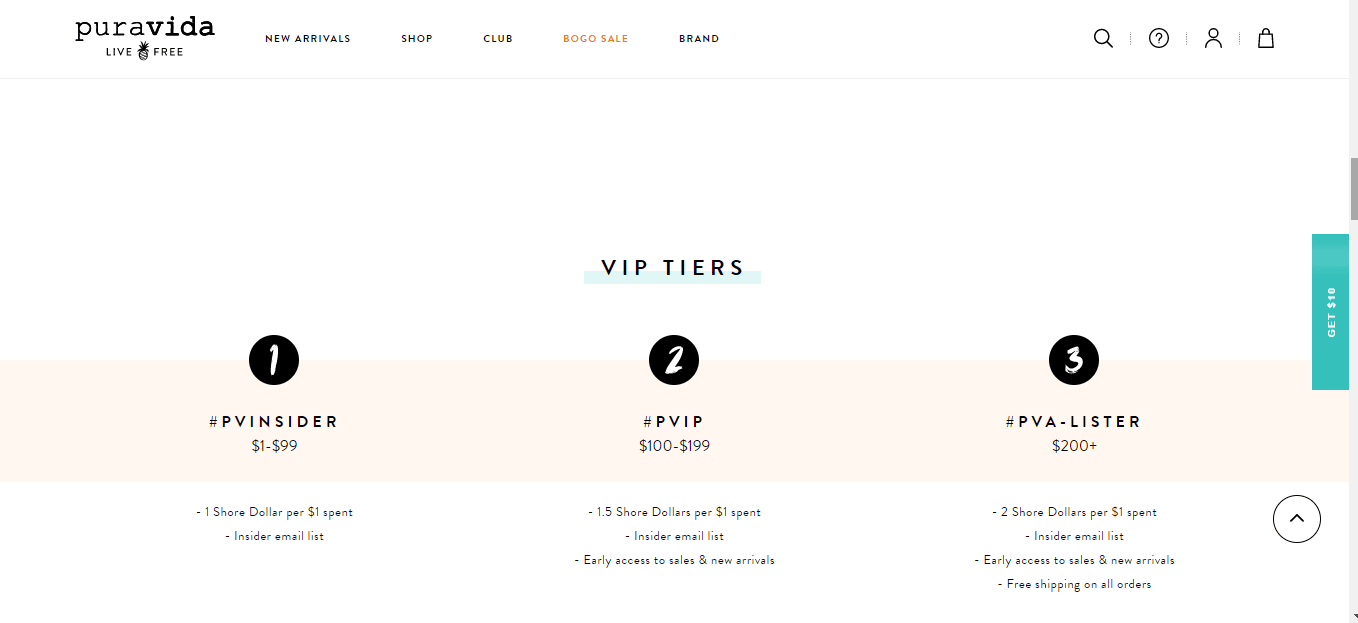 The deal gets sweeter. Suppose you accumulate a lot of shore dollars; you can choose to redeem them for discounts or free items.
Shore dollars for free items;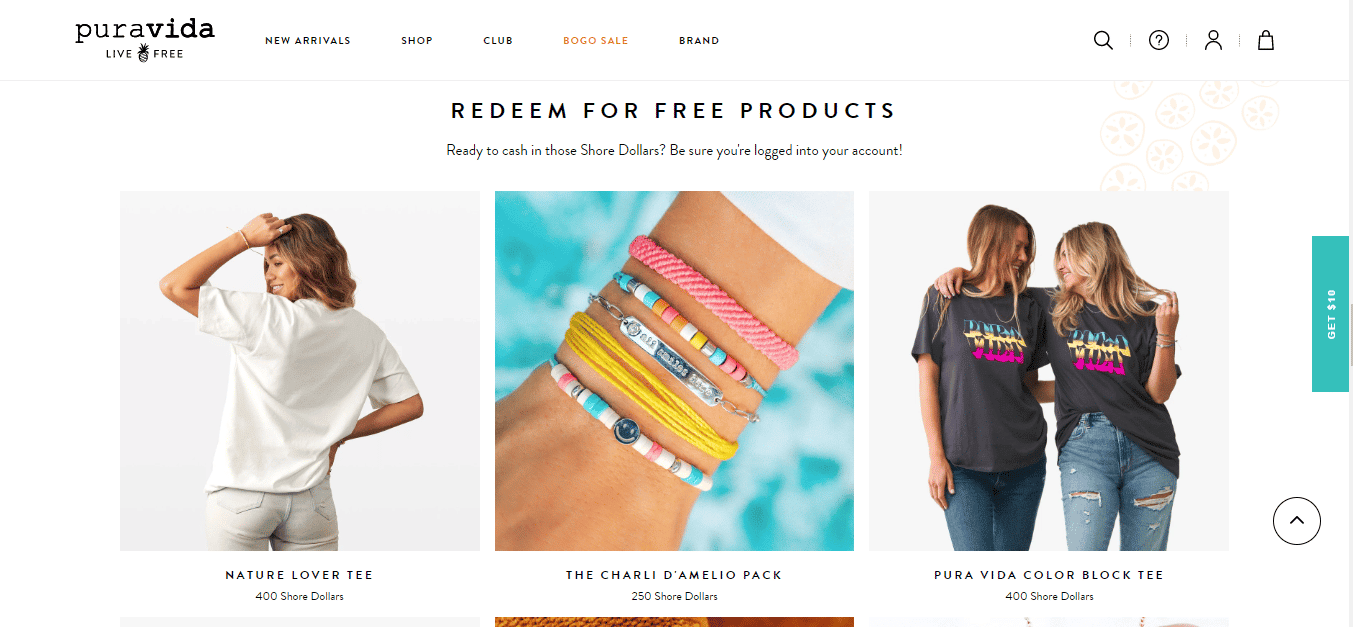 You can borrow the idea of giving your customers more points for dollars they spend as they climb the tier in your loyalty program. This way, they feel they're earning more for how much they spend.
Founded in 1964 by Bill Bowerman and Phil Knight that became a world leader in supplying sports shoes and apparel.
Also, Nike sponsors a lot of sports athletes all over the world and is synonymous with the active lifestyle.
Nike plus is the name of their membership program, and it's free to join, as seen below.

Some of the benefits are;
Free standard shipping

Shop member-exclusive styles

Invites to events, workshops, and workouts

Wear testing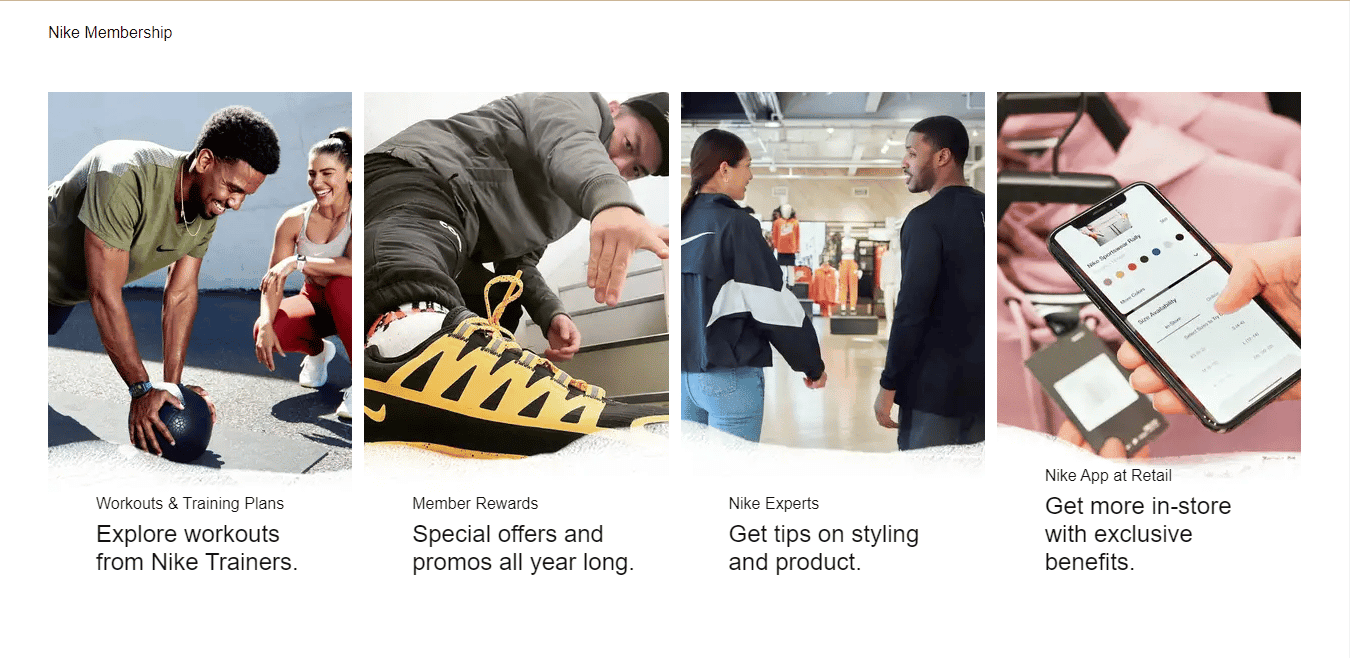 Nike has fantastic benefits. You can borrow an idea or two. Depending on your industry, you can provide free consultation/invites to special events for all loyalty program members or those of a particular tier.
FINAL THOUGHTS
Loyalty programs have grown over the last decade, and businesses have used them to boost sales, increase retention, acquire new customers, and increase business awareness.
There's no need to reinvent the wheel regarding customer loyalty programs. If you want to start today, you can use any reward types highlighted in this article or model after one of the businesses mentioned.