Divide & Conquer – 3 Ideas for Market Segmentation Online

Market segmentation is not a new idea, but take a look at digital marketing and you might think no one has heard of it.

Digital marketing, including your web properties, social media and blogging, makes it easier than ever to segment your markets. And it's easier to create smaller, more focused segments than in traditional marketing.

So why do so many websites, Twitter accounts, email campaigns, etc., simply push the same message to everyone?

Because we always use new media the way we used the old. The first fonts printed on Gutenberg's press resembled the hand-scribed fonts that came before. The first radio programs were spoken-word. The first television stars were radio personalities.

You get the idea.

Web 2.0 has been around long enough that we're taking advantage of many of its unique features, like open communications with customers and pull marketing. Segmentation has been around far longer than either tactic, but it seems to be far less developed online with too many of us using it like it's television or radio. Broadcasting instead of narrow-casting.

How can you start using more segmentation in improve your digital marketing? Here are a few ideas:

Web Sites – Instead of a single "one-size-fits-all" site, web development is now cheap and easy enough that you can have a number of segment-focused sites.
Social Media/Blogs – The land of endless segmentation possibilities. If the targets are large enough, separate Twitter and Facebook accounts for each one is a start. The social networks you choose can themselves be part of your segmentation. For example, Pinterest has a higher percentage of female users and is more visual than Twitter.
Email – Perhaps the place where the most segmentation can happen, but the least does. When a customer grants you permission to communicate one-on-one, don't send her the same message you're sending to 10,000 other people.

Whether you are B2B or B2C, large or small, ecommerce or bricks & mortar, dividing your target markets into segments will help you conquer your conversion objectives.
Join 25,000+ Marketing Professionals
If you enjoyed this post, please consider subscribing to the Invesp blog feed to have future articles delivered to your feed reader. or,receive weekly updates by email: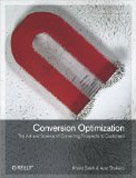 Conversion Optimization
The Art and Science of Converting Prospects to Customers
By Khalid Saleh and Ayat Shukairy