Reading Time:
6
minutes
One of my ongoing goals every quarter is to grow the Invesp mail list by 20%.
I have been carrying this goal into every quarter since the beginning of 2021.
Knowing that most people already receive dozens of emails every day – convincing anyone to add one more newsletter to their inbox is never easy.
We have been relying on the content we publish on this blog for a long time to get more subscribers.
It's been working well for us – and that strategy is why we have over 30k subscribers.
Even though we already have a strategy that works wonders, we are always looking for new ways to improve our in-house strategies and processes.
In doing so, this quarter, I decided to tread on an uncharted territory by incorporating Facebook Ads into our strategy. I knew that I wasn't going to get everything right the first time, but I had to give it a try.
So, what you're about to read is neither a success nor a failure story. But it's my experience launching Facebook ads, for the first time, to get more newsletter subscribers.
I will break down the story into 4 steps to make it easy to follow. I advise you to read it if you want to avoid making the same mistakes I did.
Okay. Now that I have given you the story background, here's how it all played out…
Step 1: Setting the Budget
In most cases, the marketing budget for businesses is 5% – 12% of the revenue.
But since this was an experiment, my budget wasn't too high.
The idea was to start with a small ad spend ($15 daily budget) to see how well the ad performs.
So, going into this Facebook ad campaign, I was armed with a $350 budget.
Sounds so low, right?
But for a quick experiment, $350 is enough.
One thing about Facebook is that your estimated audience reach ultimately dictates what you can expect to see in terms of customer acquisition costs.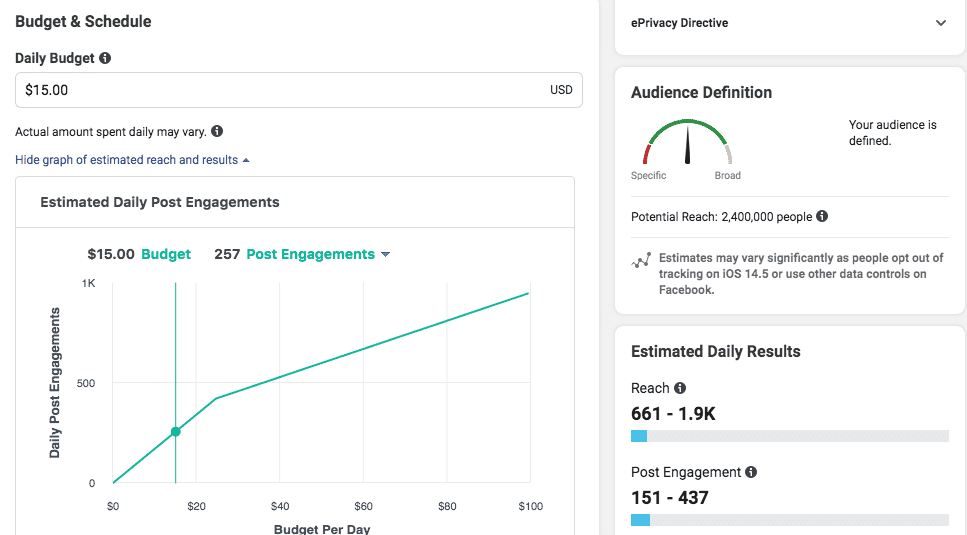 My estimated daily reach was between 661 and 1900, whereas the post engagement was just above 250.
In my head, getting 100 new subscribers were going to be good; getting close to 200 new subscribers was going to be bliss, and anything less than 100 new subscribers was going to be a failure.
As you can tell, I was so ambitious for a novice FB ads user.
100 new subscribers would mean that my CCA would be $3.50, whereas 200 new subscribers would imply that each one of them cost me $1.75.
So, how did I fare?
Step 2: Building the Landing Pages 
With the ad budget now set, I had to prepare landing pages for my FB ads.
To avoid getting too technical, I used Unbounce.
And I came up with one of the simple and most straightforward landing pages you'd ever see: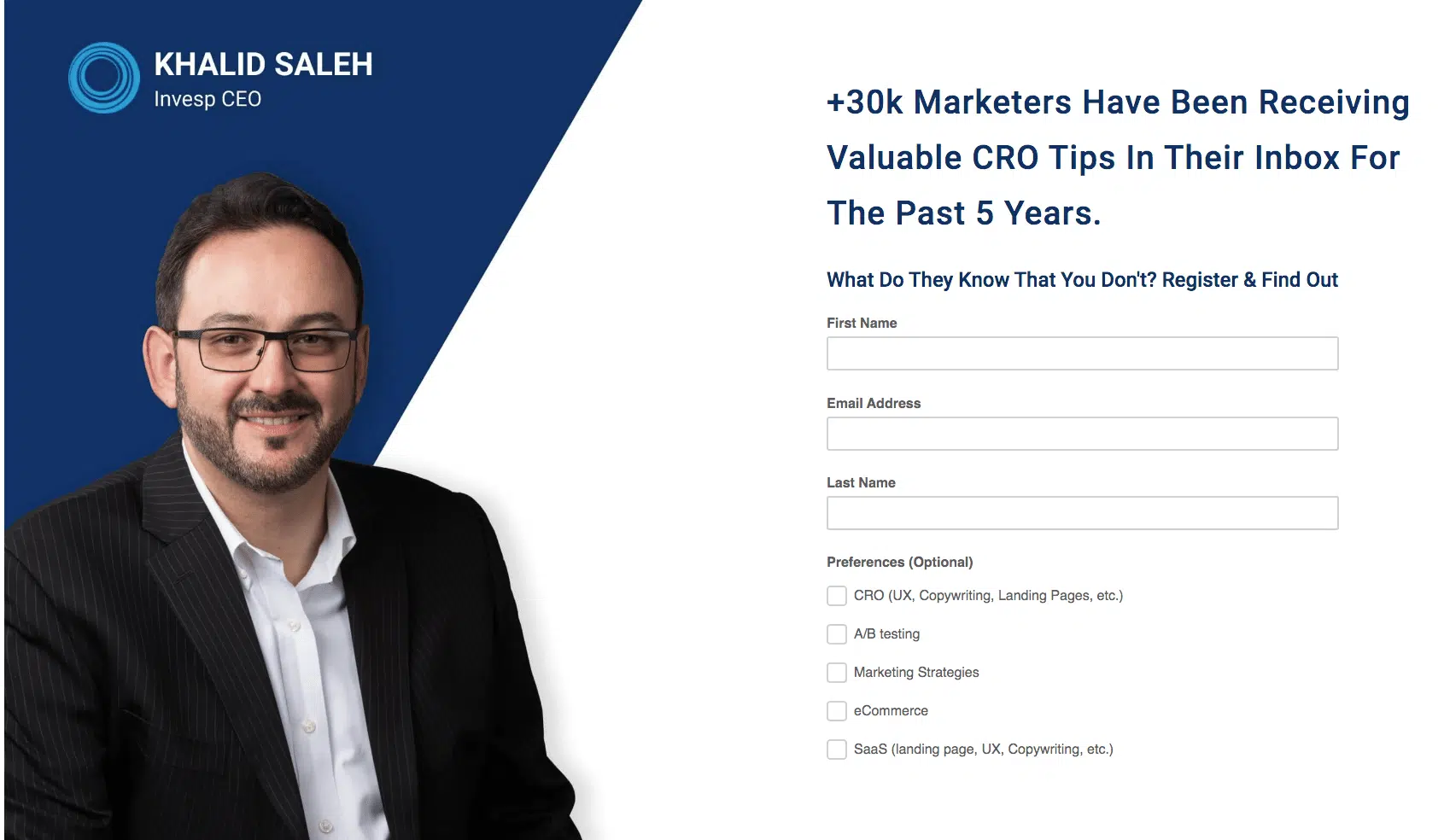 Knowing how important personalization is in every facet of marketing, I had to include segmentation options and not put all subscribers in one bucket.
However, you don't have to zoom in to see critical missing elements on this landing page.
I'm sure you can agree with me that the landing page is too simplistic. You really can't convince a stranger to sign up for your newsletter using such a simplistic and plain landing page.
The other mistakes? ?
My one-line description copy didn't include:
How often do I send the newsletter (weekly, monthly, etc.)?
What the audience can expect when signing up.
Details about the brand (Invesp).
Social proof or trust elements.
Regarding newsletters landing pages, subscribers don't have to wonder how often you send your newsletter, what Invesp does, and how I can help them.
ALSO READ: 11 deadly landing page sins every marketer needs to avoid
Another crucial mistake I made?
There was no freebie for new subscribers. Having a free downloadable lead magnet could have convinced subscribers to sign up for the newsletter – this is something that has been proven to be efficient over and over again.
To ensure that your free downloadable lead magnet is convincing, make sure that it is something that your subscribers would consider paying for.
Step 3: Designing the Subscriber Ad
The next step was to design the actual ad that would be launched on FB.
Since this was an experiment and I didn't know what would work and what wouldn't, I decided to test two designs – a gif and an image.
Knowing that Facebook limits the reach of ads with more text on images, I had to come up with variations with a small amount of text. Much of the explanation was done on the ad copy and not on the image.
Here's how the two Ad variations looked like: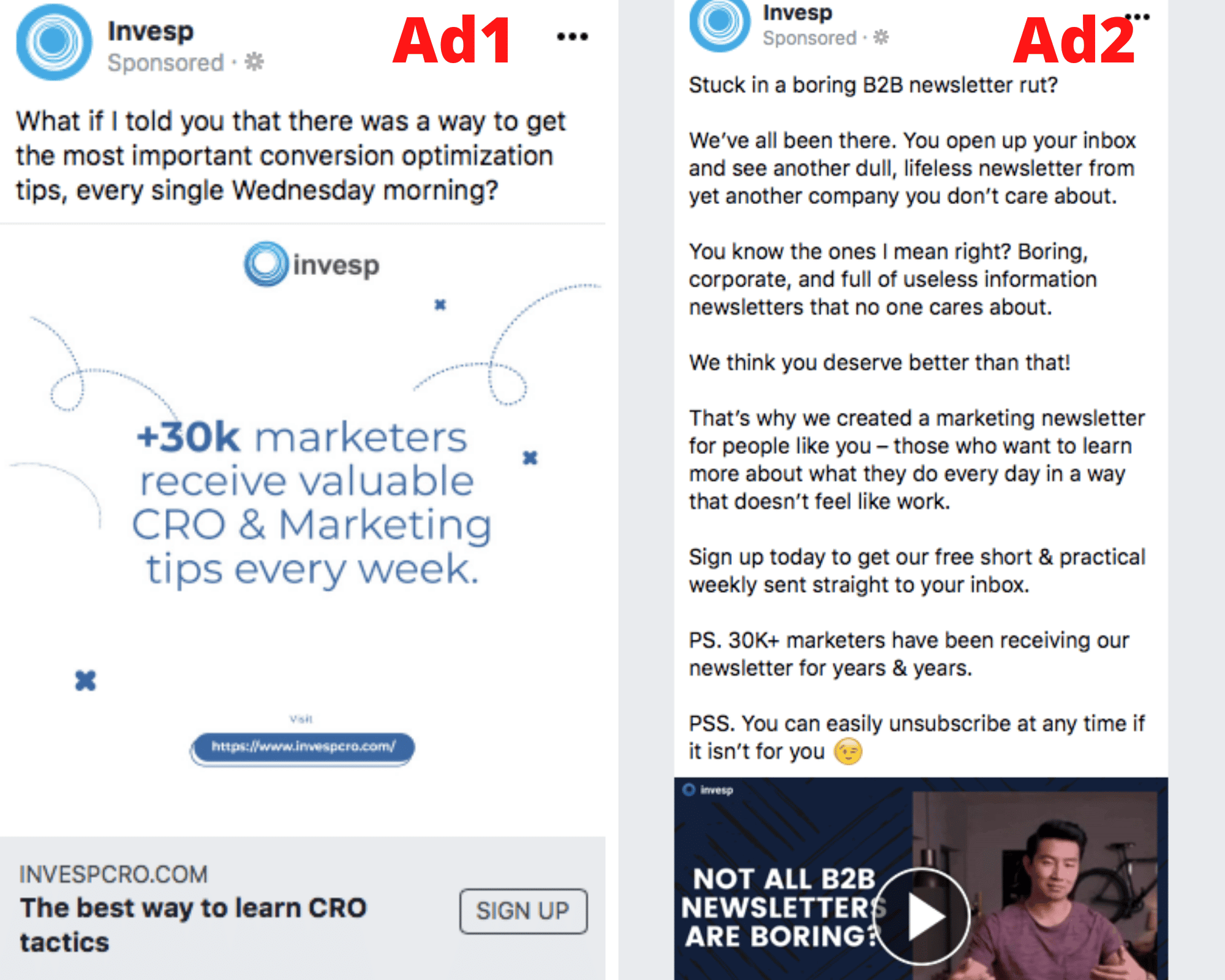 Looking at the above simple ads, which one do you think performed best?
As you're guessing…let me tell you about another deadly sin I committed on these Ads.
If you are observant, you'd have noticed that there's a disconnect between the Ads and the landing page – especially on the second Ad, there's no consistency between the images used on the landing page and the ad.
As for the first ad (Ad 1), yes, it's simple, and the message is clear – but there's nothing about the Ad that makes it stand out. Most people on Facebook are in the mood of scrolling, so if your ad doesn't grab their attention, they will scroll past it.
The lesson here is simple: choose colors that are less likely to blend in with the rest of the newsfeed posts. Sometimes you don't have to come up with a color palette to work with. You can stick to your brand guidelines to keep the feel of consistency across all your content.
Step 4: Setting up the Facebook Ad Campaign
This is where it gets interesting!
I set up this Facebook campaign with the help of my two colleagues, Reza and Mostafa. These two guys have played around with a Facebook ads manager and Facebook campaigns before.
So, we logged in to the Facebook ads manager and created the campaign.
One of the catastrophic mistakes you can make with Facebook ad campaigns is choosing an objective that is not aligned with the results you'd want to achieve. A wrong campaign objective will put your Facebook advertising campaign at a disadvantage.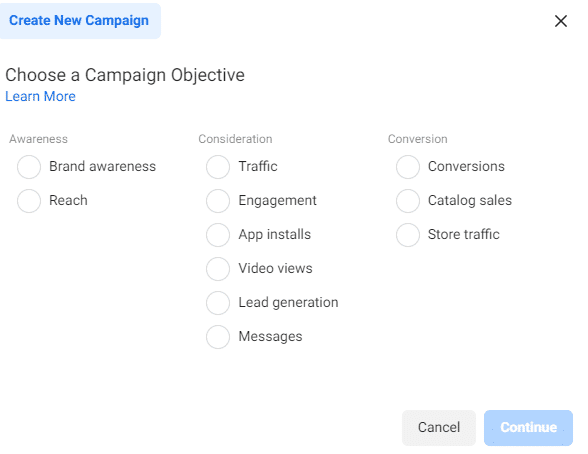 Here's the thing, the objective you choose tells Facebook about the goals of your campaign and what action you want people to take after seeing your ad. Based on the objective you selected, the algorithm will then show your ad to people in your target audience who are likely to take that action.
So, from a handful of campaigns objectives, we chose conversions.
To use this campaign objective, we also had to:
Install the Facebook pixel on the landing page.
Install the Conversion API on the landing page.
Verify the domain for the landing page.
Configure the events within the Events Manager.
Remember, this campaign would be an A/B test of two creatives, an image, and a gif. We had other options of the testing audience, placement, and delivery optimization strategies.
When setting up audience targeting, we decided to go with the Facebook Lookalike Audiences. This feature helps with ad targeting by reaching people who are similar to our current subscribers.
Facebook's Lookalike Audiences are formed based on source audience. We created our source audience using data from the Invesp newsletter subscription list: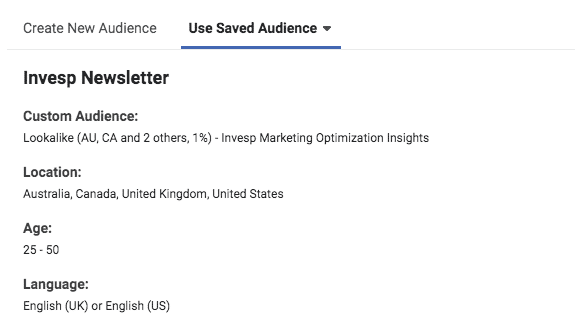 Having set up our audience targeting, the next move was to decide where we want Facebook the ads shown.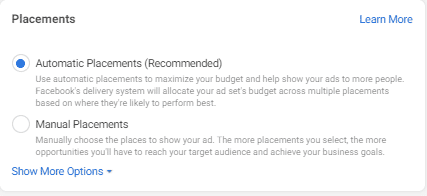 By default, Facebook selects automatic placements as they believe that they will give you the best results. But we decided to choose our own placements.
Here is a list of placement options we chose:
Facebook News Feed
Facebook Video Feeds
Facebook Search Results
Facebook Instant Articles
And Now, the Ad Results 
Two days after launching the ads, I had reached Ad set 1 had reached 2,377 people. 26 of them had clicked on my ad. And I had gained 12 subscribers after spending $31,14.
This means that each subscriber cost me about $2.50. One subscriber for $2.50 is pretty high, so I had to stop the ad after two days of running.
With Ad set 2, I had reached 4,120 people. 67 of them had clicked on my ad. And I had gained 31 subscribers after spending $39,71. On this ad, each subscriber cost me $1,28.
Parting words…
This has been an exciting experience – I made many mistakes, and I have learned from them. Before launching this ad campaign, I took a short FB Ad course, and I have been reading a couple of articles about it. But being able to get hands-on with the tool has been the best part of this learning curve. There's a distinction between reading about something and actually doing it. You learn more by doing.
What's your experience with Facebook Advertising been like? Reach out to me on LinkedIn and let me know.