Optimizing Conversion Funnels: Where Should You Start First?

When it comes to conversion funnels, the internet is not short of articles that talk about building one for your website. There are also thousands of articles that explain the importance of having a conversion funnel. We also have an insightful article that explains the truth about conversion funnel optimization. 

Today, I won't be talking about any of the above. Instead, the focus of this article is to help you know the area you should optimize first on your conversion funnel. 

So, in other words, this article assumes that you already have a conversion funnel set up. If you don't have one yet, don't read it. Save it. Bookmark this page for later, when you have created a conversion funnel. 

You will be glad you did. 

Now, before we jump into the main subject, let's start by looking at how the conversion funnel work:

How does the Conversion funnel work?

In order to understand how the conversion funnel works, let's define what a conversion funnel is. So,  a conversion funnel is a term used to describe each stage that a potential customer has to go through to become a customer. In other words, it illustrates the conversion path that prospects take on your website that ultimately results in a conversion. 

A funnel is a metaphor that shows how the number of potential customers reduces as they move towards taking the desired action (converting) on a site. In the past, you may have seen different examples of how the funnels look like. Here's a simple diagram of how a sales funnel looks like: 

The above diagram shows how a traditional sales funnel looks like. But in this article, we are going to focus on a conversion funnel that places emphasis on customer behavior, nurturing, and retention at each step of the customer journey. 

The conversion funnel we are focusing on is divided into three sections: top, middle and bottom. Here's a simple diagram from Einstein Marketer with a simple breakdown of how a conversion funnel looks like when divided into three sections: 

Each section has its own marketing tactics to increase conversions and metrics you should be tracking. Each section determines the level of knowledge that a potential customer has about a product and how closer they are to making a purchase. 

A conversion funnel helps you identify areas where your website is leaking conversions. And when you know the exact area where prospects are dropping off, you know where to optimize your website so that more and more of your visitors turn into customers.

Having said that, let's take a brief look at each of the three sections of the conversion funnel:  

Top of the Funnel (Persuasion)

The top of the funnel is the first stage of the customer's journey. It is when a prospect lands on your website for the first time and they are just starting to know about your product but don't really know how it works. 

Landing pages are usually the first point of contact that new visitors usually have with a site. So you have to make sure that your landing pages provide details about your products/service or offer in a way that convinces prospects to complete a transaction. 

At this stage of the funnel, it's all about being persuasive. If your landing pages can't convince new visitors to take the next step towards converting, then you might lose them for good. Your copy has to address their needs, your value proposition has to convince them to stay and your CTA should be clear. 

Middle of the Funnel (Informational)

At this stage of the funnel, prospects are already familiar with your product and they have an understanding of how it works. They are interested in your offer and they have engaged with your brand before. But you shouldn't expect them to convert the moment they land on your site, you have to answer their questions in order to convince them to make a purchase.

Don't let anyone tell you any different; getting prospects to move from top to middle of the funnel is a huge achievement. Now you have to make sure that your website needs to have the much-needed information that shows your prospects that you can fulfill their needs and keep your promises. 

One thing you will notice about prospects in the middle of the funnel is that they are getting fewer than there were at the top of the funnel. Do not be alarmed, this drop is actually a good thing. The prospects in the middle of the funnel are more likely to become customers because they know their needs, wants, problems and they know exactly the product they need to get the job done.  

Bottom of the Funnel (Where Conversions Happen)

This is it. This is where you convert prospects/leads to customers. Prospects at the bottom of the funnel have come a long way – they have passed the awareness and interest phase. They are ready to become your paying customers.

Although they are ready to make a purchase, it doesn't mean that they are ready to buy from you. Remember, they are also warm leads in your competitors' funnel. They are waiting for that final nudge or the perfect moment to make a purchase. 

Your challenge is to position your product as the best. This means that your bottom-of-the-funnel content, messaging, and all marketing efforts have to solidify their belief in your brand and convince them of the credibility of your brand. Think of it as the finals of America's Got Talent show. You've to get a golden buzzer from your prospects to prove that you're worthy of the prize: 

Your checkout process should not have any barriers; it has to be clear and as frictionless as possible. 

So Where Should You Optimize First? 

Now that you know what a conversion funnel looks like and how it works from top to bottom, so, which part of the funnel should you optimize first? To answer this, I reached out to a few conversion optimization experts and asked them the same question. Here's what they had to say: 

Spencer Gray from 97th Floor said the best way of optimizing the conversion funnel is to begin at the bottom and work yourself to the top end: 

Spencer Gray Senior CRO Specialist at 97th Floor/h4>

"If traffic isn't an issue and you are getting enough traffic at the bottom of the funnel, typically we always test at the bottom of the funnel. We work bottom-up. And that's because our job is to increase conversions, and it's not about making the home page pretty. So we get the bottom of the funnel to be optimized as possible and move backward and typically we see the best results that way.

We have done it top-down but we don't just see movement like we do when we go bottom-up. And then when we get to the top we go back to the bottom. We keep going back and forth because as time goes on, your users might be changing their minds about how they interact with the site and what they prefer. So it's always important to revisit that bottom of the funnel pretty often to make sure that there are no issues there."

Brian Massey says that there's no right or wrong way of doing this. He believes that data should always determine where you should optimize first:

"We let the data tell us where we should start. For instance if we look into the data and see that a lot of people are abandoning the landing pages or on the category pages, then we might start working on that. If we see that there is a high cart abandonment rate, then we might start optimizing the checkout process.

If we see that the add to cart rate is low, then we might start working on the product pages. So it depends on each site and where the problem is. But we spend a lot of time on the product page because that's really where the rubber meets the road for an ecommerce site."

Iqbal Ali agrees with Brian:

"I'd normally start by analyzing the data for the whole funnel so as to get a visual sense of the shape of the funnel–i.e. the drop-off rates of each page, along with noting the size of the funnel itself.

Any available qualitative data like user research and feedback can also help by indicating key friction points and problem areas of the site.

What I then decide to optimize first will be determined not just by this data, but also by the potential return of investment of each experiment–I'd normally utilise a prioritisation framework to help here.

So, for example, if there is an unusually high drop-off rate on a specific page, and can identify an obvious issue along with an experiment which can be implemented quickly, I would probably start there. But every site and company is different."

Abi Hough also suggests that there's no one way of doing that. But she also advises that it's better to optimize all ends of the funnel simultaneously:

Abi Hough, CRO Expert

"I think you should start at both ends. I'm not gonna say top or bottom. If you start at the top of the funnel you are talking about things like getting customers to that website. So that's really important. I have seen some adverts that don't take visitors into relevant landing pages. So if that's the case, I'd say you need to start at the top half.

I mean there's no point spending a lot of money in advertising when the user lands on the website but they don't see relevant information. So when you start at the top end it's all about making sure that everything is set up correctly and its relevant for the visitors.

But I'm not saying that you should always start at the top of the funnel. I actually think it's simultaneous – you have to optimize all ends of the funnel at the same time. I can say optimize the top end of your funnel but that's utterly pointless if by the time a visitor gets to the checkout and they can't checkout because the form is so horrible. You can't do one way or the other.

If your research points out that users can't checkout because there's a bug, of course, you've to prioritize that. At the end of all of that research will guide you and point you where you need to start in your optimization program. It's the basic principle of optimization, the user research has to be done first for you to establish where you need to start optimizing.

With the example of a checkout form stopping people from checking out. It doesn't mean that you put all of your focus into that and only that. Of course, that has to be done, but at the same time, you need to start thinking about the top end as well. So, it's not one or the other, it is both together but probably you got your shot of the gas on one end of the funnel when you have the other side of it.

Conclusion 

So there you have it. Deciding which part of the funnel should be optimized first shouldn't be a debate. Although there's no right or wrong way of going about it, your decision must be based on where the biggest conversion issues are on your website. In other words, you will have to do research first to determine where these conversion bottlenecks are. Sometimes it's always best to do it simultaneously so that you don't leak any more conversions on either side of the funnel. 
Simbar Dube
Simba Dube is the Growth Marketing Manager at Invesp. He is passionate about marketing strategy, digital marketing, content marketing, and customer experience optimization.
View All Posts By Simbar Dube
Join 25,000+ Marketing Professionals
If you enjoyed this post, please consider subscribing to the Invesp blog feed to have future articles delivered to your feed reader. or,receive weekly updates by email:
Connect with us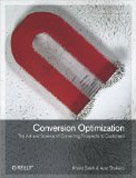 Conversion Optimization
The Art and Science of Converting Prospects to Customers
By Khalid Saleh and Ayat Shukairy