Reading Time:
2
minutes
At the beginning of every year or quarter, we set targets and goals for Invesp's revenue. 
Almost every company has revenue goals and revenue plans – but that doesn't guarantee success. 
Setting revenue targets is something that anyone can do.
It's that easy.
The hardest part of revenue marketing is breathing life into that revenue and making it manifest. 
Many companies/marketers struggle on that part. 
Contrary to popular belief: it's even more challenging to hit revenue targets if you target different markets because you'd need to come up with different strategies that resonate with each segment of the market. 
Our clients at Invesp come in different groups – we have clients who come to us for smaller projects (CRO audit). These are quick deals that cost less than $10k. 
On the other hand, we also have larger clients that spend a lot of money with us. The sales cycles are long. The project work is complicated. 
So since we're two different markets, what's our secret? How do we manage to keep the pipeline for both types of clients? 
To show you how, we asked a super-smart VP of marketing that has been successful at this to give you strategies that she's been using to solve this problem.  
MJ Peters – the VP of Marketing at Firetrace – joins Khalid Saleh in this live session – and she talks about how you can tie your marketing to your revenue.  
During this session, MJ will walk you through her process of generating $5k and $500k deals. 
Wondering why we chose MJ for this session?  
Let's see what marketers say about her: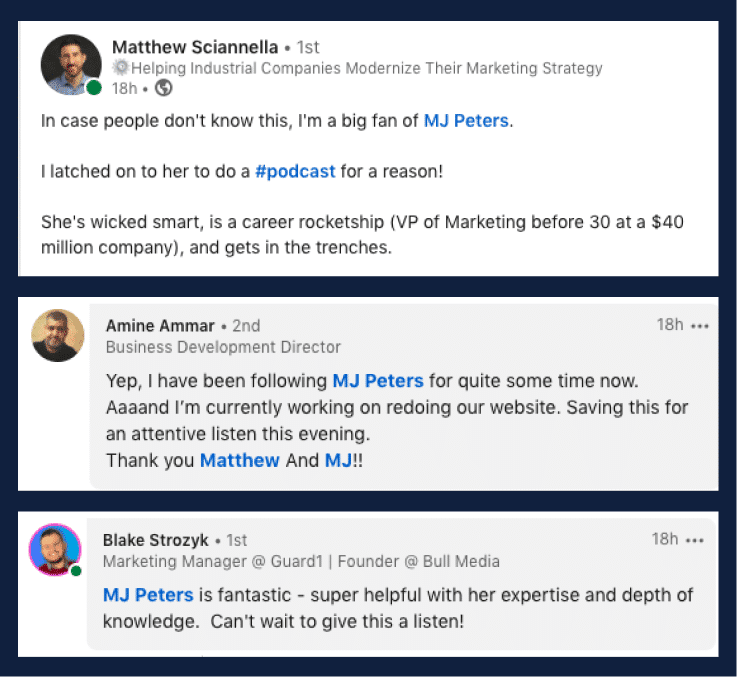 We know that most people do not like to attend live sessions because they are boring. But this one is different because MJ breaks her revenue marketing process into simple steps that are easy to follow and understand.
Click on the link below to watch the recorded replay of this session: 
Here are some of the questions that MJ tackles during this session: 
What distribution target strategy should you use on different social media platforms? 

What should you do before designing a marketing campaign? 

Gated vs. ungated content: When to use each? 

How to set and allocate your marketing budget? 

How to think of content distribution channels as a smart marketer? 

What's the role of content in revenue marketing? 

Which two important metrics should you measure after distributing content? 

Which are the most critical skill sets needed in a revenue marketing team? 

What's the secret sauce of a good case study? 

What strategies should you use to close large ($500K+) and small deals (<$5K)?

What does "tying marketing to revenue" actually look like in practice?

How can I pick marketing channels that align with my revenue goals? 

What is the process I should use to create a campaign that generates high revenue?

 
I get it, sometimes it can be difficult to tie your revenue to your marketing. But if you are serious about hitting your revenue target by the end of each month, quarter, or year, this is a must-watch session.