Reading Time:
7
minutes
Some companies have done 'almost' everything right, but they're stuck. 
Why? Well, at first glance, it might look like there isn't much left to change, but you'd be surprised what some subtle changes can do. 
They're too afraid to experiment with these small changes because they value consistency, but is that a good thing? 
By experimenting with subtle changes to your eCommerce brand assets, you'll likely see a nice bump in sales and conversion rates. 
Let's discuss in detail the role ecommerce branding plays in experimentation: 
Different Types of Branding Experiments.  
Experimentation is an integral part of branding for successful ecommerce brands as it allows them to test new ideas, concepts, and designs. 
This allows them to learn what works and what doesn't work with their customers. It also allows them to build credibility with their target market by showing them that they are willing to take risks and showing their confidence in their product or service.
Experimentation can be used to measure consumer preferences regarding color schemes, font styles, and other aesthetic elements that make up branding. 
Any online store can use this information to determine which colors work best for their brand identity as well as what fonts appeal most to their audience.
There are different ways to experiment with branding and get the best results. Here are some of them: 
Experimenting with your logo:

 It is essential to keep your current logo and experiment with different colors, shapes, fonts, etc. You cannot just change one thing in your logo because it might not look good on a particular product. So you need to experiment with different combinations of your logo and see how they look on different products. 
Experimenting with the color scheme:

 Experimenting with different color schemes may be tricky, but if done properly, it can help you get better results. For example, if you have used a lot of red in your website, then maybe changing some of those elements to black could give better results than red. 
Experimenting with images:

 Images are vital for ecommerce websites because they help engage customers more quickly than words, so experiment with images that complement your brand well and don't take away from what you're trying to sell or convey through your website or app. 
The Role Branding Plays in E-Commerce Experimentation
1. Branding can play a role in increasing sales by making your site easier to find
In an increasingly competitive marketplace, it's become necessary for e-commerce companies to experiment with their websites to stay ahead of the curve. But how exactly can you maximize experimentation?
The answer lies in branding.
Branding in ecommerce can significantly increase sales by making your site easier to find, aka brand recognition, and creating an association between your brand and quality products.
For instance, when Boxed.com, an ecommerce site, got media coverage on the popular NBC's The Today Show, it sought to boost its brand awareness online. 
The company promoted its Today Show TV clip using native advertising and generated more than 1,400 sales and saw a 3.18% increase in conversions.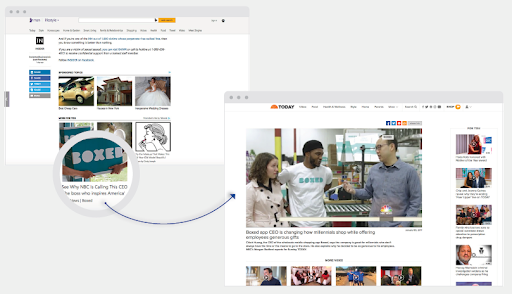 (Source)
Branding is one of the easiest ways for e-commerce sites to increase sales. When people visit a website, they first want to find what they're looking for as quickly and easily as possible. That's why it's important to ensure your branding reflects the right message.
If you're unsure where to start, follow these five tips:
Develop a solid brand identity.

Research keywords and phrases that customers are using when searching for your products.

Hire an experienced web developer who understands conversion optimization (CRO). This will help ensure that your website performs well on search engines as well as mobile devices.

Use AB testing to compare two versions of one page and determine which one performs better.

Set up Google Analytics accounts for each website to track traffic, conversions, and revenue. 
You can also play with various elements, including color schemes, typography, and imagery.
For example, if you're selling clothing, you should experiment with different images that show off your products in a way that's more engaging than just plain stock photos. This is an easy way to build your brand story and customer loyalty.
2. It gives you a significant edge in increasingly competitive markets.
A good brand will make your website recognizable and memorable among your competitors.
The more recognizable your brand is, the easier it will be for customers to find you online and buy your products or services.
An excellent example of a successful branding strategy is Amazon's use of its smile logo on its website and across social media platforms. The smile has become synonymous with Amazon and helps customers recognize the company quickly when searching for products online or using other online shopping platforms, such as Facebook Marketplace or Instagram Stories.

(Source)
Just like Amazon, if you want to stand out from the crowd, you need to create an online presence that resonates with your target market. This can be done through clever use of color schemes, fonts, and imagery – but it also involves testing different elements until you find the right formula for success.
3. It can help build credibility and trust. 
Branding is about more than just the physical appearance of your brand. It's also about communicating your values, mission, and vision to your customers. In the world of e-commerce, this means that branding is not just about having a nice logo.
Branding in e-commerce is about getting people to trust you. When someone is browsing an online store, they want to know that they're buying from someone they can trust, who will ship them a quality product, and who will stand behind their products.
Experimentation can help build credibility and trust in your brand. Experimentation helps show customers that you're confident enough in what you sell to experiment with new ideas and concepts. Experimentation shows that there are no rules when it comes to selling online; anything goes!
To build a great customer experience and inspire trust, you could try out a new way to deliver something to your customers or change the way you handle returns. 
You could also experiment with different pricing models and payment options in your marketing campaigns. 
Or, you could test out new ways to market yourself or find out how people feel about your brand by asking them directly on social media or in surveys.
4. It Helps you highlight your attributes, benefits, and points of differentiation.
Branding is the process of creating an experience that establishes a unique identity for your e-commerce business. It's about communicating your promise and value proposition to customers through every interaction.
For example, Nike focuses its branding efforts on performance and athletic innovation. The company invented the waffle shoe, which helped it target professional athletes. Its product line has expanded now to include athletic attire and equipment that improve the performance of these athletes.
(Source)
They empower their customers to take up challenges by using the message "Just Do It." To reinforce the message, they also use the Greek Goddess of Victory as a namesake, and their models and athletes always appear to be performing physical activities or ready to compete.
However, you are not a big global brand like Nike yet. 
And with so many stores vying for attention, you need to be able to demonstrate your value proposition – what makes you different from the rest?
To do this, you'll need to experiment with a variety of strategies, including:
Brand personality:

 Your brand personality is the emotional connection customers make with your business. It's how they see you as a company and what they think of when they hear your name. In today's crowded retail landscape, it's important to have a strong and consistent brand personality that resonates with your target audience.
Brand voice:

 Your brand voice is the tone in which your company speaks. It should reflect the values of your target customers and communicate those values clearly through copywriting, imagery, and design elements like color schemes or typography choices.
Brand identity: 

This refers to the visual elements representing who you are as an organization, including logos and other graphical elements like typography or photography styles.
Experimentation will allow you to test different messaging strategies and see which ones work best for your target audience. It also helps you understand what kind of content resonates with them the most so that you can create more relevant content in future campaigns.
5. It helps create an emotional connection with customers.
When we think about branding, we tend to focus on the visual elements: logos, colors, and fonts. But there's another element to branding that we don't talk about as much: emotion.
An emotional connection is key to building a successful brand in e-commerce because it helps create engagement with your customers and helps differentiate yourself from your competitors.
In fact, statistics suggest that 70% of shoppers who are emotionally engaged spend up to two times or more on brands they are loyal to, as opposed to 49% of shoppers who have low emotional engagement.
Here's an example of Airbnb. The company carried out a campaign in New York City and employed storytelling to form an emotional connection with potential clients. 
In the image below, their story highlights Carol, who uses Airbnb for extra income and going back to school. In their YouTube video, they talk about how she has been residing in Lower Manhattan for 34 years, went out of work, and loves hosting people via Airbnb.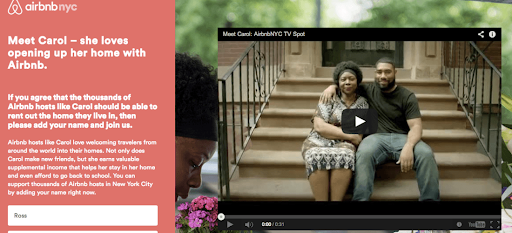 (Source)
Airbnb's brand message and marketing stories appeal to the common human desire to help others. If you use Airbnb, you will not only have a place to stay but also have the opportunity to make new friends and help someone in need.
However, to create an emotional connection with your customers, you need to know their needs. You need to understand how they think and what they want from your brand. If you don't have this information, how can you possibly know if an experiment will work?
This is where experimentation comes into play. 
When you experiment with different methods for branding in ecommerce, you're able to learn more about your audience's preferences and needs. This knowledge allows you to create a stronger relationship with them by catering specifically to their needs and wants.
Another way to create this connection is by allowing your customers to give testimonials and feedback through user generated content. This way, they feel like they're genuinely part of the brand.
That's a Wrap!
Ultimately, the most powerful tool in your e-commerce repertoire is your company brand. If you create a recognizable, memorable identity for your company and your products using proven ecommerce branding strategies, you will have an easier time convincing consumers to trust you. And without that trust, conversion rates will suffer—even if you're the single best design of your kind on the market. 
So yes, e-commerce branding is important. Use it to your advantage, and your efforts will be rewarded with more sales.