The Top 10 Marketing Books of All Times

We have updated this list and added more books that every marketer should read cover to cover if they want to accelerate their growth in this field. Below this first list, we have also added more marketing books that you should add to your reading list right away. 

If you are in the business of online marketing, you already know that regardless of how many academic courses you took in college, or how many hours you spent listening to your teachers, the most you will ever gain is some basic knowledge but will not be taking you to the cutting edge.

Online marketing is a highly evolving field with new techniques, theories, tactics and tools emerging every day, and the only way to stay on top is to stay tuned and on standby ready to grab anything new and useful. However, a google search won't suffice since the internet is full of bullshit; and although thousands of marketing books are published each year, most of the books are destined to stay on shelves collecting dust. This is why I compiled this list of books for you. My objective is to put you on rail; the rest is however up to you. As a PHD I've developed a good sense of the type of books that will elevate you and the ones that keep you grounded. Remember, it is never too late to learn.

10. Buy.logy by Martin Lindstrom

How much do we know about why we buy? What truly influences our decisions in today's message-cluttered world? An eye-grabbing advertisement, a catchy slogan, an infectious jingle? Or do our buying decisions take place below the surface, so deep within our subconscious minds, we're barely aware of them?

In Buy.logy, Lindstrom presents the astonishing findings from his groundbreaking, three-year, seven-million-dollar neuromarketing study, a cutting-edge experiment that peered inside the brains of 2,000 volunteers from all around the world as they encountered various ads, logos, commercials, brands, and products. His startling results shatter much of what we have long believed regarding: what sparks our interest and what drives us to buy.

9. Epic Content Marketing by Joe Pullizzi

Joe Pullizzi is the founder of the Content Marketing Institute (CMI), one of the leading content marketing educational resource for enterprise brands, and one fasted growing business since its creation. It is safe to assume that Pullizzi knows a thing or two about content marketing, and in this book, he gives plenty of great advice about how to do it right.

"Epic Content Marketing" takes you systematically through the process of developing stories that inform and entertain customers to act without actually telling them to. Epic content enables you to position your business, as a trusted expert in its industry and it is what customers share and talk about. There are six principles:
1. Your content must fill an unmet need or answer a question for your customer
2. You must deliver your content consistently
3. Your content needs to be written in your voice, preferably with some humour
4. You need to express an opinion rather than giving a balanced history report
5. You must avoid sales speak, as it destroys the value of your content
6. You must aim to produce the very best content relating to your content niche

8. Social Media ROI by Olivier Blanchard

Top branding and marketing expert Olivier Blanchard attempts in this book to demystify the biggest question that sits on top of the minds of many business managers: what exactly is the return of investment of social media, and more importantly, why should my business be using social media? And finally, how do we justify the investment?

Reading this book, you will learn about the best practices for strategy, planning, execution, measurement, analysis, and optimization in Social Media. You will also learn how to define the financial and non financial business impacts you are aiming for and how to achieve them.

7. The Anatomy of Buzz by Emanuel Rosen

In The Anatomy of Buzz, former marketing VP Emanuel Rosen pinpoints the products and services that benefit the most from buzz-a universe that embraces everything from high-tech equipment to books, various consumer and entertainment products to legal and other support services-and offers specific strategies for creating and sustaining effective word-of-mouth campaigns.

Drawing from interviews with more than 150 executives, marketing leaders, and researchers who have successfully built buzz for major brands, Rosen describes the ins and outs of attracting the attention of influential first users and "big-mouth" movers and shakers. He also discusses proven techniques for stimulating customer-to-customer selling-including how companies can spread the word to new territories by taking advantage of customer hubs and networks on the Internet and elsewhere.

6. Made to Stick By Chip Heath & Dan Heath

Chip and Dan Heath tackle in this book why some ideas thrive while others die, and how to improve the chances of worthy ideas. They reveal the anatomy of ideas that stick and explain ways to make ideas stickier, such as applying the "human scale principle," using the "Velcro Theory of Memory," and creating "curiosity gaps."

Provocative, eye opening, and often surprisingly funny, Made to Stick will show you the vital principles of winning ideas and how to apply these rules making your own messages stick. Made to Stick is simply a book that will transform the way you communicate ideas.

5. Conversion Optimization by Khalid Saleh & Ayat Shukairy

I might be cheating adding Khalid's and Ayat book in this list, but you will forgive me once you go over it and read it. Based on the authors' broad experience in helping businesses attract online customers, this book addresses every aspect of the process, from landing visitors to finalizing the sale. You will learn several techniques for blending successful sales approaches with the particular needs of the people you want to attract.

Conversion Optimization offers practical advice on how to persuade visitors to make a buying decision without driving them away through data overload or tedious navigation. You will learn how to use marketing principles, design, usability, and analytics on your site to increase your buyer-to-visitor ratio, whether you are involved with marketing or designing a large ecommerce site, or managing a modest online operation. So the last question left is, are you ready to do what it takes to get a double-digit conversion rate?

4. Selling the invisible by Harry Beckwith

Twenty-five years of experience with thousands of business professionals, Harry Beckwith delivers in this book its wisdom with unforgettable and often surprising examples, from Federal Express, Citicorp, and a growing Greek travel agency to an ingenious baby-sitter.

Filled with wonderful insights you will learn how service marketing is about how to eliminate your clients fear of hiring you, and how to make your invisible qualities visible.

3. Permission Marketing by Seth Godin

If you have been around long enough in this business, you already know that Seth Godin is the most influential and brightest gurus in online marketing. Whether it is the TV commercial that breaks into our favorite program or the telemarketing phone call that disrupts a family meal, traditional advertising is based on the hope of snaring our attention away from whatever we are doing. Seth Godin calls this Interruption Marketing. Instead of annoying potential customers by interrupting their most coveted commodity, time, Godin offers consumers incentives to voluntarily accept advertising. By reaching out to only those individuals who have expressed an interest in learning more about a product, Permission Marketing enables companies to develop long-term relationships with customers and greatly improve the chances of making a sale.

2. The Psychology influence of Persuasion by Robert B. Cialdini

Influence is a classical book That explains the psychology of why people say "yes", and how to apply these understandings. Dr. Robert Cialdini is the seminal expert in the rapidly expanding field of influence and persuasion. His thirty-five years of rigorous, evidence-based research, along with a three-year program of study on what moves people to change behavior; has resulted in this highly acclaimed book.

You will learn the six universal principles, how to use them to become a skilled persuader—and how to defend yourself against them. Perfect for people in all occupations, the principles of Influence will move you toward profound personal change and act as a driving force for your success.

1. Positioning by Al Ries & Jack Trout

Positioning is another classical book in Marketing, and is the first book to deal with the problems of communicating to a skeptical, media-blitzed public. This book describes a revolutionary approach to creating a "position" in a prospective customer's mind-one that reflects a company's own strengths and weaknesses as well as those of its competitors.

By reading Positioning you will learn how to use leading ad agency techniques to capture the biggest market share and become a household name.
You will also learn:
• Use leading ad agency techniques to capture the biggest market share and become a household name
• Build your strategy around your competition's weaknesses
• Reposition a strong competitor and create a weak spot
• Use your present position to its best advantage
• Choose the best name for your product
• Determine when-and why-less is more
• Analyze recent trends that affect your positioning.

In case you have read all of the above marketing books, here are more books that you should add to your reading list:

Competing against luck by Dr. Clayton Christensen, Taddy Hall, Karen Dillon, & David Duncan

Looking for a game-changing book that can help marketers learn how to develop and market products and services that customers won't say no to? Dr. Clay Christensen and David Duncan's book, Competing Against Luck, is all you need. This book focuses on the The-Jobs-To-Be-Done (#JTBD) theory of innovation – a powerful approach to understanding customer behavior. 

The main argument in this book is that the best way to be competitive against the competition and luck is to develop a product or service that directly addresses the jobs that a customer needs to do using the product. Using this book, you will learn how to use the #JTBD theory to: 

Define the business you are through the lens of the customers

Understand who your direct and indirect competitors are – according to your customers' eyes. 

Understand what drives customers to hire or not to hire your products 

Understand why customers would fire certain products

Have a clear understanding of the emotional and social needs that customers want addressed.

Identify conversion opportunities that can help grow your business

Build a product or service that is customer-centric

In short, Competing against luck can be regarded as a book about progress. Not marketers' progress, but the progress of customers'. 

The Brand Flip by Marty Neumeier

This book by Marty Neumeier fights the traditional way of thinking of branding. In this book, Neumeier insists that the brand's power is no longer with marketers or businesses, but it has been handed over to the consumer – thanks to social media. 

He also challenges the notion that a marketing funnel represents branding, but instead, he suggests that the flipped approach on branding should be seen as a ladder that customers climb. Satisfaction, engagement, delight, and empowerment are the rungs that make that ladder. 

The Brand Gap by Marty Neumeier

Bridging the gap between brand strategy and design (execution) is not an easy thing to do. But it can be if you get hold of a book that clearly defines the steps you need to take. Fortunately for you, one of Marty Neumeier's books – The Brand Gap – is the inspiration you need to drill deeper into the subject of branding.

The Brand Gap is a book that also explores the five disciplines – differentiation, innovation, collaboration, validation, and cultivation. – of great branding. Neumeier suggests that If you are to dominate your market or category, you first have to master those five branding disciplines. 

Zag by Marty Neumeier 

Since Zag is Marty Neumeier's third book on this list, you probably think that I'm a massive fan of his. Well, tell you what, you are right. Marty Neumeier's books on branding are a prerequisite for anyone serious about marketing success. Zag is a short but powerful book that will give you ideas on how to stand out in a saturated marketplace radically. 

After reading this book, you will walk away with a brand marketing model that comprises four different elements: focus, difference, trend, and communications. On top of that, Neumeier gives the reader 17 checklists that should be referred to when developing and differentiating their brands. One more thing, it's pretty easy to understand the ideas in Zag because the book is written as a whiteboard. 

The 22 Immutable Laws of Marketing by Al Ries & Jack Trout

We really can't talk about great marketing books without mentioning this 1993 classic book by Al Ries & Jack Trout. The 22 immutable Laws Of Marketing is designed as a guideline for marketers who want to make their products and services successful on an international scale. 

In this book, Al Ries & Jack Trout highlight 22 marketing laws that every marketer should live by. Marketers can sometimes unwisely spend resources on features that will not add value to their business growth. We recommend this book to marketers who need direction on what kind of battles to fight and what to ignore. 

Good Strategy, Bad Strategy by Richard P. Rumelt

What goes into developing a marketing strategy? What's the difference between a good and bad marketing strategy? These are some of the questions answered by Richard P. Rumelt's book: Good Strategy, Bad Strategy. Although he doesn't specifically talk about marketing, there's no denying that the aspects of strategy discussed in the book can also be applied to marketing. 

Rumelt gives dozens of examples of what good and bad strategies look like. This book opens your eyes to see that only a few companies in the world have managed to develop a good plan. According to Rumelt, a good strategy consists of three elements: a diagnosis of the problem, a guiding policy, and coherent action. 

Well, I have to confess – this is one of my favorite books. 

Breakthrough Advertising by Eugene Schwartz

Breakthrough Advertising is another classic marketing (specifically on advertising) book written by Eugene M. Schwartz in 1966. Although marketing has evolved ever since this book was published, it still relevant and applicable to the current marketing sphere. Most of the marketing mistakes that Eugene addresses in this book are still happening today. 

The key message in this book is to position your product or service to get more from customers who are already interested in whatever you are selling. Instead of opting for a scattergun approach in your market research, Eugene gives you ideas on how you should narrow your marketing so that you get the most interest. He also goes on to point out that your market research should be focused on understanding your target audience's emotions, such as "hopes, dreams, fears, and desires."

No B.S. Guide To Direct Marketing by Dan Kennedy & Kim Walsh-Phillips

In an era where billions of customers hang out on Social Media, I'm sure you'd agree with me that businesses can't now afford to ignore Social Media marketing. There's even no excuse of leaving out social media in your marketing approach, especially when they are great books – like No B.S. Guide to Direct Marketing – that gives you a cheat code on how to succeed in marketing. 

In this book, Dan S. Kennedy teamed up with Kim Walsh-Phillips to dare readers to go think beyond vanity metrics – likes, shares, and comments – and focus on getting leads and sales. Sprinkled with a lot of case studies and examples, this is a book that you'd want your social media manager to go through before they even attempt to post anything. This book covers practical strategies that have been proven to be useful when it comes to leveraging social media as a lead magnet. 

Purple Cow by Seth Godin

Seth Godin created this marketing masterpiece for those who don't want their businesses to look like every other penguin in a flock. Purple Cow is a book about creating something worth noticing in a congested marketing highway. 

We live in a world where customers are bombarded with thousands of content or offers every single day. The Purple Cow's goal is to remind you that if you take the beaten path, you won't stand out. Reading this book, you are reminded that not taking a risk is a risk. Like most of his books, Purple Cow inspires you to think differently. Although Seth doesn't highlight the exact things you need to do, you are more likely to get fired up after reading this book. 
Join 25,000+ Marketing Professionals
If you enjoyed this post, please consider subscribing to the Invesp blog feed to have future articles delivered to your feed reader. or,receive weekly updates by email:
Connect with us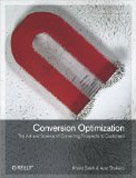 Conversion Optimization
The Art and Science of Converting Prospects to Customers
By Khalid Saleh and Ayat Shukairy