Webinar Recording: Getting 2x more conversions from product pages

Editor Note: We highly recommend that you implement the different ideas in this blog post through AB testing. Use the guide to conduct AB testing and figure out which of these ideas in the article works for your website visitors and which don't. Download Invesp's "The Essentials of Multivariate & AB Testing" now to start your testing program on the right foot.

Years of research and testing have helped us produce general CRO maps which we follow when we consider optimizing a certain page. A product page will likely be impacted by certain Conversion Framework elements above others, and the same applies to the homepage, category pages, checkout, etc. And at the same time, a single element on a page, may have more than one Conversion Framework element at play – for example, the "call to action" on the page may be impacted by certain elements of the "buying stages," "FUDs," and "Personas." But in general, we find that one of those elements plays the strongest role, so has the most impact and is determined as the "priority."

Learn more about how to get 2X more conversions from your product pages by watching the webinar, and viewing the slides in slideshare.
Join 25,000+ Marketing Professionals
If you enjoyed this post, please consider subscribing to the Invesp blog feed to have future articles delivered to your feed reader. or,receive weekly updates by email: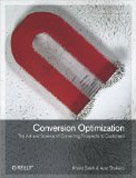 Conversion Optimization
The Art and Science of Converting Prospects to Customers
By Khalid Saleh and Ayat Shukairy