Reading Time:
8
minutes
With global ecommerce sales amounting to trillions of dollars, the future of ecommerce is bright.
However, in order to achieve success, you need to develop strategies to enhance your customer experience and make the entire shopping experience as user-centric as possible.
This is where end-user optimization comes into the picture. In fact, end-user optimization plays a central role in the success of many online businesses.
In this article, we'll discuss how end-user optimization affects ecommerce experiences and some of the most important end-user optimization strategies for ecommerce business success.
What is End User Optimization? The Role of End User Optimization in E-Commerce
End-user optimization is the process that improves user experience on your website or application. It includes both design and content changes that improve usability and conversion rates.
The role of end-user optimization in ecommerce is twofold.
The first goal is to enhance the overall user experience for your customers. The second is to increase sales, which will increase ROI for your business.
If you want to achieve end-user optimization, the first step is to analyze user behavior, understand its reasons, and determine user engagement metrics.
It starts with identifying the target audience, their preferences, and their behavior on your website.
Once you identify what your customers want and what your site lacks, the next step is all about making changes to the website to improve the user experience.
Significance of end-user optimization in the ecommerce industry
End-user optimization (EUO) in the ecommerce industry directly impacts key performance metrics like:
Conversion Rates: Once you know what your customers want and what they find lacking on your site, you can use it to implement EUO strategies. This will help you see a significant improvement in conversion rates.
Customer Satisfaction: The more you know about your customer's preferences, the more you'll be able to cater to their whims and fancies. This will lead to an increase in satisfied customers, which will translate into increased sales.
Reducing Bounce Rates: By offering a more personalized and engaging experience, EUO helps reduce bounce rates.
Customer Retention: End-user optimization also helps you foster customer loyalty, a crucial part of customer retention optimization. According to research by Infosys, 59% of consumers say that personalization significantly influences their shopping decisions, leading to repeat purchases.
How Does User Optimization Work? Strategies For Ecommerce Success
1. Personalized Product Recommendations
Personalized product recommendations are a win-win for ecommerce sites. They help customers find the products they want, and they help you increase sales.
How do you go about it?
To offer personalized product recommendations to your clients, you'll have first to collect data on user behavior. You should be privy to information like products viewed, items added to the cart, and purchase history.
You can do it using Google Analytics or optimization tools like FigPii that show you how and where exactly your users are clicking and scrolling on your site.
Once you have this information, you can create personalized product recommendations by algorithms that use data on customers' purchase history and browsing behavior to predict what they might be interested in buying next.
If your website uses personalized product recommendations, you can use them to:
Retain existing customers: These customers already know what they like and are likely to buy more if you show them similar products.
Win back lost customers: If someone has abandoned their shopping cart, personalized recommendations can help you reengage them with new products that will likely appeal to them.
Increase average order value (AOV): Personalized recommendations can increase AOV by showing customers more options or higher-priced products in addition to lower-priced ones.
Drive repeat purchases: You can show your existing customers related items based on their recent purchases, enticing them to return to buy from you.
Amazon has used personalization for years, but it's still one of the best examples.
The company uses its massive amount of data about customers' past purchases and browsing behavior to develop personalized recommendations for each shopper that appear on their home page and throughout their site.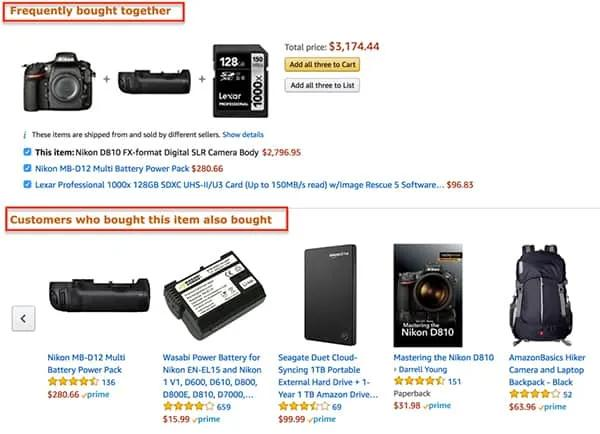 If you click on these recommendations and make a purchase, Amazon's system takes note. Whether you click or ignore these recommendations, they'll use this information further to refine future recommendations.
2. Responsive Design and Mobile Optimization
Wherever you turn, you'll see people tapping away on their mobile phones.
We live in an increasingly mobile-driven world. It's no wonder that many online shoppers access ecommerce sites through their mobile devices.
According to Statista, as of 2021, mobile ecommerce accounted for 72.9% of all retail e-commerce sales worldwide.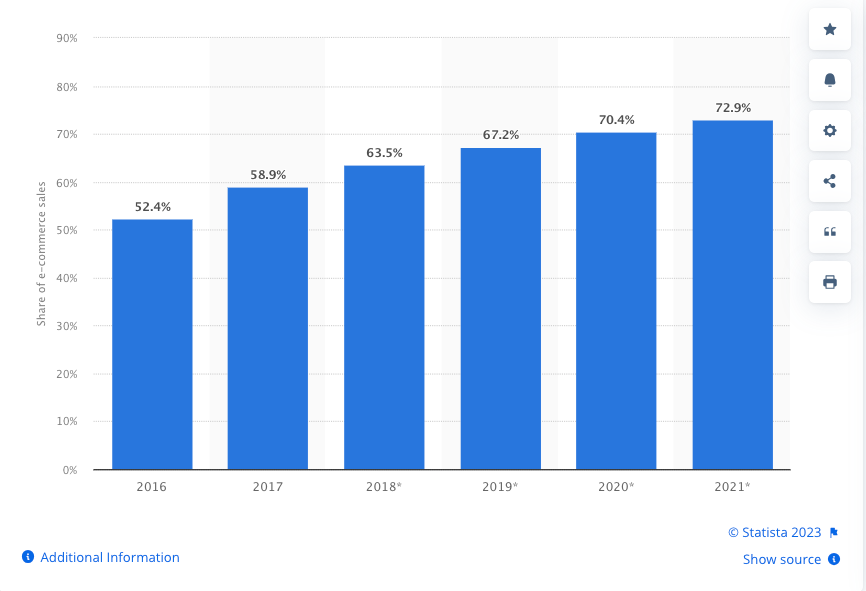 Here's everything to keep in mind when optimizing your website for mobile devices:
Responsive Design: Responsive web design makes web pages render well on all types of devices and window or screen sizes. Your layout, images, content, and every other web page element should adapt to fit the user's screen on different devices.
Mobile Optimization: Mobile optimization goes beyond just responsive design. It involves optimizing the site for mobile speed, performance, and usability. This includes faster loading times, streamlined navigation, and mobile-specific features.
Contextual Consistency: Your mobile site should have the same brand elements and functionality as your desktop site. This helps visitors experience a seamless transition for users who switch between devices during their shopping journey.
3. A/B Testing and Iterative Improvements
A/B testing works because it allows you to test different ideas while giving you an idea of which changes actually improve your bottom line.
It also helps you save time on ideas that won't work and prevents you from getting stuck with an ineffective design or messaging that doesn't resonate with customers.
You can apply A/B testing to various elements on your website, including headlines, images, call-to-action buttons, page layouts, and even the entire checkout process. This helps you fine-tune the website based on real user preferences.
After running A/B tests and adopting the winning version, don't think your job ends here. Make sure to continue testing with further iterations to improve user experiences continually.
For example, Airbnb uses A/B testing to refine its search algorithm. They test different ways of ranking search results and then monitor user interactions to determine which algorithm generates more bookings and higher user satisfaction.
In addition, Airbnb uses its in-house experimentation platform Erf to enable A/B testing and metric consistency at scale.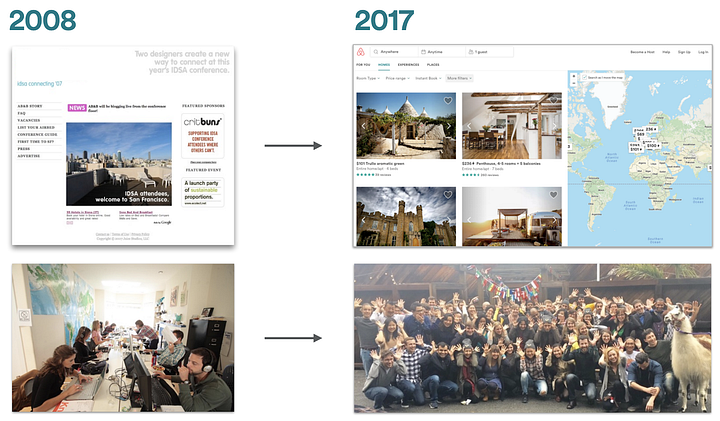 (Source)
Beyond A/B testing, they also use an online ranking assessment approach called interleaving to evaluate the effectiveness of their search ranking algorithm. This experimentation framework helped Airbnb achieve a 50x sensitivity in developing its search ranking algorithm.
4. User Feedback and Customer Support
Customer feedback is one of the most important factors in determining the success of an ecommerce business.
It shows customers that you care about their opinions and experiences. At the same time, it helps you identify pain points and fix them before they become major problems.
You can collect customer feedback through:
Surveys
Feedback forms
Product reviews
Social media interactions.
Analyzing this feedback helps you determine areas that require improvement.
TripAdvisor is an excellent example that heavily relies on user feedback.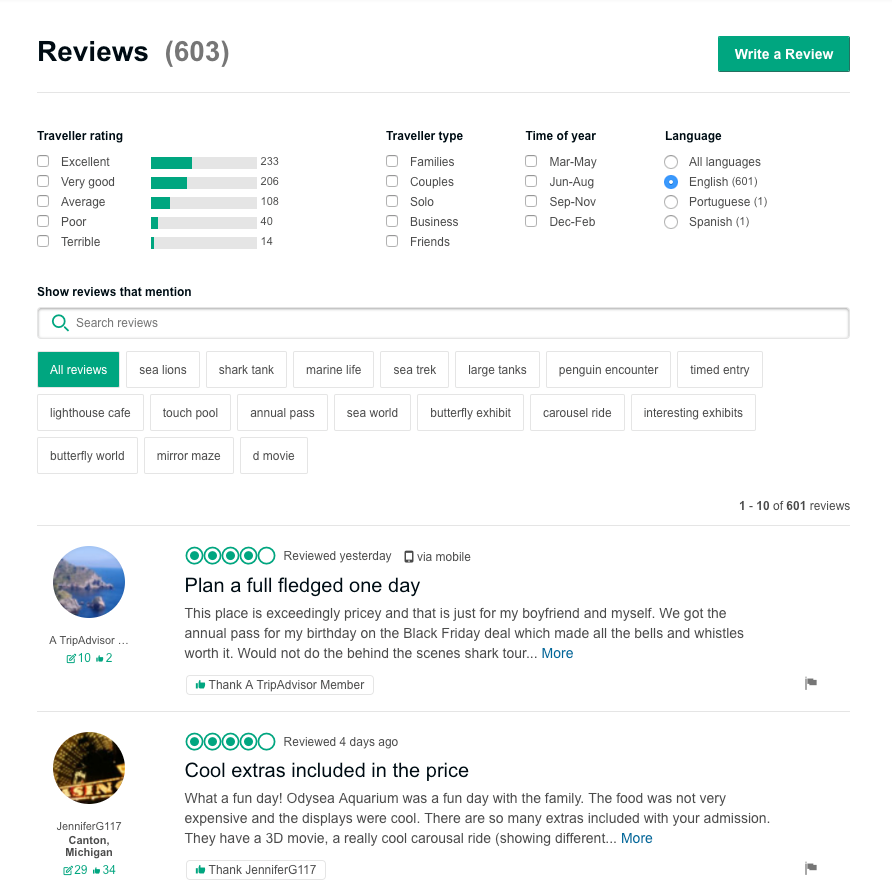 (Source)
The traveling guidance platform is built around user-generated content. Travelers leave reviews, ratings, and feedback on hotels, restaurants, and activities, helping other travelers make informed decisions.
Additionally, excellent customer support ensures that users can access assistance when they encounter issues or have questions.
You can offer quick user support through live chat, email, phone, or social media channels.
Remember, the faster and more helpful your customer support is, the happier your users will be.
5. Reliable Hosting
As an ecommerce business owner, you already know how important it is to provide a smooth and stress-free shopping experience for your customers.
If your website is slow or difficult to use, customers will leave your site and purchase elsewhere.
That's why it's important to choose a reliable hosting service with high uptime and performance levels. This ensures the site is consistently available to users and it loads quickly without any delay.
In addition to uptime, ensure your hosting provider optimizes your website's performance, including reducing page load times and minimizing latency.
It should also offer scalability, allowing your site to handle increased traffic during peak periods (think holiday shopping seasons).
6. Data Security
Data security is an essential part of any business, but it's even more important for ecommerce sites.
The widely-covered T-Mobile data breach that occurred last year, for instance, cost the company $350 million in 2022 – and that's just in customer payouts.
Aside from the massive monetary loss, it also doesn't bode well for a company's reputation. It makes customers wary of buying from you again and forever puts doubt in their minds.
To prevent data security threats, implement measures like firewalls, intrusion detection systems, and regular security audits.
Here are some more ways that you can improve your data security:
Use HTTPS encryption
Use strong passwords
Limit access to sensitive information
Ensure your site is PCI-compliant
Provide two-factor authentication
Make sure your financial transactions are securely encrypted
7. Agile Development
Agile Development can significantly impact user optimization for ecommerce. This approach involves flexible and iterative development processes, allowing your website to adapt quickly to changing user needs and technology.
Here's how agile development works when it comes to :
Iterative development: Agile development breaks projects into smaller, manageable phases, making it easier to implement changes based on user feedback and changing requirements.
Flexibility: Since agile development will help you respond quickly to emerging trends and customer feedback, it's also great if seen from an adaptability perspective.
Continuous improvement: With agile development, you can continually evaluate and improve your ecommerce platform, ensuring it remains up-to-date and aligned with user expectations.
For example, Spotify leverages agile development to stay innovative and adapt to user needs.
Spotify continually updates its platform with new features and enhancements based on user feedback and changing industry trends. This iterative approach allows them to remain competitive and meet evolving user expectations.
8. Seamless Multi-Channel Experiences
Offering multi-channel experiences to your customers is a critical part of both end-user optimization as well as customer retention optimization.
This strategy involves offering a consistent user experience across multiple online and offline channels, including websites, mobile apps, social media, email, and even retail stores.
Shoppers are tech-savvy today and expect to be able to interact with a business across every channel they choose – from desktop, tablet, and mobile devices. They also want to shop when it's convenient for them and expect their shopping process to be quick and easy.
And if you don't deliver, your competitors will.
Here are some tips to help you deliver a seamless multi-channel experience for end-user optimization:
Create consistent branding across channels
Unify data and ensure customer data and purchase history are accessible and synchronized across all channels for a personalized experience.
Use responsive design for websites and apps to adapt to different screen sizes and devices.
Make it easy for users to switch between channels without losing progress and information.
Engage users and offer consistent customer support across all channels.
Optimize all channels for speed and performance.
Promote other channels within each channel, encouraging users to engage on multiple platforms.
When you think of a brand that exceeds when it comes to offering a seamless multi-channel experience, Starbucks immediately comes to mind.
For example, Starbucks allows customers to order and pay for their drinks through the mobile app. With this integrated experience, the orders are ready for pickup when customers arrive at the store.
Then, you have Starbucks' multichannel reward system. Their Rewards program spans both in-store and mobile app purchases. You'll get access to benefits and discounts in your mobile app, regardless of the shopping medium.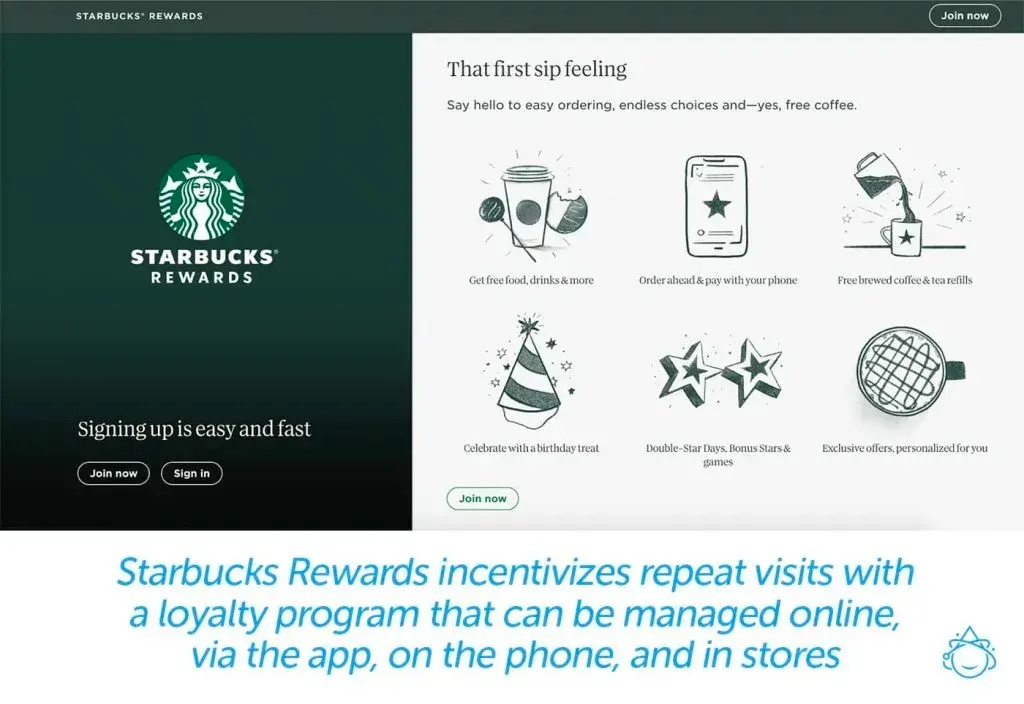 (Source)
This level of multi-channel experience ensures that your customers have a convenient and consistent shopping experience with your brand, eventually leading to long-term ecommerce success.
Conclusion: Delivering Exceptional E-Commerce Experiences Through User Optimization
If you want to impress your customers, boost user engagement, and keep them returning for more, you'll have to optimize your e-commerce site based on their preferences. And this is what end-user optimization focuses on.
From personalization and responsive websites to analyzing user behavior and data security, you need to adopt a holistic approach for achieving end-user optimization.
While you're at it, don't neglect search engine optimization, either. This includes adding relevant keywords naturally to get a higher ranking on Google and Bing, among other search engines.
You can also take inspiration from brands like Amazon, PayPal, TripAdvisor, and Starbucks that use these strategies in their operations, leading to enhanced user satisfaction, increased conversions, and long-term growth.
All in all, your ecommerce success will depend on how user-centric your approach is and whether you're responsive to changing user needs or not.