Reading Time:
5
minutes
If anything, it's a major flaw in accepted ecommerce strategy that we pay more attention to attracting customers than we do to the checkout process they follow. Never before has the need to study retail checkouts been so high than since the emergence of ecommerce. And, considering the pitiful conversion rate, never has it been more crucial.
Battle the FUDs
If your online customer had the same familiarity and certainty she has in the checkout line of a bricks and mortar store, where she is even willing to wait to checkout, you could expect your conversion rate optimization to move closer to the almost 70% that bricks and mortar stores enjoy.
But, conversely, even experienced online shoppers have certain fears, uncertainties and doubts that prevent them from converting at the same rate as they do in bricks and mortar stores.
If there is one overarching guideline to improving your cart/checkout abandonment rates, it is to reduce your customer's FUDs.
As we go through the following tips, keep track of how many address FUDs and you'll also get a clearer overall picture of how to improve your checkout process:
1. Answer customers' questions before they checkout. Yes, this isn't related to the checkout process, but customers will often start to checkout just to find answers they can't get otherwise. Answers like shipping charges, taxes and payment options.
By adding that information to your product pages or when customers click "Add to Cart", you will reduce the chance that they proceed to checkout to find it.
And don't think that by giving them the information early that they won't need it later. Many customers will have similar questions when they are deep into checkout, and if they can't find answers then, they'll abandon. So keep providing that information throughout the checkout process. You can't tell them often enough that you have free shipping.
On the Cart page below, Zappos.com answers customers' questions about shipping costs, estimated taxes, coupon/gift certificate redemption, shipping and returns information and privacy policy.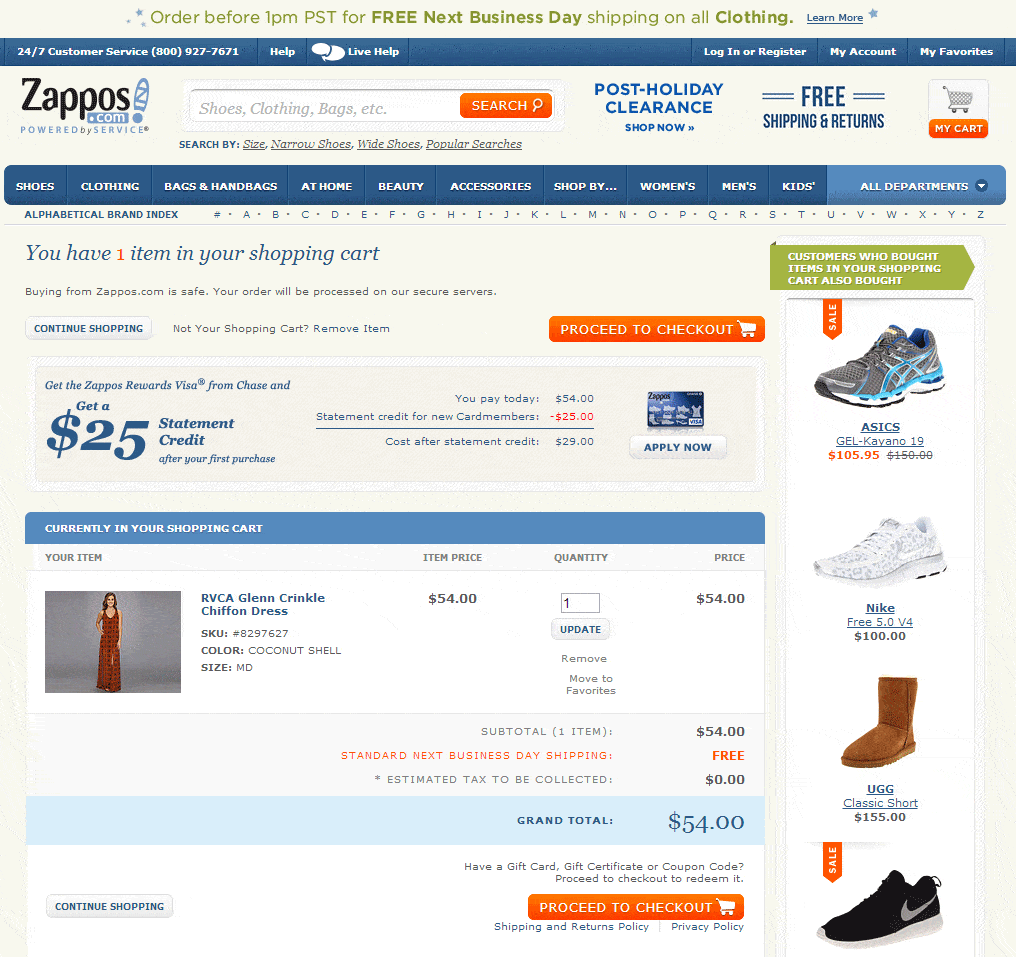 2. Simplify the Process. In the infographic Shopping Cart Abandonment Rate Statistics, Invesp's research shows that, when asked why they abandoned their shopping carts, 12% of respondents said the checkout "needed too much information" and 11% said the checkout was too complex.
Below are two examples of how ecommerce retailers have simplified their checkout process:
Zappos.com, which is owned by Amazon, lets customers login with their Amazon account instead of requiring a separate Zappos account.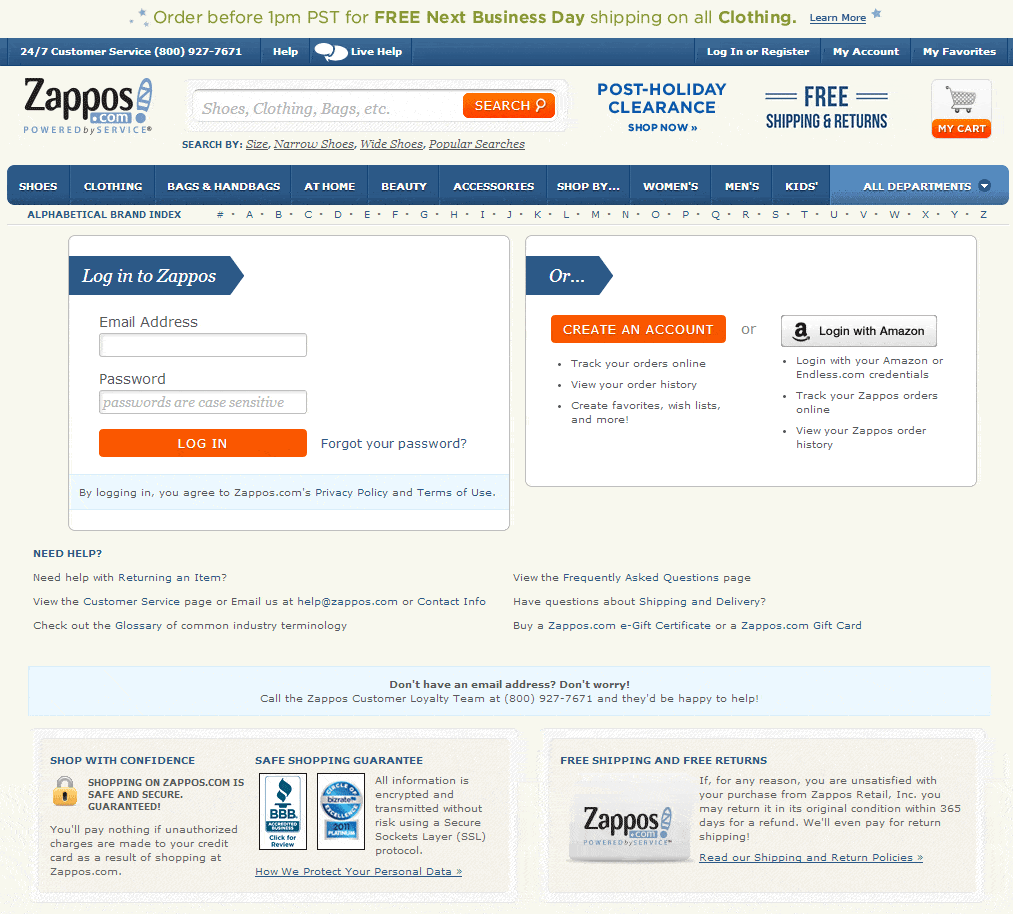 One source of unnecessary checkout complexity is asking repeatedly for the same information, or for redundant information. An example of information redundancy is asking for City and State information, both of which can be easily found using the customer's zip or postal code.
Henrys.com uses billing address information on file to eliminate the need for shoppers to re-enter shipping address information.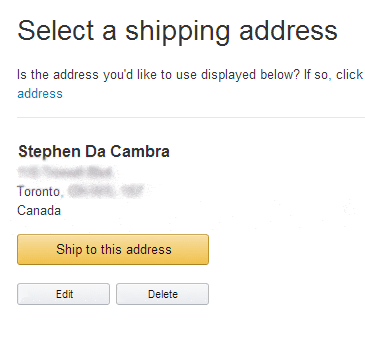 3. Treat Guests Like Family. 14% of customers abandon their checkout because they are required open an account. With heightened awareness of identity theft and increasing concern about information privacy, more and more shoppers are resistant to submitting personal information, particularly for small or routine purchases.
Guest checkout options let customers complete transactions quickly and easily without the fear that they have exposed their information yet again.
As a retailer, of course you would like to gather as much customer data as possible. But it's value must be weighed against the cost of lost sales.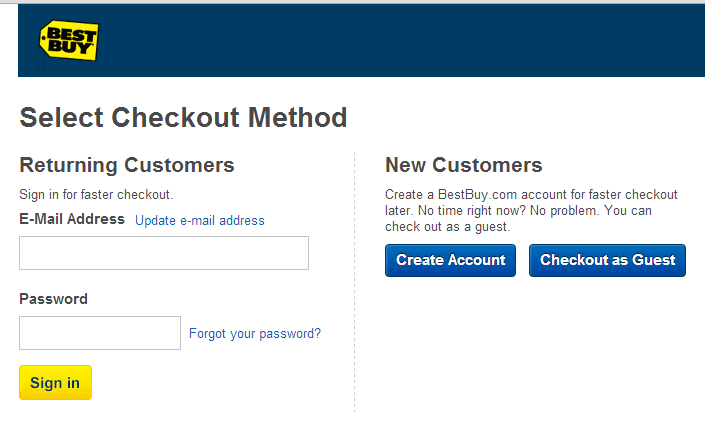 4. Have Credibility. Ecommerce retailers force customers to make a considerable leap of faith by asking them to shop online rather than a bricks and mortar store. A tangible store gives customers the reassurance that it will be there if the customer needs to make a return, if they want to buy complementary products later, if they need service, etc., etc..
That those reassurances do not exist in the same way online is one of the greatest sources of FUDs. Websites come and go, data gets leaked, deliveries never happen, and, when any or all of these occur, the customer has little or no recourse.
Your customers, especially new ones, need to know that yours is a trustworthy business and credibility symbols are a good way to let them know.
The image below shows just some of the credibility symbols and assurances that Zappos uses to reassure their customers.

5. Be as clear as possible about the information you seek. This is especially true of information entry fields. When designing your checkout process, assume that each customer is using ecommerce for the first time.
In the image below, the headline and each data entry field are clearly defined: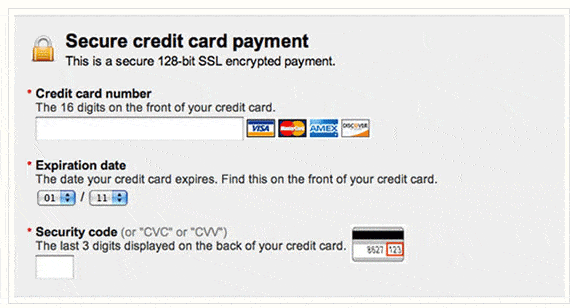 6. Clearly let them know when something is wrong. How many times have you been through a checkout, filled in all the information, double-checked your order and finally clicked the last "Submit Order" button, only to have absolutely nothing happen?
You first thought is that you did something wrong, then you figure there is a technical problem, then you worry about checking-out again for fear of being charged twice.
And then, after searching and scrolling around, you find out that all that anxiety, all those FUDs, were caused by a space in your telephone number that the form wasn't designed to handle.
How frustrating was that? Have you ever left the checkout because if it? Many shoppers have.
So don't let your customers experience the same frustration. Clearly indicate when information is missing or wrong, like Zappos does.