Reading Time:
10
minutes
Whenever I feel like watching a movie on Netflix, I go on Twitter and search for "Netflix movie recommendations." 
This saves me a lot of time scrolling through Netflix, looking for a good movie to watch. 
I also do the same thing whenever I want to buy something online. I don't remember the last time I bought something online without first reading customer reviews. 
According to Searchengineland, I'm not the only one. This behavior is typical among online shoppers. 85% of consumers read up to 10 reviews before making a purchase decision.
Another report by Vendasta states that – 88% of consumers say reviews influence their online purchasing decisions.
These stats reveal the truth about customer testimonials' hidden power – they can impact your site conversion rate. 
In this article, we will dig deeper into the power of customer testimonials. After reading this post, you will learn about different types of testimonials, where to use customer testimonials, and which testimonial formats work best on ecommerce websites. 
What Is A Customer Testimonial?
A testimonial is a quote or endorsement from past customers, letting others know how satisfied they're with your product/service.
There are different forms customer testimonials can take, but the end goal is to pass a message on how your product has been of immense value.
Once a website visitor interacts with your platform and sees featured customers' reviews, they process the information from a like-minded point of view.
This happens because this website visitor is part of your target audience, and they're reading what satisfied customers (who were once potential customers) have to say.
One crucial reason why client review works is that it's customer-centric. It shines the light on what the customer stands to gain.
How To Write A Testimonial That Works
The best customer success stories that get site visitors hooked and riveted have the following elements:
1. Indicate the customers' problem.
2. Highlight how the product solved the problem. 
3. Show how unique the solution is.  
4. Reveal how the customer experience improved. 
A customer testimonial with all of these elements can help your potential customers visualize your product as the bridge connecting them to the solution they want. 
Another essential point to note is that such reviews highlight why your company is better than others.
See this testimonial from MorningRitual highlighting these points;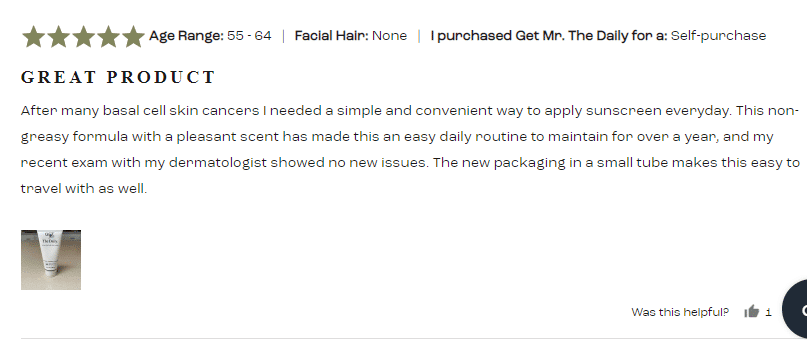 P.s: if you didn't have a template for how your customers send in their testimonials on your website, you could swipe these questions.
Different Testimonial Types To Increase Customer Engagement. 
Not all testimonials are built the same, and not all testimonials have the same value in the eyes of your site visitors.
To get the best return from using social proof on your website and other platforms, listed below are the testimonial types to catch user attention and increase engagement.
1. Story testimonials
:
This testimonial type tells a story from the customer's perspective. This testimonial focuses on the pain point of a user (which is common amongst your users) and how your product helped them.
Compare these examples;
'Before hiring Invesp, we were barely making even as an eCommerce brand, and we had a projection of having our bottom line fall even more. Since hiring Invesp, we've seen an 8% uplift in conversions, and we're rapidly implementing the learnings from ongoing A/B tests to increase our customer AOV.'
When you look at these examples, which testimonial do you think would better impact site visitors?
Suppose you're wondering how to get testimonials that tell a story and paint the right picture, segment your audience, and message those users who you've helped to overcome a vital pain point. Let them share their experience using the before and after format. 
Professional tip: In telling a story with testimonials, let it paint a vivid picture in the mind of the readers.
2. Testimonials that highlight your business value proposition:
Almost every business has a value proposition, making them stand out from the competition. If you've got testimonials that tie into your value proposition, share them. Use them at the top of your landing page for maximum visibility.
Check out this example from Myobvi;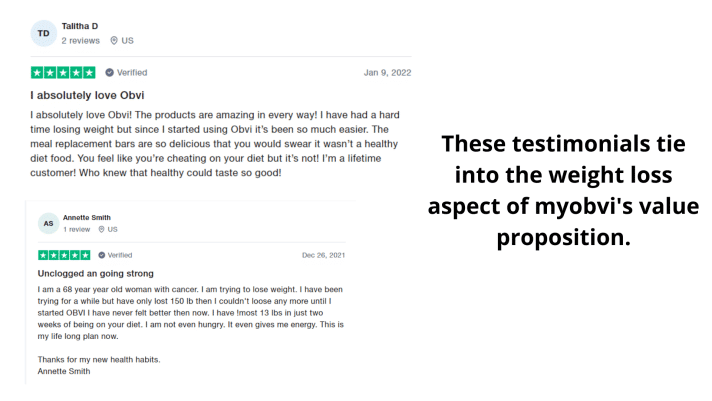 3. Number specific testimonials
:
There are general testimonials and specific testimonials. Specific testimonials backed with numbers work like a charm on your prospective customers. The numbers could be money made by using your product or % increases in proficiency, productivity, or revenue.
Here's an example from Copyhackers;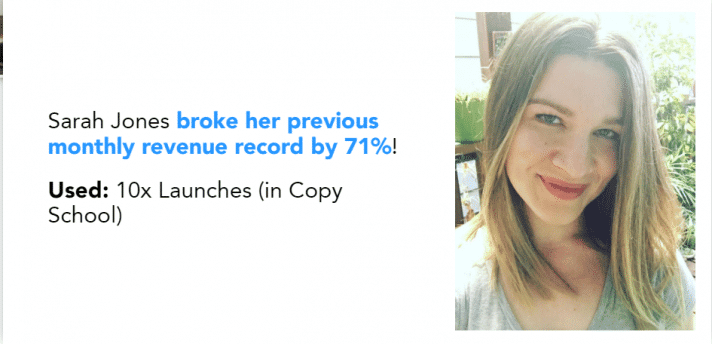 4. Authority testimonials
:
Your site users love positive reviews from past customers; what works better than that are featured testimonials from influencers who have used your product.
This works because influencers and experts are people your site users aspire to be like; they look up to them.
Here's a review from Foster Huntington for the Bonobos brand.
Another reason authority testimonials work is that authority figures are assumed to have figured it out and don't make mistakes. So a review from an influencer on a product a user is researching gives the product a good boost.
5. Every testimonial should highlight a different customer win
:
Having a large block of testimonials that goes on and on about how unique your product is will quickly tire out your reader. 
Get smaller chunks of testimonials that focus on different features of your product and add them to your website or landing page.
This tactic works because different site visitors you'll be getting have various objections. Additional testimonials that say other things will appeal to them better than a large block of text.
Here's an example of different testimonials that highlight other features of the RMBC program;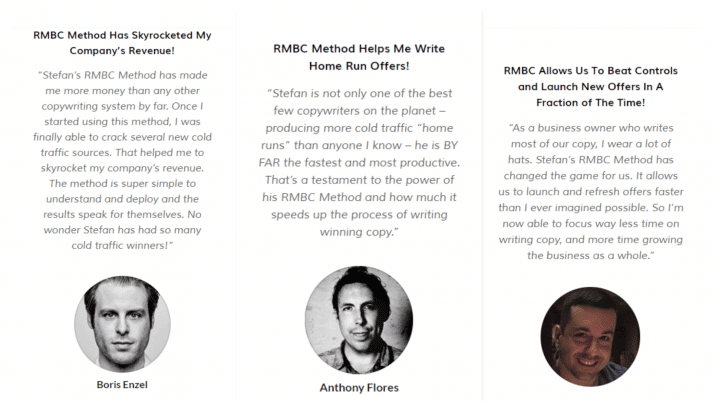 Source: Stefan Paul Georgi
Professional tip: make it easy for your site visitors to know what a testimonial is about by including a header.
How To Get Customer Testimonials 
1. Offer a discount
:
There are two ways to offer a discount to previous customers, so they leave you a review.
The first involves setting up a popup form targeting previous purchasers who frequent your website. This works because the next time they're active on your site, they see the form offering them a discount to leave a review about their experience with your product.
The second way is to create a segment in your email list of past customers and send them an email asking for a review. It's up to you to include a discount or not.
Here's an example from Patagonia;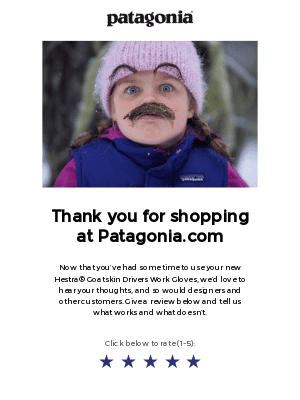 2. Social media reviews
:
It's an open secret that customers regularly leave comments and reviews on social media posts.
If you want to increase the number of reviews you've got on your testimonial page, check your social media channels for what previous customers have to say.
Here's an example from budgetbeautydiary leaving a review for Glossier on Instagram;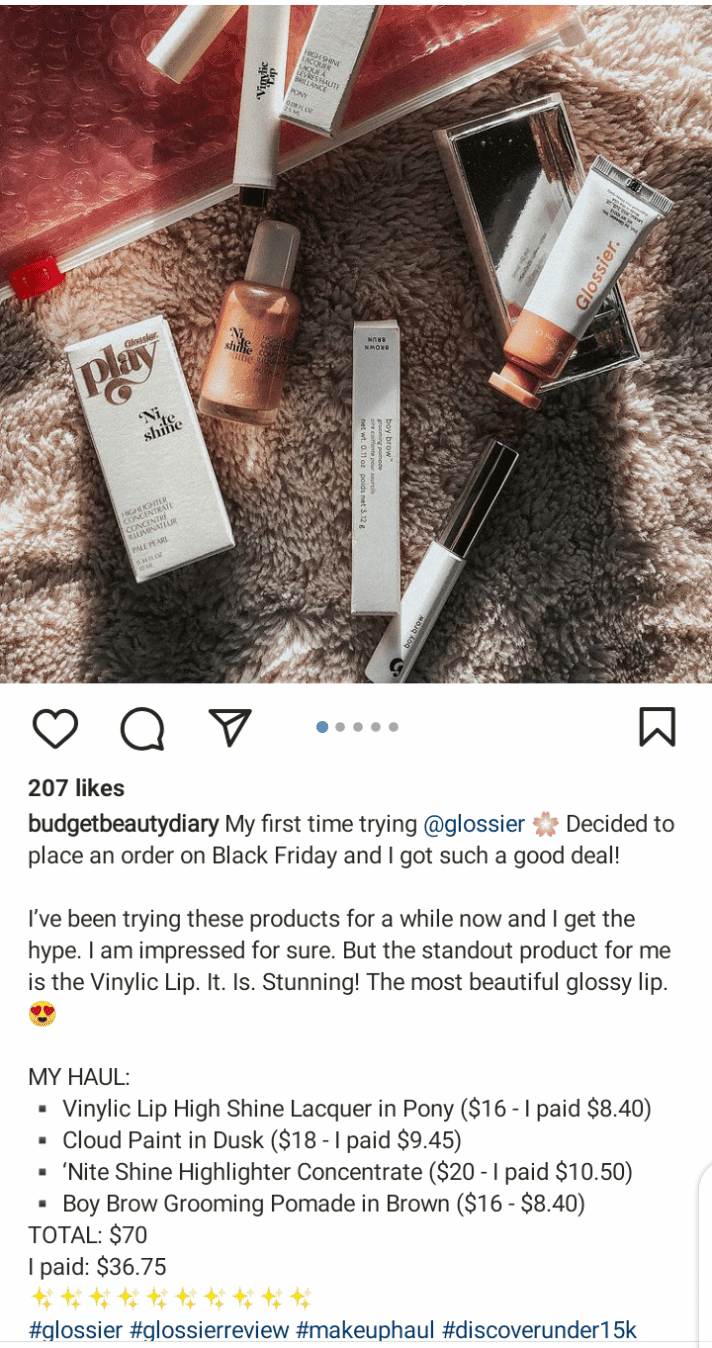 3. Satisfaction surveys:
As the name implies, this survey asks customers how satisfied they're with their recent purchase from you.
You can set up this survey on your website using a tool like Figpii, or you can send it through an email. 
This is another easy way to get reviews from your customers.
See this example from Asos;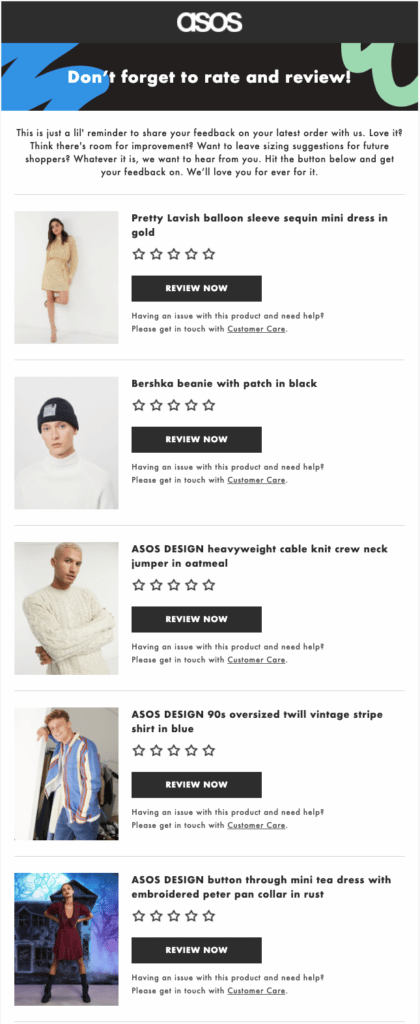 4. Setup Google alerts and mentions:
There are likely tons of reviews about your product on blogs and other websites you know nothing about.
To get these unbiased reviews from customers, set up a Google alert and social mentions.
Make sure to include your name, brand name, product names, keywords if possible, etc.
This makes sure you don't miss out on customer feedback.
5. Send Automated Emails
Getting customer feedback shouldn't be a manual and daunting task. Setting up an automated email that targets recent purchasers should help with this process.
You need to focus on the triggers here (this email should be sent out to recent purchasers after using it for a couple of times).
This means you need to factor in the delivery schedule and how soon they start using it.
Failure to do this means your emails will deliver to those who are yet to use your products and you won't be getting any testimonials.
You can make use of Klaviyo to set this up or similar apps in the Shopify store.
6. Use Apps To Gather Feedback
Certain apps help collect customer reviews and can integrate easily with your online store.
Examples are;
Installing these apps on your store can speed up review collection
Where To Use Customer Testimonials
1. Social media
Social media is excellent for sharing testimonials about your product and how it has helped other users. Sharing customer testimonials on the brand's Facebook and Instagram helps keep your brand top of mind for your followers and helps with customer acquisition.
Check out this example from Depop;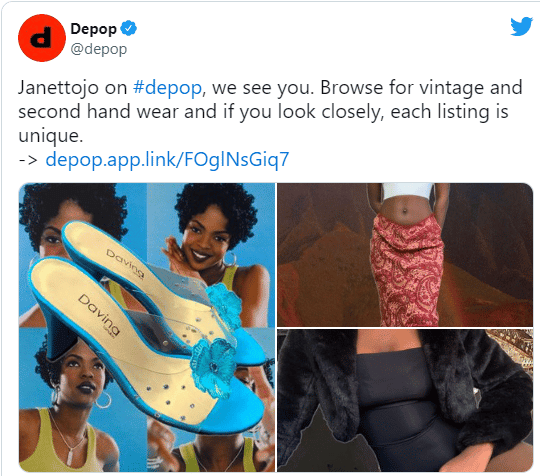 2. Paid Ads
Suppose you plan on driving high intent purchase traffic through paid ads to your product description pages or landing pages for more sales. In that case, you must incorporate more client testimonials into your ads.
Here's an example from Mizzbloom;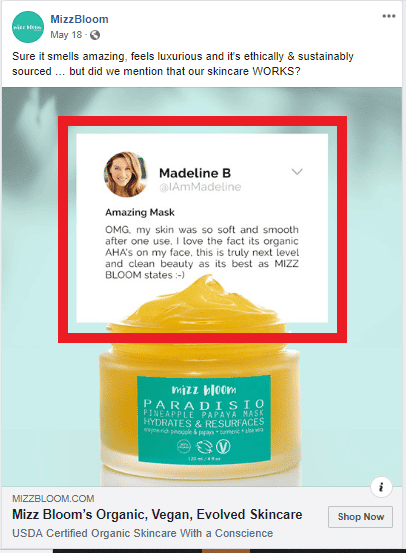 Another example from Girls Clothing Hut;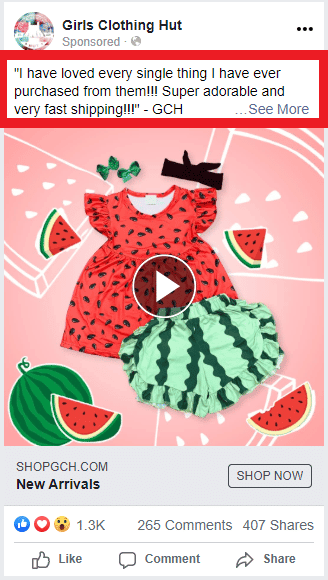 3. Your Site's Homepage
If you want to increase user engagement on your homepage (which search engines love) because it helps with page rankings and moves viewers from above the fold to below the fold (to see more of your offerings), you've got to include testimonials.
When website visitors land on your site, testimonials let them know your product/service can provide them with what they're looking for.
Here are a few examples from some brands.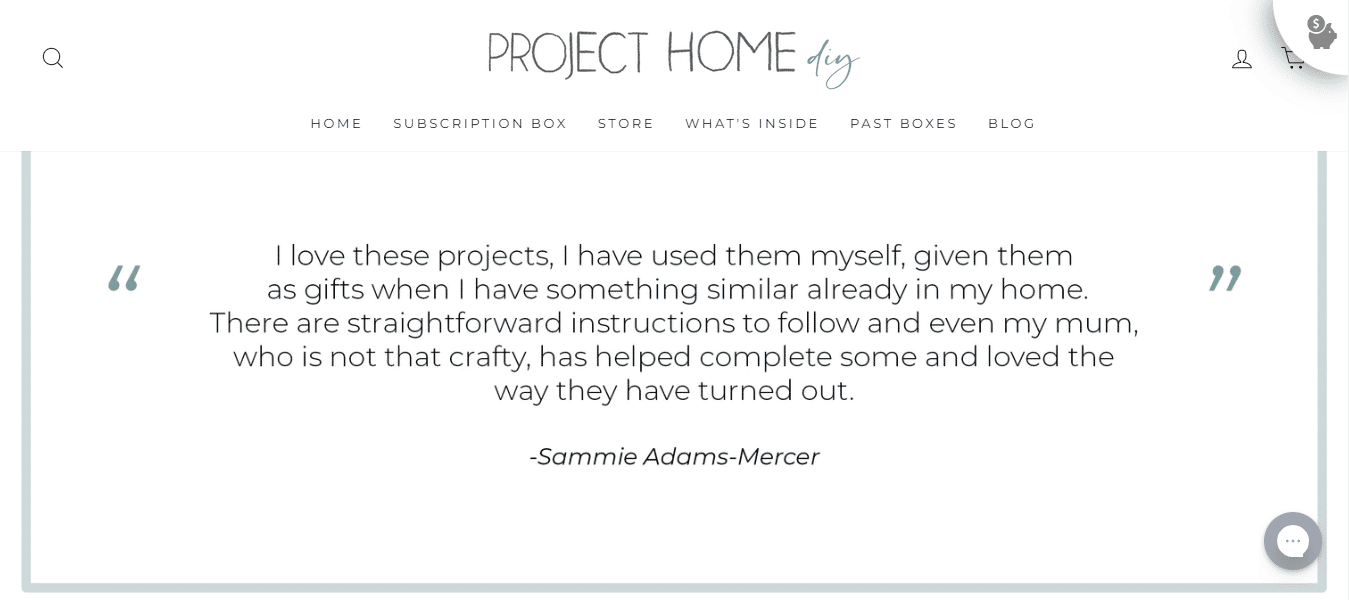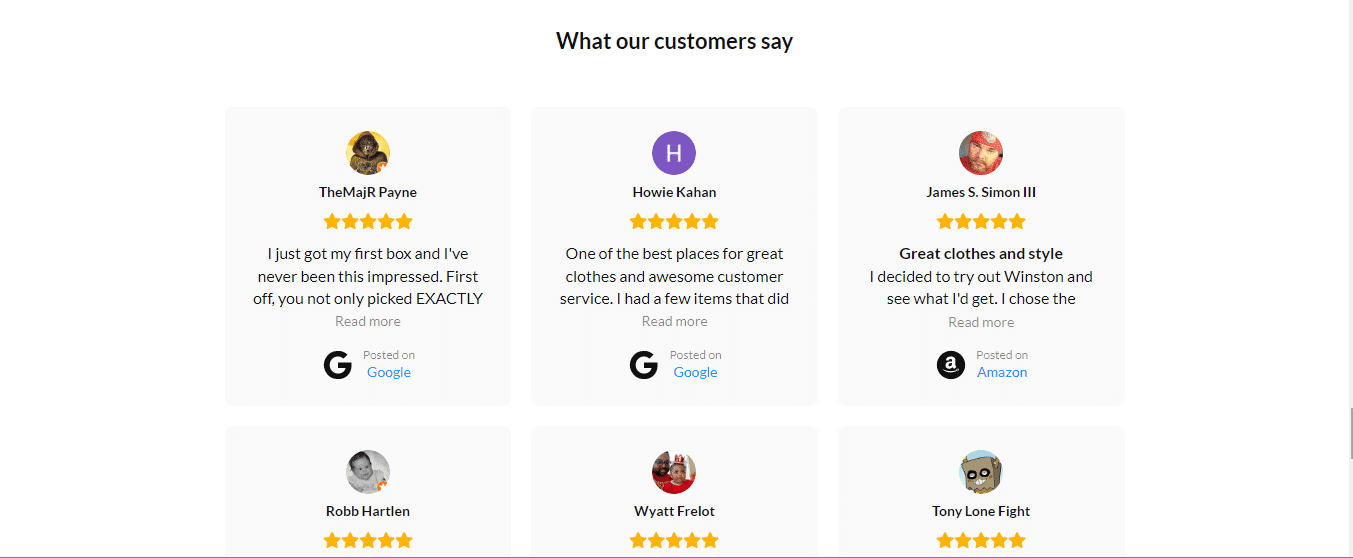 4. Email marketing
This is an important channel to get the word out about your product/service is awesome.
Every brand has that segment on their email list yet to buy. 
Routinely send them campaigns with quotes from satisfied customers addressing common pain points and how amazing your product is, and watch the sales come in.
See examples from some brands below.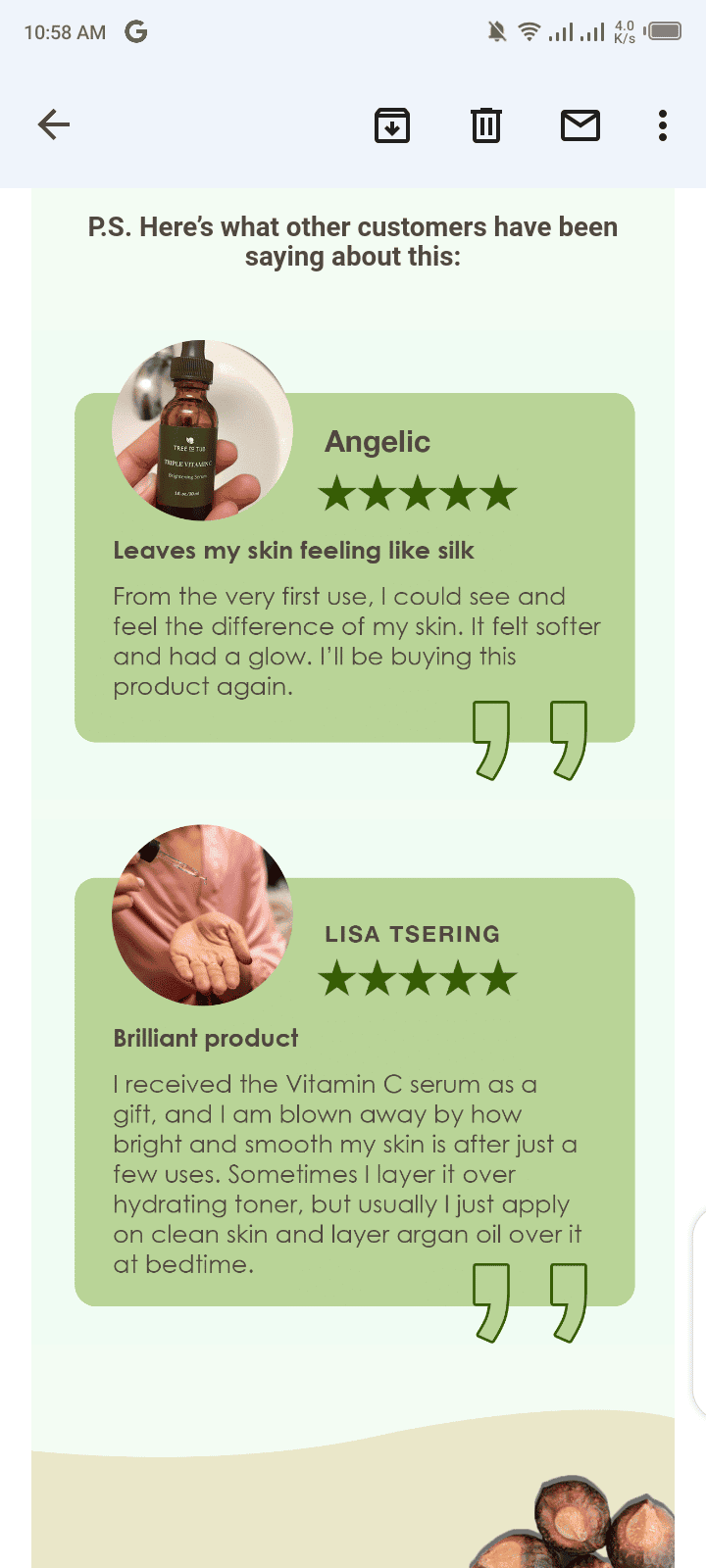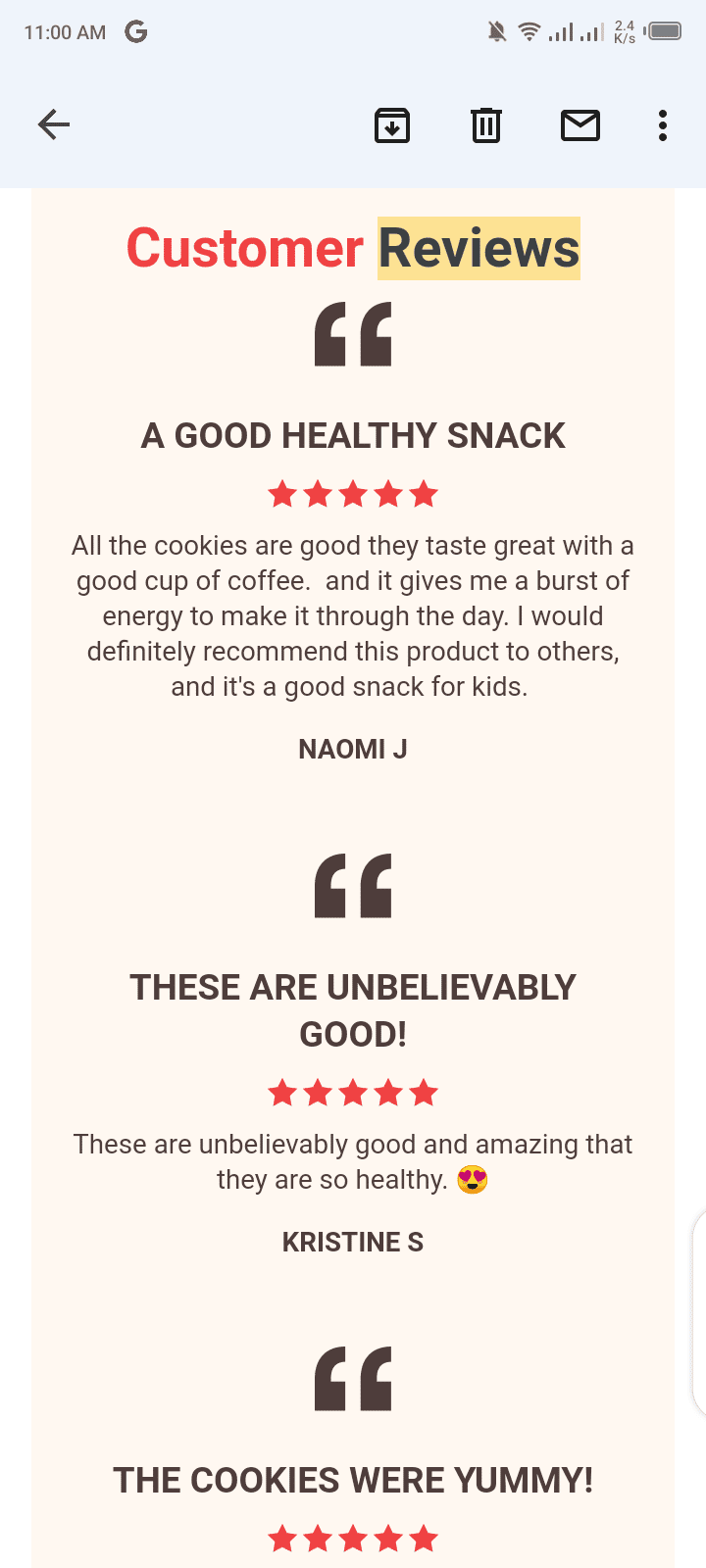 5. Product pages
As an e-commerce brand, having customer reviews on your product pages is key in eliminating customer objections about the product they want.
These customer testimonials show website visitors that others have been here, and they've bought, and they're happy with the product.
See this example from Luxedore;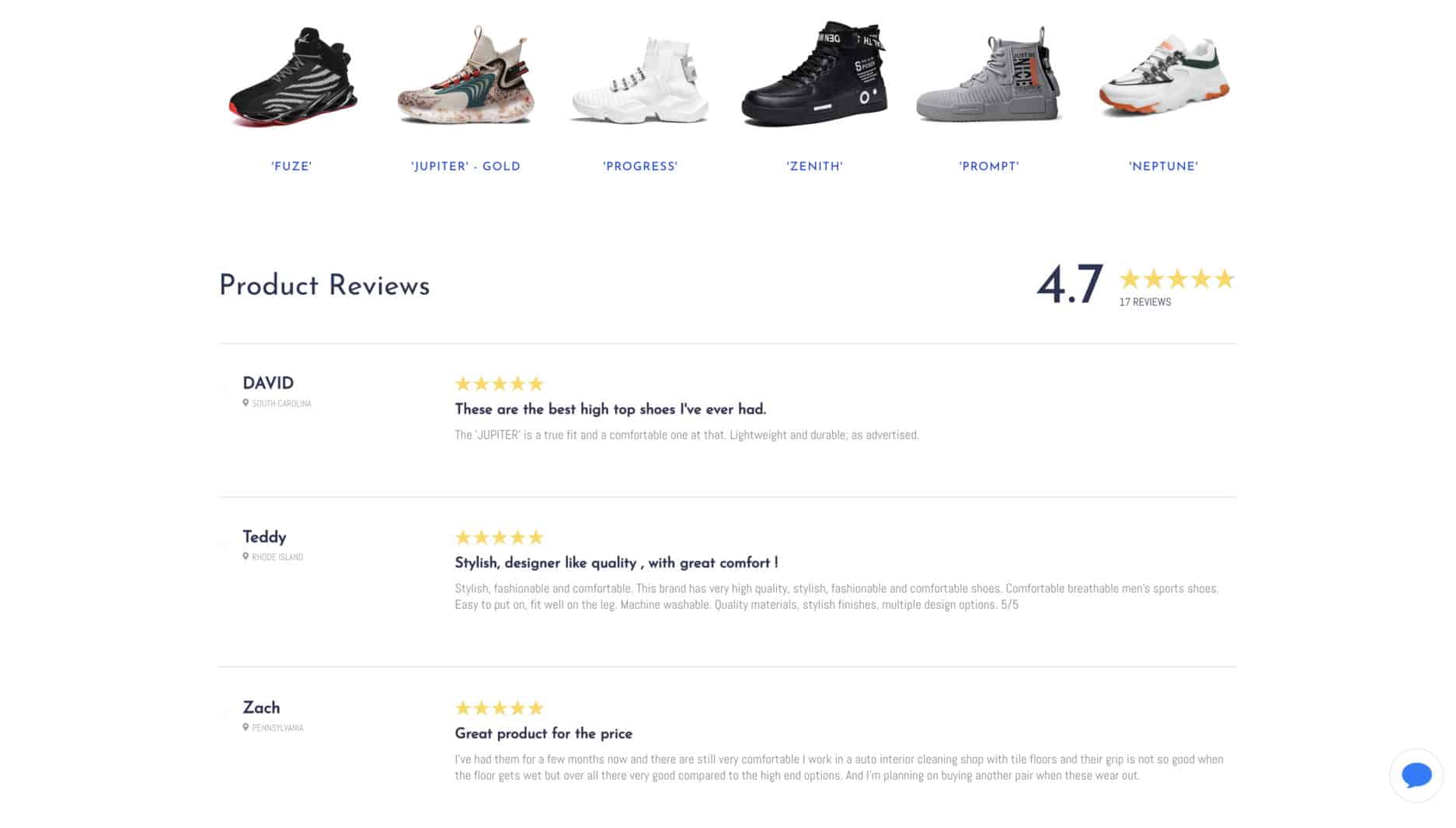 Customer Testimonial Formats To Increase Conversions
1. Testimonial Videos
People are watching more videos online than ever before. According to a report by Wyzowl, 86% of video marketers report that video has been effective for generating leads, up another 2% from 2021 and up 5% since 2019. 
Suppose you have plans to increase customer acquisition on the front end; let your satisfied customers send their testimonials using videos; this will go a long way to convince and convert website visitors.
Video testimonials provide a more human touch to the experience.
Here are some examples;
2. Dedicated Testimonials Page
When the number of your user reviews increases, it's time to create a dedicated website testimonial page to share them. Here, site visitors can read and watch to their heart's content the positive reviews and success stories of satisfied customers.
The dedicated testimonial can contain anything from case studies to video testimonials, customer quotes, etc.
See this example from Patagonia:
Benefits Of Using Customer Testimonials In eCommerce
When a potential customer sees feedback from past customers on your website, ads, or social media platform, it not only demonstrates that your product is legitimate but also impactful.
Listed below are other benefits of using customer testimonials as an eCommerce business.
1. It helps to create a bond with potential customers. When they see reviews from past purchasers highlighting how your product has helped them, subconsciously, they begin to agree and align with your product.
2. It strengthens your brand reputation. Positive testimonials and reviews help to improve your brand reputation online and offline because all everyone has to say about your product is what happy customers have said.
3. Happy fans can turn into loyal fans. When your product exceeds customer expectations, and they leave you a review, that's a  bond that has been formed.
As a business, when you reach out to the customers who have left you reviews so you can use them in your marketing efforts, this deepens the emotional bond.
This act makes your customers feel appreciated and can turn them into loyal fans and ambassadors.
4. Improves conversion rates. The purchasing decision of potential customers is driven by emotion. When a lead sees reviews from multiple customers addressing several objections and how your product solves them, it tips the scale in your favor for that potential customer to convert.
This is how testimonials help in improving conversion rates.
Final Thoughts
As digital marketing becomes more of a challenge every day, using testimonials across all the channels your customers interact with is an excellent way to increase your conversions (sales).
Monitor your social media channels, niche forums, and review site well. By doing this, you can stay ahead of every review and build loyalty and positive customer interactions, which is good for your business.
FAQs About Customer Testimonials
1. What is a customer testimonial?
A customer testimonial is a written or recorded statement from a satisfied customer that describes their positive experience with a product or service.
2. Why are customer testimonials important?
Customer testimonials are important because they provide social proof, which helps build trust and credibility for your brand. They also showcase the benefits and effectiveness of your product or service through the words of your customers.
3. How can I use customer testimonials?
You can use customer testimonials in a variety of ways, such as on your website, in marketing materials, in social media posts, or in email campaigns. They can also be used to support sales pitches or presentations.
4. How do I get customer testimonials?
There are several ways to get customer testimonials, such as asking satisfied customers for feedback via email, social media, or phone or by providing a feedback form on your website. You can also incentivize customers to provide testimonials by offering discounts or rewards.
5. How do I ensure the authenticity of customer testimonials?
To ensure the authenticity of customer testimonials, it's important to use real customer names and photos and to include specific details about their experience with your product or service. You should also avoid editing or manipulating testimonials, as this can undermine their credibility.
6. What should I do if I receive a negative customer testimonial?
If you receive a negative customer testimonial, it's important to respond promptly and professionally and address the customer's concerns constructively. This can help to show that you value customer feedback and are committed to improving your product or service.