Free Shipping is So 2013 & Other Thoughts to Improve Online Customer Experience

Conversion rates are five to ten times higher in bricks and mortar (B&M) stores than on ecommerce sites.

Why? What are the differences between a B&M store and an online store that would account for such a huge gap?

While the answers are many and varied, in both cases, customers' in-store experiences are a major determinant of whether they convert. Did they easily find what they were looking for? Did they have a good impression of the store? Did they get through the checkout in a reasonable time?

If 'customer experience' is paramount to conversions, then you need to look at what are the differences in the experience between a B&M and online store to find out why conversion rates are so much higher in one.

Again, there are lots of them, so let's just look at some major ones.

Customers are 'captive' in the B&M store. Online, they can bounce at any time with a single click. And it's impossible to change that.
The customer can 'touch and feel' the merchandise in a B&M, they can try it out, or try it on, or simply feel how heavy it is. These experiences are impossible online.
B&M stores offer immediate, human, face-to-face purchase assistance, which is, once again, impossible online.

Blast. It looks like it's impossible to replicate the experiences customers enjoy in-store versus online. So why bother to even try to improve online customer experience?

The Answers are Compelling

83% of online shoppers need help to complete a purchase
89% have stopped shopping online after experiencing poor customer service
71% expect to get online help within 5 minutes
200% more chance customers will share bad experiences versus good ones
82% say quick issue resolution is a top element of customer experience
66% mentioned 'shipping costs' as a reason for abandoning their online shopping cart
71% are more likely to buy based on a social media referral
41% of online sales are from repeat customers (who presumably had a good experience the first time)
500% higher revenue per web site visit – repeat customers ($10.24) vs. new customers ($2.06)
(invesp.com)

Had Enough?

Just in case the answer is 'no', let's look at it another way. Forget the numbers. Think about if you wanted to buy something; let's say a new pair of shoes, and you went to a B&M shoe store get them. And let's say you encountered the following:

All the shoes were displayed behind glass
You couldn't hold them or try them on
You wanted to know if your size was available, but there was no sales help in the store. Or when you asked, the answer was 'I don't know.'
There was another very similar store right next door. It had all the same shoes, you could try on as many as you liked, and your personal sales assistant quickly answered all of your questions.

Which store would you buy from?

Thoughts for Improving Online Customer Experience

Sometimes things seem impossible because of the massive gap between where you are and where you want to be.

"How can I illuminate this huge sports stadium if all I know to do is light a candle."

But if, instead of focusing on the seemingly impossible leap you must ultimately make, you focus on taking the first small step towards your goal, each step can make a big difference.

"Putting this aluminium pie plate behind the candle doesn't help light the stadium, but I can do more work on the problem in a brighter room."

Below are small steps that some sites are taking to begin to close the three major customer experience gaps between B&M and ecommerce stores that we listed above.

1. Hold Customers 'Captive'

Who knows if you'll ever be able to stop your customers from bouncing off your site.

But take a look at what you see when you land at shoedazzle.com:

The 'fashion quiz' alone is a great way to engage customers and hold their attention. But then ShoeDazzle gives the customer a near irresistible offer. The customer can have 'stylists' pick shoes for them, based on the customer's feedback. Suddenly, thoughts of bouncing begin to fade. And then comes the "Shop your heart out!" call-to-action.

Oh yeah, there's also a '75% Off' offer.

Bounce? What's that?

2. Temper the Inability to "Touch & Feel'

While the technology to do so may not be as far away as you think, it's still not possible to hold an online product in your hands.

That's not a problem for many of the purchases we make online, like books, music and travel. But for other items, like clothing, it can be a source of uncertainty for the consumer. What does the fabric feel like? How heavy is that sweater? And, most most importantly, what happens if I want to return the item?

Uncertainty is a bad experience for an online customer.

More and more ecommerce sites address that uncertainty by offering not just free shipping, but free returns. Now the customer can buy the product, check it out, and return it if it doesn't work.

Uncertainty gone.

Amazon.com

3. Lend an Ear if You Can't Be There

If 83% of online shoppers need help to complete a purchase, what do you think would improve their experience of your site?

Live chat.

But don't do it on the store's schedule, like Foot Locker does:

You need to be there whenever your customer needs help. 24/7, like Zappos:

How can your ecommerce or lead generation site offer a better customer experience? Make that experience the highest priority of your site design and conversion optimization. Start with the examples of others, then take the lead.
Join 25,000+ Marketing Professionals
If you enjoyed this post, please consider subscribing to the Invesp blog feed to have future articles delivered to your feed reader. or,receive weekly updates by email: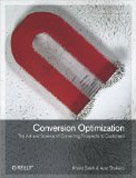 Conversion Optimization
The Art and Science of Converting Prospects to Customers
By Khalid Saleh and Ayat Shukairy