How fast a potential customer moves in a buying funnel defines the length and complexity of the sales process. Some conversions require little time or financial commitment, and the process is completed in a matter of minutes (sometimes even seconds). It is almost like stopping at a convenience store and grabbing a soda.
At the other end of the spectrum, for complex B2B sales or high-value consumer ticket items, a conversion may take months or sometimes years before it concludes. This type of sales would have multiple points of contact, nurture funnels, and the right approach to the right person or group of people that would eventually make the decision.
Most sales fall in between these two extremes of a sales cycle.
This chapter of our guide helps you recognize the sale complexity of your business as well as the focus you should choose on the track for conversion optimization, whether you offer simple, medium, or complex sales.
Understand Your Offer
In conversion optimization, the visitors' buying funnel must be accompanied by an analysis of the complexity to finish a sale transaction.
For this analysis, evaluate the required financial investment and commitment of time of your customer.
The higher the investment required by the customer, the more attention you have to pay to the buying stages.
The following list of questions will help you get started in classifying your offer:
Is your offer complex or easy to understand or use?
Do customers typically need to evaluate your offer before buying?
Is the decision to buy/subscribe made by one person or multiple people?
How critical is the product for your customer?
Is it easy to replace your offer with an alternative?
What kind of financial commitment does your offer require?
Does your offer require a multi-month financial commitment?
Is your pricing simple and clear or is it complex?
Does your product require/depend on other products/services to work? (dependency)
Does your offer require a contract?
How long does it take to convert a prospect?
To put this more into perspective, here are some examples on products with different levels of sale complexity. We'll go into further details about those levels later in this article.
Starting with a simple sale, Amazon sellers offer a phone case for the Samsung Galaxy S8: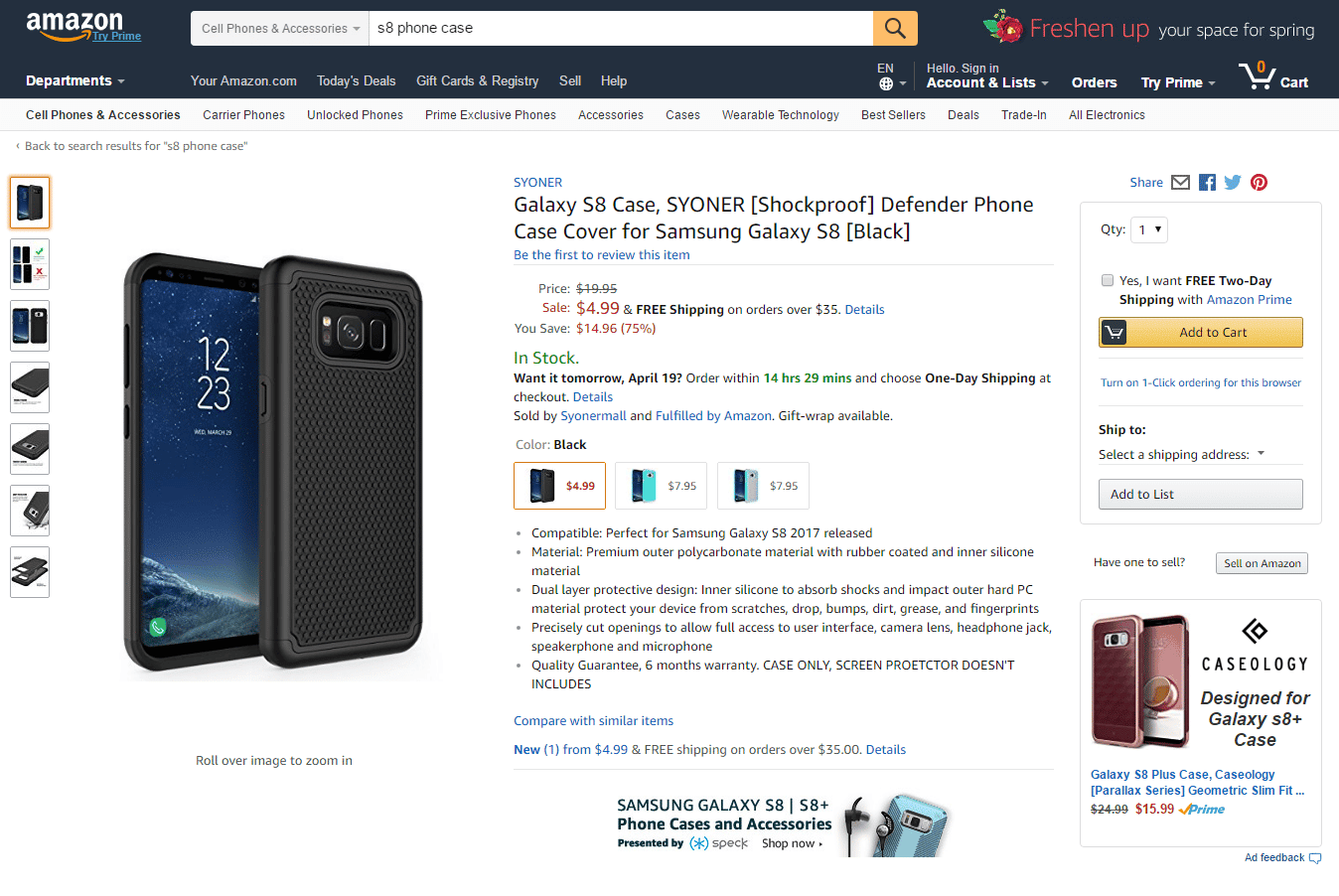 The product is simple, a black shock absorbing phone case. It is dependent on the buyer to own the Galaxy S8. No contract, no commitment. The buyer is either in or out. The decision to purchase here depends of very few simple factors, making this a 'simple sale.'
On the other end of the spectrum; a more complex sale would be, for example, a private island: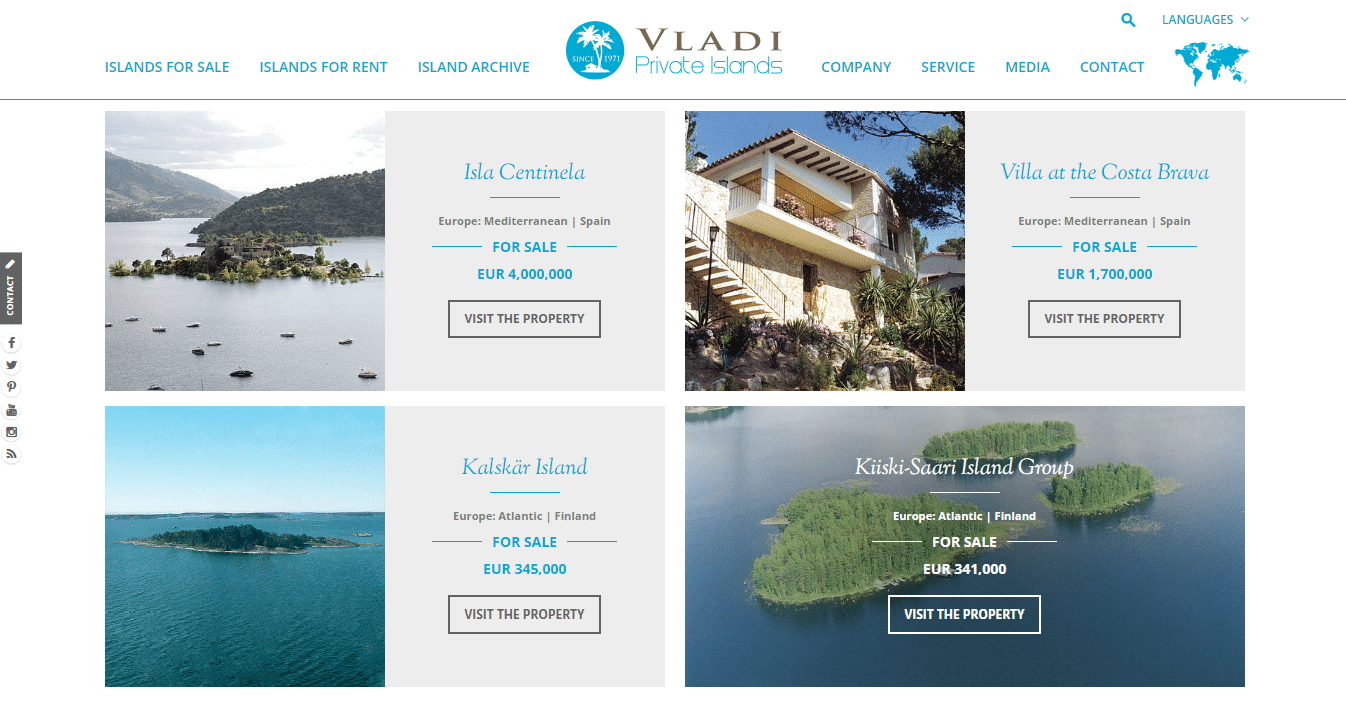 Vladi Private Islands offers private islands for sale or rent.
Buyers would -most likely- do a lot of evaluation of different options, locations and sizes. A purchase and/or commitment like this would probably require visiting the island, signing a contract, and acquiring the legal right to own a property from the local government. It would perhaps also require the buyer's significant other to agree.
Unless you have a few million laying around in your backyard, the decision to purchase here requires varying points to reach the final decision. Making this more of a complex sale.
B2B SaaS businesses also lay on the complex sale side of the spectrum. Those require a team buy-in, and a comprehensive understanding of the service provided, as well as the benefit of it.
Businesses do an average of 12 Google searches before making a decision, a more extensive evaluation process than when a customer wants to buy a phone case.
To Some B2B businesses, it is even worth it to go as far as creating a dedicated page to compare themselves to their competitors, highlighting their own strengths vs. their competitors' weaknesses. All that to keep the visitor on the site.
Let's take other CRO services providers as an example. This is how VWO compares itself to Optimizely, on a page titled "VWO vs Optimizely:"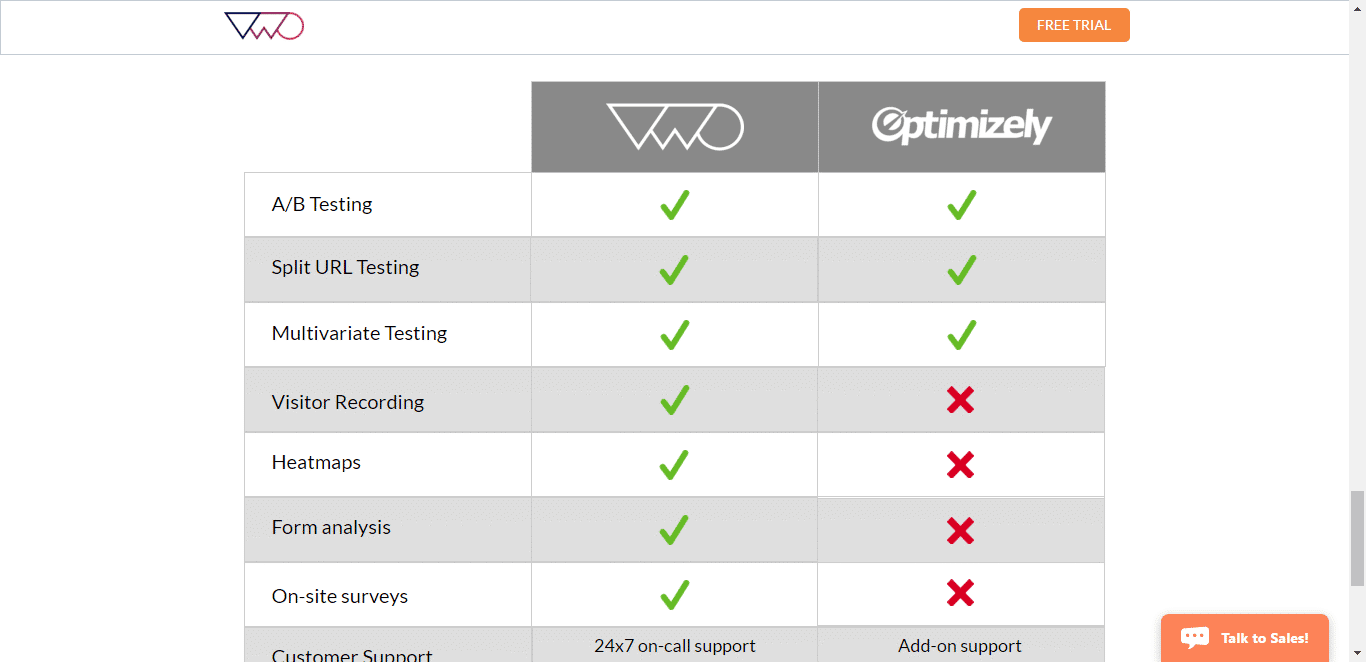 The information provided is sought for by any company looking to hire a CRO services company. By creating this page, VWO gives potential customers the information they need, meanwhile keeping them in the buying funnel.
Problem Levels
To make it simple, three different levels describe the type of problem and investment required by customers to use your offer. These are:
Minimal problem: Buying decisions for these types of products are done quickly in a routine fashion.
Limited problem: Buying decisions for these types of products will involve more search from the customer.
Complex problem: Buying decisions for these types of products will involve substantial time and/or money investment.
Analyze customer data to understand:
Is the purchase decision made by one person or multiple people?
How large is the financial burden for converting?
Evaluate Your Sales Complexity

a. Simple sales
If the buying decision for your product or service is done quickly in a routine fashion, sales complexity does not play a substantial role in converting website visitors into customers. To increase conversions, you should focus on the following:
Your value proposition: The challenge for websites that require minimal commitment from customers is that markets typically have minimum barriers for Developing a unique value proposition becomes, even more, essential to convert visitors into customers (our Guide to Competitive Analysis for Conversion Rate Optimization can be very useful).
Website-centric factors (Trust, FUDs, Incentives, and Engagement).
Allow visitors to try the product or service with no commitment (when possible). Similarly, you can have an easy refund policy or a free trial.
If customers typically do a little of comparison shopping, make sure to support your value proposition with incentives, comparison to other providers, and guarantees.
You should also pay close attention to the post-conversion stage of the buying funnel to ensure that customers will come back again in the future.
Up-sells and cross-sells are excellent in generating additional revenue, especially after the customer tries your original offer.

If you've ever been to an IKEA store, you wouldn't miss how much they cross-sell items. As though every item is somehow completed by another. They also apply this on their website: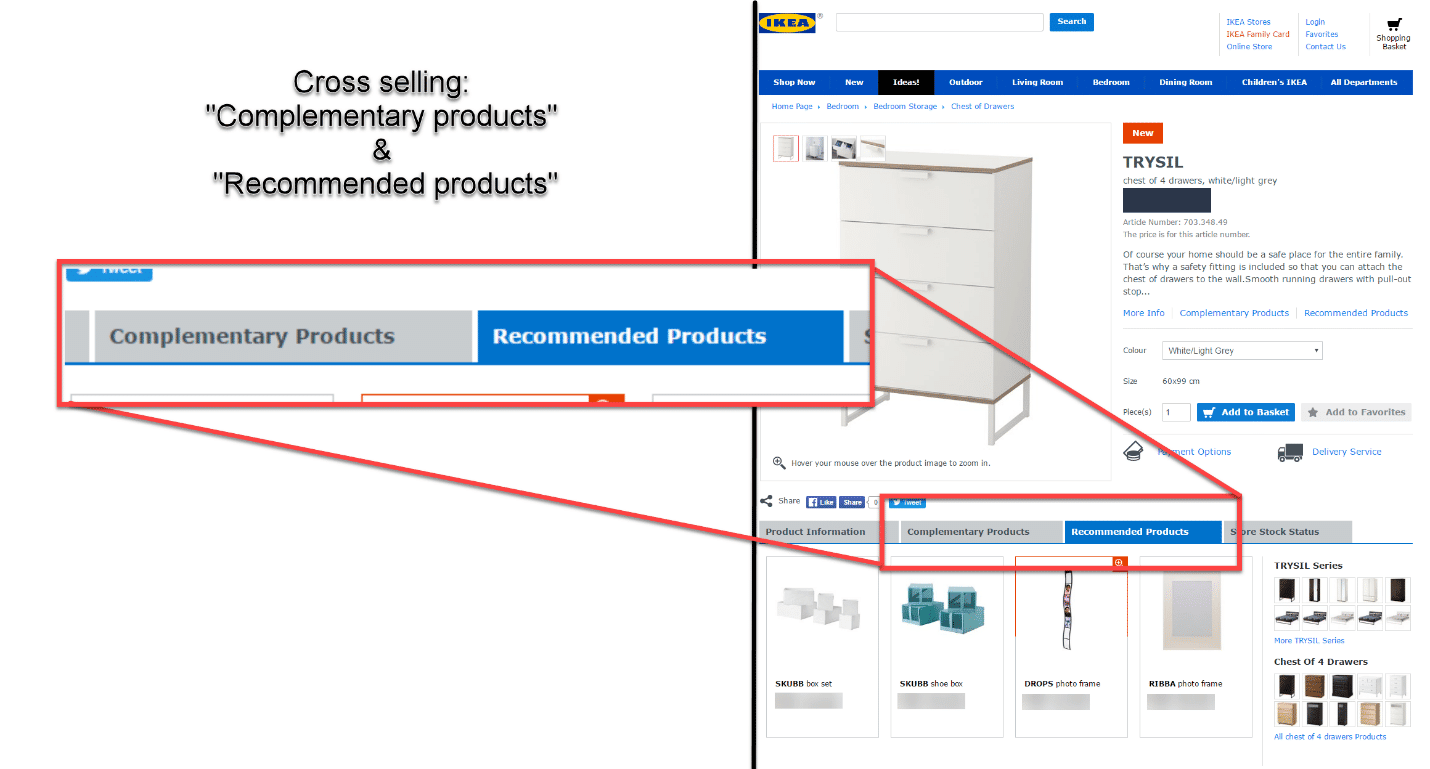 b. Medium complexity sales
If the buying decision for your product or service requires a moderate investment from the buyer, focus on the information search and later stages of the buying funnel. Since customers need more information to convert, you should start by answering the following questions:
What causes your sales complexity?
What types of information potential buyers need to convert?
Can you offer any guarantees to customers?
What differences and similarities can you find when you compare your offer to other competitors'?
How can you minimize the customer investment?
How can you minimize the customer commitment?
How can you increase your offer credibility?
As you think about each of the points above, you should come up with a list of solutions to help support the decision-making process of the prospect (visitor). Notice how Salesforce.com uses product demos and a free trial to convert visitors:

MailChimp uses the number of its customers to build credibility. In addition, the site offers a free trial.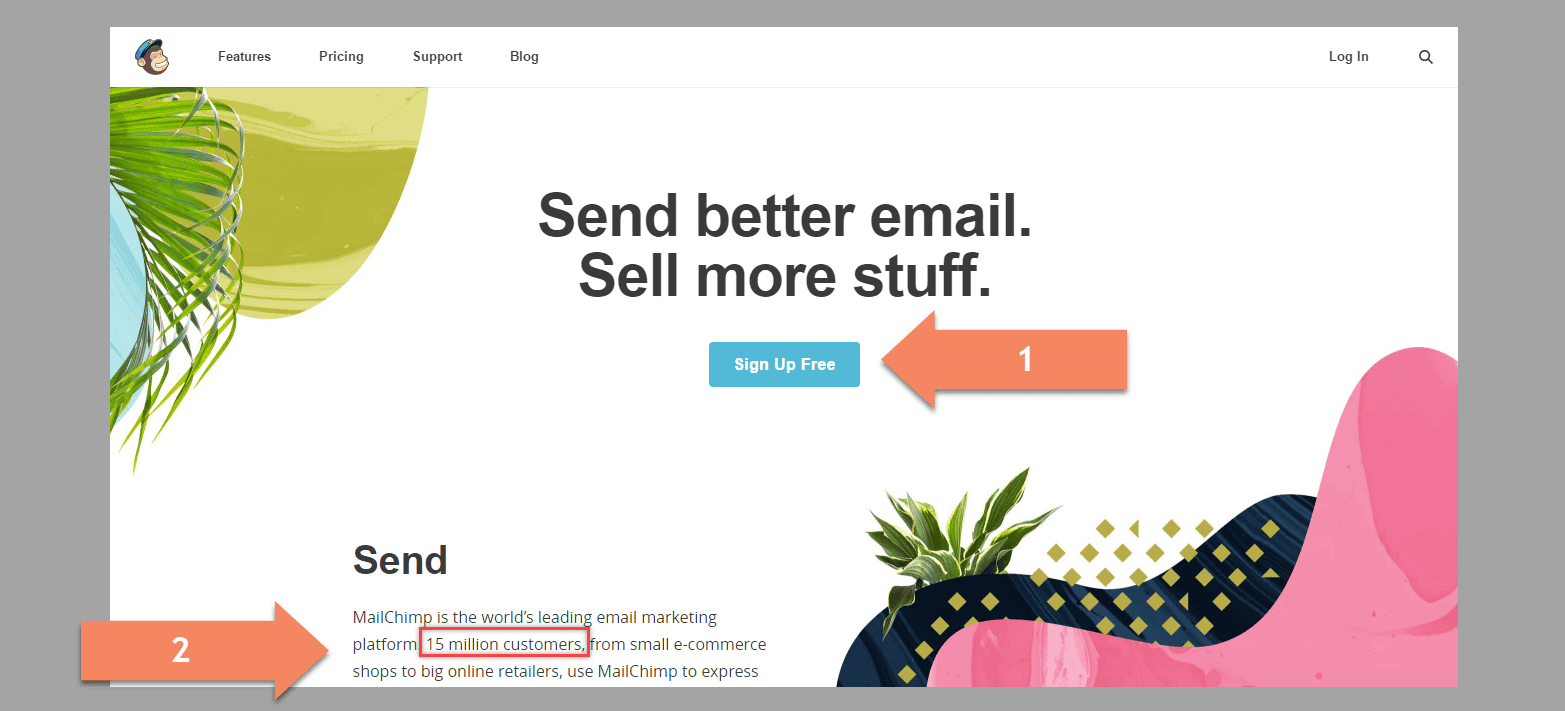 c. Complex sales
Complex sales require an investment from both the buyer and the seller.
These transactions typically take months if not longer to complete. In most cases, the conversion does not happen online.
More complex sales demand a sales team, either for field sales or in-house sales.
The website, in this case, plays a significant role in supporting the buying process. Over 75% of executives start complex sales process by conducting an online search. For these types of sales, the website:
Increases your company credibility.
Increases your offer credibility.
Provides case studies showing previous
Provides webinars and other learning tools to support the prospect in making the purchase decision.
Compares your solution to other competitors/alternatives.
Since conversion for complex sales takes place online, your website plays a central role as a lead generation for the sales team. The site should capture the emails of the visitors and get them started in the sales funnel.
Let's take Digital Marketer's website as an example, since they cover most of the points above, and the fact that one of the things they teach is how to generate leads for complex sales.
The first thing you see on their website is a catchy invite to join their community, meanwhile establishing their credibility with the number of members that have joined.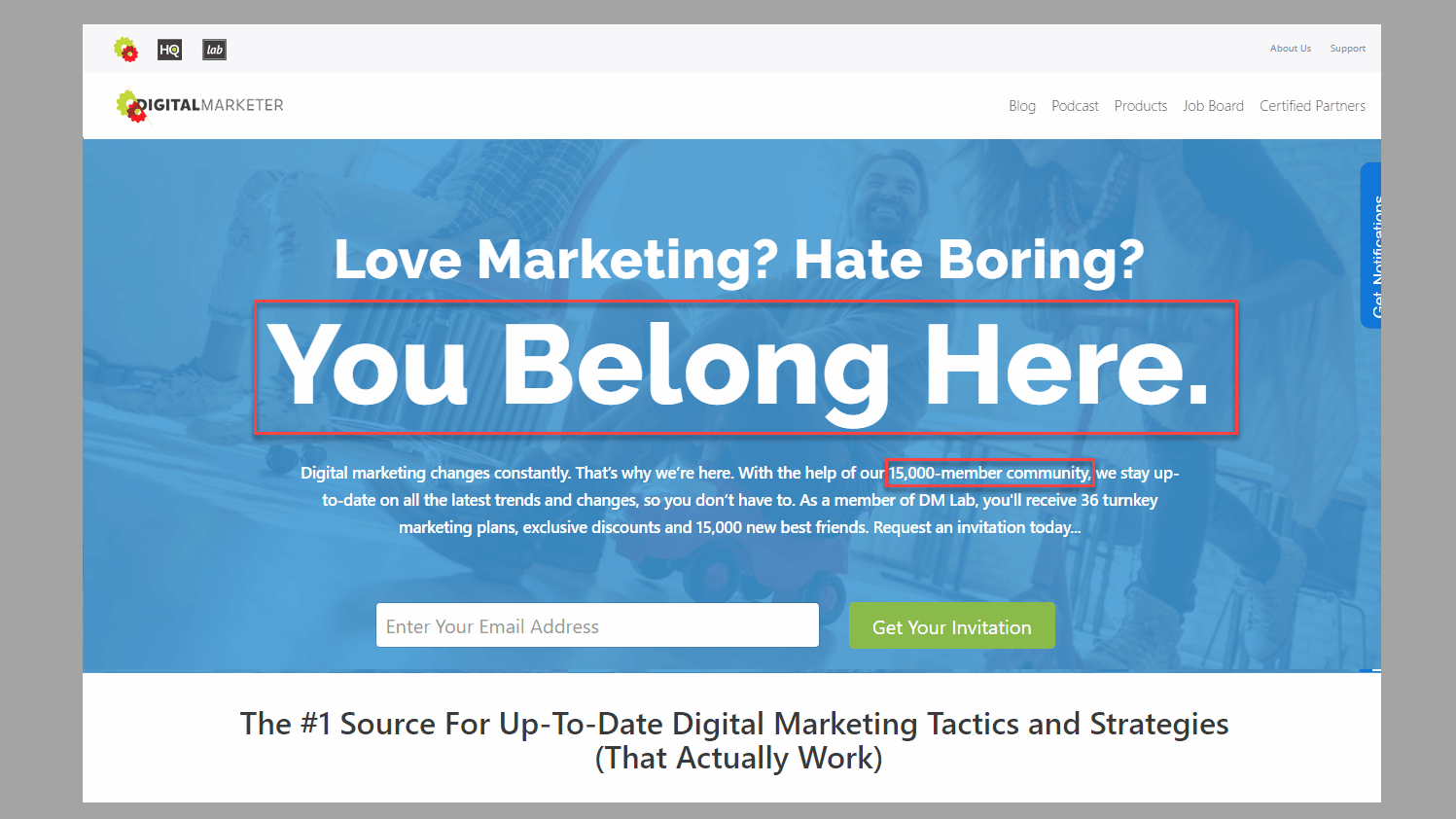 And of course, a clear form and CTA that states "Get Your Invitation" to establish a sense of exclusivity.
Then they provide two methods, based on the size and type of company, to help the prospect learn more and support their decision making: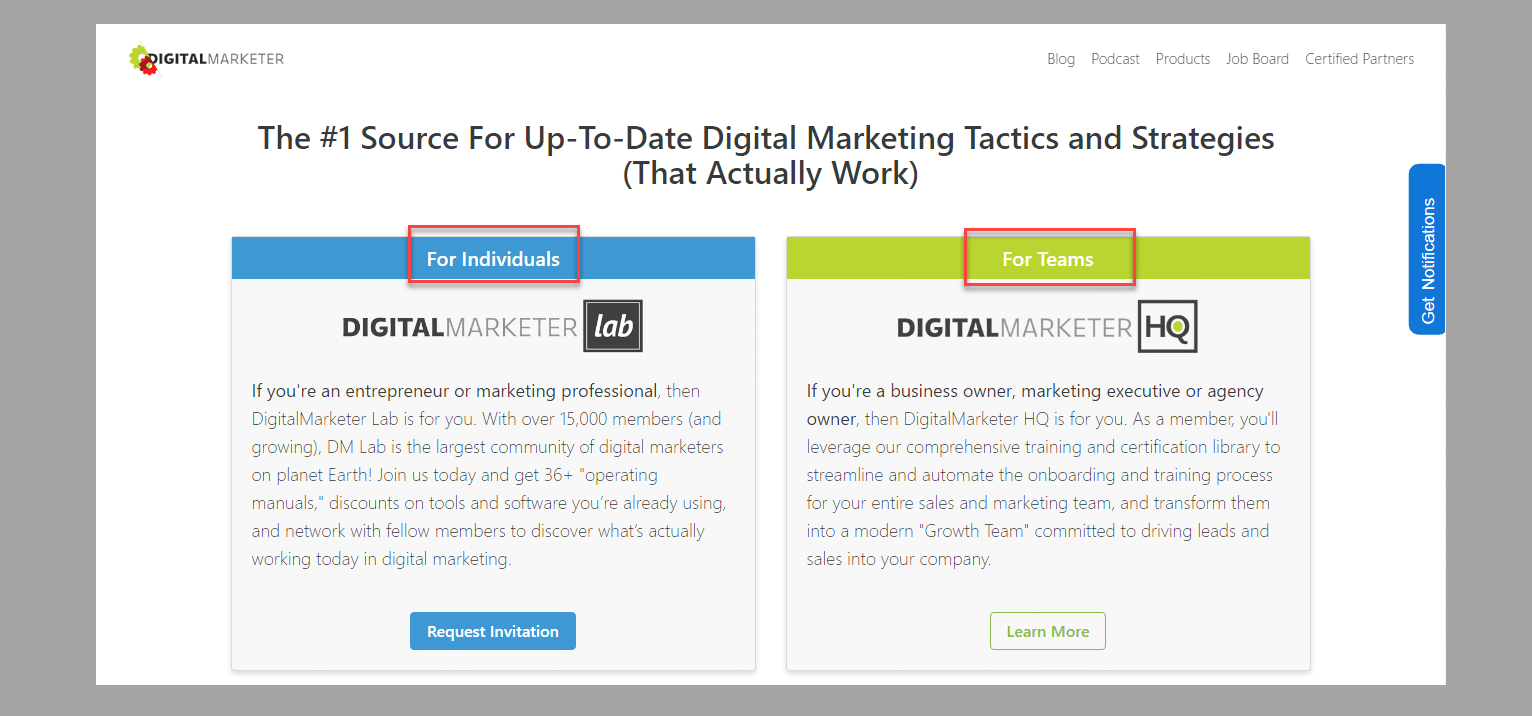 Summary
Understanding all aspects of your selling cycle will help you determine and prioritize the points you can focus on to increase your sales. Your understanding should be for your own business as well as your (potential) customers.
Understand your strengths, the value you offer, and compare it to other businesses that are in your market. Realize what it takes for a visitor to convert into a customer by realizing their needs and the problems you solve for them.
Once you do that, you will be on the right track to increasing your website conversions, whether they were purchases, subscriptions or leads.