Reading Time:
9
minutes
Social commerce, also known as social selling or social shopping, refers to the practice of buying and selling products or services directly from within a social media platform.
In 2020, Pinterest, Facebook, and Instagram all relaunched their social commerce tools with a new emphasis on a streamlined online shopping experience.
If the very platforms that facilitate such a trend recognize its importance, you can bet it's worth considering for your ecommerce business.
Data from eMarketer and Insider Intelligence shows that U.S. retail social commerce sales will reach $36.62 billion in 2021, accounting for 4.3% of total retail ecommerce sales.
Since 2017, the market has grown from 45.8 million social commerce buyers to 90.4 in 2021. By 2023, it's projected to reach 101.1 million shoppers and $56.17 billion in sales.
Ecommerce vs. Social Commerce
Ecommerce is the broad term used to describe the process of exchanging money for goods and services online. Social commerce is a subset of this approach.
Social commerce solves a few pain points ecommerce creates, which plays a role in its recent, rapid growth.
Consider that more than half of all internet traffic comes from mobile devices. This, combined with the fact that mobile users are much more likely to abandon their carts than desktop users, means that a streamlined checkout process is crucial.
Social commerce removes many of the main drop-off points where traditional ecommerce methods lose customers. Since checkout occurs directly within the shopper's chosen app, there's no need to leave. Users can purchase products, then go right back to scrolling through their feeds for updates from friends and family.
The smoother process makes for happy customers. And the social platforms appreciate the traffic and engagement, so they're making it easier for more brands to start selling. The built-in tools allow brands to tag products, engage with buyers, manage orders, and ultimately control the customer experience.
Social Commerce vs. Social Selling
Social commerce shouldn't be confused with social selling. Social selling is about building relationships on social media to build your sales prospect list. It moves the final transaction off social media.
Does Social Commerce Actually Work?
Yes! 84% of shoppers look over at least one social media site before making a purchase. And, 23% of shoppers are influenced by social media peer recommendations. It just makes sense for businesses to sell directly from the places where customers are researching and making recommendations to one another.
If your target market lies between the ages of 18 and 34, then you definitely need to take advantage of what social commerce has to offer. That's where people in this age group like to shop anyway. They're already online and primed to shop while they scroll through their social feeds. Nearly half of internet users in this age group made a purchase on social media in 2019, and another 27% have said they'd be willing to try it.
So why does it work? If we go beyond how it removes the common friction points of traditional ecommerce, it's fairly easy to see.
Through social commerce, you can get specific, ready-to-buy products in front of the right people. Sure, ecommerce and marketing can do this too, but not in the same way. Social commerce gets people at the moment – and makes it almost impossible to avoid shopping online.
Which Social Media Platforms are the Best for Social Commerce Campaigns?
Facebook
If you've got a Facebook business page and products to sell, you can build a shop that lives right on your Page.
The shops are customizable, so you can choose the goods and collections to feature. If you don't already have your Facebook catalog set up for use with Instagram, you can import your existing product catalog directly from your website.
If you've built a Facebook catalog for use with Shoppable Pins on Instagram, you're already part of the way there. Facebook Stores use the same product catalog. It just takes a few clicks to add a Facebook Store to your Facebook Page.
You can choose which online shopping experience you want customers to have. You have the option for customers to handle their check out in the app, or open up a Messenger chat with your business. You also have the option to send them to your website to complete the checkout process.
Instagram
Instagram has recently upgraded the Shoppable Post experience to allow people to shop and checkout directly on the Instagram platform, using Facebook Pay. Some products have a Buy Now option, while others require you to add them to your cart.
If your business sells services rather than products, you will not be able to create an Instagram Shop. To set up your Instagram Shop, you must have an Instagram Business account connected to a Facebook Page. You must first have your Facebook Shop set up because it uses the same catalog.
Unlike Facebook Shops, which can be accessed from both mobile and desktop devices, Instagram Shops can only be accessed from mobile devices.
Pinterest
Like Instagram, Pinterest Shops can only be accessed from mobile devices. The difference between Pinterest and Instagram Shops is that Pinterest still directs people to the retailer's website to complete the purchase. The redirection occurs within a web browser and doesn't require the user to open another window.
Snapchat (Coming Soon – Maybe….)
Snapchat launched a closed beta test called Brand Profiles. Included in this experience is a "Native Store" powered by Shopify. It makes it possible for social media users to browse and make purchases from within the app. Right now, the feature is limited only to the approved influencer accounts, belonging to high-profile celebrities including Kylie Jenner and Kim Kardashian.
If you were hoping we'd add Twitter to this list, sorry – it doesn't seem to be in the cards. The company introduced a buy now button allowing brands to sell certain items directly from tweets in 2014. But by January 2017, they decided it wasn't working and abandoned the feature altogether.
Companies Rocking Social Commerce
With the recent introduction of built-in shops on social media, many brands still rely on product tags that make it possible to go directly to a product's page from the social post.  Regardless of whether the checkout process takes place on the social networks, or directs shoppers to the product page on the company's official website, there are plenty of brands out there shaping the social commerce revolution.
WodBottom on Facebook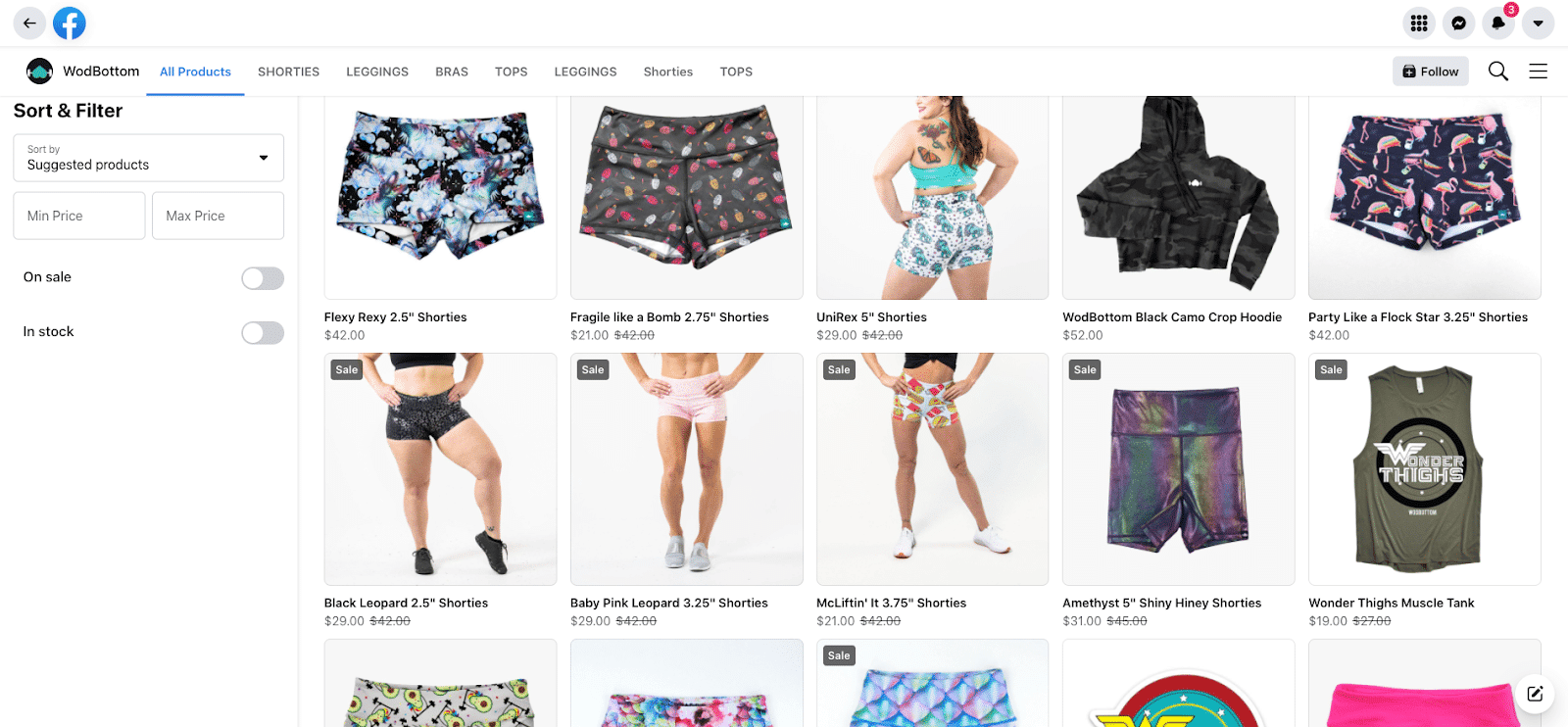 WodBottom is a fitness apparel brand with more than 22,000 Facebook fans. With their Facebook Shop, people can shop directly from the fan page, without ever needing to visit the official WodBottom website. Those that don't wish to shop on Facebook can still visit the official website and shop there.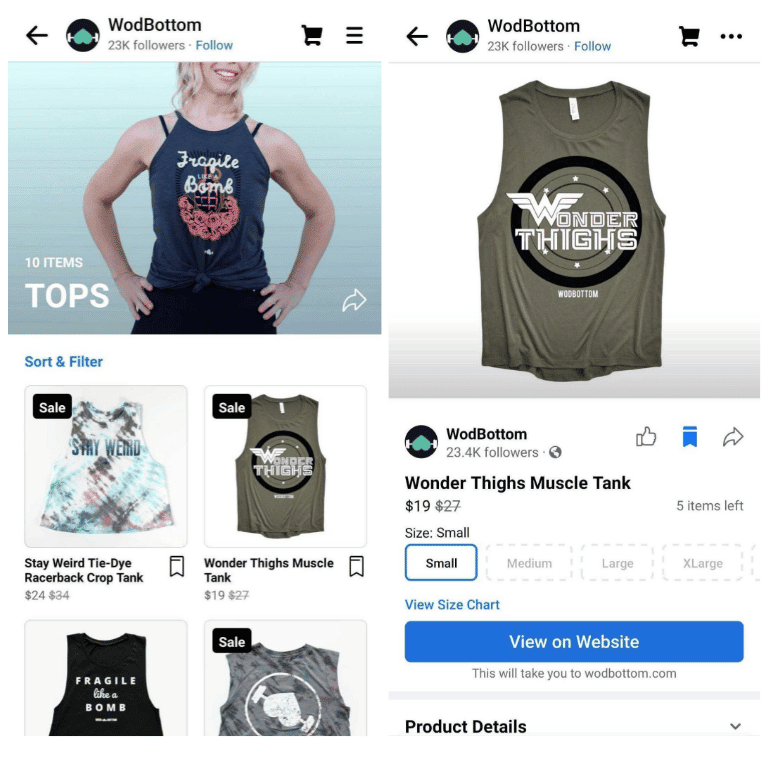 Facebook recently announced Shops can further streamline the checkout process with Facebook Pay. The additional feature aims to create simple, pleasant online shopping experiences.
Lilicloth on Pinterest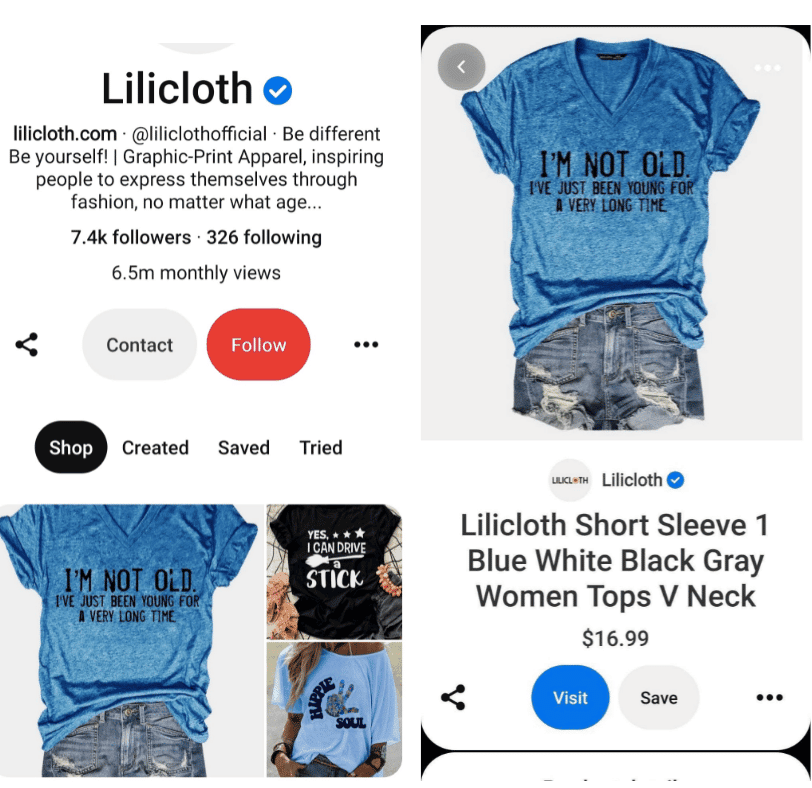 Lilicloth is a small business that sells graphic print apparel. They have more than 7,000 followers on Pinterest. Their shop is full of a variety of products.
Outside of the shop, Lilicloth has an attractive Pinterest account, with highly organized boards.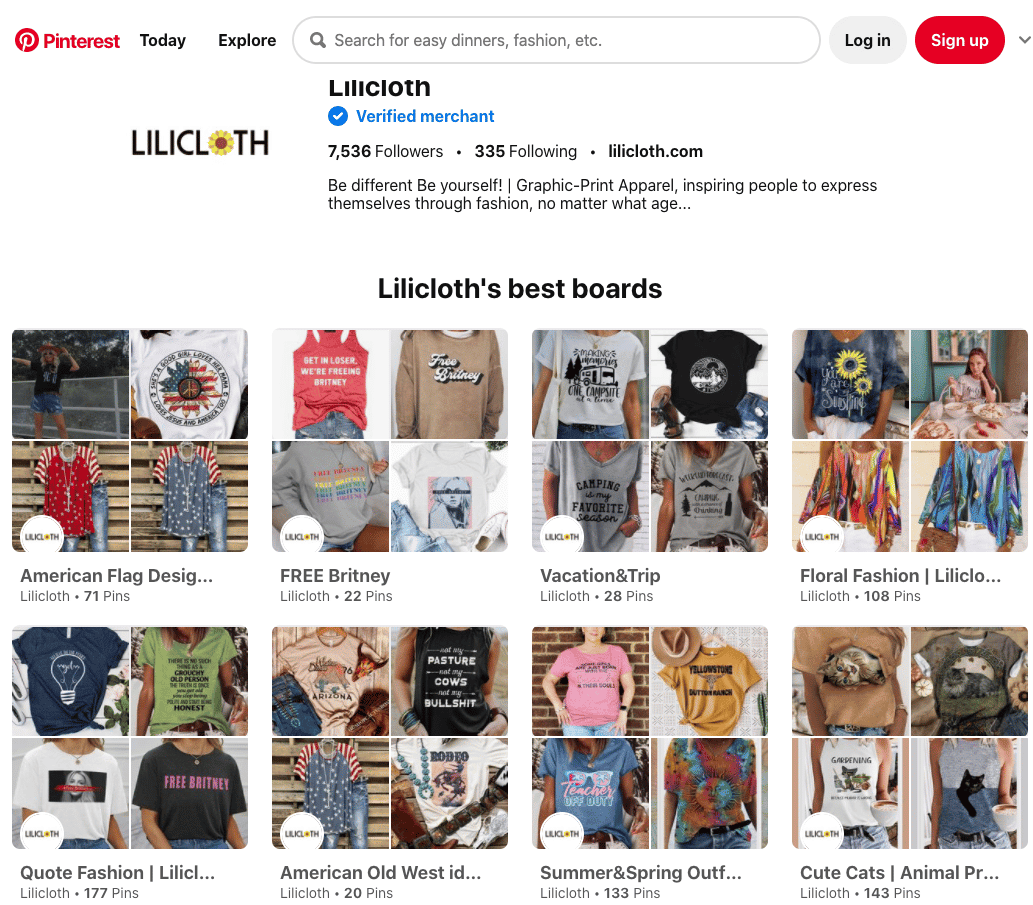 Each board is a category of shirts – from Vacation & Trip to Cute Cats and Animal Prints. This makes it easy to find the products you're most interested in possibly buying. Though you can't use the Pinterest Shop feature on the desktop version, if you're browsing through the Pinterest mobile app, you can click to buy.
Jewelry Unlimited on Pinterest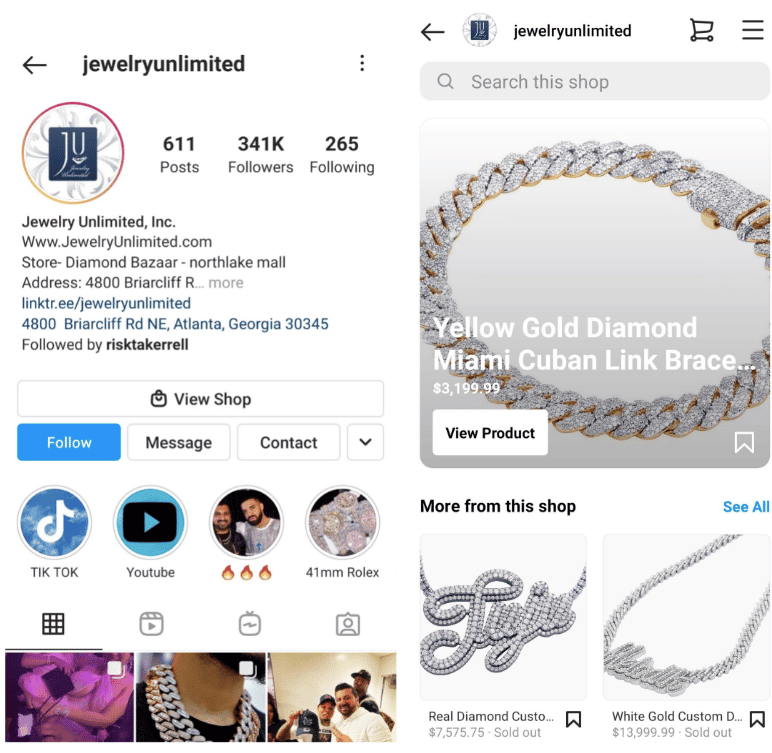 Jewelry Unlimited is a fine jewelry retailer in Atlanta. They've got over 340,000 followers on Instagram. There, they share photos and videos of their products, physical stores, and highlight their other social media platforms. Mobile users can see their shop, where they can buy virtually any product available in the online store at the official Jewelry Unlimited website.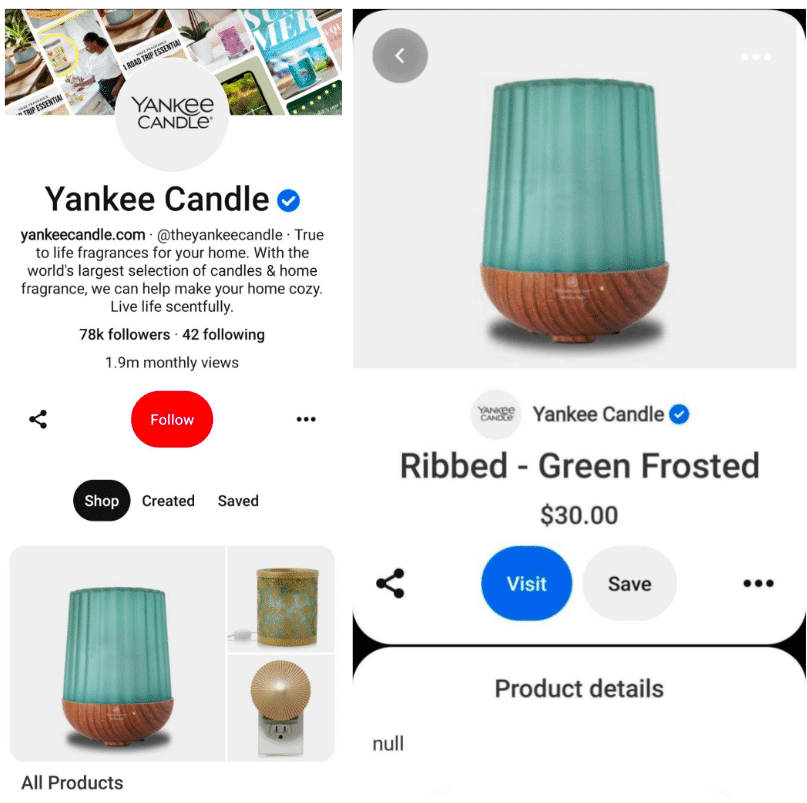 Yankee Candle on Pinterest
Yankee Candle is a well-known brand that's keeping up with the times on social media. They've opened up a Pinterest Shop to make it possible to sell products directly to their 78,000 followers. Beyond candles, the company highlights wax warmers and wax melts, too.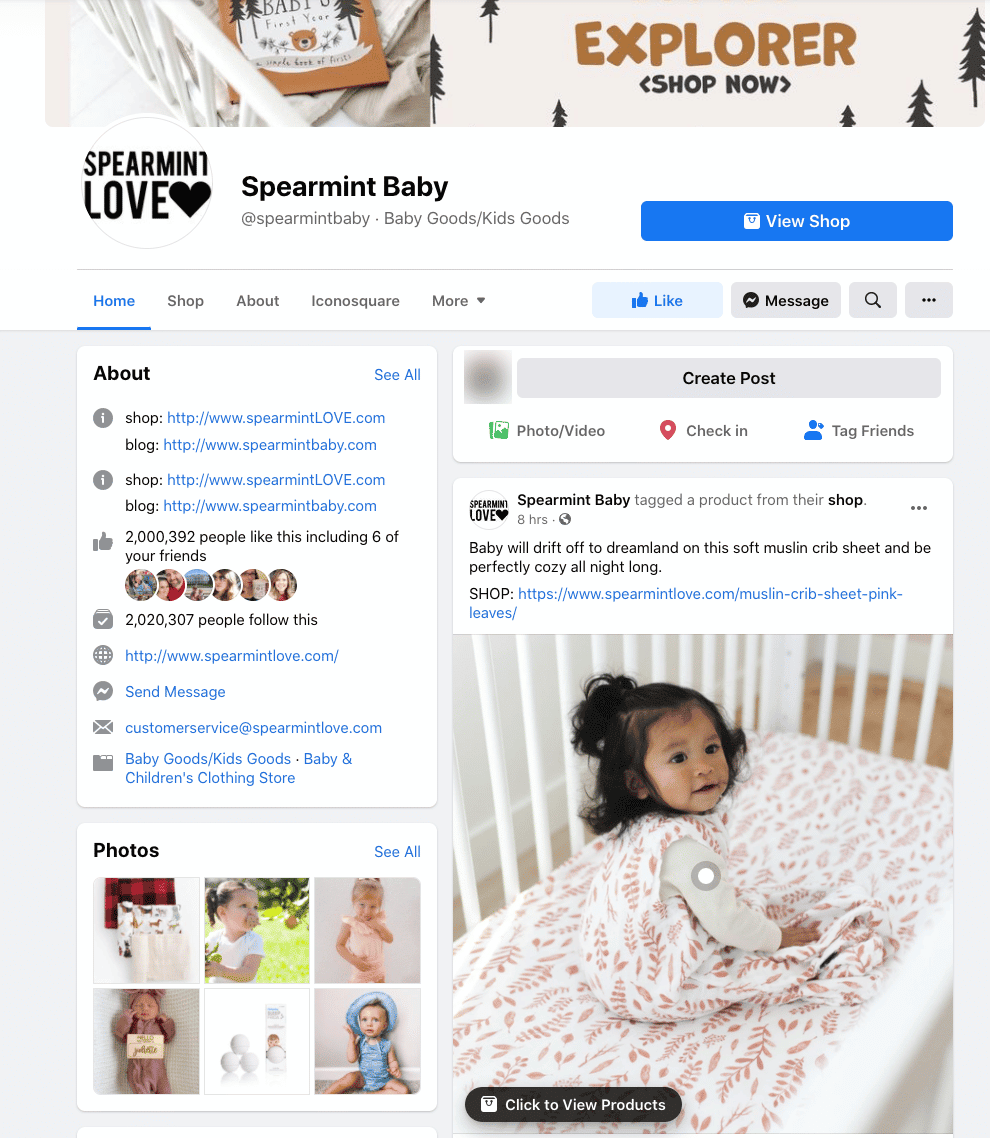 Spearmint Baby on Facebook and Instagram
Spearmint Baby is an online retailer of clothes and products for babies. The Spearmint Baby Facebook Instagram feeds are full of cute babies wearing the Spearmint Baby products. With more than 2 million fans on Facebook and nearly 900,000 fans on Instagram, Spearmint Baby is the perfect example of how to use shops on multiple social media platforms.
Comparing the two, you can see that they use similar content with babies as models. But, they adjust the content slightly, for each platform. Even though there is likely some overlap between the demographics across the channels, adjusting the content for the platform it's on helps it perform better.
Tips to Expand Your Social Commerce Strategy
If you're dabbling in social commerce but want to boost your efforts, use these suggestions to get started.
Make Sure Your Social Media Branding is On Point
Your social media branding says a lot about who you are as a company. If it's inconsistent from one platform to the next, you'll have a hard time building brand awareness and credibility.
Beyond aesthetics, make sure you're posting share-worthy content that's slightly adapted to the audience on the platform. To find out what will resonate with your followers, you'll need to do some target market research to learn more about who your audience is.
Launch a Campaign to Get More User Reviews
If your brand is new to selling online, you'll need to invest resources into getting user reviews on as many platforms as you can.
When people shop online, whether, through your official website or their chosen social media platform, they cannot touch, feel, or try on your products. They're relying on research, reviews, and other user-generated content to help them make an educated purchasing decision.
These user reviews are much-needed social proof that will help others learn to trust your brand. Whenever someone makes a purchase, politely ask for a review in the transaction complete email.  When you engage on social media posts, thank those who have taken the time to leave a review.
Remember that not all product reviews will be shared on your site. Facebook makes it possible to leave a review of your products or services directly on your business page.
Consider Starting a Brand Ambassador Program
A brand ambassador program is a highly effective way to market your products. By connecting with people who love your products, or inviting micro-influencers who have an audience similar or the one you're trying to reach, you'll grow your brand awareness. You've essentially got a sales team out there spreading the word about your business for you. And when you drive traffic to your social media platforms where there's already a place to shop, you're bound to make some sales.
Use Social Media Analytics to Learn Your Audience and Run Tests
To get the most engagement out of any social network, you must align your social commerce strategy with your target audience. You'll get better results when you select specific products and adjust the messaging for each customer segment rather than using what's already on your website.
To do that, you have to know who your audience is. That's where social media analytics tools come into play. Most social media sites have their own built-in analytics tools to help you get audience insights. But if you want more information or an overview of all your social channels in one place, you can use third-party analytics platforms to collect information about each.
Pay close attention to your follow demographic data so you can create customer personas for each platform. Use the personas alongside your post's performance data to help you make decisions about your sales funnel and the products you want to start with.
Leverage Scheduling Tools
After you share a product listing, your social commerce strategy should include scheduling some promotional posts around that product. Doing so builds interest and helps to build traffic to the social storefront. This approach makes it easy to share more product information, such as close-ups, walk-throughs, and demos.
Using automated scheduling tools such as Buffer, Hootsuite, and Later, helps to increase engagement. These tools include analytics information that helps you see your audience's engagement patterns. That way, you can optimize your posting schedule to get maximum engagement.
Find What Works and Repeat
As you start with social commerce, measure everything. Learning what works for your audience is key to properly scale your strategy. It can also help you find opportunities you may have missed.
As you monitor your social analytics, look beyond sales. Pay attention to sentiment analysis. That's what tells you whether potential customers have a positive or a negative image of your brand.
Getting Started with Social Commerce
Social media has changed the way consumers and businesses interact with one another. Social commerce is the newest trend, but it's definitely here to stay. There's no better time to break into the social commerce space. The sooner you get started with experiments, the faster you can scale your efforts.