Reading Time:
10
minutes
The post-purchase experience in the eCommerce space is totally disjointed. 
This is because we, as marketers, tend to focus on acquiring new customers, and we often regard the sale as an endpoint. Most of us tend to forget about the customer once they check out. 
Not even a follow up is done to see what worked well, what worked poorly, and what pain points they still have. 
That's definitely a wrong way of doing marketing because there's so much more to a repeat customer than just the money they give you in exchange for your products or services.
Existing customers are every brand's most valuable asset. They know why they converted, what nearly stopped them from converting, and they can equip you with the right words to use to lure more customers. 
But if you are to mine any insights from customers who purchased your product or service, you need to keep up with them without sounding pushy or intrusive. You need to establish a relationship that benefits both parts. 
To do this, you need to devise a post-purchase strategy that you activate after a customer has pressed the buy button. This is actually what most marketers know but forget to put in place. 
In this post, we will discuss different ways you should implement if you are serious about improving your post-purchase customer experience. 
Post-Purchase Customer Experience is a priority
The simplest definition for post-purchase customer experience is how you treat a customer after purchasing a product or service from you. 
Existing customers are the treasure trove of any business, yet many brands ignore them and focus on acquiring new ones. 
You probably have heard this before: it's far more cost-effective to persuade existing customers to make a repeat purchase than it is to acquire a new customer. 
Your current customers are what you need to create a reliable customer base. 
So keeping them happy long after making a purchase from you is not an option but a priority. 
At Invesp, we have gained new clients simply because of our relationships with clients who use our services. 
There are tonnes of things you can do to improve the post-purchase experience of your customers. Here are 6 of them: 
1. Personalize Customer Delivery Experience 
Can we start a discussion about enhancing customer experience and end it without mentioning personalization? Not on this planet! 
Personalizing delivery experiences means adapting and potentially diversifying delivery options for shoppers based on real-time data.
Whenever we talk about personalization in marketing, the starting point is to know the customer. 
Not just by name, but their dreams, hopes, and fears that motivate them to purchase. 
Equipped with this knowledge, you can map to the best method of delivery.
When I think about personalizing customer delivery experience, one of our clients in the luxury furniture industry, Zgallerie, comes to mind. 
As part of our optimization process, we spoke to customers who had purchased from them. We realized that most of the people who had bought the furniture were preparing for an event, holiday, or kids growing.  
Knowing and understanding the why behind the purchase of the furniture, we customized every customer's delivery experience. Instead of just delivering the furniture, we worked with design consultants and had to offer advice – to customers – on how they would furnish their rooms according to the reason they bought the product. 
In the eyes of those customers, that act of giving them advice upon delivery showed that Zgallerie cared about what matters to them. And it helped build relationships with customers. 
Think about that too for your brand. Think outside the box –what can you do to show customers that you care about what matters to them. Believe me, customers like brands that understand them. 
2. Create an Online Community for your Customers 
In an age where marketing is becoming increasingly customer-centric, online communities need brands that want to retain more of their customers.  
When done well, branded online communities drive sales, engagement, and they are instrumental in fostering a long-lasting relationship into brand love. 
Before we dive in deep into how an online branded community can improve customer experience, check out these few benefits of creating communities for brands:  
Reduced customer support costs – 49% of businesses with online communities report cost savings of 10% to 25% annually.

Boosted brand exposure and credibility, making it easier to sell without selling.

67% of businesses use their communities for insights on new products or services and features.

Heightened engagement and better customer retention.

A channel through which to present products and services before the official launch.
There are plenty of existing opportunities for creating communities on social media, such as creating a Facebook group for your community. Still, you can also use platforms such as Patreon if you crave more input into the overall look, feel, and direction of your brand community.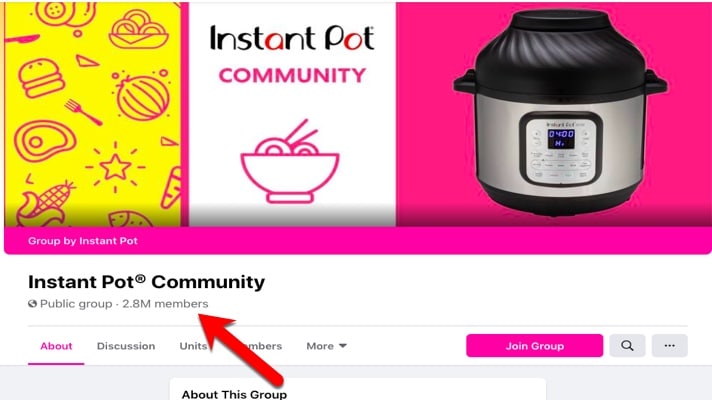 Instant Pot is a brand that has managed to build a successful community on Facebook. As you can see from the image above, their Facebook Group has a whopping 2.8 million members. This brand uses this community as a community to collect valuable insights from its customers by conducting polls, customer feedback surveys, and getting customers enrolled in its loyalty programs. It's a thriving community where the brand gets to know about the customers' needs and preferences.  
LEGO is also an example of a brand that recognized this opportunity when it created LEGO Ideas –an online community for people to show off what they build with its multi-hued plastic blocks. Anyone who loves Lego, from age 5 to 95, can check out proposals, vote on their favorites, leave feedback, and submit their ideas. The most popular ideas go to the market.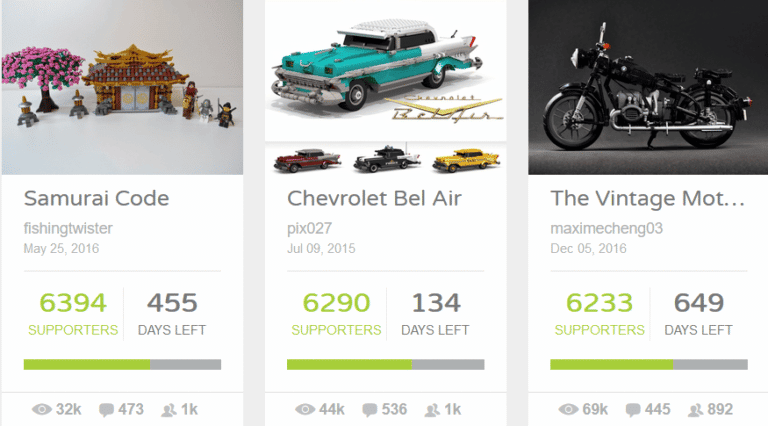 This space unified the entire enthusiast population of builders, and it kept people interested in ongoing contests.
3. Omnichannel Customer Support 
The general idea behind omnichannel support is having your customer at the center of your communication strategy. 
This is to say that all of your channels work in parallel around the customer, to create a completely seamless customer experience. This approach accounts for each platform and device a customer will use to interact with the company.
So, suppose your customers visit your store to make a purchase when they need to get hold of you –you must be available in whatever channel they use to reach out. 
That's what omnichannel means. 
People tend to confuse omnichannel with multichannel customer support. Omnichannel focuses on delivering a consistent, personalized experience for shoppers across all channels and devices, whereas multichannel spans several different channels, like social, mobile, direct mail, and a physical location.
In the words of John Bowden, Senior VP of Customer Care at Time Warner Cable:
"Multi-channel is an operational view – how you allow the customer to complete transactions in each channel. Omni-channel, however, is viewing the experience through the eyes of your customer, orchestrating the customer experience across all channels so that it is seamless, integrated, and consistent." 
With omnichannel customer support, businesses reap the benefits of:
High engagement rates

Increased customer satisfaction

Continuous feedback

Returning customers
Now that most brands use CRM software, it's now easier to offer omnichannel customer support because all the important information about the customer's order history is kept in the same place. 
Nowadays, most brands are active on different channels and they even hire customer support representatives to answer all the questions of their customers.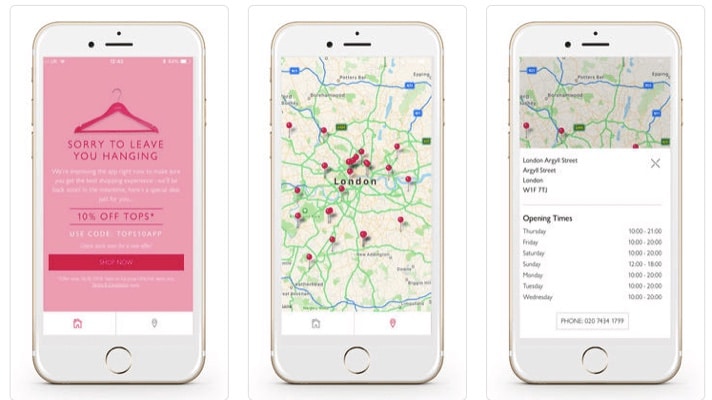 Oasis Clothing
is a good example of an eCommerce brand that has managed to fuse its website, mobile app, and brick-and-mortar stores so that customers have a seamless experience.
If customers visit one of its stores, you'll find sales associates equipped with iPads that are available to give customers on-the-spot, accurate, and up-to-date product information. The iPad is also used as a cash register – and this makes it easy for the sales associates to ring customers up from anywhere in the store.
And the cherry on top?
If a customer appears to have a complaint about the product they purchased in the store, they can use the Oasis app to file a complaint and the customer support team can instantly liaise with the customer service team and to have the item replaced and shipped directly to the customer's home.
Fusing all channels together and delivering a consistent and personalized customer experience seems like easy peasy.
But in truth, it is really complex and it requires high-level strategic planning. 
A lot of research has to be done in order to fully understand customers and the technology they're using to reach out to you.
Another thing that you will need to do is to break down silos and enhance internal communication channels. For instance, your contact center and your supply chain need to be able to communicate to ensure you can meet customer needs. Your marketing team needs to communicate with your sales as well. In some instances, you'll need tools and technology to improve and manage communication.
Once you implement omnichannel customer support, you'll therefore need to set and monitor some metrics so that you know how healthy your business is, and how productive your service/support team is. If you want to learn more about the metrics you should track, read this article. 
4. How-to use guides or demos
Sometimes when customers purchase a product, it doesn't necessarily mean that they are able to use it efficiently. A little assistance can go a long way in improving their customer experience. 
This is where instructional guides and demos come in. 
User-Manuals or user guides or even demos tell people how to use the product in an efficient way. The best user guides and demos include information about the product's feature and highlights the main features that are used frequently. 
Most Saas products usually come with a demo that shows a step-by-step description of how to use the product. 
FigPii goes as far as hosting live demos for its users: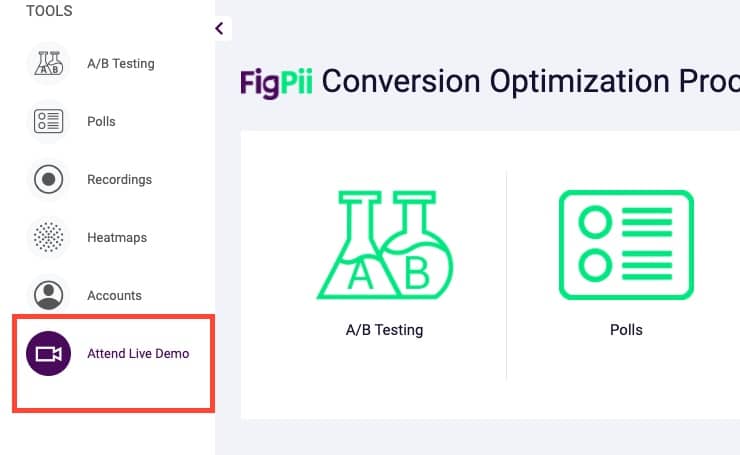 There are many ways you can help enhance customer experience by providing instructional materials. If you can't make a demo, write how-to guides on your blog or have a FAQ section on your website. It will smoothen things for the customers and will clear any doubts that they might have had when using the product. Also, give them opportunities to ask questions, if they have any.
5. Loyalty programs
We all know the effectiveness of loyalty programs in accelerating customer loyalty. But not much is preached about how they can improve customer experience, especially post-purchase. 
At Invesp, we have always believed that the best way to improve customer experience, before or post-purchase, is to build an authentic emotional relationship with customers. 
One way of doing that is by using a loyalty program to show customers that you appreciate them.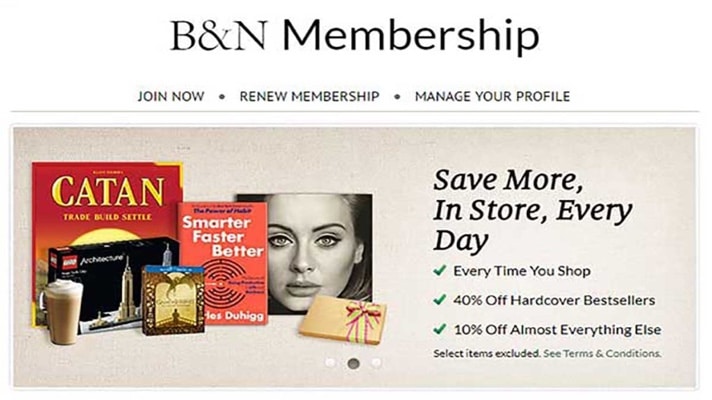 Barnes & Noble
has a perfect example of a loyalty program that is designed to improve customers' post-purchase experience. Frequent buyers and existing customers are invited to pay a monthly or annual fee to join your VIP member's club. In return, they get exclusive benefits such as discounts, free shipping, and other freebies.

The way Barnes & Noble designed their loyalty program makes it more compelling to existing customers. As you can see from the above image, their marketing team had to make the value of the loyalty program outweigh the cost of joining it.
However, just the introduction of a loyalty program is not enough at all. More has to be done if you intend to aid in boosting customer experience. 
We have written a whole blog post that focuses on designing a loyalty program that is aligned with a brand. So I won't dwell much on how you should design your brand, here's a list of what you should consider when building a loyalty program that enhances customer experience: 
Personalize your Loyalty Program

Make your loyalty program more accessible

Opt for the right rewards –offer emotional rewards 

Make your program easy to understand and clutter-free. 

Consider gamifying your program 
These factors are essential to design a successful loyalty program. Also, it will accommodate many opportunities to improve customers' experience with the programs. So, opt for the right rewards program that will help you to gain more brand loyal customers. 
6. Refund policy
:
It's a must for an eCommerce site to have a return policy that is fair and appealing to its customers. 
Do you know why? 
Because unlike visitors to brick-and-mortar stores, online consumers don't get to see and hold the physical product before they buy it. So they first have to be assured that they are getting what they really want. 
A concise and clear return policy gives consumers a feeling of security; that what they are buying is guaranteed to be what it is represented to be. If a retailer doesn't give this guarantee, then consumers often become suspicious and avoid buying the product.
Many return policies have conditional agreements, such as time limits, that must be clearly defined and expressed at the time of purchase. The consumer should know that he or she has 30 days to decide whether a product meets his or her needs or whether a store charges a restocking fee when an item is returned.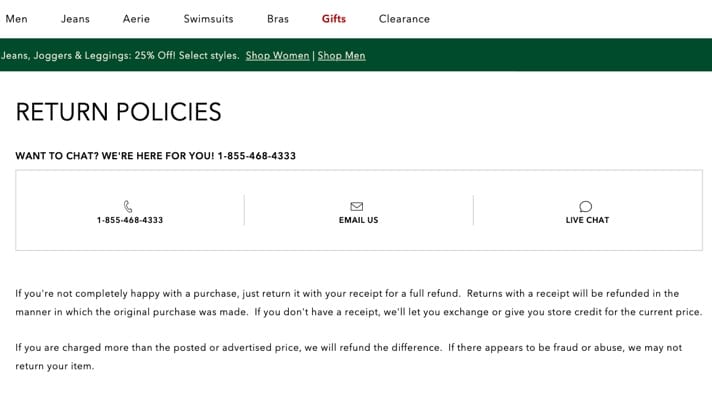 American Eagle is one of the brands that have managed to improve their post-purchase customer experience using an efficient refund policy. Their policy has no time restrictions on accepting returns. When trying to get a full refund, a customer is only required to present a receipt. Without a receipt, customers can receive store credit or exchange their items for their current price.
Nowadays, there's no denying that customers are now more demanding, and an overwhelming percentage of the consumer population looks for refund policies before they even make a purchase. They still see it as a guarantee that reflects the trust retailers have in the products they sell.
I'd recommend that you allow for refunds until a particular period of time. It will keep them at peace knowing that a wrong choice doesn't mean money down the drain.
Conclusion
As marketers, we often overlook the post-purchase experience and concentrate on looking for new customers.  But that's a dangerous way of running a business. If treated well, customers who have already purchased your products or services can be easily transformed into brand advocates and they make a good foundation for building a dedicated customer base. If you're in need of a roadmap for effective post-purchase strategies, you can borrow any of the six ideas listed above.