Are You Properly Testing This Crucial Landing Page Element?

Images. You already know their power to improve conversion rates, leads and ecommerce sales. It's why you use a photo of your product instead of the thousand words it would take to describe it.

But most of us don't realize how powerful images can be. Or, in an increasingly graphic online world, that their power increases.

If you're looking for proof of this, try to think of a single popular social medium that has emerged in the past few years that isn't image-based.

Instagram, Pinterest, Tumblr, etc.; all image-based social media. If you thought of Google+, you're right, it's not primarily image-based. But look at your G+ home feed. If it's like mine, fewer than 10% of the posts do not include an image.

More proof? Check the redesigns on established ecommerce giants, like eBay.

Still more proof? Well, this isn't proof, but when's the last time you bought any tangible product online without seeing a picture of it?

So the digital world becomes more visual every day, which means testing images as part of your landing page optimization becomes more important too.

But it goes way beyond choosing one photo over another.

Five More Testing Criteria for Landing Page Images

Image Captions: Images cannot stand alone. Added to your written content, the sum is greater than the whole of the parts. Images draw so much attention, image captions are often second (some say first) only to your headlines among the most read copy on your web page.
Page Loading Times: Images slow down page loading times. With faster computer hardware and better image compression, this is not the issue it used to be. But web visitors are also increasingly intolerant of any delay in seeing a web page. Test the effect your images have on page loading times.
Image Quality & Detail: Keeping an eye on point number three, test different image qualities. The better the quality, the better the results should be, unless and until it affects loading times. Depending on your product, offering views from different angles, or zooming in on details all help viewers get more information about your product.Don't think an axe can be beautiful? Check out the images on the Best Made Company website – and click on one for more detail
Graphics and Infographics: If a photographic image isn't suitable for your page, try breaking up the text content with a complimentary graphic. Infographics are a great tool for lead-generation sites that need to convey a lot of data in an interesting way.
40% of people will respond better to visual information than plain text. (Source: Zabisco)

Video: If a picture is worth a thousand, how many words are 30 frames per second worth? The still-frame used in a video link can work much like any static image, with the added dimension of being a call-to-action that keeps your visitor engaged.
Viewers are 85% more likely to purchase a product after watching a product video. (Source: Internet Retailer)

One More Point: To underline the extent to which you can test your images and graphics, check the following example. It shows how one very small change within an image caused a 1400% uptick in the number of people who looked at the product.
Join 25,000+ Marketing Professionals
If you enjoyed this post, please consider subscribing to the Invesp blog feed to have future articles delivered to your feed reader. or,receive weekly updates by email: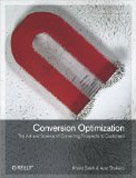 Conversion Optimization
The Art and Science of Converting Prospects to Customers
By Khalid Saleh and Ayat Shukairy