Reading Time:
11
minutes
If you are new to testing and want to explore personalization, you first have to play with easy-to-use tools before taking a deep dive into a pool of complicated tools. 
One of the most common easy-to-use testing tools is from Google and it's known as Google Optimize. 
When it comes to Google Optimize, I've realized that marketers have a love and hate relationship with the tool. 
Some marketers enjoy using Google Optimize for their experiments. And other marketers totally hate it. 
This is a clear indication that Google Optimize has a good, bad, and ugly side – it depends on which marketer you ask.  
But, in this article, I'm not going to pick a side. My goal here is to hold Google Optimize up high and show you every side of it: the good, the bad, and the ugly. You will have to pick a side yourself. 
After reading this article, you will understand why some marketers love Google Optimize and why other marketers prefer other testing tools. 
What is Google Optimize?
Google Optimize is an online testing and personalization tool from Google that enables you to do conversion rate optimization and enhance user experience on your website. 
Google Optimize has two versions. One is a free version, and the other one is a paid version. The free version is called Google Optimize, and the enterprise version is known as Google Optimize 360. Both versions are part of the Google Marketing Platform. 
Here's a detailed feature comparison table that shows the differences and similarities between Google Optimize and Google Optimize 360 as indicated by Google support: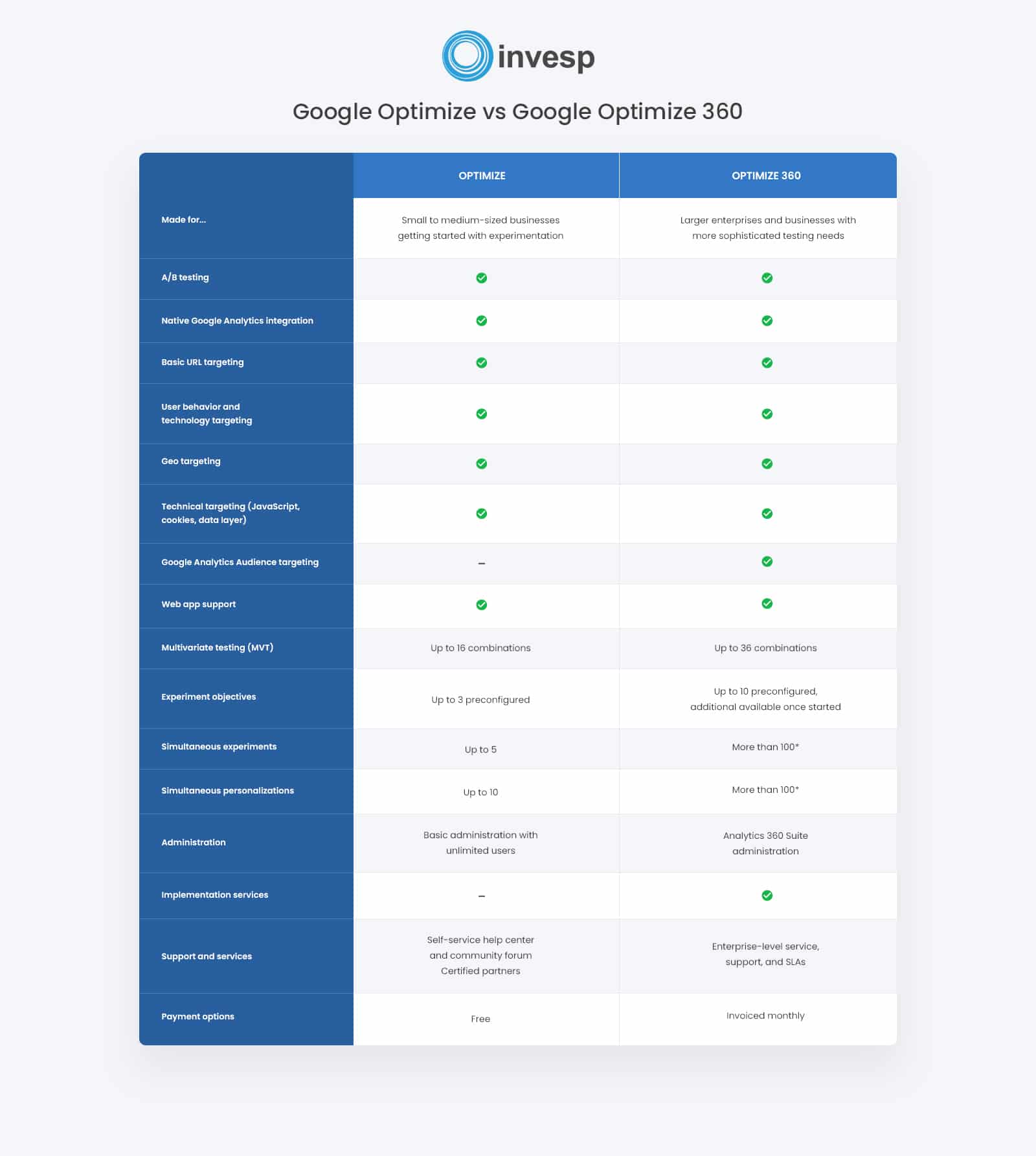 Now that you have an idea of what Google Optimize is and how it is different from Google Optimize 360 let's look at how it works. 
The first prerequisite for setting up a Google Optimize has a Google account. You will also have to link your Optimize account to your Google Analytics (GA) and deploy the Optimize code through Google Tag Manager (GTM). Linking Optimize to GA and GTM will enable you to collect accurate and valuable data from your experiment. 
Once you have connected Optimize to GA and GTM, you can now create your first experimentation project. If you are conducting more experiments, you need to name each and every experiment to not confuse yourself later on. 
The next step is to specify the URL that you want the experiment to fire on – at this point, you also have to select the type of device and the percentage of users you want to be viewed by each variant. 
Having defined the device type and percentage of users to view each variant, you then need to create the variants. If you have them ready already, then you can simply add them and make your changes to the website in the simulator, whether that is a text change, color change, or another type of alteration.
Most common experiments you can run on Google Optimize include:
Color changes

Call To Actions and copy changes

Image changes

Re-ordering the page's elements

Styling

Redesigns of web pages

Reducing the size of a page

Removing potential clutter

Header navigation changes

Animation
The Good 
Besides being currently available in 37 languages, you can enjoy many other goodies if you understand what Google Optimize does and how it works. Here are some of the benefits of using Google Optimize for your experiments. 
The Price
The best thing about Google Optimize is that it's free to use. Yes, you don't have to pull out your wallet for this platform. All that you need is a Google account and some knowledge of how marketing experimentation works…and you are home and dry. From a financial perspective, this platform is actually a budget saver. 
According to Silver Ringvee, the CTO of the Speero Agency:
"Before investing in a paid experimentation platform, go ahead and give Optimize a try. Upgrade only if you feel that you're indeed limited by something that GO doesn't do very well."
He also adds that: 
"You can't beat a free tool in terms of affordability, and as usual, anything that comes from Google has a great community, so most of your questions have already been answered online."
Being a free experimentation platform, you wouldn't expect Google Optimize to offer several optimization features such as A/B tests, geo-targeting, multivariate tests, split tests, and personalization for targeted visitors. 
Considering that the cost of entry for Optimize is free, this platform is ideal for smaller businesses – with less website traffic and budget – that are getting started with conversion optimization. 
User-friendly 
Not every conversion optimization platform can claim to be as easy to use as Google Optimize. You don't need to be an expert in experimentation to set up and launch an A/B test experiment in Google Optimize. 
This conversion optimization platform also comes with a free Google Chrome extension that lets you edit your site while it's in live mode. But to access this extension, you first have to insert a link to the website you intend to launch tests using Google Optimize. 
With the Google Optimize Chrome extension, you can customize and change the size, placement, opacity, color, and other parameters while your test is running. By the way, that doesn't require coding.
Many testing options
As you know, there are a variety of experiments that can be launched on a website. Almost all of those essential types of testing are available on Google Optimize. Here's a quick but detailed explanation of those experiment types: 
A/B test
A/B testing is the process of testing two or more versions of a webpage against the original design to know which version/design performs better in terms of conversions. In the context of A/B testing, an original design is called the control, and the new designs are known as variations. The concept of A/B testing is easy to understand, but optimizers can also use it to create complicated strategic experiments.  
Multivariate Test
With multivariate testing (MVT), you can test multiple elements at the same time. The idea behind multivariate testing is to determine the best combination of different elements to perform best in conversions. In Google Optimize, your MVT is limited to 16 combinations. 
Split URL Testing
Split URL testing is sometimes referred to as redirect tests. This type of experiment involves testing two different web pages against each other, using JavaScript redirects. In Split Url testing, users of one page are randomly redirected to the variation to track how they interact with it. This type of experiment is typically used during the website redesigning process. You can also use Split Url tests to compare two different pages for an element – for instance, single-page checkout vs. multi-page checkout. 
Server-Side Experiment
This is a method of experimentation where the test variations are rendered directly from the webserver and then premeditatedly delivered to the client. This form of testing allows you to run more complex tests that might otherwise harm user experience if implemented on the client side. 
With Google Optimize, you can execute server-side experiments for the testing of dynamic changes on a website. You can even create/set objectives and goals, specify variants, and also track performance. All you have to do is prepare and insert your code on the website. 
In this vein, Silver adds: 
"While you can run server-side experiments with Google Optimize, if you're serious about back-end testing, you might want to look at something more sophisticated like Sitespect. I'd say Google Optimize excels at the more generic JavaScript-based testing. Just make sure you involve a developer and don't use the WYSIWYG editor – those suck in every single tool."
Personalization
This test form allows you to optimize your site for your users using the data you have in your database. The data used for this experiment include a device, geographical location, age, history of user actions, etc. This is when you see a website showcasing "products you may like." The goal here is to give users a positive experience by offering relevant information they are looking for. Using Google Optimize, you can create a personalization test by setting objectives for a specific group of web visitors.  
Native Integration with Google Products
One of the main advantages of using Google Optimize is its seamless integration with other Google tools/products such as Google Analytics, Google Tag Manager, and Google Ads. Silver also adds that:
"Integrating your testing tool with Google Analytics can be a headache. Not with Google Optimize as it comes with Google Analytics integration baked in the source."
If you look at the Optimize progress bar at the top page of your A/B testing process, you will see a link that helps you connect Optimize to GA. The connection between these two Google products simply means that you can run experiments in Optimize and access the same experience data in Analytics. 
According to Google Support, when you link Optimize and Analytics, you will enjoy the following benefits: 
Optimize can calculate experiment results based on the traffic in the view.

Optimize can access Analytics goals and data.

More advanced reporting. 

You get to learn faster. 

Straightforward and convenient testing process. 
When you integrate Optimize and Analytics, you are guaranteed advanced reporting of your experimentation data in GA. Having your optimization and analytic data in one place allows you to have comprehensive and consistent data that is valuable for your business growth. 
The native integration between Optimize and Analytics is necessary to ensure proper goal and data tracking of your experiment – since Optimize doesn't have measuring capabilities of its own. Optimize allows you to choose your A/B testing goals according to the GA goals you have previously set up. 
It's important to mention that having shared data between all your Google products can be a blessing and a curse – meaning that if something breaks in one tool, then every tool linked with it gets affected. 
Easy set-up 
Setting up A/B testing tools can be complicated, but not when you are using Google Optimize. The process is easy and straightforward. All you have to do is add a few lines of code to your site pages. Considering that Google Optimize can be easily integrated with GTM, setting up is more straightforward, and you don't even need to update code. 
The Bad 
Despite being a free tool, Google Optimize has its own share of cons you should consider before using it. The most significant Optimize cons you should keep in mind are as follows: 
Limit on Live experiments 
In Google Optimize, there's a limitation to the number of simultaneous experiments you can launch. Unless you upgrade to Google Optimize 360, you are only limited to five simultaneous experiments. For a company with a high testing velocity, this number might be too small. But for those who are starting out on experimentation, this is not even a disadvantage. Also, with limited live experiments, you don't learn much compared to other people running more experiments at the same time. 
Limited code length 
One of the many limitations of Google Optimize that is a thorn in the flesh is the limitation of the script to 10240 characters. You do not have to worry about this if you only use Google Optimize's visual editor for some copy changes. But if you create an advanced experiment, the limited code length will definitely annoy you. This limitation forces optimizers to split their codes into different sections. 
No Customer Support 
In a world where customer support is fast becoming a competitive advantage, you'd expect every product (Google Optimize included) to have efficient support at least a live chat feature. But with Google Optimize, there's no channel for customer support at all. There are only self-service and community forums or paid third-party consultants. Having no customer support is probably Google Optimize's tactic to nudge you to upgrade to Optimize 360. 
The Ugly
The free version of Google Optimize also has its own ugly side. And this side is usually one that can negatively affect your experimentation process. Although this list is short, it's also worth the mention: 
No image upload feature 
This is one of the prices you will have to pay for using a free version of Google Optimize. Having no way to upload images into Google Optimize's servers means that you will have to use a third-party tool or your own server. The image upload feature is an essential feature that you should expect to find in every testing tool, including Optimize. 
Segmentation
Unless you are a novice, you'd know the importance of segmentation when it comes to A/B testing. But the sad news is that Google Analytics' audience targeting feature is not available when using Google Optimize. You will have to upgrade to Google Optimize 360 to use this feature. 
Without GA audience targeting, you can't focus your experiment on a group of visitors who might have exhibited specific behaviors on your website. Suppose you are using Google Optimize on an eCommerce site, then you can't target high-value or loyal customers with incentives and special offers. Now that's a huge problem.  
But, on the bright side, you can opt for Google Optimize Audience targeting. This feature might not be as effective as GA audience targeting, but, at least, it allows you to narrowly target users who will see your experiment by their country, behavior, device as well as the ad they used to reach your site. 
Page Flickering 
One of the well-known problems associated with Google Optimize is page flickering. This is when the original version of a page appears or flashes during A/B testing before a variation is displayed. This is problematic because it negatively affects the user experience and may lead to your visitors not trust your site. This problem can sometimes be mitigated by installing an anti-flicker snippet. 
Santiago Valdés, Co-founder & Chief Product Officer at Vestuá, says that Optimize is "great for quick and simple tests if you don't mind page flickering." But he also says that these flashes during A/B tests are avoidable: 
"You have to add a "flickering" code to avoid loading the actual page (in case you get the experiment and not the control). The flickering code doesn't show absolutely ANYTHING until the time you state." 
According to Silver, when you add this anti-flicker, you have to make sure that it doesn't affect your site performance: 
"It can be tempting to install the anti-flicker snippet on all pages but make sure you know what you're doing; it can negatively impact the performance of your website. I'd say in most cases, you want to go with their sync optimize.js snippet as it will give you the best performance. Again, make sure you know the difference between sync and async and the risks that come with the first one."
This issue of page flickering is not only associated with Google Optimize. You can still face this problem even when you are using an enterprise tool.
Lacks in-depth on-page analysis 
Another major drawback of Google Optimize is that it doesn't have features like scroll maps and heatmaps. Lacking these crucial features (which are available in many other enterprise tools) means that Google Optimize is imperfect. You will need a different tool to access those features. And adding more tools might create more problems on your site. Too many tools may end up slowing your site, and chances are high that data between these tools can be inconsistent.  
Google Optimize Is Shutting Down – What Are The Alternatives?
Sometime in 2022, conversion experts began talking about Google Optimize shutting down. 
It was all speculation, nothing concrete, but as of Friday, 20, 2023, it's no more Speculation.
Indeed, Google Optimize is shutting down.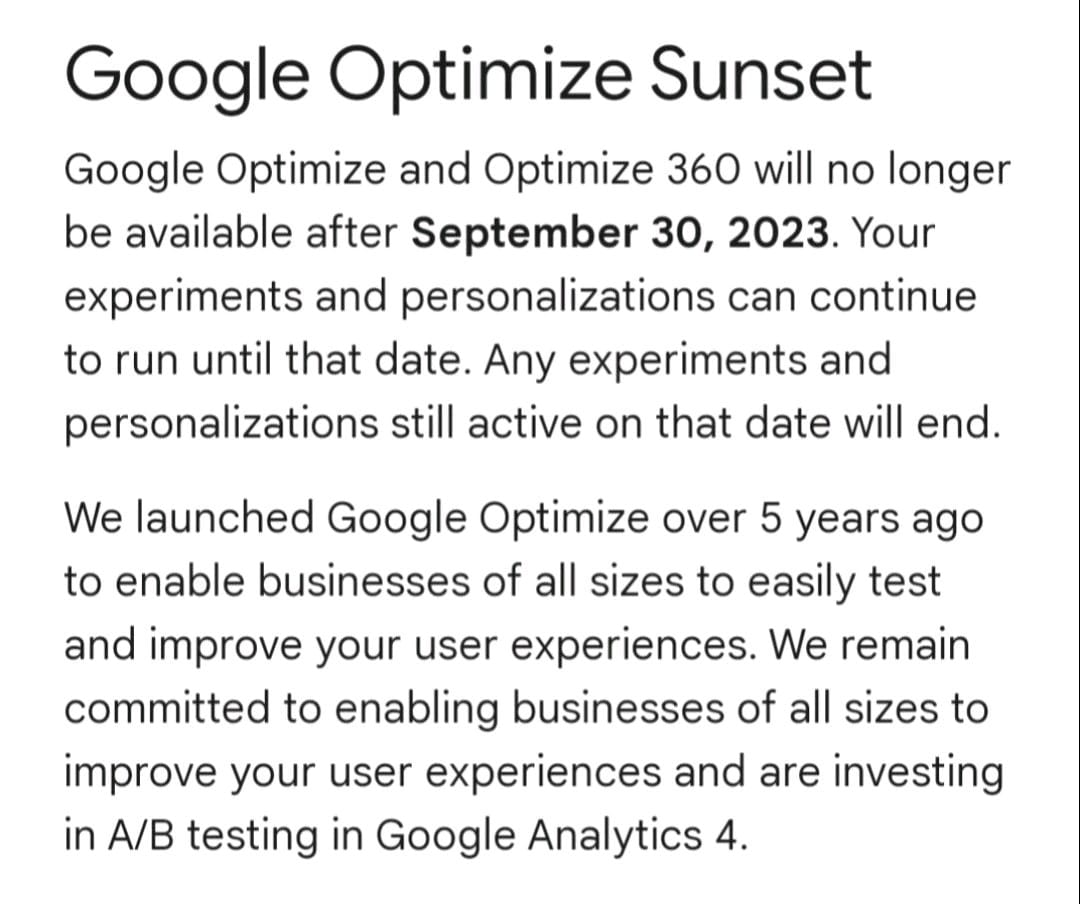 What does this mean for the thousands of businesses who got started with experimentation and A/B testing because of Google Optimize?
Are they just going to stop all forms of experimentation?
Will they look for new A/B testing platforms?
Competing vendors have been having a full day on social media trying to get a market share of Google Optimize.
The truth is, there are tens, maybe hundreds of tools one can consider, but there's only one we can recommend, and that's Figpii.
Google Optimize vs. Figpii
Here are the reasons why Figpii is the best alternative to Google Optimize.
| | |
| --- | --- |
| Google Optimize  | Figpii |
| 1. Variations load at 550+ milliseconds, which increases the chances of a flicker effect. | Variations load at 180 milliseconds, drastically lowering the possibility of a flicker effect. |
| 2. 10,000 total visitors over a 14-day trial period | Test an unlimited number of times with up to 75,000 monthly visitors at no cost. |
| 3. Zero to no expert support. Use forums for any help you need. | 24/7 expert support |
| 4. No such calculators to help with your A/B tests. | Built-in sample size calculator and duration calculator. |
| 5. No built-in session recording engine. | Has a built-in session recording tool and heatmap to help you have unparalleled clarity and precision in understanding user behavior. |
| 6. Uses Bayesian methods. | Scales to include multi-armed bandit testing. Figpii's flexibility allows you to explore beyond traditional Bayesian methods. |
| | |
Figpii, when compared to other A/B testing engines, beat them when it comes to speed.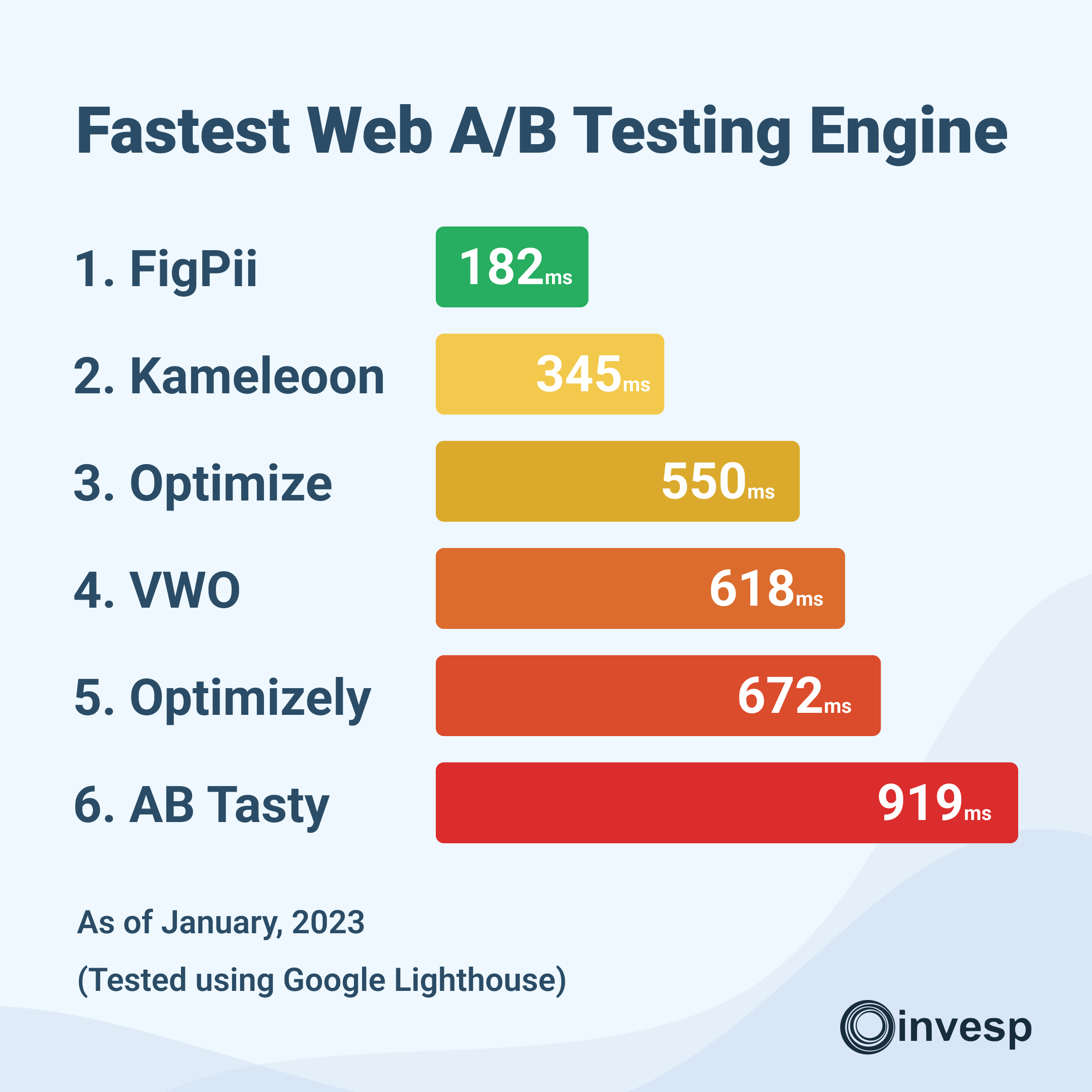 The longer it takes for variations to load on these A/B test engines, the more the tool is prone to a flicker effect.
A flicker effect in A/B testing is when the original page shows up before the variation loads.
This is bad for tests because if your site visitors see the flicker effect, it increases their distrust levels, leading to a higher bounce rate and a longer time for your test to reach statistical significance.
Conclusion
Google Optimize is not a perfect tool. Yes, it still has some missing features, but it's a reliable A/B testing tool for dynamic and straightforward experiments. And it has most of the features you will find in enterprise tools. Despite all its shortcomings, Google Optimize's seamless integration with other Google products is a competitive advantage over other established tools. 
To get started with Google Optimize, click here.