Lessons from trying to Grow our Email list by 1000 Subscribers in 3 months

It's very rare for someone to read this blog for the first time and hire us on that same day.

Instead, when a reader engages our services, this is what typically happens:

Day 1 – They arrive on the blog via a referral or organic search and read a post or two. They find the posts insightful, view our About and Services pages, and sign up for our newsletter.

Day 7 – We send them our newsletter sharing some useful insights and tactics. They continue reading our posts.

Day 14 – We continue sending them insightful content via email. They continue reading our emails – but they don't sign up at this step.

Day 60 – The subscriber continues to read our newsletter and our weekly blog posts. They start showing interest in what we do at this stage, and they even attend our webinars. 

Day 100 or more – They continue following our content both on our blog and newsletter. They think of improving their conversions, visit our Services pages, and then they might reach out to us. 

All this goes on to show how valuable our newsletter is as a marketing tool. 

Even when we launched our first CRO Mastery Course sometime last year, most people who bought it came from our email list. 

Khalid says that they started building the list on the very first day of the company – thus 15 years ago. 

Today the list has 34k subscribers – just six years ago, we had 24212 subscribers. 

And we are still looking for ways to grow it. In fact, one of my goals in the previous quarter was to get 1000 more subscribers in 3 months. 

In this article, I'm going to talk about the tactics I used to do that.

Publishing Consistent Blog Posts 

Consistent blogging is one of the most effective ways to grow your email list. And as I have already mentioned before, in our case, most people start off as our blog readers before they subscribe to our blog. 

If your blog posts are interesting, more people are likely going to subscribe. 

The more people enjoy reading your blog posts, the more subscribers you can get. And you can also use your blog content to feed your weekly newsletter. 

Knowing how popular this blog is (it gets over 3.000 daily visits), I decided to take advantage of it and use it as a tool to grow our email list. 

Our blog is divided into several categories – conversion rate optimization, eCommerce, infographics, marketing, etcetera – and our readers fall in of the following categories: 

Marketers who are into CRO

Executives of SaaS, eCommerce, and Lead gen

Startup founders interested in learning more about CRO

Knowing how different our readers are, we also segmented our list to serve every subscriber with relevant information. Despite having other job titles, fortunately, our readers have one thing in common: they are interested in learning something new.

Back to the story: As I said…my plan was to take advantage of this blog, publish 12 articles in the space of three months – thus 1 article every week.  

So, after publishing 12 articles…how did it go? Did blogging work? 

After being consistent for the whole three months, I started seeing an increase in the monthly traffic. To be more precise, the monthly blog traffic increased by 30%. 

Content Distribution 

Producing content is one thing, and distributing it is another. 

We put in a lot of effort creating content, so it only makes sense to distribute it to reach our ideal audience. 

But most marketers usually don't distribute their content because it's time-consuming. 

Content distribution is not about posting an identical copy on every platform – every copy has to be tailored to each forum if you want to get traction.

ALSO READ: Designing A Content Engine: How To Create & Distribute To Drive Results

Although I wasn't consistent in distributing content this quarter, I've to say I'm a big believer in content distribution. I consider content distribution as a critical piece of the content marketing puzzle. 

So how do I usually go about content distribution?

I'm glad you asked…

Our content distribution strategy is simple. Every latest blog post we publish is promoted on different platforms. This means that one article is turned into a: 

Twitter thread

LinkedIn post

Instagram slid 

Indie Hackers long-form article article

Facebook groups 

Slack groups

We take the same approach when we host a webinar. One webinar video is cut into short video clips that can be shared on different social media platforms. 

When distributing content, I always avoid redirecting people to our blog. I try to provide value upfront and then politely ask readers to subscribe to our newsletter. If they find the content valuable, they are more likely going to subscribe.  

Launching Facebook Ads 

If you want to know the nitty-gritty of how these Facebook Ads played out, go check out the article before this one, you will find a detailed explanation there. 

ALSO READ: My experience running Facebook Ads to get more newsletter subscribers 

My budget for the Ads wasn't too high, but it was decent for an experiment. 

The budget was $350. And the daily budget was $15. 

So I launched two ads, the first one was an image and the second one was a gif, and they all had different copies. The first ad had a short copy, and the second one was a bit lengthy: 

48 hours after launching the Ads, the first Ad had reached 2,377 people. And only 26 of those people had clicked on that ad. Of those 26 people, only 12 of them subscribed, and $31,14 had been spent. 

In the same period, the second Ad had reached 4,120 people. And only 67 people had clicked on it. Of those 67 people who clicked, 31 of them became subscribers, and this was after spending $39,71. 

So after two days, I had gained 43 new subscribers, having spent $70,85. This means that every subscriber had cost $1.65 to get. If you do the maths, you'll see that a budget of $350 means getting 212 subscribers. 

Implementing exit-intent popup

Popups can be so annoying, and they can affect user experience sometimes.

We have been using popups for years now, and even though they have a low conversion rate – we can't deny that they are effective. 

When it comes to popups, the secret is to be mindful of your timing and always make sure that they add value. 

Just like you wouldn't ask your date to marry you after your first dinner together, launching a popup seconds after a visitor lands on your site isn't the most sensible approach.

To avoid distracting users when they are reading our blog, I use an exit-intent popup that appears when a visitor is about to exit the page they are on, and it only shows once per visitor:

 

A big chunk of our blog readers use desktop – and this is why the popup is only set up to appear on desktops only. 

We used Unbounce to design the popup. And this is what it looks like: 

After running the above popup for months, it had a conversion rate of 0.67%, and about 271 people had opted-in our emails using it. 

Using Personal Brands 

According to Wikipedia:  

"Personal branding is the conscious and intentional effort to create and influence public perception of an individual by positioning them as an authority in their industry, elevating their credibility, and differentiating themselves from the competition, to ultimately advance their career, increase their circle of influence, and have a larger impact."

A solid personal brand can earn you subscribers too. 

I mean, if you can boost your career and earn social media followers using your personal brand, you can also use it to grow your email list. 

The downside of it is that you can't really measure how many people signed up to your newsletter because of your personal brand – but people always want to stay connected to people they really like – whether it's on Social Media or email. 

Our Co-founders, Khalid and Ayat, have been in the marketing trenches for years, and they have strong personal brands. Some people actually subscribe to the invesp newsletter because they have heard either Khalid or Ayat speaking at a conference or on a podcast: 

So I always take advantage of their personal brands, do a podcast outreach for them and try to get them to appear on different podcasts as much as I can. The more they appear on podcasts, conferences, or webinars, we are guaranteed subscribers.  

Using Our Facebook Group 

If your brand doesn't have its own Facebook group, you're missing out on a tool that can help you improve customer relations, drive engagement and grow your email. 

We started a group – Conversion Rate Optimization Experts – in November 2019, and we were very intentional about who we want to be part of the group – we don't just let everybody in, only those who fit the bill. 

When starting a Facebook group, you have to be clear on what problem your group will solve for participants and who the group is for. 

Our group is a safe space where marketers can ask questions about CRO and get instant answers from experts in the group. 

Right now, the group has 1.5k members, and it's steadily growing: 

Not everyone in the group is subscribed to our newsletter. We always ask for opt-ins the right way. Here's how we do it: 

We are quite aware that not everyone who requests to join our group knows us – so we don't force anyone to hand over their email address. Of every 10 people who ask to join our group, 4 of them opt-in to our email list, and we are okay with that. 

One last thing  

Webinars can also be an excellent source of both newsletter subscribers and lead for Invesp. We are big believers in webinars, and we usually host them every quarter – but, in the last 3 months, Invesp didn't host any. A webinar requires a lot of preparation, and we don't just host webinars just for the sake of it. We always want to make sure that our attendees walk away with practical, valuable frameworks or tactics that they can use right away. 
Simbar Dube
Simba Dube is the Growth Marketing Manager at Invesp. He is passionate about marketing strategy, digital marketing, content marketing, and customer experience optimization.
View All Posts By Simbar Dube
Join 25,000+ Marketing Professionals
If you enjoyed this post, please consider subscribing to the Invesp blog feed to have future articles delivered to your feed reader. or,receive weekly updates by email:
Connect with us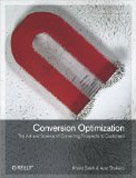 Conversion Optimization
The Art and Science of Converting Prospects to Customers
By Khalid Saleh and Ayat Shukairy