Why CRO Should Be A Priority For Omnichannel Retailers

The customer journey is changing, and so is the way we shop. With the advent of e-commerce and mobile devices, customers increasingly purchase in various online and offline channels while seeking a seamless shopping experience.

It's essential for omnichannel retailers to improve their customer experience across multiple channels continuously. 

To do that, they need an omnichannel strategy — whether through product descriptions or the checkout process. One such way is through CRO (conversion rate optimization). 

Conversion rate optimization (CRO) helps companies improve the percentage of visitors who complete a desired action when shopping online on their website — like signing up for an email newsletter or making purchases. 

Here are some ways CRO can help retailers:

What Is Conversion Rate Optimization?

Conversion rate optimization (CRO) is an approach that helps businesses increase the percentage of website visitors who complete the desired action. 

CRO can include everything from testing different headlines on banner ads or which post-purchase follow-up email message gets the best response rate, all the way up to redesigning entire checkout processes based on customer behavior patterns.

Reasons CRO Is Critical For Omnichannel Retailers

1. To give customers a better experience

According to statistics, 32% of customers say they will leave a brand they love after one unpleasant online shopping encounter, while 92% say they would walk away after two or three bad experiences.

And that's where conversion rate optimization comes into the picture. 

CRO can help you improve your conversion rates across all your different channels — including mobile, desktop, and desktop apps. This means that you'll see an increase in conversions across all your channels rather than just one or two. 

For example, if someone visits your website but leaves without purchasing anything and then later returns via email or social media advertising, they might still become a customer if they're given more information about what they're buying or how much it costs before making their purchase decision.

In a case study of Zen Windows, the brand was able to give customers a better experience after it redesigned the visitor flow. 

Have a look at the design of the old visitor flow:

This is the new design:

The redesign made navigating the website easier; the company saw a conversion rate of 2.95% after the redesign, which in turn, increased their conversion rate to 2.95%.

2. To reduce friction in user journeys.

In the omnichannel retail world, CX is about creating a seamless user journey for customers wherever they are in the world.

The problem for eCommerce store owners in the retail industry is that there's no one-size-fits-all approach to CX. 

The way we shop online and in store is different from country to country, so every retailer needs to tailor their strategy accordingly.

In a case study of Ecwid, a SaaS company that deals in online store setup and management, the company used CRO to boost the rate of initial free plan sign-ups, have more users upgrading to their paid plan, and create a smoother onboarding process.

Ecwid added a new progress indicator showing their users had completed 15% of the steps toward creating an account after they completed the first step. 

Before this change was made, users did not take any further action after completing the initial sign-up. Ecwid saw an increase of 21.3% in the rate at which paid accounts were being upgraded by English-speaking users after they made this change.

Here are five more tips every omnichannel retailer should follow to reduce friction in their user journeys:

Use AI technology to personalize your website and social media channels

Use chatbots on your website or Facebook Messenger to answer common questions

Reduce the number of clicks necessary to complete an action on your website

Offer localized payment options wherever possible

Provide multilingual support

3. To drive online sales

Conversion rate optimization is one-way business owners in the retail industry can help drive online sales.

A successful omnichannel retailer needs a seamless cross-channel experience that allows consumers to make purchases on any device and in any location. 

And that means a lot of different things for retailers:

Mobile optimization. Your website needs to be mobile-friendly so customers can use it from their phones or tablets, which can be a challenge when you're trying to build an online store for both desktop and mobile users at the same time.

Integration with social media sites like Facebook and Twitter so customers can share their purchases with friends without ever leaving your site.

Regularly updated inventory so shoppers know at all times if an item they want is available in their size or color preference before they place an order and have their credit card charged.

In a case study of Protalus, an insole manufacturer, the brand boosted its direct sales by 91% within just six months by making CRO and one-click upsells a priority.

                                 (Source)

The brand made changes, such as allowing customers to upgrade to expedited shipping free of cost in the headline and adding celebrity testimonials. They also started using a long-form page, which gave them a 58% lift in conversions.

In addition, make sure you're matching your online offer with your customers' needs in real-time. This means using data from your website and other channels to understand where they are in the buying process and what they want to buy. This also means using data to personalize messages, offers, and calls to action based on each customer's history with your business.

4. To improve the shopping experience across all channels.

Conversion rate optimization helps Omnichannel Retailers improve the shopping experience across all channels (online channels and brick and mortar stores). That's because it focuses on helping customers complete their purchase, regardless of where they're trying to purchase from or how they're doing so.

For example, if a customer is looking to buy something online but has some questions about the product or shipping options, they may need to call customer service for help. If the customer service rep can't answer those questions immediately, then the customer may abandon their purchase and go elsewhere (or just wait until later).

This is where conversion rate optimization comes into play. By tracking multiple touchpoints between a customer and a brand — including phone calls, emails, and chats — CRO teams can identify improvement opportunities to increase conversion rates. 

This can be done by tweaking everything from product descriptions to contact forms to make them more user-friendly and appealing to customers at every stage of their purchasing process. 

The first step is to identify what makes customers leave your site before they complete a purchase. You can do this by analyzing Google Analytics or another analytics tool. 

You'll want to look at things like:

What pages do people visit before leaving the website

How long do they spend on each page

What keywords do people search for before leaving

What devices do people use when visiting your website

For a better shopping experience, you can also offer loyalty points or rewards to your customers. 

For instance, the Starbucks Rewards app allows users to earn a reward through the digital reward card whenever they purchase. The points can be redeemed for discounts and other perks later on.

                      (Source)

That's not all. Customers can add extra funds to their cards online, in-app, in-store, and over the phone to shop in-store and online. The reward program operates in a truly omnichannel functionality.

5. To increase conversion rates.

Conversion rate optimization helps you optimize every channel of engagement so that you see an increase in conversions across all channels. 

To help you get started with CRO, here are some ways that it can help omnichannel retailers increase their conversion rates:

Define Your Customer Persona 

Optimize Your Website's On-Page Elements 

Create an Effective Call-to-Action (CTA) 

Use Social Proof Elements to Boost Trust in Your Brand 

Build Trust through Product Reviews

A/B test your opt-in forms and landing pages 

For example, SafeSoft—a company that offers multichannel marketing automation services—wanted to generate leads via its contact form. 

                                    (Source)

They needed to decide whether to include the price on their page or not. To affirm, they performed an A/B test and found that including the price on a large green button boosted the number of leads they generated by 100%.

6. CRO increases customer satisfaction, and satisfied shoppers will stay loyal to your brand.

Customer satisfaction is one of the most important metrics for any business. If you cannot meet the needs of your customers, they will not return to your business. Satisfied shoppers will also be more likely to recommend your brand to others and stay loyal to your business.

Here's the good news: you can make sure your customers have great experiences with your brand by optimizing your website for conversions.

To increase customer satisfaction and keep your customers coming back, it's important to understand what they want. 

Here are some tips:

Make sure your website is easy to use and navigate.

Provide clear and detailed information about products or services.

Respond quickly to questions and concerns.

Offer discounts or special deals for returning customers, such as free shipping or free return shipping.

Include testimonials from satisfied customers on your site or in emails you send out to current customers.

When done right, CRO will help you turn visitors into customers and increase long-term revenue by improving the user experience.

Final Thoughts.

Whether your omnichannel efforts focus on your online store or brick and mortar business, it's clear from the research trends that CRO will become even more important in retail over the next few years, especially in mobile channels. 

Omnichannel retailers are at an advantage because they have a larger potential audience. By knowing what works to convert unique audiences across these channels, ecommerce businesses can compete and win in an omnichannel world.
Join 25,000+ Marketing Professionals
If you enjoyed this post, please consider subscribing to the Invesp blog feed to have future articles delivered to your feed reader. or,receive weekly updates by email:
Connect with us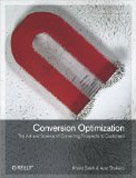 Conversion Optimization
The Art and Science of Converting Prospects to Customers
By Khalid Saleh and Ayat Shukairy