Just spot some glaring FUDs-creating elements on your site? No problem, you can still increase visitors' trust on your website by using incentives.
Incentives rank high among the best ways to counter visitors' FUDs. With a few incentives in place, visitors might ignore the flaws on your site and move forward in their conversion journey.
Consider how you would respond to incentives when faced with a great purchase decision.
Let's say you have to make a quick decision on a notebook. You have done your research and selected the best brand and features you would like. Now your choice comes down to two stores where you can make the purchase: 1. a well-known store, and 2. a virtually unknown store that has an amateurish design and appeal but offers a 20% discount.
Where would you choose to buy your new computer? It depends, right? But even if you choose the first, reliable store, we all know that you are going to stop for a moment and consider the second choice.
This chapter of our guide helps you in creating efficient incentives for your website visitors. We will introduce the three categories of incentives you can use, list types of each category, and show examples of successful copy. By the end, we compare the economic and emotional outcomes that incentives stimulate on a potential customer, so you can choose the ones that best apply to your business.
What are Incentives?
For conversion optimization, incentives are factors that motivate the visitor to act immediately. They play on the potential customer emotional motivation by increasing the reward for action and reducing the emotion of regret.
While discounts offered on the website are the first that come to mind, they are by no means the only incentives you should provide.
In some occasions, online purchases are driven by moral incentives. For example, when Haiti was devastated by a 2010 earthquake, many e-commerce companies pledged a percentage of the customer's purchase would go to aid victims of the quake. This type of incentive persuaded visitors to buy not only to satisfy a personal need but also to contribute to a cause. Moral incentives lift that guilt of making the purchase since users simultaneously donate to a good cause.
One of our clients used moral incentives to engage their customers with a greater good for their purchases. With the "Coloring for a Cause" initiative, our client encouraged customers to complete their purchases as a way of helping young kids find the means to follow artistic dreams.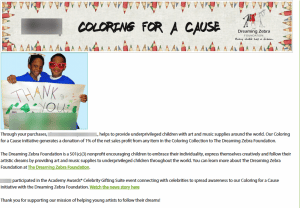 With the goal of getting visitors to act immediately, incentives fall, in general, into one of these three categories:
Price-based incentives: using special pricing to motivate the visitor.
Offer-scarcity incentives: using quantity factors to motivate the visitor.
Offer-urgency incentives: Using time factors to motivate the visitor.
1. Price-based Incentives

Price-based incentives are financial factors that motivate and persuade buyers to take action and complete a purchase. The special pricing provides users financial gain with their purchases.
The ease of comparison shopping and accessibility to multiple stores has weakened the store loyalty phenomena online. For most online shoppers, the best overall deal drives their decision.
Visitors are purchasing not merely a product but, rather, an entire bundled experience. Although engagement tactics promote store loyalty, incentives still have the strongest influence on the buying decision.
Price-based incentives impact consumers purchase decision by affecting the perceived economic outcome as well as the emotional outcome.
According to a study conducted by the Nielsen Group, price is the main driver for customers to switch their behavior. Almost everywhere in the world, except for Asia-Pacific, better price is the first-rank variable for affecting buying decisions.
Some price-based incentives you can use:
Buy-one-get-one-free opportunities
Free shipping
Freebies
Product bundling
Lower pricing and savings
Buy-one-get-one-free
Justfab.com, for instance, uses a "buy-one-get-one free" incentive on their website, for new VIP members, as displayed in the image below.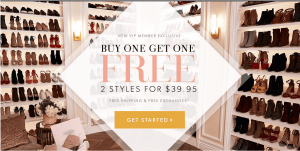 If you pay close attention, you will see Justfab.com also offers an extra irresistible incentive for online purchases, the famous "free shipping." The best way to attract your visitors' attention and engage them is by using free shipping incentives.
Free Shipping
Free shipping is the number one incentive for online shopping, for 9 out of 10 consumers or visitors.
On a side note, a smarter way of using free shipping as an incentive can be combining it with an urgency factor. It helps you to convince your visitors to act quickly in the buying process.
Dickssportinggoods.com uses free shipping and free returns with price-based incentives to impact their conversions.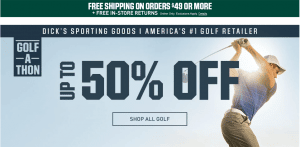 Just using incentives does not guarantee an automatic increase in your sales.
The way you conduct the incentive offer is a key parameter for reaching success. Make sure that incentives used on your site are not ignored by visitors. The offer must be presented in a way that catches the eye of visitors in a matter of seconds.
In order to show you the effect of incentives more clearly, here is a real-life example which we experienced with one of our clients, as we helped this billion-dollar company improve the conversion rate of their website by using incentives and increasing visitors' trust.
One of the main things we did with our client was making the banner and free shipping incentive more prominent by using bigger top banner with a larger font and a contrasting color background. To better understand all reasons behind this approach, check our full case study.
You can see below the before and after of the banners. The variation worked better in catching visitors' attention and resulted in a 6.89% increase in conversions.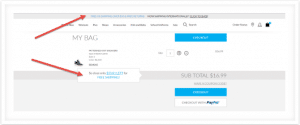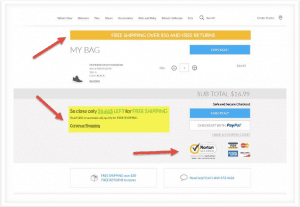 Free-trials or Freebies
You can also incentivize your visitors is by offering free-trials or freebies.
"Free" is the key word for any person no matter which country they live or what personality they have. Offering a free trial of a product or a service can satisfy their expectations and convince the visitors who are doubtful about buying. Or you can even convince the visitors who are just intended to use free version of the product by over satisfying their expectations.
Since switching costs are high in terms of monetary and psychological reasons for some products and services, people are not willing to change their purchasing habits on a whim. Price, trust, loyalty, effort, time, and habits can play a significant role in switching costs.
To address these customers' concerns, the free chance of using your service, brand or product is a great way to encourage prospects to try out your offers. If you use this first chance with success, they might give another chance to using your actual products and services. Freebies are great tools for market development and market penetration.
For example, in our website, we provide our visitors a "free" e-book about Multivariate & A/B testing. It is a helpful way to get insights about online testing, growth hacking, and conversion optimization, while learning more about how we conduct our services.
To illustrate it in another way, one of the most common freebies or free trial products you can find are women cosmetics and baby oriented products. As women and mothers get used to specific brands, they do not change their preferences easily. As you see below, you can test Hydra-genius for free, before buying the product:

For freebies, you can also consider providing a bundled item with your products on sale. People love gifts associated to purchases. They start thinking of the benefits they get from bundled products. Their scent will be boosted by additional benefits.
Product Bundling
Bundled products can be free gifts or discounted items. The most important metric should be the relevancy with original product, for instance, a free glass with company logo for a beverage brand, or a discounted or free hair cream as a bundled item with a shampoo. The role of additional items is generally complementary in terms of usage or function.
As you can see in the image below, a free starter kit is offered with the actual product. In my perspective, the starter kit looks very useful, with the wireless charger stand, clear cover, and the screen protector. I seem to hear the visitor's reasoning, "I was going to buy all these anyway."

For example, in our website, we provide our visitors a "free" e-book about Multivariate & A/B testing. It is a helpful way to get insights about online testing, growth hacking, and conversion optimization, while learning more about how we conduct our services.
To illustrate it in another way, one of the most common freebies or free trial products you can find are women cosmetics and baby oriented products. As women and mothers get used to specific brands, they do not change their preferences easily. As you see below, you can test Hydra-genius for free, before buying the product:
Make sure that the gift items you bundle with your product or service is related. It should play an accelerator role in the decision making. Lots of people tend to choose bundled products. It saves not only money but also time and effort for them. They are aware of that they do not have to browse and waste time for these complementary items needed with original product.
Lower Pricing and Savings
Lower pricing and savings are great incentives as well. Some valid options to consider are coupon codes for a determined period, for first-time visitors, or for the first purchase.
You can offer coupon codes for seasonal trends or in a timely basis. It depends on your conversion performance in specific days, weeks or months.
You can also use coupon codes as a direct discount or as savings and rewards. As rewards, each purchase with a coupon code might give extra points or discounts only usable for future purchases on your website. This way you convincing customers to buy more and earn more points. The brand below, in fashion industry, uses "store credits" as incentives for customers to make new purchases in the future.
Coupon codes are the most common way of offering lower pricing. But discounts and saving may also be associated to email subscriptions and sign-ups. These incentives convince your visitors to both buy something and to register to your email list, which can also help you to develop your customer loyalty program via emails.
To some extent, offering on site usable earnings is also a way of creating customer loyalty programs, as an incentive. Starbucks's loyalty program, for instance, is very comprehensive and it is one of the most-known cases for customer loyalty.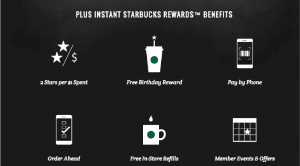 Price-based Incentives vs. Value Proposition
Some marketers confuse incentives with the company's unique value proposition. They fail to recognize that value proposition goes deeper than an incentive of free shipping or 10% discount.
The value proposition defines your company and refers to the way your store positions itself in a growing competitive market, while incentives are a complement of that value. As a company, what value do you provide your customers?
For instance, Zappos.com is well known for the customer service value they provide, and the incentives of free shipping and 365-day returns they feed into that value.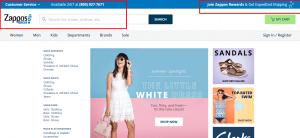 Stores cannot define their value only with incentives; these are simply a way of enhancing the customer's experience. Incentives persuade the visitors to complete the purchase. However, it is the value proposition that reels visitors into the site and peaks their interest.
2. Using Scarcity to Increase Online Conversions
What is the secret sauce of conversion rate optimization? Understanding your visitors' psychology.
Scarcity is one of the useful ways to affect your visitors' psychology, by using quantity factors to motive visitors to act immediately.
Since a limited number of an item is available, scarcity increases as more is sold and less of the product is offered. So, website visitors compete against other customers who are buying the same item. E-commerce sites can create a sense of scarcity in the mind of their visitors in one of two ways:
Controlling their supply of merchandise
Using design and copy to give the sense of scarcity
The goal is to create a psychological pressure on visitors. Offline stores have used the principle of scarcity efficiently to boost their sales (think of empty shelves in some stores).
Consumer behavior studies tell us that scarcity increases both the chance of converting a visitor and his willingness to pay. Copy should be used to motivate visitors to compete for the limited quantity of an item. Successful copy and design must create a sense of urgency as well as a sense of being a "smart shopper" for acting right away.
Let's say you have a business in apparel industry, selling women dresses. A visitor checks a dress which has 5 different sizes and 3 colors; black, white, and blue. You can create a scarcity feeling with specific features of the product, such as blue color or medium size. You limit the number of available products but in a customized or segmented way.
You can also create a scarcity feeling by showing visitors that other buyers are also viewing the same specific product. So, visitors feel they need to hurry up to act before the product gets sold out, since it is getting so much attention and desire from other buyers.
Keep in mind you need to be careful with these strategies because you might bring in negative results by overdoing them.
Copy & Design Examples of Scarcity
Examples of copy to indicate scarcity include:
Stock limitation: Only 10 units available / Only 5 units left in stock
Quantity counters
You can see how the brand below chose to highlight scarcity for clothing sizes, indicating "low stock" and "sold out."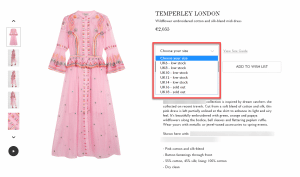 In the example below, you can see the exact quantity of the item in stock.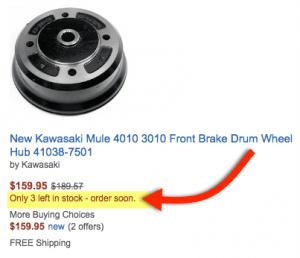 Notice how Orbitz.com uses scarcity by letting visitors know that there is a limited number of seats available on a particular flight:

3. Using Urgency to Increase Your Website Conversions
Urgency uses time factors to motivate the visitor to act immediately. When a visitor feels his freedom of choice is threatened, he most likely acts to remove the threat, entering in a motivational state to safeguard his interests. Time restrictions increase purchase motivation by creating a sense of urgency and anticipated regret.
Urgency starts with choosing a deadline.
To establish a sense of urgency, you must make an offer which expires with the deadline. After the deadline, the offer will not be available. The visitors' sense of urgency increases as the deadline approaches. You must use design and copy strategically to induce urgency in the minds of your visitors.
Design and copy examples
Examples of copy to increase the buyers' sense of urgency include:
Buy now or you won't get it tomorrow
Sale ends this Thursday
Noticed how Bestbuy.com uses Black Friday to create a sense of urgency: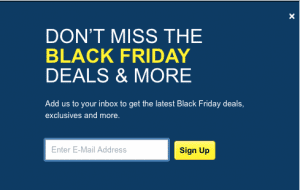 Amazon.com uses urgency in multiple areas of its website: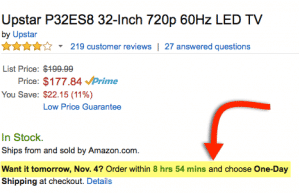 Combining scarcity and urgency can also be useful to make your visitors act rapidly, especially for ticketing and travel industry. See how Viagogo.com combines scarcity and urgency: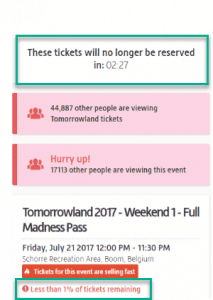 Thebay.com, for example, uses multiple types of incentives (free shipping, price-based, and offer-urgency) on the same banner:


Offering a price-based incentive for a limited time can also be effective. Think about limited time price-based incentives, as "happy hour." In the slowdown periods in the day, happy hours work very-well for brick-and-mortar stores. The same logic is practicable on online stores. You can create your own happy hours by combining time-limit and price-based incentives for periods and seasons of lower conversions on your site.
Key Takeaways
Urgency and scarcity use emotions to drive decision making.
Most consumer behavior research stresses the impact of cognitive factors on the decision-making process. However, both urgency and scarcity play on visitors' emotions, such as anticipated regret ("if I do not act now, I will miss out"). While price-based incentives focus on perceived economic outcomes, scarcity and urgency add emotional effects to the mix.
Urgency and scarcity differ from each other. Both push the visitor to act right away, but they create action for different reasons.
Scarcity produces a feeling of competition against other visitors. In urgency, instead of competing against other potential consumers, the visitor must meet your deadline to take advantage of the incentive.
While both methods are excellent in driving conversions, if they are overused or used with no actual consequence, their value and impact on visitors decrease.
To engage visitors, proper incentives are one of the most powerful tools you can use on your website. However, overdoing incentives will harm your business credibility.
Make sure that while combining your incentives, or using them alone, your visitors do not get frustrated. Keep in mind that if you start bluffing your visitors with fake scarcity or urgency, sooner or later you are going to destroy your visitors' loyalty.