Guiding you through higher conversion rates: 8 principles and 250 elements of the Conversion Framework
What is the Conversion Framework
The Conversion Framework is a structured approach designed to increase website conversion rates by providing online visitors with an exceptional user experience. It provides the blueprint to a process of architecting websites that converts more visitors into clients. The Conversion Framework was built using the science and art of analytics analysis, marketing, usability and software. The framework will
Increase revenue by converting more of your website visitors into customers through creating a client centric website
Provide a roadmap to maximize conversion across multiple channels and campaign reaching customers with various buying preferences, personalities, and at different buying stages.
Turn your analytics data into actionable items you can implement
Achieve higher ROI for each of your marketing initiatives
The Conversion Framework is a step in the right direction. As of August 2008, we tested the principles of the framework on 30 different websites and landing pages. The framework allowed us to achieve an average conversion rate of 14.56% during 2007and 9.2% during the first 6 months of 2008.
Elements of the Conversion Framework:
We have established 8 principles to the conversion framework that translate into 250 elements utilized to test and evaluate your website:
1. Beyond market segmentation: Persona Creation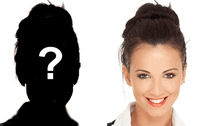 Your site layout, navigation, design, and web copy must persuade visitors to take an action. All elements must be strategically placed to cater to every single visitor's needs. However, that is easier said than done.
Countless number of different personalities, desires, buying stages and needs make up the mosaic of visitors who enter your website on a daily basis. Trying to appeal to the masses means pleasing no one in particular. That is the real problem with this typical approach of market segmentation. When the focus of your copy is on a few select personas, your message is fine tuned. The process of persona creation considers all of your market segmentation data translating it into hypothetical individuals that represent your target market. These personas are utilized to optimize all elements throughout your website or landing page.
2. Build the user confidence: Trust
Before a user is ready to make a decision to buy or convert into a client, they need to gain confidence in your business and products or services you offer. Elements of trust and confidence must be apparent throughout
site design and navigation
performance
security holes
product and services presentation
unique value proposition
continuity and congruency
3. Engagement
Creating a "sticky" website or a landing page usually translates to an increase in online conversion rates. A sticky website is one that entices visitors to spend a longer time, come back to visit, bookmark it, and/or refer others to it. How does stickiness impact online conversion rates?
We have concluded through our research that the more a user spends on a successful website, the more familiar and invested they are in it. Familiarity breeds credibility. Visitors are more likely to convert on websites which they consider to be more credible.
When Amazon.com first added reviews on their site, it was a sure way to bring people back to visit them again and again. The idea was born from a simple observation: How do people choose what book to read next? They ask their friends and family for recommendations. Take a simple concept like that and apply it online allowing users to see what other people recommend and you've created a strong "stickiness" level by continuously engaging your visitor.
Creating an engaging website is more complex and competitive nowadays and definitely takes more than adding product reviews. That is where the Conversion Framework will help you identify what would appeal to your target market and how to create the tools and content that will bring them back.
4. Understand the impact of buying stages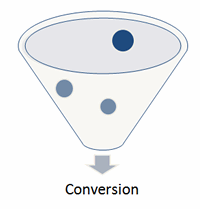 Not everyone who lands on your site page will convert into a client. While achieving 100% conversion rate is clearly impossible, no one should settle for 2% conversion rates either.
Sellers are usually focused on their selling process. Buyers on the other hand come to your website with their own agenda. Some are just browsing, others are looking for specific information or comparing prices, and others are ready to make a purchase. Each of these stages requires site elements to be designed and structured in a certain way to deliver the information the visitor is looking for.
5. Deal with fears, uncertainties and doubts
People are cynical, especially on the internet. Your visitors enter your website with fears, uncertainties, and doubts (FUDs). Why? We've all heard of the many scams and rising fears of identity theft. We may know someone who has had a bad experience buying online, handing out their sensitive information. There is always certain anxiety one feels upon entering a site. Will I like what I buy? What if I don't? Will this service give me the results I am looking for? Is this worth the investment?
The Conversion Framework is designed address the questions, concerns or objections of your visitors. Dealing with FUDs head on will help relieve anxiety and areas that have an increased level of friction.
During the persona creation process, we consider what exactly would motivate a prospect to purchase your products? And more importantly, what would stop them? What concerns are the visitors fueled with upon entering the site?
6. Calm their Concerns: Incentives
Incentives are a great way to counter FUDs and relieve any friction that may cause a visitor to exit your site. Incentives are so effective that visitors may often overlook disengaging copy, poorly written headlines, and the absence of a value proposition. However, if not used correctly, incentives will not support your conversion process.
The Conversion Framework will help you maximize the effectiveness of your incentives from the way they are phrased to their placement on your site.
7. Test, Test, Test

Testing is at the very heart of every conversion optimization project. In our practice, clients who deploy any form of testing (A/B or multivariate) report on average 20% increase in conversion rates. While testing is an effective process, it is only as good as the team that is employing them. Our methodology is built upon the initial investment of understanding website visitors and creating personas. By doing so, we are able to avoid testing endless number of scenarios. We work from the ground up, maximizing optimization to reduce testing scenarios by 65%, thus saving our clients a lot of money and headache.
8. Implement in an iterative manner
Any successful online project must be delivered in an iterative manner. By following a dynamic approach, there will always be room for improvement. Once a page is ready on your site, it will be used as the baseline for future optimization work. We then define new conversion goals and work towards achieving them. Because visitor response to online change is immediate, we like to build smaller blocks, make smaller changes, and test them and improve their performance. Using analysis as a driver of the enhancement process will help you achieve stronger results, faster. Remember: Plan, Implement, Improve.
The history of framework
Over 12 years of experience with e-commerce gave us the insight that simplifying and making the web experience more effortless for visitors will translate into higher conversion rates. However, we were not trying to sell our clients on providing excellent or exceptional visitor experience only. Judging on what we had seen on websites, a "good" experience was never enough for us. Prior to Invesp, our team designed enough e-commerce systems to fully realize the role which visitors played in the design process; it was minimal at best, and in most of the cases it was non-existent.
Our first conversion optimization projects proved to be great success. But we knew that in order for us to continue on the same path, we had to establish a repeatable methodology that was implementable across different e-commerce channels and verticals.
The Conversion Framework is easily customizable to meet the needs of the varying target markets, e-commerce specifications, and business challenges that every company has. Our methodology is always a work in progress, we continue to test new strategies and fine tune some of the methods of the framework as we work with more clients.
If you would like to learn more about the framework, visit the Invesp blog where we post many of our findings or research on a regular basis. We also explained many of the underlying framework principles in our book, "Conversion Optimization: The Art and Science of Converting Prospects to Customers."
Each of our conversion optimization services, including full website optimization, conversion recommendations report, or landing page optimization, is implemented using the Conversion Framework. Contact us today to learn more.