Post-purchase CRO: How to re-engage customers after they have purchased

Often times e-commerce companies reach out to Invesp when they want us to help them boost their conversion rates. 

Most of these companies would have invested in SEO, paid ads, or both channels, and they would be getting tons of traffic. But their conversion rate would probably be average or below industry standards. 

So, our CRO team swings into action, conducts customer research (quantitative and qualitative), and create a CRO roadmap that is aligned with the client's business objectives. 

Soon after, sales shoot up, revenue goes up, cart abandonment rates come down, and the clients are happy.

But some assume that's all there is to CRO – optimizing for the first sale.

The truth is conversion rate optimization doesn't stop when new site visitors make their first purchases with your business.

The true power of CRO is seen not just in the first sale but in repeated sales from the same customers and first-time purchases from new site visitors.

In this article, we'll define what post-purchase CRO is, how to re-engage customers, prioritization: how to get repeat sales from customer insights, improving customer experience: where to start from, and post-purchase CRO metrics to track.

Ready to learn something new?

Let's get started.

What is Post-purchase CRO?

Post-purchase CRO is any conversion rate optimization activity done after a customer has purchased to get them to make more purchases and improve the business's bottom line.

The reason for post-purchase conversion rate optimization is to optimize for customer retention and increase average order value (AOV).

According to one of our studies, it costs five times more to attract a new customer than to keep an existing one. 

This means with the right post-purchase CRO tactics in place; you can get more sales from existing customers while spending less on acquiring new site visitors to spend their first dollar with you.

How To Re-engage Customers 

In a bid to get repeat sales from a target audience and turn them into loyal customers, there's a mistake I see many businesses make, and that's redesigning their website.

Many business owners think a new site design will automatically make the products more appealing and the buyers open to more purchases.

That's wrong.

Getting second, third, and more purchases from your customers doesn't start with putting up more offers or creating more coupons, or a site redesign.

There are two post-purchase CRO concepts that can help here.

The first is about increasing AOV and improving customer experience, which leads to repeat sales.

The second is all about having meaningful conversations with customers.

In this context, meaningful conversations are defined as communicating with customers to understand better their wants and objections and what offers will lead them to purchase more.

In this section, we'll look at the post-purchase CRO tactics to increase AOV and improve customer experience and three ways to have meaningful conversations with customers.

Post-purchase CRO tactics to increase AOV and improve customer experience

1. Optimizing the thank you page

A lot of ecommerce businesses have a thank you page set up that pops up as soon as an order is placed. 

Many of these thank you pages show a bland message of 'thank you for your purchase,' check your email for shipping information, etc.

Here's an example of such a thank you page;

The copy isn't appealing; there are words there that should have links but don't like 'if you're enjoying your Kuat product, please post a review to MTBR,' there are no upsells or cross-sells too.

Note: the thank you page after a purchase is a sweet spot to increase your business AOV. 

How you do this is simple, don't just say thank you, offer complimentary products applicable to the one the customer just ordered.

Here's an example of a properly optimized thank you page featuring a complementary product.

Professional tip: You'll want to tackle buyer remorse in your thank you page copy.

Buyer remorse is that feeling you get when you just made a purchase, and you feel you could have used the money for something else.

Before asking them to buy more from you, make them feel great about the product they got, how it's essential and beneficial to them, how it's not a waste of money, etc.

Now, you can ask them to get an extra item that will complement what they just got.

This is how to beat buyer remorse, optimize the thank you page, and increase AOV.

2. Email post-purchase

Post-purchase emails are emails sent to a customer who placed an order and is expecting a product.

Here also, many ecommerce brands leave their post-purchase emails to the default settings of Shopify or Klaviyo, which doesn't help the customer experience or inspire loyalty/affection from the customers.

This underrated post-purchase CRO tactic is a great way to improve a customer's experience with your brand, which leads to your brand coming to mind whenever they want to make another purchase.

To do this well, there are five emails to include in your emails post-purchase.

1. Confirmation email

The purpose of this email is direct. Here, you're letting the customer know their order was placed successfully; here's the transaction receipt.

Professional tip: you can also include an upsell here of a complimentary product. The reason why this works is that the customer will check their inbox looking out for a message from you, so this is you taking advantage.

See this example;

2. Shipping confirmation

This is the second email after the purchase confirmation. This second one is to let the customer know that their item has shipped and is on the way to them.

Essential details to add here include the expected day of delivery, pick-up address if this isn't a home delivery, and tracking ID so the customer can see the movement of their item.

Professional tip: these post-purchase emails are about improving the customer experience, so you can include guides (a video) on how to assemble the product, how to use the product, how other customers have used the product, etc. 

This is because it keeps the customer engaged and wets their curiosity.

Here's an example from Chewy;

3. Customer service email

This is the third email, and it should be sent when the product arrives.

Here's what a sample email copy looks like;

"Hi there.

Your purchase should arrive today; let us know if you experience any problems.

Here are more resources to help you have the best experience with your purchase."

This email aims to check in with the customer as soon as they get their product, enquire about the packaging, and if they experienced any problems.

This helps your brand get in front of any problems while simultaneously humanizing the business. The customer gets to feel there's someone in their corner.

4. Review email

The purpose of this email is simple. It's about getting feedback on the user's experience with your product.

This email should go out days or weeks after a user gets the product and has had time to use it.

To make it easier for the customer to leave a review, you can use tools like Shopper Approved.

 It's a reviews platform, where they send out an email that asks for the review, and then it has five stars in the review, and it says, click the star that you want to rate.

Or, you can have them write a short review which you can use as marketing proof on your website and email campaigns.

Here's an example from Bloom and wild;

5. The main email flow

This is the final email send, adding this set of customers to your general email marketing campaigns. These are the emails that go out to everyone on your list, not just first-time purchasers.

Remember, this post-purchase email flow is to improve the customer experience, which keeps your brand top of mind, so instead of sending them emails every time, do this instead;

Add them to a segment that get emails once in two weeks ( the idea is to stay in front of them and not to get them to quickly tire out)

Don't lead with promotional emails; send more helpful ones like – "Father's day is coming. Have you thought about what to get your Dad? Here are some ideas."

Moving on, we'll be looking at the three categories that make up meaningful conversations and how they are a part of the post-purchase CRO.

1. Post-purchase Surveys.

A post-purchase survey is simply one or more questions you show to your customers immediately or almost immediately (5 to 10 mins) after they buy from you. 

The questions you ask your customers as soon as they purchase from you are known as post-purchase surveys.

Post-purchase surveys are a flexible way of obtaining valuable customer feedback, which you can implement to improve your sales.

According to Khalid Saleh, CEO of Invesp;

"Post-purchase surveys are the first level when having a meaningful conversation with customers. You can use surveys to find out your NPS score and how easily customers will be to refer your business to their friends, but post-purchase surveys are just scratching the surface."

You can send these surveys via email as soon as the customer places an order, or they can pop up on the checkout page a few seconds after the order has been placed.

Here's an example of an email post-purchase Survey;

Here's an onsite post-purchase survey example;

Benefits of Post-purchase Surveys

1. Post-purchase surveys can help you identify the areas where your service shines and where it needs to improve.

2. Customers' replies to the post-purchase surveys can provide insights into the products and deals they will likely enjoy and acquire in the future.

3. It is essential to provide proactive support for customers. These types of surveys help to improve your customer support.

4. This survey obtains valuable customer data, which can be used to improve the marketing strategy.

Best Practices For Post-purchase Surveys

1. Keep your survey short and simple.

2. Make it easy to respond to.

3. For the best outcomes, ask open ended questions.

4. Deliver the survey within 5 – 10mins while the transaction is still fresh in the customer's mind.

Examples of post-purchase survey questions;

How satisfied were you with the availability of the products on our website?

What other products, sizes, and color options would you like to see in the future?

How would you rate your overall shopping and checkout experience?

Did you feel secure sharing your card information on our site?

Did you have a hassle-free checkout?

Did we offer your preferred payment method? If not, please let us know your preference.

What factor(s), if any, almost prevented you from completing your checkout?

How likely are you to make a purchase from our business again?

How likely are you to recommend our brand to others?

What is your primary reason for choosing our brand over our competitors?

2. Pulling Up Customer Support Chatlogs

The three most-informed departments in any business about the customer needs, wants, and objections are sales, customer support, and customer service departments.

The reason is simple; the individuals in these departments have direct conversations with customers daily.

Instead of guessing what will work or not, pull up customer support tickets, especially the ones from those who have purchased just once, and note their complaints.

This is a goldmine of insight about what's working, what's not working, and how you can improve.

According to Khalid Saleh;

"When we work with clients, we often ask for access to customer chatlogs and recorded calls. By doing this, we're sure of getting into the customer's mind and knowing what works for them or not. This way, we can better engineer offers and work on customer objections to see repurchase rates go up."

Benefits Of Pulling Up Customer Support Chatlogs

1. Massive goldmine of customer insights.

2. Provides insight into customer friction points.

3. The insights you get can help improve customer acquisition, retention, and onboarding.

Best Practices For Pulling Up Customer Support Chatlogs

1. Be specific. Pull up chatlogs for first-time customers only.

2. Look for patterns among customer support issues, this way, you build your priority checklist.

3. Jobs To Be Done (JTBD)

This is the third and final category of meaningful customer conversations. 

Pioneered by Clayton Christensen, the jobs-to-be-done framework is based on the idea that people don't buy a product but hire it to get a job done. 

So, it's all about finding out why your customers bought in the first place, looking for clues on what worked, and reverse engineering the process to get more sales.

Here's a case study on how Target used JTBD to beat Amazon.

Benefits Of Jobs-To-Be-Done

1. It helps you understand how demand is generated for your business

2. It gives you a shift in perspective of why customers get your product. This, in turn, can influence how you frame your offers.

3. You get more than surface-level responses from customers.

4. You're able to understand customer motivations better.

Best Practices For Conducting Jobs-To-Be-Done

1. Always ask open-ended questions.

2. Never ask leading questions.

3. Listen more than you talk. This lets your interviewee say more.

4. This is best had in an informal interview format. Sending a text or survey won't get you the granular insights you want.

5. You want to ensure the customer you're chatting with is at ease and comfortable. The atmosphere of friendliness will lead to better responses.

 Examples of JTBD questions you can ask recent customers;

1. What was going on in your life when you first realized _____ was a problem? How did you know? 

2. Once you realized you had a problem, what did you do next? 

3. What kind of solutions did you try? Or not try? Why or why not? 

4. Before you purchased, did you imagine what life would be like with the product? And what were you expecting?

Prioritization: How to get repeat sales from Customer Insights

After going through the steps of having meaningful customer conversations, you'll have a lot of insights and data about your customers.

Now, insights that won't be implemented aren't worth the stress of getting them in the first place.

Also, you don't have to implement every insight you have simultaneously; there has to be a process to this.

According to Khalid, this is the prioritization template he says works best;

"After getting loads of information and insights from your customers, you want to move to the top of the list of insights, the ones that require the least effort to implement but have a great impact."

Following this logic, here's a graphic representation of the prioritization template you can use to sort out customer insights; 

Note: Effort to implement and impact of the effort are subjective to businesses i.e. how you define what's the least impact, great effort, isn't the same way business B will describe the same issue.

Improving Customer Experience: Where to start from.

Many times, when businesses want to improve the customer experience, they start with redesigning their website.

This is a mistake because customers come in contact with a brand on social media or via ads many times before they ever land on their website.

The reality is that optimizing website customer experience should not be the first place businesses should look. 

Start with social media, improve the customer experience there, and improve customer experience on your ads before moving to your site or landing page.

This ensures that the customer has the best experience at every key touchpoint.

Here's how to improve customer experience on social media;

1. Humanize your brand with informality and casual discussions

2. Post regular content (but don't overdo it)

3. Have a rep at all times to respond to messages, feedback, inquiries, etc.

Here's how to improve customer experience on your ads;

1. Take full advantage of targeting opportunities.

2. Offer understanding and emotional appeal.

3. Deliver exactly what they're looking for

Post-purchase CRO Metrics To Track

There are three primary metrics to track when implementing post-purchase CRO on your site and purchase funnel.

1. Customer Lifetime Value: effective implementation of post-purchase CRO tactics will lead to an increase in how long customers spend with your business and the average order value (AOV)

2. Number of Reviews: people only leave reviews when they're satisfied or unsatisfied with a business. What you're tracking here is an increase in the number of 4 to 5-star reviews your business gets. This means your customer experience is excellent, and they love your business.

3. Increase in conversion rate: the more you see success with post-purchase CRO, the more your conversion rate should increase. This is like a cycle; repeat purchases mean customers find the process easier and are happy with your brand. 

Wrapping Up

Conversion rate optimization is an ongoing optimization process that's not limited to what happens before the first purchase.

Stopping your CRO process after making a lot of revenue thanks to first-time purchasers means you're leaving much more revenue on the table.

If you apply every tactic and concept in this article, you're sure to improve your customer experience while increasing your bottom line.

 

 

 

 

 

 

 

 

 

 
Join 25,000+ Marketing Professionals
If you enjoyed this post, please consider subscribing to the Invesp blog feed to have future articles delivered to your feed reader. or,receive weekly updates by email:
Connect with us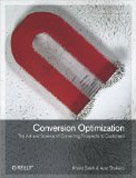 Conversion Optimization
The Art and Science of Converting Prospects to Customers
By Khalid Saleh and Ayat Shukairy