3 Ways to Boost Ecommerce Sales with YouTube

You know YouTube is the second largest search engine, Google's favourite child and the destination for a huge chunk of internet traffic.

But do you use it to sell your products?

Didn't think so. And you're not alone. Despite the powerful evidence and arguments for using YouTube to drive sales, relatively few ecommerce retailers do so and, if they do, they usually don't take full advantage.

With a wealth of sales to be had, if you launched a YouTube sales campaign today, it wouldn't be soon enough. Here's three ways to start:

Create Shoppable Videos – Ever watched a video and wondered where you could get an outfit that one of the characters was wearing? Imagine seeing something you like in a video, clicking on it and being taken immediately to the ecommerce site where you can buy it. That's a shoppable video.Juicy Couture set the standard for shoppable videos with an entertaining clip that lets you click on a variety of outfits and accessories, even one sported by the pet cat, shown in the video. That click takes you immediately to the Juicy Couture page where you can see and buy the item that caught your eye. Check the video below and imagine the effect it would have on your conversions.
Demonstrate Products – One of the biggest drawbacks of shopping online is the inability to touch and feel a product and, most importantly, see how it works. Developing a series of videos that demonstrate how to use your products, showing them in action and in different situations will give your prospective buyers the practical information they're looking for to make a purchase decision.
Add Optimized Copy – They might deny it, but Google really likes YouTube content. And not just the videos. Many ecommerce retailers don't realize, even Juicy Couture, that YouTube offers an incredible opportunity to get higher search engine rankings by adding written content to video posts.The video title, description and tags all can be optimized to make it easier for shoppers to find your content, and buy from you.

Get your cameras out and start selling.
Join 25,000+ Marketing Professionals
If you enjoyed this post, please consider subscribing to the Invesp blog feed to have future articles delivered to your feed reader. or,receive weekly updates by email: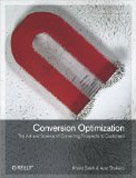 Conversion Optimization
The Art and Science of Converting Prospects to Customers
By Khalid Saleh and Ayat Shukairy