The Secret Sauce: 6 Traits Of A Great CRO Agency

Online business is fiercely competitive with the billions of companies available today. Using a website that is not optimized for conversions is akin to bringing a knife to a gunfight – you won't win. 

This is why companies should hire a competent CRO company to ensure that they get more value from their existing traffic. 

Fortunately, choosing a CRO agency to help increase your conversions might be a simple decision for many businesses. I mean…there are countless options available. 

But picking the right agency to develop a partnership can be a challenge, especially if most of these agencies seem to offer similar services to clients and possess the same skill sets. 

Although there are dozens of CRO agencies out there, you have to pick one with genuine interests in your business objectives. 

With that said, we will present to you the six characteristics to look for when you want to partner with a genuinely great CRO firm. But before we get into those, first things first, let's start by looking at what a CRO Agency is and what makes up a CRO team. 

What is a CRO Agency? 

A CRO Agency is a B2B organization that helps other online businesses to get higher revenue from the traffic they already have. To engage the services of a CRO Agency you first need to have a certain amount of traffic coming to your site. 

According to Khalid: 

"It's difficult for conversion rate optimizers to really figure out the intent [of customers] if you only have 100 or 200 visitors coming to your site. To uncover conversion problems on a site you need to drive a minimum level of traffic – at least 20,000 to 30,000 visitors on your site."

Part of hiring a CRO agency is running AB tests on your site. According to Khalid: 

"A CRO agency will uncover issues on your site. Then they will come up with suggestions or designs on how to fix these conversion issues. One of the critical steps is running AB tests to make sure that these new designs actually increase conversions. Running any type of AB testing on a site requires a minimum number of conversions. If your site generates 50 conversions a month, then AB testing is not an option. We typically recommend that companies start doing CRO themselves between 200 to 600 conversions. They can start looking at hiring a CRO agency as they cross the 1,000 conversions"

The role of a CRO Agency includes generation conversion opportunities on an application or website for better performance of the business. This process of generating more conversion opportunities or revenue involves the use of intense user research (qualitative) and data analysis (quantitative research), multivariate and A/B testing. 

To put this into perspective, let's say you have a website that gets 100,000 visitors and your current conversion rate is at 1%. Engaging the services of a CRO Agency can help you increase conversion rates by 30% getting to 1.3%

So, let's say at a 1% conversion rate, your business was making $1,000 000 per month. Then if your conversion rate increases to 1.3%, then it means you will be now making $1,300,000 per month. Bear in mind that all this is done without the need to increase your traffic. 

Conversion optimization is an ongoing process. By this, I mean that a good CRO Agency can continuously improve any conversion rate month after month. This is the reason why you should think long-term when hiring a CRO Agency. 

Should you outsource CRO to an Agency? 

This actually depends on your company's size, goals, and budget. Some companies prefer having an in-house CRO team, while others see this option as too pricey. 

I'm not by any means suggesting that you should go for an Agency. Sometimes outsourcing CRO to an agency might not be ideal for you, especially if: 

You have unrealistic expectations

: You're not aligned on what an experimentation program needs to achieve or can realistically achieve.

No point person to keep the agency accountable

: Someone has to keep the agency in check and ask about the process, testing plans, etc. 

No one to implement recommendations/changes

: Not every CRO agency out there has developers who are efficient when it comes to this. Some CRO agencies like us do offer developers to implement changes for the client. 

All companies need an effective, well thought out and executed CRO program. While most businesses now understand the need for a strategic CRO plan, few understand what it is or how to implement one. 

A CRO agency will work with you to create and implement a successful conversion strategy. This will result in an increase in conversion, putting you on a path toward business growth. 

What Makes a Great CRO Agency 

Selecting a CRO Agency to help increase your conversion rate is not a hard decision for many businesses and companies. There may be tons of options available out there, but CRO Agencies are not created equal. 

And while engaging the services of a CRO Agency is an excellent investment for any company's future, choosing the wrong agency can wreck your business in the long run. Having said that, here are six characteristics you should look for in a CRO Agency:  

Dedicated CRO Services

If you have been in business long enough, I'm sure you'd know that you become much more effective if you niche down than to try and cater to everyone. My dear friend, here's a secret you need to know: it's better to go for a marketing agency that specializes in the skills you need the right one.

If you want to increase your conversion rate, engage a CRO agency. If you want to increase traffic to your website, hire an SEO agency. If you want to advertise your products on various platforms, reach out to a PPC or Paid Advertising agency. 

A marketing agency that focuses on many disciplines is more likely going to drop the ball somewhere along the way. 

So, when choosing an agency to partner with, you should clearly go for one with a deepened understanding of the expertise you need. Being dedicated to one service doesn't necessarily mean that the agency has zero knowledge of other marketing disciplines. My point here is that your company is in safer hands if partners with an agency that is amazing in one thing they do. 

Experience and Track Record

Experience is vital. Research agency founders and leaders. Look at their previous experience and achievements. You have a higher chance of achieving your conversion goals if you partner with an agency that has a track record of increasing conversions. 

Developing expertise in the field of CRO isn't a one- or two-year thing. It takes a lot of time. As a general rule of thumb, go for an agency that has been increasing conversions in the last five years or more. 

A great deal of experience can mean that a CRO agency has the ability to predict possible issues and deal with them before they even come to light. This ability can serve you a lot of time and resources. 

It doesn't matter if the agency hasn't worked with any brand from your industry. Great CRO agencies have a way of figuring out which buttons to press in order to understand your customers' pain points. And they know how to craft a CRO program designed specifically for your target audience. 

One way of looking into the track record of an agency is going through their testimonials, case studies, and reviews. Conversion optimization is a big investment, so if it's possible, contact their previous clients and find out for yourself how it's like to partner with the agency. 

Budget and Pricing

Hiring a CRO agency is not as costly as having an in-house CRO team. With an in-house optimization team, you are expected to fork out hundreds of thousands of dollars in payroll alone. This is because an established CRO team typically includes: 

two or three conversion optimization specialists

A UX designer

Front-end developer

Customer research specialist 

Analytics specialist 

Data analyst 

Product manager/Program manager

If you are to consider involving a CRO agency, it's best to have a budget that goes beyond three months. 

Why am I saying so? 

Because conversion optimization is a process that should be carefully done without omitting any step. And there are a lot of tools involved during the optimization process. Here at Invesp, we have developed our own CRO platform so that our clients don't incur extra costs of having to pay for tools to use during the process. 

Communication Skills or Transparency 

The conversion optimization process involves a lot of testing, so you'll definitely need to work with a responsive agency that keeps you in the loop all step of the way. This is to say that the best CRO agency has transparency as part of its DNA.

Transparency begins before the optimization process commences. During your first meeting, they should be able to explain their optimization roadmap in a way that you can easily decode. 

Be wary of an agency that tries to lure you using lofty promises (like increasing your conversion rate in a number of weeks) and growth hacking tactics. 

As for us, if you are not a good fit for us or if we see that you are asking us to perform a miracle on your website we will pass. We only take on board companies that we are confident we would increase their conversion rate. 

Our team conducts weekly status meetings to keep the clients updated about the different experiments' status, discuss new testing plans, and receive feedback on the current work.

Optimization Methodology

CRO is a data-driven process so you need to avoid engaging an agency that bases its decision on instincts. Rather you need to work with one that follows a specific framework. 

At Invesp, we use our own SHIP optimization process as a guideline to make our optimization projects manageable, smooth, and effective. 

SHIP is an acronym for every stage that every conversion project has to go through. It actually stands for Scrutinize, Hypothesize, Implement and Propagate. 

As mentioned earlier, each stage of the optimization process holds importance and must be done thoroughly. Our CRO team dwells more on two stages – the scrutinize and propagate stages – that determine the success of the whole CRO program. 

So, don't forget to ask your agency about their approach to CRO. Be wary of an agency that uses a methodology that is not data-driven. Even if a methodology used is said to be data-driven, it's important that you investigate the type of data to be gathered, how it will be analyzed and used to design a testing hypothesis, and how lessons from these tests are organized. 

Work With a CRO Agency That Challenges You

From the onset, you need to be on the same page with your agency if your CRO program is to bear fruits. It's obvious that when you decide to hire a certain CRO agency, you trust that they are going to take your business to the next level – as far as your conversion or revenue is concerned. 

Of course, as a company, you have your own understanding and way of doing things. A good CRO agency is accommodative and it doesn't ignore your views/preferences despite how experienced they are. But they know when to challenge your views – in a constructive manner – if they know of a better way to get stuff done. 

Khalid says:

"From the very first time we talk to a prospective client, we are very clear with them. About 20% of our recommendations and testing plans will make you feel uncomfortable. Most executives are okay with that. But there are some who think they are okay with it until the team starts bringing new ideas. That is the reason it is important to understand that our job as CROs is to help clients think differently about their own customers and their own marketing."

Having an agency that has yes men even when you are not sure of your own conversion optimization ideas should come as a red flag to you. A CRO agency with expert optimizers and specialists knows how to go about the whole optimization process from A to Z – they don't wait for you to instruct them on where to look in your funnel. 

Engaging a CRO agency that can challenge you is a vote of confidence for your business. 

Conclusion 

It's important to study the brand of the CRO agency you chose to engage and chose wisely. Getting a poor fit will not only cost you a lot of money, but it will more likely damage your reputation. Take your time to look into the agency's previous work, it's also wise to get hold of their existing or previous clients if possible. Partnering with a CRO agency with your best interests at heart translates to a team that listens deeply, responds proactively, and goes that extra mile.

If you're not sure about how you should go about the background check of a CRO agency, be sure to check out the 16 questions to ask before hiring a conversion optimization company.
Simbar Dube
Simba Dube is the Growth Marketing Manager at Invesp. He is passionate about marketing strategy, digital marketing, content marketing, and customer experience optimization.
View All Posts By Simbar Dube
Join 25,000+ Marketing Professionals
If you enjoyed this post, please consider subscribing to the Invesp blog feed to have future articles delivered to your feed reader. or,receive weekly updates by email:
Connect with us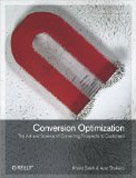 Conversion Optimization
The Art and Science of Converting Prospects to Customers
By Khalid Saleh and Ayat Shukairy