How to Know Where to Begin Your CRO

Hopefully everyone's efforts here at Invesp are paying off and more and more of you understand the importance of conversion rate optimization (CRO). Presuming all other elements of your ecommerce and lead generation, including your website and levels of traffic, are at least average, CRO is where you can make them all exceptional.

Unlike the other elements, CRO focuses on your customers' actions at the point of conversion and so can have a direct and profound impact on your site's performance and bottom line. For sites that have not previously been optimized, it is not unusual to see CRO result in a doubling or tripling of conversions.Imagine if those were your sales.

Everything about your website: how you attracted visitors to it and what they are motivated to do when they get there, will all affect your conversion rates. The colors you choose, the layout of your site, the images, the number of steps a visitor must take to convert, etc., all contribute, positively or negatively, to your conversion rate.

With so many variables affecting CRO, the question is no longer whether you should practice CRO, but where do you begin.

Good conversion-oriented web design and structure treats your site like a sales funnel, or funnels. Ideally, you attract lots of traffic to your site, qualify them and guide them through the funnel toward a buying decision.

Unfortunately, it's not an ideal world and most website sales funnels have "leaks" or points at which visitors abandon the site. The conventional CRO wisdom is to identify the leaks (the web pages that have the highest bounce or exit rates) and reduce the bounce rate so more people stay on the site and , presumably, convert.

It's a good idea and it can work, but its not the best place to start or the best way to improve your CRO.

So Where Do You Begin?

Examine Your Site's Analytics: Like Google Analytics, or one of the many other site analytics tools that are available on the web, which can pinpoint precisely where to start your CRO.

Determine Your Site's KPIs – If you have an ecommerce site, the best KPI is the "Thank You" page that confirms you have made a sale. Therefore the steps and pages along your checkout process may be a good place to start. For a lead generation site, of course you would start to examine the process your visitors take before they submit their information to you and optimize it as needed.
Bounce Rate – Now, after you check your analytics and KPIs, you can look at bounce/exit rates, among other metrics, to decide where best to begin your CRO.

It's Not Over: Don't think that even after exhaustive examination of your analytics and costly changes to your sales funnel that your job is done. To ensure you maximize your CRO, and the rewards that it brings, you must review your analytics and conversion rates regularly, every month, to make sure that the steps you took before have indeed had the desired effect and to identify new areas for improvement.
Join 25,000+ Marketing Professionals
If you enjoyed this post, please consider subscribing to the Invesp blog feed to have future articles delivered to your feed reader. or,receive weekly updates by email: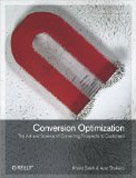 Conversion Optimization
The Art and Science of Converting Prospects to Customers
By Khalid Saleh and Ayat Shukairy