The Top 7 Reasons for Shopping Cart Abandonment & Tips for Avoiding Them

Online shopping cart abandonment is epidemic. Depending on your source, the time of year and the particular website, abandonment rates generally range from 60% to 80%.

While we accept that high abandonment rates are the nature of ecommerce and online shopping, looking at it from another perspective underlines the gravity of the problem: after putting an item into a cart, customers are twice as likely to leave than to continue through the checkout process.

Here's a little more perspective: according to Forrester Research, the estimated dollar value of items in abandoned carts is $31 Billion.

But every problem is an opportunity. The sheer extent of shopping cart abandonment makes it ripe for corrective action. It's one of the 'low hanging fruit' of ways to improve your online results.

The first step is to discover the reasons why customers abandon their carts and address those reasons directly.

According to the Invesp infographic Shopping Cart Abandonment Rate Statistics, the following are the 7 top reasons given by online shoppers for abandoning their shopping carts (brackets show percentage of respondents). Below each reason you'll find tips for addressing the issue.

1. High Shipping Costs (44%) Did not Clearly Mention Shipping Costs (22%) – This is the elephant in the room. Everyone knows it's there and it's a problem, but it's not always easy to solve. And this elephant continues to grow and become a bigger problem.

Services like Amazon Prime completely remove shipping costs from shoppers' radar, and Google Shopping lets users filter results according to which retailers offer free shipping. It means the shipping costs listed by those who still have them stick out like a sore thumb, driving customers away.

Tips to reduce cart abandonment:
Presuming that if you could offer free shipping you would, here's some options:

Offer Equivalent Credit – Give customers dollar amounts or percentages off future purchases that are equivalent to shipping costs. It still costs you, but encourages customers to return, so the cost is deferred. As long as they return, they will enjoy the equivalent of free shipping.
Take the Hit. OK, this is not really a solution, but considering the importance customers place on free shipping, and how pervasive it is in the marketplace, it may be less costly to absorb the cost than to lose the business.

2. Not Ready to Purchase (41%) – This one might leave you scratching your head. If they weren't ready to purchase, why did they put items in the cart? But online customers don't have the same access to information as their bricks and mortar counterparts, who can simply ask a sales associate.

Many shoppers add items to a cart to get more information, like shipping costs, options or accessories, that they may not be able to get before the cart. Or they might realize they have a question, but have no way to get it answered, so they abandon.

Tips to reduce cart abandonment:

Online Chat. This is the equivalent of your in-store sales associate. No ecommerce site should be without it. By giving customers a way to get their questions answered, not only will you reduce cart abandonment, but you give them a value-added customer service that is surprisingly absent form many ecommerce sites, and it's surprisingly easy to implement.
Give Lots of Information on Product Pages. The more information you give customers before they decide to add an item to their carts, the less chance there will be that they will abandon later. Use lots of product imagery, videos and shots from different angles. Include specifications, detailed descriptions and customer reviews. And be sure to suggest accessories or related items.

3. High Product Price (25%) – Here's another one that is mainly caused by not giving enough information upfront.

Tips to reduce cart abandonment:

List as many features and benefits as you can on your product pages. Customers need to perceive value.
Use credibility symbols, guarantees and other added value. Show your customers why yours is the best option, even if it isn't the lowest price.

4. Want to Save products for Later Consideration (24%) – There are advantages to shopping online. There's the convenience of not getting in the car, driving to the mall and jostling with fellow shoppers.

But the web also lets retailers offer services that are simply not possible in bricks and mortar stores. One of them is the "Save Cart" function. This gives shoppers a number of benefits, including comparing a basket of goods between retailers. The downside for retailers is, clearly, many saved carts are abandoned.

Tips to reduce cart abandonment:

Create Urgency. Whenever and wherever possible, highlight the benefits of buying now. If you are running a sale or other promotion, make sure they know how many days are left in the promotion.

5. No Guest Checkout Option (14%) – No excuse for this one. Unless you are bound to have an account for each customer, don't ask for one. When someone wants to spend money with you, make it as easy as possible for them to do so.

Tips to reduce cart abandonment:

Remember, if you really like to get customer information, you can do so after the purchase.

6. Need Too Much Information (12%) – Again, no excuse, and again, always make it as easy as possible for customers to give you their money. Customer data is gold and it is tempting to mine it at the point of purchase. But increasingly, shoppers understand the value of their information and are ever more hesitant to give it away.

Tips to reduce cart abandonment:

Get it later. As you build a relationship with each new customer, you can build their data profile.

7. Complex Checkout Process – Whether your checkout process is necessarily complex, or you haven't updated it since 2005, the problem is that the longer a customer takes to checkout, the higher the cahance is that they will abandon.

This is not only because people have less patience online, but each step creates another fear, uncertainty or doubt (FUD) in their minds. They will eventually reach a point where the FUDs will cause them to abandon.

Tips to reduce cart abandonment:

Eliminate as many checkout steps as possible. Anything that isn't necessary should be eliminated.
Do a usability study or start a conversion rate optimization program. Sometimes the complexity is not immediately apparent and you need a formal approach to point out the problems.
Join 25,000+ Marketing Professionals
If you enjoyed this post, please consider subscribing to the Invesp blog feed to have future articles delivered to your feed reader. or,receive weekly updates by email:
Connect with us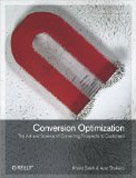 Conversion Optimization
The Art and Science of Converting Prospects to Customers
By Khalid Saleh and Ayat Shukairy