Are FUDDs Fudging Up Your Conversions?

You don't even have to answer that question. I already know the answer.

The truth is that no business has the business of conversions 100% right.

In fact, no matter how successful a business is, there is always going to be someone, somewhere trying to make it even more profitable.

That person will sometimes succeed and sometimes fail…thanks, in part, to FUDDs.

What are FUDDs?

You didn't think I'd launch into a post without defining it, did you? No way. For the record, undefined acronyms are one of my biggest pet peeves.

FUDDs stands for "fears", "uncertainties", "doubts" and "deal breakers." They're major motivating factors behind a prospect's decision to leave your website without purchasing and making your pocketbook a little bit fatter. FUDDs are a major drag for any business owner. But I would wager that they're even more anxiety-inducing for prospects. Why? Because prospects don't like thinking that they came close to making a bad decision.

No business is safe from FUDDs. As long as prospects exist, even the most trusted and recognized brands are subject to them. That being said, there are a couple of things you can do to help minimize them.

Put yourself into your prospects' shoes

To truly understand why your prospects would leave you high and dry, you have to anticipate their thought processes. If you've done a fair amount of target market research, this shouldn't be too difficult. Detailed buyer personas aren't totally necessary for this exercise. Just ask yourself what's important to your prospects. With a little inference, you can then modify your website around those concerns.

Know the stats

Linda Bustos blogged about a PayPal and ComScore study that determined the main reasons why prospects prematurely bail: high shipping charges, unexpected expenses, comparison shopping, customer support contact difficulty and lost usernames and passwords. She rightfully points out that two of the best ways to combat FUDDs is to offer free shipping and pre-checkout calculators.

But what about the other three FUDD-inducing factors? Altogether, 57% of respondents in the PayPal and ComScore survey cited comparison shopping, customer support contact difficulty and lost usernames and passwords as reasons why they abandoned shopping carts. That percentage isn't anything to sneeze at.

So how should you address this? It's pretty easy when you think about it.

Make your customer support information accessible

This one is a no-brainer. Add your contact and customer support information at the footer of each page. That includes phone numbers, physical addresses and email addresses. Creating a page- with a very visible link to it on the index- to specifically host this information will likely help your conversions. Of course, you also have to invest in the support itself. You (or someone you hire) have to be ready, willing and able to get back to your prospects within a reasonable amount of time…or else you can kiss your prospects goodbye.

Make password retrieval easy

Invest in a way to make sure that lost passwords get delivered promptly. I'll be the first to admit that I've misplaced more than one password in my time. But that transgression is nothing compared to requesting a lost password and reading a message saying that I should expect to receive it within the next 24 to 48 hours. Two days for a password? That's a bit much. The only thing worse than getting a password two days later is getting an email two days later demanding a manual reset…so that you have to memorize a new one! Simply allowing customers to check out in guest mode or without registering can save you and your customers a lot of time and headaches. It also keeps prospects away from competition.

Got a big competitor who always seems to take a chunk out of your sales? Advertise that you have the better deal and don't forget to tell your prospects exactly why it's better. The bravest of businesses implement some sort of comparison shopping right on their websites, but obviously, that's not for everyone. Usually, the better alternative is making a website and the deals within it seem flawless so that prospects are convinced that they've made the right decision to buy from you. You can do that by providing prospects with what they're looking for and including true-to-life pictures, coupled with user ratings and reviews from customers. Sometimes, the latter can be all the "comparison shopping" a prospect needs. After all, if a reviewer calls a product offer the "best deal on the Internet", that's bound to go over well with prospects.

Reiterate value propositions

If you've got a prospect on your website, chances are that you've done something right. But, too often, marketers think that getting a prospect onto visit a website is the end of the job. It's merely the beginning. Really, when a prospect lands on your website, that's when you should bring out the marketing big guns.

You see, it's not enough to simply be better than the competition. You have to keep reminding prospects that you are- even when they're, theoretically, just a click away from becoming a customer. The Ecommerce Conversion blog underscores the importance of making strong value propositions the first thing prospects see and offers some examples using popular websites. Think of it as a reassurance of their decision to visit your website and purchase from you. They'll need it. And with all the competition that's out there, you will, too.

What do you do to combat FUDDs?
Join 25,000+ Marketing Professionals
If you enjoyed this post, please consider subscribing to the Invesp blog feed to have future articles delivered to your feed reader. or,receive weekly updates by email: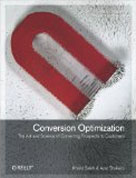 Conversion Optimization
The Art and Science of Converting Prospects to Customers
By Khalid Saleh and Ayat Shukairy
Get a Copy