Personas 101: The complete guide to increasing conversion rates through persona creation

Persona creation is a marketing method to better reach your target market through your website. It is at the very heart of every conversion optimization project we conduct at Invesp. By creating personas you will be honing in on the market through your website design, layout, and copy. But what are they? How can they really help? Why is one hypothetical individual going to help me reach an entire segment of my market? Those questions and more are addressed in the following tutorial.

The Personas Tutorial

Through my blogs I've discussed what personas are, how they differ from market segmentation, how they can improve your conversion rates, and how you can create them. I've combined all the blogs into a tutorial that can help you gain a better understanding of the power of personas and their significance for your website:

Subscribe to invesp blog for tips on conversion optimization that will help you break through the single digit conversion rate.
Join 25,000+ Marketing Professionals
If you enjoyed this post, please consider subscribing to the Invesp blog feed to have future articles delivered to your feed reader. or,receive weekly updates by email: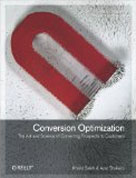 Conversion Optimization
The Art and Science of Converting Prospects to Customers
By Khalid Saleh and Ayat Shukairy
Get a Copy